Qualcomm Stadium
San Diego

,

CA
San Diego
Monster Energy AMA Supercross Championship
By Aaron Hansel, Chase Stallo and Jason Weigandt
Qualcomm Stadium is the largest stadium that Monster Energy Supercross has been in so far this season, but interestingly enough, it also served up the shortest lap times of the year. For the first time in 2013, the fastest qualifying times dipped below the 50-second mark.
Justin Brayton was also in the thick of the lead battle, and although he finished seventh, he was happy to have matched up so closely to the gang of defending and former SX champions. Brayton has been getting stronger each week after hurting his thumb at the Anaheim opener. Unfortunately, his JGR/Toyota MX teammate Josh Grant is the opposite, and a variety of injuries and illnesses have kept him off the bike during the week. Then troubles last week at Anaheim 3 left him with ankle and shoulder injuries. Grant suited up for San Diego practice, but elected not to race, hoping his shoulder will heal up in time for Dallas.
Kyle Cunningham turned a holeshot into the first heat race win of his career in San Diego. He put in a great ride in the main too, but it isn't totally reflected by his result. KC was pushed wide on the start and ended up having to battle back from last place. By the end of the race, he'd charged all the way up to fifth.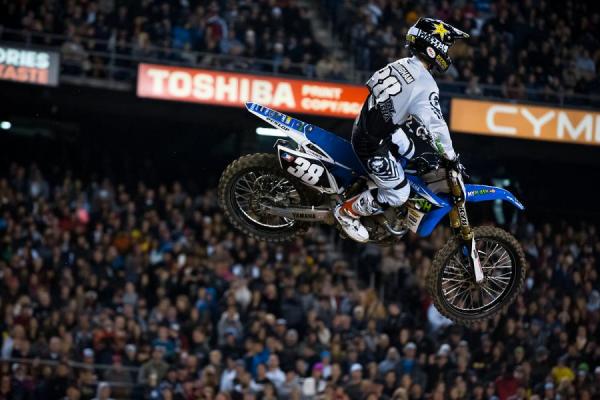 Kyle Cunningham won his first career heat race in San Diego.
Garth Milan photo
Martin Davalos won the other 250 heat, but found himself way back early in the main, just like Cunningham. In this case, a first-lap crash did in Davalos, who was also the fastest rider in practice. Have you heard this story before with Davalos?
HRT Racing's Austin Politelli hasn't received as much attention as some of his racing colleagues have, but he's still been quietly putting together some pretty solid results. In San Diego, he kept things moving with a fourth-place finish, the best of his career.
Speaking of season-best finishes, Brazillian Jean Carlo Ramos also put together the best ride of his career in San Diego with a fourteenth.
Riders who made their career first 250SX main event in San Diego:
- Aaron Siminoe (sixteenth)
- Chad Gores (seventeenth)
Jake Canada is still feeling the effects of taking a hit to the head a couple weeks ago. After qualifying fourteenth in San Diego, and also suffering a crash, Canada skipped the final qualifying session and wisely opted not to participate in the night show.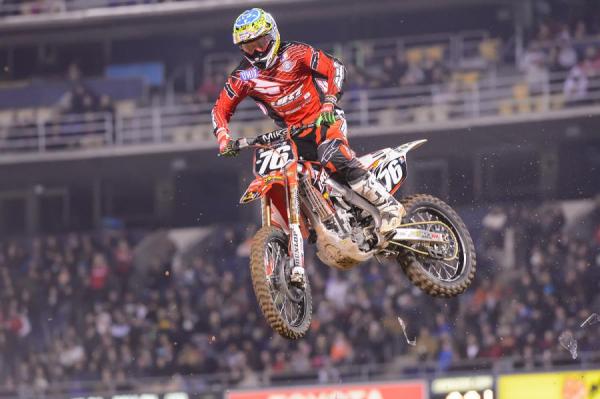 Austin Politelli finished a career-high fourth in San Diego.
Simon Cudby photo
After a sluggish start to the season, Valli Yamaha's Travis Baker has been on a tear the last two rounds. Baker matched a career-high—originally set at San Francisco in 2010, his rookie year—sixth for the second straight week in San Diego.
51 Fifty Energy Honda's Chris Plouffe qualified for his second main of the year in San Diego—his first since Oakland. Plouffe crashed early in the race, but was able to finish. Check out the picture he sent out via Twitter of his bike. Also qualifying for his second main event (first since Phoenix) was privateer Travis Bright.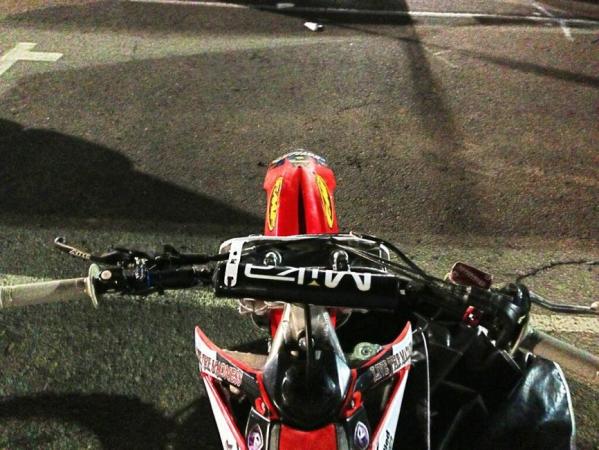 "This is what I rode with in the main. Bent my bars from my crash. Glad I still finished though!" - Chris Plouffe
Chris Plouffe photo
Although his team is packing up shop after supercross, Australian Josh Cachia is making the most of his time Stateside. The J-Star JDR supercross rookie made his third straight main, and fourth overall, in San Diego. Cachia finished a career-high 12th on the night. While other JDR riders Malcolm Stewart and Joey Savatgy will return to action when the West 250 SX tour resumes in April, Cachia tells us he has a factory Honda ride inked back home in Australia, so he'll stay down there. And, finally, just in time for him to leave, we have nailed the pronunciation on his last name. Say it: Kay-Sha. (We're now so tempted to spell it Ca$ha)
Congrats to Rock River Yamaha's Ben LaMay and MB1 Motorsports/Hyper X Racewear's Kyle Partridge on making their first 450SX mains of the year.
Dodge/RCH Racing Suzuki's Josh Hill was back in action for the first time since a practice crash at the season opener. Hill finished 18th in his first race back, but it was a big step in the right direction. San Diego marked the first main Hill has qualified for since Las Vegas of 2010 where he finished 17th.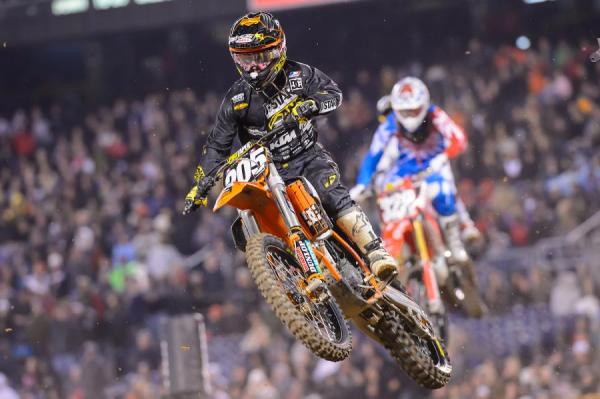 Josh Cachia finished a career-high 12th in San Diego.
Simon Cudby photo
Hill held off Partridge to win the LCQ. It was funny to see the two battling, because last week, Partridge rode Hill's RMZ-450 as a replacement rider for the RCH team. This week Partridge was back to privateer status.
Not the race the other RCH team rider, Broc Tickle, was hoping for. He finally got a good start, in second, but was quickly eaten up by the lead pack. He finished a disappointing 11th.
JAB/SCOTT Sports' Matt Lemoine was on the gas in San Diego. He hit the top five lap board in seeded 450 practice several times during the day (yes, in the same session as Villopoto, Dungey, Stewart, Millsaps and the rest) and then took a solid fifth in his heat, and 13th in the main despite an early crash. At the beginning of the season, Lemoine was impressing by simply making 450 mains in his rookie season. Now, he's moving toward a top-ten threat.
After failing to qualify for the first four 450SX mains of the year, Rocket Exhaust's, and 2008 Horizon Award winner, PJ Larsen qualified for his second consecutive main. Larsen finished a 450SX career-high 15th in San Diego. We were hearing buzz on Larsen picking up a replacement ride for 250 SX East, but so far nothing has materialized.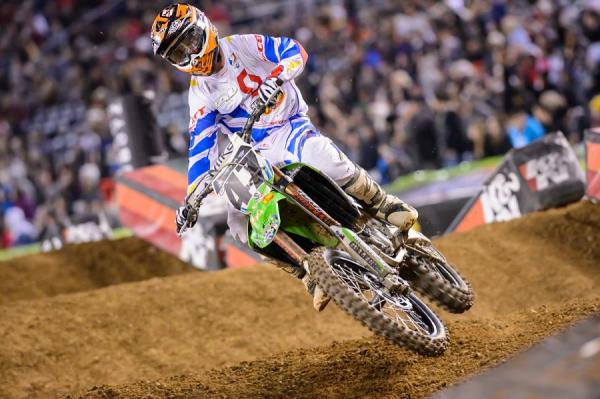 Matt Lemoine had the best night of his 450 career in San Diego.
Simon Cudby photo
For the first time all season, Slaton Racing's Vince Friese failed to qualify for the 450 main. Friese was involved in some slamming and bar banging in the LCQ and ended up going down. And you thought the Davalos story was shocking! After a strong beginning to the season in the 450 class, Friese will move to the 250 class for the East Region starting this weekend in Dallas.
Weston Peick was back in the 450 main for the first time since Anaheim 2. Peick finished the night 14th.
Velocity 3 Yamaha's Kyle Chisholm had a hard crash in practice and missed the night show with a reported concussion.