by
Aaron Hansel
Bench Racing Ammo: No Bad Races?
Wednesday, February 6, 2013 | 2:35 PM
MOTOREX is used by factory teams worldwide, by independent pros and by top amateurs who demand the best performance from their race machines. The complete MOTOREX line includes a broad range of synthetic engine oils, lubricants, aerosol sprays, cleaners and care products. MOTOREX is available at dealerships nationwide.
Tweet
With five rounds down, Red Bull KTM's Ken Roczen has yet to miss a podium. He took second at the first three, and he's won the last two in a row. Thanks to his dazzling consistency, he now enjoys a 20-point lead over Eli Tomac in second place. How long can he keep this up? Will he be on the podium for the rest of the Western Regional 250SX series? To get some perspective, we dug into the stats and looked at how many times the eventual 250SX champion has missed the podium in points-paying races in the last ten years. We've also made a note of it when the champ's result was fifth or worse on the night he missed the podium.

2012
East    Justin Barcia – on podium eight of nine times
West    Eli Tomac – seven of nine. DNF'd San Diego

2011
East    Barcia – nine of nine
West    Broc Tickle – seven of nine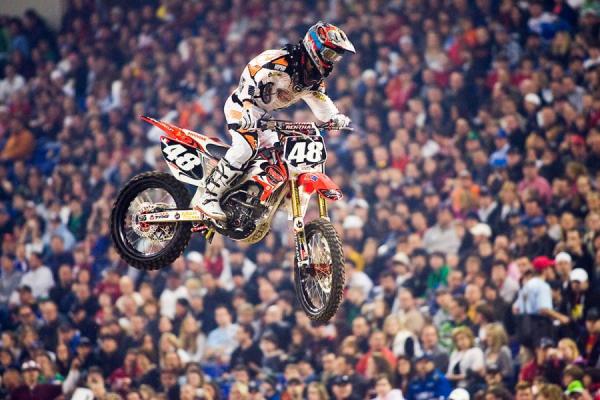 Trey Canard missed the podium three times en route to his 2008 East Region title.
Andrew Fredrickson photo
2010
East    Christophe Pourcel – six of eight. Seventh in Dallas, DNF'd St. Louis
West    Jake Weimer – six of eight. Eighth at A3, fifth in Salt Lake City

2009
East    Pourcel – six of eight. Fifth in St. Louis
West    Ryan Dungey – six of eight

2008
East    Trey Canard – four of seven. Tenth in Detroit
West    Jason Lawrence – six of eight. Fifth in Phoenix, DNF'd A2

2007
East    Ben Townley – five of seven. DNF'd Atlanta, seventh in Orlando
West    Ryan Villopoto – eight of eight.

2006
East    Davi Millsaps – seven of seven
West    Grant Langston – six of eight. Fifteenth in San Francisco
2005
East    Langston – five of seven. Fifteenth in Daytona
West    Ivan Tedesco – six of eight. Eighth at A1, Eighth in Houston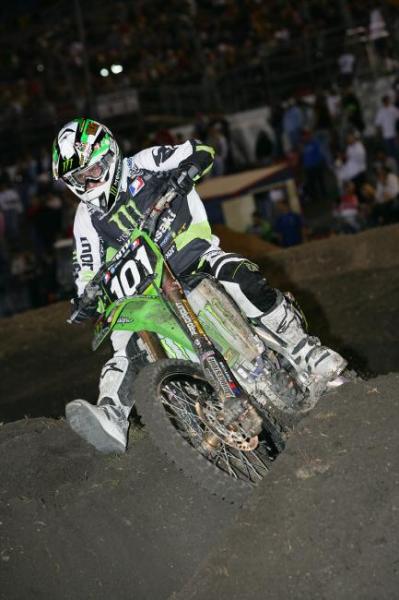 Ben Townley would miss the podium twice in 2007 on his way to the East Region title.
Simon Cudby photo
2004
East    James Stewart – six of seven. Undefeated in every race he lined up for, Stewart sat Indy out this year after crashing hard in practice.
West    Tedesco – eight of eight

2003
East    Branden Jesseman – six of seven. Sixth in Pontiac
West    James Stewart – eight of eight

The numbers above tell us that it's rare for the champion to finish on the box at every single race. In fact, it's only been done five times in the twenty championships listed here (Justin Barcia in the East in 2011, Ryan Villopoto in the West in 2007, Davi Millsaps on the East in 2006, Ivan Tedesco in the West in 2004 and James Stewart on the West in 2003).

The most common number of missed boxes by the champ is two, which, in the data above, happens exactly 50 percent of the time.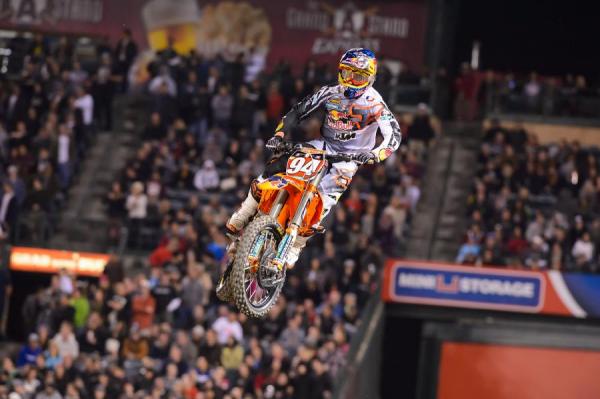 Can Roczen continue his podium run in San Diego?
Simon Cudby photo
The most podiums missed in a single season by the champ is three. Trey Canard did that in his rookie year in 2008 with four podium appearances in seven attempts.

History tells us that most champs run into at least a little bit of trouble on their way to the title, but right now Tomac needs Roczen to make a sizable mistake. How often does that happen? In the twenty championships above, there have been twelve instances where the series champion made significant blunders throughout the course of the season. That's a fair amount, but it's not enough frequency to declare it a rule. Will Roczen make it through the whole season without a big mistake, and essentially lock everyone out of title contention? Take a look at the stats above and tell us what interesting trends and facts you see in the data.
Share this article:
Did you like this article?
Check out MONSTERBALL
in our Latest issue of Racer X available now.

Playing soccer on 250cc motorcycles might sound like a strange form of riding, but in Russia they do it with great passion—and for very little reward. Page 112.
Look for the verified symbol
The Conversation