Chase Field
Phoenix

,

AZ
Phoenix
Monster Energy AMA Supercross Championship
GEICO Honda's Eli Tomac has dominated the first two West Region 250SX races as expected, so there's really not much to talk about. But we tried!
Racer X: Had to work for that one a little bit.
Eli Tomac: Yeah, another marginal start. My jumps weren't bad, I was just spinning on the plastic and then kind of just wheeling it.
You did that in the heat race last week too, right?
Just a weird little wheelie. Obviously I need some work on that. That's my biggest weakness right now.
The plastic is your weakness!
The plastic and the wheelie-ing. I really don't think it's my weight. It's just ... I got to make it happen and I just need to get it in my head right. But I keep lining up inside so I do save myself by just squirting across the middle there.
Yeah, you did the same thing last week.
Yeah made some moves in the corner and came out top five.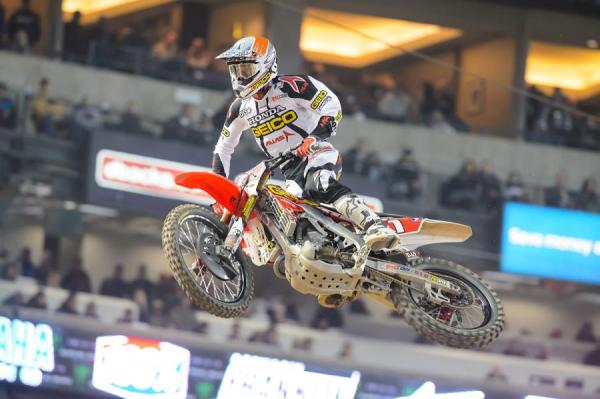 Eli Tomac won his second straight race to begin the 2013 season in Phoenix.
Simon Cudby photo
Was that kind of on purpose? Like hey, even if I blow this start I'll still come out okay with this gate?
Yeah, at least try to come out top five.
Were you worried at all during this one? You had a decent gap to make up, 3-4 seconds. Did you feel like it was manageable or were you like, uh oh?
Yeah, early on I was pretty stoked to not see Kenny [Roczen] in front of me, because he was going to be the guy that was going to be the hardest the beat tonight. So once I knew he wasn't in front of me I knew I had a good shot at getting the W.
And just from there, how'd it go? You just kind of tracked Martin [Davalos] down?
Yeah, tracked Martin down and made a pass on him in that right-hander off the whoops and took her on home.
How would you compare your riding this week to last week? Obviously the result's the same. Did you feel any different? Better one week, better the other?
I felt really good this morning in practice. I was feeling it for sure.
More so than last week?
Maybe. But probably because we got to do press day.
That helped a little bit?
Press day did help. Any time you get extra time on the track you feel more comfortable. You get to dial in the rhythms and all that kind of thing.
So even a lane or two makes a difference?
Yeah, it does.
Then what do you on Friday when you're here for press day on Thursday? What did you do yesterday?
I went and golfed.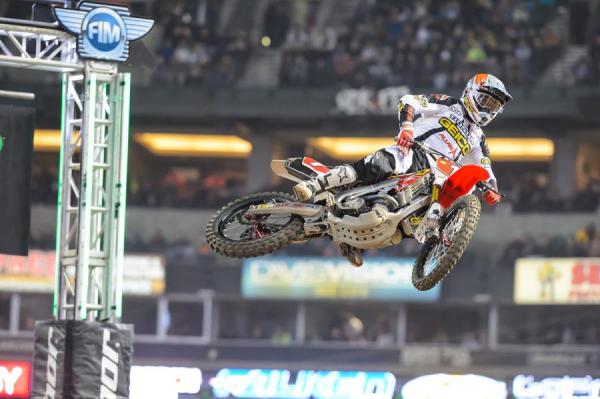 Tomac holds a six point lead over Ken Roczen through two rounds.
Simon Cudby photo
Are you serious?
Yeah. No joke.
What else are you going to do?
Exactly, what else? I was like hey, why not bring the sticks.
Was it cold?
It was cold.
What is the deal with that? It was cold here all weekend.
It was like 49 degrees and a little breezy. I was like, come on!
Wait a minute, you might have an advantage in the cold weather.
I do. I'm a Colorado boy.
Right! Weren't you riding, did you say November, in Colorado?
Yeah, November.
How gnarly is that?
It's probably high 40s. So, yeah. We're here. It's home.
Hey this is actually one of the closer races here, isn't it?
Yeah, I'm like six hours away. This race and Salt Lake are about even.
I know everybody thinks you live way up north as if you're in Montana, but you're actually close to New Mexico, right?
Closer to New Mexico than Denver or anything like that.
Okay, anything else?
I just need to fix my starts.