The opening round of Monster Energy Supercross has come and gone, and for some, things couldn't have gone much better. Of course, as history has shown us, the action from the first race isn't always a solid gauge as to how the season will play out, which is a good thing for the riders who didn't quite get the results they were hoping for. For The List this week, we've put together a group of riders who no doubt wish they would have garnered better results. Who will improve the most in one week's time?
Ryan Villopoto – 16th, 450SX
It wasn't Villopoto's night, plain and simple. An off-track excursion and a pair of crashes resulted in a very uncharacteristic sixteenth place for the champ.
Broc Tickle – 18th, 450SX
Tickle was a victim of circumstances when he crashed after hitting a Tuff Block that was kicked onto the track in Villopoto's first crash of the night. After the race Tickle said that getting better starts would be key in avoiding these types of situations.
Mike Alessi – DNF, 450SX
Another victim of a wayward Tuff Block. Alessi went down right after the finish line jump and bent his bars. He was uninjured in the crash, but his handlebars were bent so badly he was unable to continue.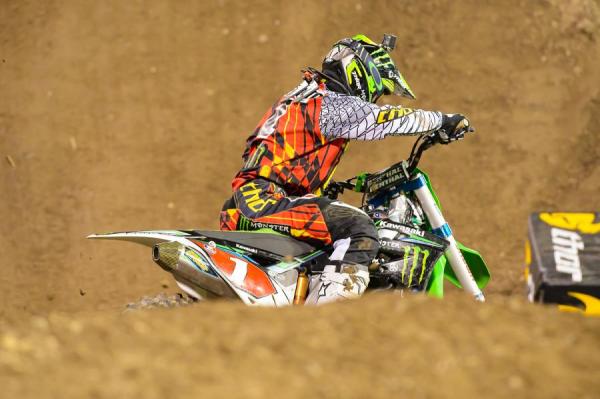 RV will be hungry for redemption at Phoenix after a 16th at the opening round.
Simon Cudby photo
Justin Barcia – 7th, 450SX
Seventh place is nothing to shake a stick at, especially for your first race in the premier class. Barcia makes this list because he spent the majority of the race in third place before crashing on the seventeenth lap and sliding back to seventh.
James Stewart – 8th, 450SX
Credit to Stewart for riding through the pain of a tweaked knee to salvage some points. The severity of his injury is not yet known, but if he's healthy in Phoenix, don't expect another eighth.
Travis Baker – 15th, 250SX
Travis Baker was involved in an eight-rider battle for sixth at one point, but he got cross-rutted and went down. After struggling to get his machine fired back up, Baker rejoined the race and rode to fifteenth.
Jessy Nelson – 18th, 250SX
Immediately after grabbing the holeshot in the first supercross main of his life, Nelson dipped the front end and went over the bars, creating a massive pileup. The crash looked nasty, but credit to Nelson for remounting and getting back in the race.
Martin Davalos – DNF, 250SX
After winning his heat race, Davalos got wrapped up in the big first-turn pileup that was triggered by Nelson's crash. Davalos will have to wait until Phoenix to complete his first main event lap as a member of the Monster Energy/Pro Circuit Kawasaki team.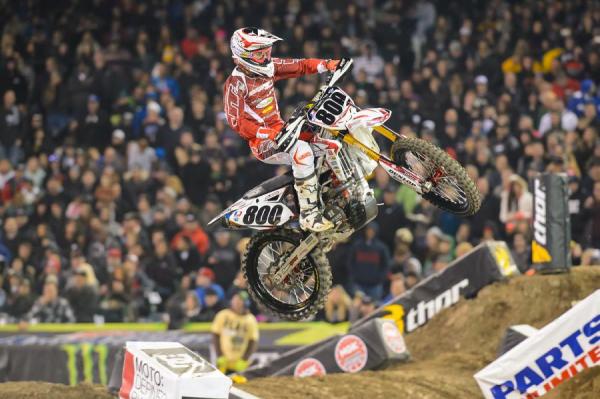 Mike Alessi had problems with a Tuff Block, leading to a DNF.
Simon Cudby photo
Blake Baggett – 14th, 250SX
The second Pro Circuit rider to get wrapped in the first-turn pileup, Baggett was able to remount and charge back up to fourteenth from way back.
Jake Canada – DNF, 250SX
Canada was only able to complete five laps before bike problems forced him out.
Josh Hansen – DNQ, 450SX
After taking out Phil Nicoletti with an aggressive block pass, Hansen was battling over the final transfer spot in the LCQ with Kyle Chisholm before his night ended when he jumped too close to the edge of the track and landed on some Tuff Blocks. Miles from qualifying, Hansen took his aggression out in the final turn by ramming Alex Ray. As he was exiting the track, Hansen had words with Nicoletti while Ray took a ride in the Asterisk Medical Mule.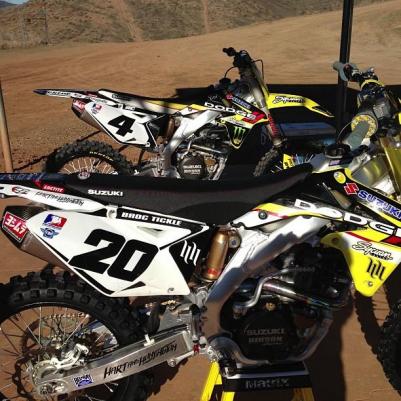 "Gotta little work to do this week.. Starting now" - Ricky Carmichael on Twitter earlier today.
Ricky Carmichael photo