The last time we spoke with Jimmy DeCotis, he was on the bubble.  The kid from New England with the funny Boston accent had secured a ride with the potent GEICO Honda team and was ready to show the world how fast he was. DeCotis had just moved to California and was training with Ryan Hughes. The kid was doing all the right things, and after years of racing, things were starting to come together at the top level.
Unfortunately, motocross can be a cruel sport. Last winter, DeCotis suffered two consecutive injuries in a row and didn't turn one lap one a racetrack during the 2012 season. His breakout bubble had burst.  DeCotis now finds himself back in Massachusetts regrouping and plotting his comeback.
Racer X: Jimmy, last time we talked you had the bull by the horns, and things were looking up for you—as far as your racing career goes. But then I didn't you see you in one race last year. What happened?
Jimmy DeCotis: I was getting ready and training hard for supercross in California last winter. One day I was riding at the Milestone Supercross track, and I had a hiccup on the bike. I ended up tucking the front and broke both my ankles. They were not terrible breaks, but I was in a wheelchair for three weeks, until one of them healed well enough so I could use crutches. But I realized I could heal up pretty quick and still race the East Coast series, so I pushed hard on the recovery. But then on my second day of supercross riding when I was coming back from the ankle injury, I got hurt again and tore my ACL. That was it, game over for the season. I packed up my stuff in California and headed home to New England for surgery and recovery.
I know you had some pressure on you to perform for supercross, so that you could keep your ride for the outdoors. Do you think you came back to early from the ankle issue and that it might have impacted your second injury?
It's hard to say, but yeah, maybe a little bit—it wasn't my fitness or stamina. But I was in a tough situation, I had to perform. It was self inflicted pressure, but for me, and at that time, there was no waiting, I just had to get it done and get back racing. It was a bummer for sure, the knee deal. But, I think at the end of the day, everything happens for a reason.  So here we are. I was able to start riding again two weeks before the East Coast series started, and I still had momentum from my winter training, but I just slipped up and tore my ACL.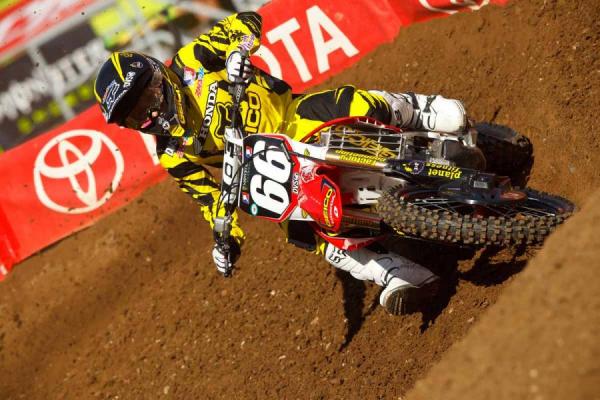 DeCotis missed all of 2012 due to a torn ACL.
Simon Cudby photo
You had some downtime, which can be good, but in your case, it could be bad for helping you get a ride for next year. How did the time off effect you?
Once I realized the season was done, I just took a step back from it all. I am so young I don't really want or need to push it right now, so I took the full year off, chilled out and healed up. But now it's getting close to time to go back and do it again. I did some tile work for my dad, and then I rode in early October for the first time. I also turned 21 in October, so that's cool. But I actually feel really good with things. I took a lot of time to just ride for fun this fall, and was riding my 125 and living my life. There are not many years where you can sit around and hang out for six months to get refueled. But now, I am so hungry, I really want it now. I am hungrier than ever, and I feel refreshed. It's been 15 years of motocross for me, so a little step back was good for perspective on the whole thing, and now I know that I really want it. But you know, I am still on the bubble, I can still do it this season, even though it's getting late.
So what do you have going on as of right now? Do you have a plan for 2013?
We are working on that now. It's going to be a family effort, I think. I have a few 250's bikes, and they are still good. They are not new, but I am still small and lighter than most of the guys, so that will help. We still have our family motor home, so I can cruise that thing. Actually today, my dad just picked up a new Honda 450 for me, we used that cheap financing that Honda has going for that bad boy. But most likely I am going to get a few bikes, and have Ziggy and his crew at Factory Connection help me with some suspension, and just hit the privateer route. It's nothing I haven't already done, and I got a 5th on my privateer bike in supercross, so I know I can do it. Plus it will be fun and a little less pressure. You know, it's hard to get support here in New England, as I am so far off the radar. Its not like I am out spinning laps at Milestone and guys from the teams see me.  But I am lucky with my relationships with Factory Connection and Spectro. They are good to me. But that is it for sponsors. If you are not on the radar of all the teams, it's hard. But it makes it more of a challenge. I don't think I am on the radar, which is both good and bad.
What about a fill in ride if someone gets hurt? Have you considered just getting ready and waiting for something to come along? I know your first stint with Ziggy was in that capacity after one of the Hahn's got injured.
You know, that's a tough one. I don't know. It would just have to depend. I would never want to turn down good support, but even if a ride came for West Coast, I really want to make sure I am ready. I want to be strong and in shape when I get back on the racetrack. I think for now, I am good with just doing a little program on my Honda's.  As I said before, I got the same finishes on the team bike that I did on my privateer Honda, and I know I can do well. Jumping around on a different team and changing bikes can be hard. If I can lock in a few more sponsors, I am confident in my own program, right now. But if any teams are reading this, feel free to call me and we can talk, I don't want to turn anything down! [Laughs] But I have been lucky enough to ride one of the best bikes in the business [GEICO Honda] and I can tell you that right now, it's all up to me as a rider to get the results. If I can get a few god sponsors, I won't jump ship for anyone. If people stay faithful for me, I will stay faithful for them. For supercorss I wouldn't mind to do it on my own.
How did things end up with Factory Connection? I know you and Ziggy are friendly outside of racing and he has been a long time supporter of your career.
Yeah, this summer I went to some of the local racers and I talked to him. He has five guys on his team, and they have to perform. They are in the business to win, and I wasn't. So I totally understand, he said he would help me out as best as he can. I didn't race once this year, so I am realistic that I now need to prove myself. I am not mad about anything, that's not what its about. He has helped me out so much.  But at that level, its not about relationships or friendships, its all about results.  I am going to prove myself and get it done.  I just want to be up front!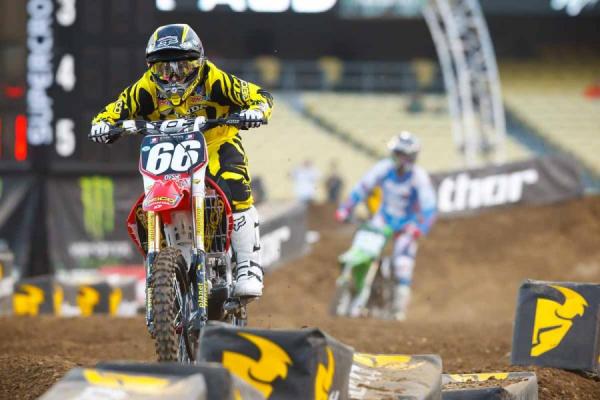 DeCotis will be contesting the 250SX East Region on his own in 2013.
Simon Cudby photo
Sounds like some good old Boston Loyalty for 'ya. Say, you have some good support from your family. Can you talk to that?
Well, I do. It's not like we are rich or anything, but my father has his own business and operates some real estate here in Massachusetts. He has been very helpful to me. You know, the payout in the 250SX class is not enough to make it on your own from race to race. I got 5th place in a main, and I got $650 for that result. I can stay at home and work my family and make more in a week. So, with that in mind, it's really all about getting a ride for next year. So my family has enough to help me with a bike and a truck, but we are not loaded or anything. I just have the basics to get what I need, but that's it. And believe me, that's a goal of mine, to give something back to my dad if I make it. He has been so supportive.
I was looking at your results in the Racer X Vault and noticed another DeCotis was in there as well. Does Motocross run in your family?
Yeah, my dad was just a NESC guy. He was pretty good with the local stuff and just did it for fun for a long time. My family is pretty big, there are eight of us kids, four sisters and four brothers. My older brother Carl [DeCotis] started racing and he got fast. He qualified for Unadilla in 1999. But now he does his own thing and doesn't really race much anymore. Also my brother Billy raced, as well. We all just did all local stuff for fun and as a family. Then during the winters we started going south with the family to ride, and I really stated to like riding my dirt bike. I also stated to get pretty good, and my dad asked me if I wanted to go for it –and I said yeah. So that's where we are at! But I have to say that life is not the same when you are not riding. I just love being on my bike.
You were training with Ryno last year, are you still on his program? Or moreover what are you doing for training and to make sure you are in good shape?
I am still on his program, but I can't work with him since I am back east. Also, there are no supercross tracks here in New England, which makes riding supercross a bit hard. But for training, I have been doing all that Ryno has taught me. We don't talk everyday, but he still helps me out and is certainly still a big influence on my program and fitness.  I still haven't hit a SX track since I got hurt, but probably I will head south in a week or two in the motor home and go in search of supercross tracks. I probably bounce around, with my first stop at Robby Marshal's new house in North Carolina. But one thing is for sure, I need to be somewhere where I can ride supercross—and that will be wherever I can find it.
Some of your best results are in supercross, but you also have awesome speed outdoors. Where do you think you are better?
Well, I have had two fifths in supercross, and in both of those results, I was short on testing and wasn't in as good of shape as I am not. I know where I can be and what I can do in supercross and I just want to get through the East Coast series with consistent, fast results. Outdoors is the main goal though, I want to be fast and consistent outdoors. Get through supercross healthy, keep it as smooth as possible, ride my bike as fast as I can and not push it. As long as I improve and learn every year with my racing I am happy.
Thanks Jimmy. Good luck for next year. Anything you want to close off with?
Thanks for doing this with me. All I have to say is that racing is awesome, I have met so many people traveled all over the place, and it has been great. The family business, you know, that is always a fall back for me, but I really want to make it as a racer. I am just running it for now and we shall see where I land!