Sam Boyd Stadium
Las Vegas

,

NV
Race Center: Monster Energy Cup
Monster Energy Cup
Carey Hart's Hart and Huntington Team, once known more for smoke machines and dancing girls in the pits than for race results, is completing its transformation into a formidable force on the track. For 2013, Ricky Carmichael has signed on as a partner with Hart, with the new effort christened RCH Racing. On Saturday at the Monster Energy Cup, we chatted with Hart about the new evolution of his team.
Racer X: As even Ricky [Carmichael] said, it seemed like in the beginning, no one knew what to make of this team. Was this a marketing thing? Was it a freestyle team having some fun? Now, it's obvious. This is a serious race team that wants to win. That's pressure.
Carey Hart: It's pressure that I appreciate and I want to take on. When I got into this thing, I had a passion. I was always a racer at heart, that's what my background was and I wanted to get back into the sport and get involved with the sport. So, yeah, in the beginning, it was marketing. There were a lot of smoke and mirrors. There was a lot of smoke from the smoke machine and all the rest of it! But you've got to crawl before you can walk. I feel that, over the course of the last five years, we've made leaps and bounds each year. Honestly, I personally feel like we'd kind of hit the ceiling at what myself and Kenny [Watson] can do. When Ricky came along, it was just great timing and it's just the relationships that we all have together. We all have the same motivation and to be able to have that piece—that is just like the final piece to the puzzle, I feel like, structurally, we are ready to go start chasing the box and, eventually, even a championship.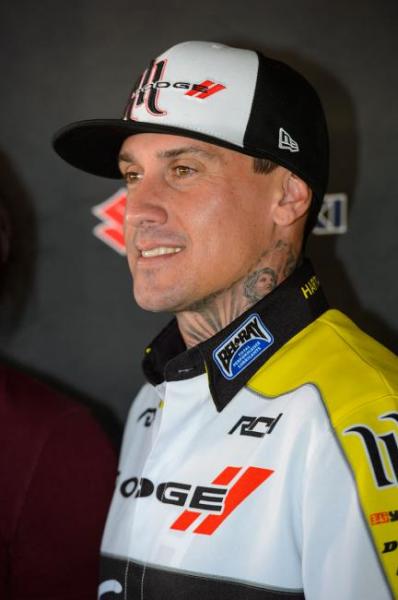 Hart has joined forces with RC to form RCH Racing.
Simon Cudby photo
Ricky talked about the different demographics that you guys have. So, it's odd that you guys are actually friends and you've known each other for a while. This is not as strange a pairing as some people may think.
I've known Ricky, as he was saying, since '98 when I was in a broke down van with two beat up bikes in the back, trying to go race supercross and the nationals. Through the relationship with Fox, we always crossed paths. He's just a great guy. I don't know, it's pretty hard to explain it. I feel like I'm a pretty humble dude and Ricky is, too. We're into this for the same reasons. We're into this because we love racing. We want to provide racers with jobs. We want to provide racers with rides. Unfortunately, in this economy, it seems like teams are going away. We just want to grow this thing and we're competitive as hell. We want to go win races.
We talk about marketing a lot, even with all the sponsors you do have.  Do you feel like you take a different approach with your team than other teams do? And then, does that sort of allow you to get these sponsorships? What is the secret?
Well, I can't give you my secret! [Laughs] I mean, if I give you my secret than everyone's going to use it. I personally feel, the way I kind of came into supercross is this is a business. First and foremost, this is a business and this business is to sell Dodge cars, Suzuki motorcycles, hotel rooms at Sycuan and t-shirts. I never strayed away from that and, whether you love me or hate me for it, that was the number one priority. Now, thankfully, with the support of Suzuki and the level of riders that we have now, it's a priority to go do as good as we can, win races and to keep marketing. So, I guess that's kind of my formula.
It started as a business first, whereas most teams start looking for results first, business later.
I just wasn't in a situation for it not to be business first, you know what I mean? Aside from what people may think, because of my wife, I'm not a crazy, money to burn kind of guy. I had to come into this thing and run it like a business with budgets and profits and losses. To go in and have a catastrophic loss, it would have pushed me out of it. I got into this for the long haul. I wasn't trying to come out and impress too early and have goals and expectations. I knew this was going to be a growing process and that's what we've been doing.
Talk about Broc Tickle. How did he become "the guy"?
Broc is just a great guy. I meet Broc a couple of times over the last couple of years. I just like his style so much. He's a worker. I check in on the social media and, on a Sunday night, he's in the gym. It's not about the cool factor for him. I think the kid's got a great image. I think he's got a lot to really show to people and he's got the raw talent. Mitch Payton has obviously done an amazing job with him, training him into a champion and getting him to make that transformation from the 250 to the 450 and I think now we're here to kind of help push him in that direction. This isn't a pressure situation. I think we have all the right resources for him. I think we're giving him an opportunity to where he has all the structure and all the equipment and all the confidence to go out and try to get on the box.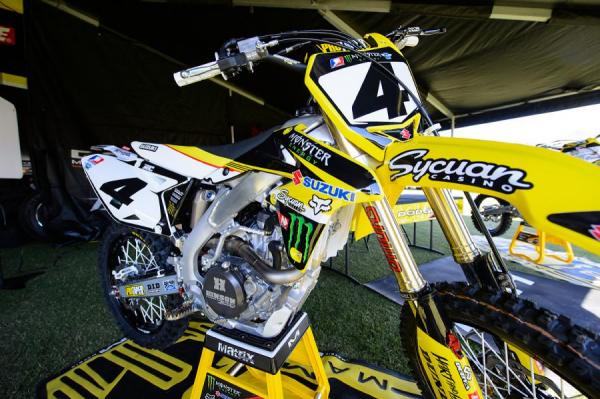 The new bikes were on display this past weekend at the Monster Energy Cup.
Simon Cudby photo
Obviously Broc's a great rider. He can do great things. But is there potential to go even bigger, have even bigger, higher salary names?
When we got into this thing, when Ricky and me started this thing, we know how important '13 is, but we have our sights set on '14 and '15. And that's all I can really say. But, with that being said, we have a two-year deal with Broc and I want it to be much more than a two-year deal. With the way that kid works and his outlook on the sport, I know he's going to be here for a long time.
No second rider has been announced yet, but you will have somebody for supercross.
We will have a second rider. We were trying to get things figured out here for Monster Cup. It just didn't align right, but we should have our second guy locked in here in the next week to two weeks.