Steel City Raceway
Delmont

,

PA
Steel City
Lucas Oil AMA Pro Motocross Championship
"My first goal is to just make it through all the motos this season," said Mike Alessi at the post-race press conference at the Freestone National, round two of the Lucas Oil Pro Motocross Championship. "Every season is the same thing, I try to get through supercross healthy just to get hurt during motocross. I'm not going to ride over my head this summer, it's 24 long motos."

After injuries ruined his 2008, 2009 and 2011 seasons outdoors, Alessi promised to play the long game this year, and he has. He is one of only a few riders (including Broc Tickle and Jake Weimer) to make it through the entire Monster Energy Supercross and Lucas Oil Pro Motocross season without a major injury. There have been a few key moments where the MotoConcepts rider saw a potential victory in sight, and turned it up a level trying to stave off the advances of Ryan Dungey. But for the most part, Mike has let discretion play the better part of valor. But once Dungey finally had the title wrapped, would Mike start to play things differently?

I saw Tony Alessi on Saturday morning before the FMF Steel City National, and asked him what the goals were for the day. "The instructions to the rider is to just try secure second in the championship," explained Mike's dad and team manager. "That can get hard at times when the rider feels like he's having a good day, like today he was fastest in qualifying."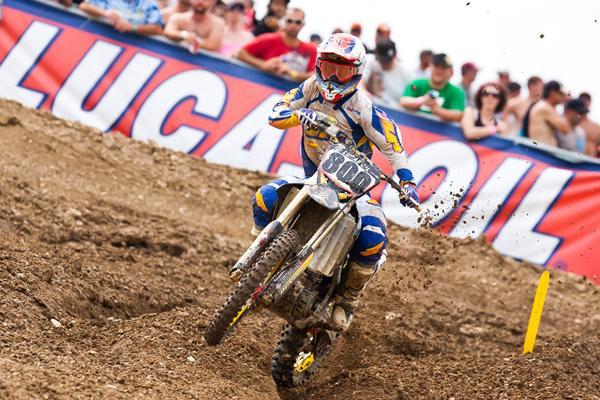 Alessi has competed in every Monster Energy Supercross and Lucas Oil Pro Motocross race during the 2012 season.
Andrew Fredrickson photo
Yeah, Mike could have taken a nothing-to-lose attitude and hung it out over the edge for the win. And such an opportunity presented itself at Steel City, when Mike collected the Oakley Bomb Award with the fastest qualifying time, and then led most of the laps in the second 450 moto. Dungey already had the overall win for the day wrapped up by getting up to second, but it was clear he wanted more--he wanted the moto win. Alessi rode hard out front, but Dungey closed in, and then suddenly Alessi pretty much let him by.

"I wanted to see his lines, but about half a lap before he passed me, I kind of twisted my ankle in a turn," said Mike. "I decided to just let him go by to see if I was okay, I wasn't sure if I was hurt or not. I gave it a good effort. It was a good day, I was able to secure second in the championship for the year, which was great."

The Alessi camp decided the long game was the right one to play, and for the first time in a long time, Mike can enter the off-season with momentum, with some career certainty, and without any injuries.

"We're not going to ride over our head and and crash and break bones just to try to get a win," said Mike. "We're going to be smart and try to go into the off-season healthy so we can keep building for next year. I'd like to get some good testing in and try to make my motorcycle better."

It appears Mike's once wavering career is now back on the right track. Based on the boost of a solid season this year, how much better can he be in 2013?