When James Stewart injured himself after crashing at Thunder Valley, it ushered in the beginning of a ten-moto winning streak for Ryan Dungey. The Red Bull KTM rider was challenged early in several races by MotoConcepts' Mike Alessi, but always found a way to make his way into first and win by massive margins. That all changed at Washougal, when Mike Alessi won the first moto and put an end to Dungey's string of victories. Afterwards the pits, fans and Internet message boards were buzzing, and it got us thinking about other streaks in our sport's history. So, in honor of Alessi breaking through at Washougal for his first moto win since Hangtown in 2010, here's a list of great streaks, and the racers who ended them.
Ryan VS. Ryan
After losing the National season opener at Glen Helen to Austin Stroupe in 2008, Ryan Villopoto went on a winning streak that turned the 250 Class into a bit of a snooze. With the series headed to Washington, Villopoto's home state, everybody expected that RV's streak of fourteen straight moto wins would be extended to sixteen at Washougal. It was not to be, however, as Ryan Dungey surprised everyone when he went 2-1 to take the first National win of his career. Dungey backed his victory up at the next race by taking the win at Spring Creek, his home race.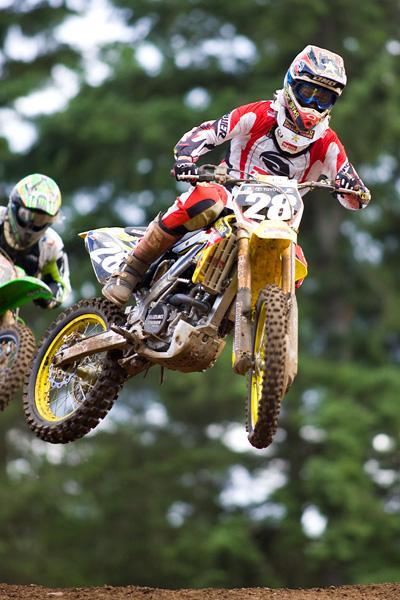 Ryan Dungey broke Ryan Villopoto's winning streak at Washougal in 2008.
Andrew Fredrickson photo
James Stewart VS. Himself
In 2004, James Stewart's goal was to record a perfect season in the 125 Eastern Regional Supercross series, and he came close to doing it. After dominating the series for the first five rounds and wrapping up the championship early, Stewart crashed hard in the whoops during practice in Indianapolis. After putting himself together, he went back out but roughly half a lap later he got together with Ryan Mills and went down hard yet again. Concussed, he pulled out of competition for the night, giving Josh Hansen the opportunity to win the first race of his career.
Ashley Fiolek VS.  Jessica Patterson
With six WMX championships to her credit, Jessica Patterson is by far the most decorated WMX athlete racing today. She won her first championship in 2000, but didn't really hit her stride until 2004, when she began a four-year streak of WMX championships. Then, in 2008, a girl by the name of Ashley Fiolek stepped up and put an end to Patterson's reign. Fiolek would win another title the following year, only to see Patterson regain the crown in 2010. Fiolek won it again last year, and now her and Patterson, along with Tarah Gieger, are locked in an extremely tight points battle with just two WMX races left in the season.
Rollerball VS. Canada
The greatest streak in Canadian National motocross history was authored by Ross "Rollerball" Pederson, as he went eight straight years with a Canadian National championship. The streak started in 1980 and only ended in 1989 when an off-track injury kept him from capturing any titles that year. Honda's Al Dyck swept all three classes in 1989 but the next year Pederson struck back with another run of wins and went four more years in a row with a class championship before hanging it up. And seeing as how there were three classes up for grabs each of those years, Rollerball won a total of nineteen National championships in the eight-year streak! If you wanted to make it a race-winning streak for Ross, well then we're going on thirteen straight years that he won a race, which is almost his entire pro career. Pederson was that dominate up north! – Steve Matthes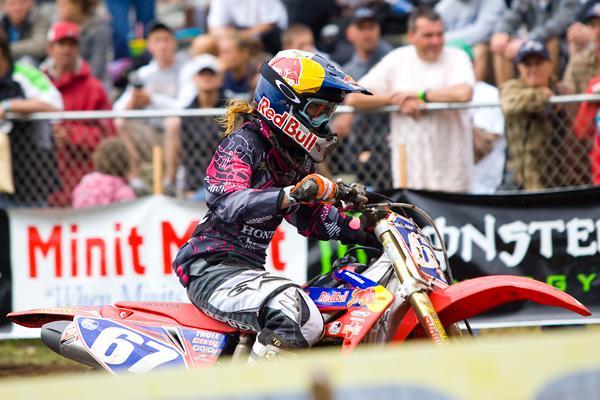 Ashley Fiolek was able to defeat Jessica Patterson in 2008 for her first WMX title.
Andrew Fredrickson photo
Team USA VS. The World
In 1981, the United States toppled the Europeans at the MXoN and kicked off what would become a thirteen-year winning streak at the famous international racing event. Unfortunately, the party came to a screeching halt in 1994 when the trio of Rob Herring, Paul Malin and Kurt Nicoll of Great Brittain beat our boys in Switzerland. Team USA would take the title back in 1996 with Jeff Emig, Steve Lamson and Jeremy McGrath, and again in 2000 with Ricky Carmichael, Ryan Hughes and Travis Pastrana, but it wasn't until 2005 that the United States would put together the beginning of another streak of consecutive MXoN victories. Since then, American racers have prevailed at every single running of the MXoN.
Pro Circuit and GEICO Powersports VS. Everyone
Here's a streak that hasn't been broken yet. The powerhouse racing efforts that are Pro Circuit Kawasaki and GEICO Honda have won every single 250 National since Ryan Dungey won at Washougal on a Suzuki in 2009. And no, 2009 is not a typo. Other brands have been able to sneak in moto wins here and there, but the string of PC/GEICO overall victories is still intact. If it is not broken before the current season ends, the dominance will exceed an astonishing three full consecutive seasons.
John Dowd VS. Time
If we're including streaks that are still intact, we've got to include John Dowd's astounding twenty-five-year streak of holding a National number. Dowd earned his first National number, 91, in 1987 and wore it for the first time in 1988. The Junkyard Dog has earned a National number every year since, and is currently working on keeping it for another year. He's got ten points right now, and another fifteen will ensure that he'll retain National number 16 and extend his streak to twenty-six years. With Southwick, Dowd's home track, next on the schedule, who wants to bet he gets the job done?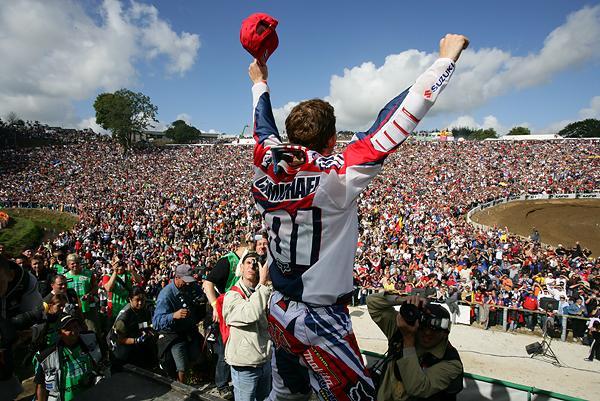 RC and company would begin a MXoN streak in 2005 that is still intact to this day.
Simon Cudby photo
Emig VS. McGrath
For fans that grew up in the 90s, few rivalries were more entertaining or polarizing than the one that existed between Jeremy McGrath and Jeff Emig. If you were a fan of one, you simply couldn't cheer for the other, and in 1996, McGrath fans were given another big reason to dislike Emig. McGrath had recently sealed up his fourth straight supercross championship and with just two races left in the fifteen-race series, was undefeated for the year. McGrath winning the final two races and completing a perfect season was a foregone conclusion in the minds of many, but at St. Louis, Emig had other plans. Emig took the holeshot while McGrath struggled to get around Mike LaRocco. With just a few laps to go, McGrath was able to get around LaRocco for good when LaRocco bobbled in a corner. That's as far MC would get though, as he was never able to make a move stick on Emig, who handed MC his only loss of the season that night. It was a brilliant and exciting race, and can be seen right here.
Windham VS. Carmichael
In 2003, Honda's Ricky Carmichael was killing the field, and had been for nearly two years. Starting at The Spring Creek National in 2001, RC won every single premier class moto he entered (he dropped down to the 125 Class and won at The Steel City National in 2001) until Kevin Windham put a stop to Carmichael's streak of moto victories by winning the first moto at Hangtown in 2003. Carmichael wasn't done with his streak of overall wins, however, which would continue until Unadilla in 2003, where Windham went 1-1, becoming the first man to take an overall win away from Carmichael since Windham himself had beaten RC at Washougal in 2001. Windham took another perfect 1-1 victory at the following race at Washougal.
Carmichael VS. Everyone
After losing to Windham at Unadilla and Washougal in 2003, Carmichael embarked on another seemingly endless winning streak, one that lasted even longer than the first. Starting at Spring Creek in 2003, RC reeled off twenty-seven straight overall victories before his torturous reign of terror came to an end at Hangtown in 2006. Carmichael crashed as he was crossing the holeshot line and finished the moto in third behind James Stewart and Chad Reed. He came back to win the second moto, but it wasn't enough to overcome Stewart's 1-2 score. Just like that, the longest winning streak in AMA National history had ended.