Spring Creek Motocross
Millville

,

MN
Spring Creek (Millville)
Lucas Oil AMA Pro Motocross Championship
When Ricky Carmichael stepped away from the sport as the winningest motocross racer of all time, he said he had plans to give back to the sport. Over the last five years, he's done that, hosting his RC University riding schools, the Ricky Carmichael Amateur Supercross at Daytona, announcing Monster Energy Supercross on TV, and plenty of other projects. Now he's going to do a little racing again at his old stomping grounds -- Loretta Lynn Ranch. We called him just before he was about to get in some motos.
Racer X: Okay RC, let's start with Loretta's. I know you've always said you want to come back and do it again, so what are the details? What class are you riding? And if you don't win every moto, is it a disappointment, or is it just an experience?
Ricky Carmichael: I'm gonna' race the 25+ class. That's the plan. It's almost like a fun race for me, you know what I'm saying? I've always wanted to go and experience Loretta's and go there and race it and bring my family and just have a good time. When I raced it as an amateur kid, there was always so much pressure. I was expected to win. So I want to go there and enjoy a race because I really do like the track. I like the corners that it has. I like the layout. It's just really, really fun. We're bringing the family and I'm gonna bring a motorhome and just really make it somewhat of a vacation. I want my kids to experience it and I'll do a little riding at the same time. Of course you want to win, but I won where it counted and accomplished what I needed to. So absolutely I want to win, but is it the end of the world if I don't? Absolutely not.
So just 25+?
Yeah. Anything with "pro" in it, I'm over that. Unless it's Pro Circuit! My days of doing it competitively like that are over and it's strictly just a hobby. Obviously, I don't take the time to prepare like I used to and that's why I think the 25+ class is great for me. It's for guys like me that don't take it as serious as we used to.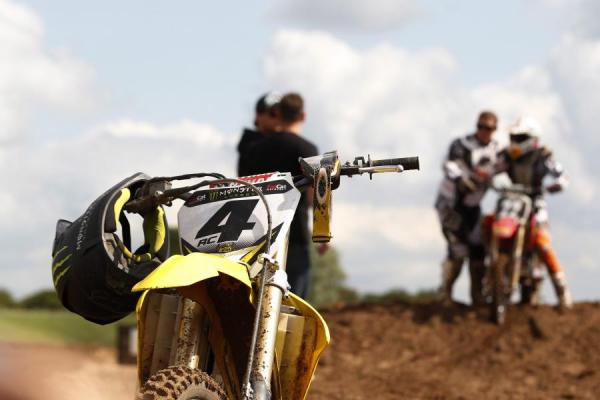 Look for the #4 at Loretta Lynn Ranch later this month.
Ray Archer photo
But you know how it works at Loretta's. You're only running one class. You could get a flat tire, bike problem, first turn crash. It can rain. Something gnarly always seems to happen down there!
You're 100 percent right. Anything can happen but, like I said, I'm going there for the experience and I enjoy going. I've always wanted to be able to do it this way and I get the chance to now and it's gonna be fun.
If I remember right, your last motocross race was des Nations in '07, and your kids were just barely even going at that point. So they've never really seen you race a dirt bike, have they?
No, they sure haven't. Other than what they've seen me do up here at my track, that's all they really know. They see trophies and this and that, but I don't really think they know the magnitude of the kind of racing I did. It'd be cool for them. Even now, I don't think they really understand it.
You just got back from hosting RC University in England. How was it?
Yeah, the RCU Europe. It was our first attempt at it. I've got to give huge, huge props to Monster Energy and Fox for being a huge part of it. Jamie Dobb as well. He did a lot of the work as far as organizing it. So I've got to give a strong shout out to him. Everyone at Fat Cat Motorparks, the track and facility that we had it at. They're very accommodating. It was extremely, extremely good. And all the people that turned up, we had a great event. It was a two-day event. It was a success. We work hard at what we do. Everyone involved behind the scenes did a great job. The two Jeffs [Stanton and Emig] and I gotta thank Tommy Searle for coming the day after his GP. We work hard to make it an experience for everyone. As each group goes to their own section and a different coach, I think that's good because sometimes they need to be exposed to different styles of coaching or whatever it might be. I hope that when they walk away from this kind of stuff, they had a good experience and got to learn and better their performance. To me, that's what it's all about, really taking the time with them and learning. That's our goal and we've got a good program and we work hard at it.
And you do have another RCU coming up for the riders in the United States, right?
Yep, we've got one the Monday after the Lake Elsinore outdoor national. After hosting it in Daytona for the last two years, by popular demand, we needed to have one on the West Coast. So we figured this would be the perfect time. I'm looking forward to doing that. Hopefully we'll have another good turnout. I love giving back to the sport and helping people achieve their goals. We try and have it set up for them where they can work every single obstacle on the track. That's our goal. It's fun. I think we're building something really good and we're going to keep doing it.
Try and give us an example of something you see a rider do, then you helped them with and they got better at the end of the day. It's not just fantasy camp. They're really getting info.
Whether I'm in a corner section, helping guys with their corner entry, or even some of the guys that don't have as much experience, or a kid coming up on a 65 that needs to learn how to use the clutch a little bit better at that level, just being able to watch them progress from the beginning of the day when they first go out and ride, to the end of the day at the open practice session when we have really put the whole track together, that's what's cool to me. I love watching the first open practice, then as each rider comes through my section and I get to help them, then at the end of the day, being able to ride with them and watch them and see how they've progressed in just five hours, it's pretty cool. That's an example for me, what I like to see. I like to watch the beginning and then at the end, it's pretty amazing.
In the intermission stuff, we do Q&As with everyone and it's a fun time. That's what it's about. We try to make an event and an experience so when they walk away from it, they got to learn and have a hell of a good time.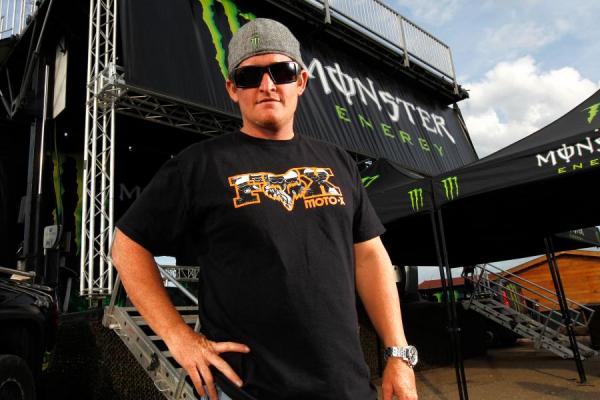 Between his RCU events, the Monster Energy Cup and preparing for Loretta's, RC is one busy man these days.
Ray Archer photo
I know you always said that you were going to give back. Is it full moto for you? Is there a chance we'll see you on four wheels at some point again? Is that something you're still working on?
Yeah, I mean, I'll always be moto, I've always been pretty vocal about that. That's the home for me. Obviously, I think I have some unfinished business on the four wheel side and NASCAR, whether it's the Nationwide side or what have you. So my people are working hard on that, trying to get some sponsorship going and, if not, no biggie. We've got some fun stuff in the works and I'm always busy, especially with how well the RCU has taken off and with my amateur supercross that I do down in Daytona. That's going to be exceptionally big again next year. So it's good. Then with the supercross stuff and the commentating that I do and autograph sessions for Monster and Fox and everybody, it keeps me busy and it's all fun stuff. It's stuff that I like doing. So if the car stuff doesn't pan out, which I think it will, I've got plenty of stuff that I can do on the two wheel side, without a doubt.
One other thing. Are you putting together track designs for Monster Cup too?
Yep. I've been getting ready for the Monster Energy Cup, putting track designs together for that and working together with the boys at Feld. I'm really excited about that. I think we learned a lot last year and we've got a little more involvement this year. I should be there for part of the building of the track while it's actually going up. So I'm looking forward to that. We just need to make it good for TV, obviously. If we make it good for TV, then it'll be good for the riders.
You've got a lot of irons in the fire, that's for sure.
That's what happens when you retire. Everything that you used to say no to, you can do that now. I like my position and where I'm at right now.