Yamaha Wake-Up Call
Monday, July 9, 2012 | 5:00 AM Tweet

Lucas Oil Pro Motocross Championship
Red Bull RedBud National - Buchanan, MI

450 Overall
Ryan Dungey 1-1 KTM
Justin Brayton 3-4 Hon
James Stewart 6-3 Suz
Tyla Rattray 4-5 Kaw
Mike Alessi 11-2 Suz
Broc Tickle 5-9 Kaw
Cole Thompson 7-8 Hon
Josh Grant 9-7 Kaw
Andrew Short 12-6 Hon
Jake Weimer 2-20 Kaw
Michael Byrne 10-10 Suz
Kyle Chisholm 15-11 Kaw
Christian Craig 16-13 Hon
Robert Kiniry 8-23 Yam
Nick Wey 17-14 Kaw
Derek Anderson 13-18 Kaw
Les Smith 36-12 KTM
Ben LaMay 14-22 Yam
Kyle Regal 24-15 Yam
Matt Lemoine 34-16 Kaw
Jimmy Albertson 38-17 Suz
Heath Harrison 18-26 Hon
Drew Yenerich 26-19 Yam
Kevin Rookstool 19-21 Hon
Vince Friese 20-34 Suz
John Dowd 22-24 Kaw
Jason Thomas 21-25 Suz
Jake Loberg 27-28 Kaw
Dalton Carlson 25-30 Yam
Michael Giese 31-27 Yam
Michael Stryker 29-29 KTM
Dakota Kessler 28-31 Hon
Preston Mull 23-36 Hon
Fredrik Noren 33-32 Hon
Mike Brown 32-33 KTM
Tucker Saye 30-37 Suz
Josh Greco 37-35 Hon
Nico Izzi 35-38 Yam
Ryan Sipes 39-39 Yam
Sean Borkenhagen 40-40 Kaw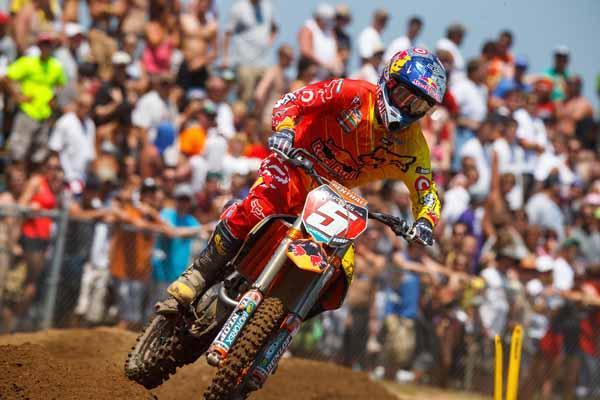 Dungey dominated at RedBud en route to 1-1 moto scores.
Simon Cudby photo
450 Moto 1 Overall
Cole Thompson
Derek Anderson
Ben LaMay
Heath Harrison
Kevin Rookstool
Preston Mull
Dalton Carlson
Jake Loberg
Dakota Kessler
Michael Stryker
Tucker Saye
Michael Giese
Fredrik Noren
John Greco
450 Moto 2 Overall
Cole Thompson
Derek Anderson
Kevin Rookstool
Ben LaMay
Heath Harrison
Michael Giese
Jake Loberg
Michael Stryker
Dalton Carlson
Dakota Kessler
Fredric Noren
John Greco
Preston Mull
Tucker Saye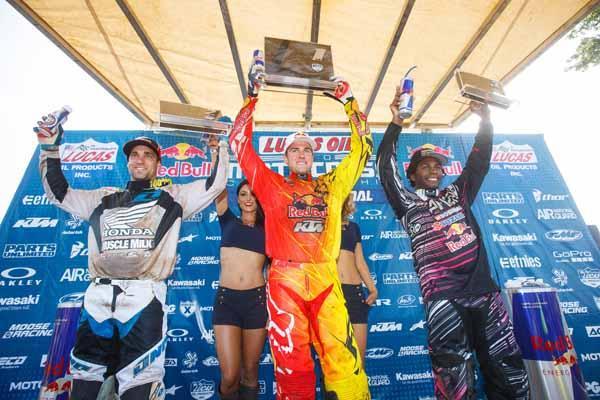 Brayton (left) and Stewart (right) would join Dungey (center) on the podium.
Simon Cudby photo
450 Points Standings
Ryan Dungey 286pts. KTM
Mike Alessi 214pts. Suz
Jake Weimer 202pts. Kaw
Andrew Short 178pts. Hon
Broc Tickle 162pts. Kaw
James Stewart 151pts. Suz
Brett Metcalfe 142pts. Suz
Josh Grant 137pts. Kaw
Justin Brayton 131pts. Hon
Kyle Chisholm 100pts. Kaw
Michael Byrne 97pts. Suz
Nico Izzi 95pts. Yam
Ryan Sipes 86pts. Yam
Davi Millsaps 85pts. Yam
Matt Lemoine 61pts. Kaw
Jimmy Albertson 50pts. Suz
Kyle Regal 45pts. Yam
Cole Thompson 44pts. Hon
Robby Kiniry 44pts. Yam
Tommy Hahn 39pts. Hon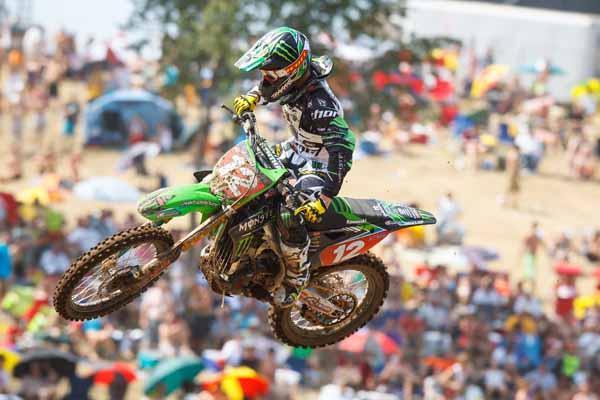 Blake Baggett had two come from behind wins to go 1-1 for the overall at RedBud
Simon Cudby photo

250 Overall Results
1. Blake Baggett 1-1 Kaw
2. Justin Barcia 2-2 Hon
3. Eli Tomac 5-3 Hon
4. Marvin Musquin 4-4 KTM
5. Ken Roczen 3-6 KTM
6. Wil Hahn 6-5 Hon
7. Gareth Swanepoel 9-7 Yam
8. Blake Wharton 7-12 Suz
9. Jessy Nelson 12-9 Hon
10. Travis Baker 11-10 Hon
11. Kyle Peters 8-13 Yam
12. Tommy Weeck 19-8 Yam
13. Jason Anderson 10-17 Suz
14. Malcolm Stewart 40-11 KTM
15. Jake Canada 13-19 Hon
16. Zack Freeberg 17-16 KTM
17. Phil Nicoletti 39-14 Hon
18. Jacob Hayes 14-21 KTM
19. Killy Rusk 34-15 Hon
20. Dakota Tedder 15-22 Kaw
21. Sean Hackley Jr. 16-39 KTM
22. Mike McDade 22-18 Hon
23. Joey Peters 18-27 Yam
24. AJ Catanzaro 21-20 KTM
25. Broc Schmelyun 20-28 Kaw
26. Gannon Audette 24-24 KTM
27. Ryan Zimmer 23-25 Hon
28. Kody Kamm 26-23 Hon
29. Matthew Babbitt 25-26 Hon
30. Michael Akaydin 28-31 Kaw
31. Daniel Herrlein 27-32 Hon
32. Mitchell Dougherty 29-33 Hon
33. Eric Senk 30-34 Kaw
34. Ricky Renner 31-35 Yam
35. David Buller 38-29 KTM
36. Hunter Hewitt 37-30 Suz
37. Lowell Spangler 33-36 KTM
38. Tevin Tapia 32-37 KTM
39. Topher Ingalls 35-38 Hon
40. Jerry Lorenz 36-40 Kaw
250 Moto 1Overall
Kyle Peters
Jessy Nelson
Jake Canada
Jacob Hayes
Sean Hackley Jr.
Zack Freeberg
Joey Peters
Broc Schmelyun
AJ Catanzaro
Mike McDade
Ryan Zimmer
Matthew Babbitt
Kody Kamm
Daniel  Herrlein
Michael Akaydin
Mitchell Dougherty
Eric Senk
Lowell Spangler
Jerry Lorenz
David Buller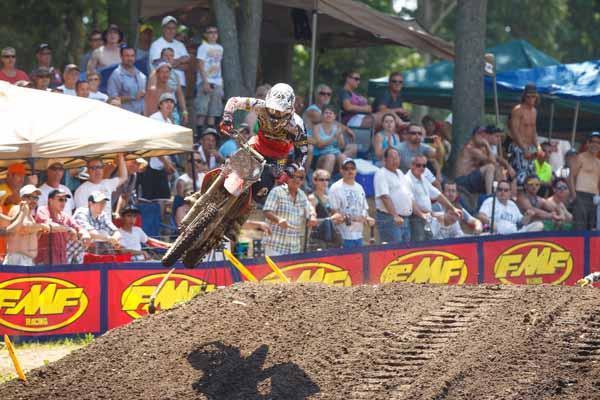 Justin Barcia finished second behind Baggett.
Simon Cudby photo
250 Moto 2 Overall
Jessy Nelson
Kyle Peters
Zack Freeberg
Mike McDade
Jake Canada
AJ Catanzaro
Jacob Hayes
Kody Kamm
Ryan Zimmer
Matthew Babbitt
Joey Peters
Broc Schmelyun
David Buller
Michael Akaydin
Daniel Herrlein
Mitchell Dougherty
Eric Senk
Lowell Spangler
Sean Hackley Jr.
Jerry Lorenz
250 Points Standings
Blake Baggett 272pts. Kaw
Justin Barcia 253pts. Hon
Eli Tomac 236pts. Hon
Ken Roczen 235pts. KTM
Marvin Musquin 189pts. KTM
Wil Hahn 161pts. Hon
Blake Wharton 125pts. Suz
Jason Anderson 121pts. Suz
Jessy Nelson 109pts. Hon
Jake Canada 105pts. Hon
Travis Baker 103pts. Hon
Gareth Swanepoel 100pts. Yam
Ivan Tedesco 99pts. Kaw
Kyle Cunningham 96pts. Yam
Kyle Peters 66pts. Yam
Malcolm Stewart 58pts. KTM
Alex Martin 55pts. Hon
Martin Davalos 40pts. Suz
Hunter Hewitt 36pts. Suz
Zack Freeberg 31pts. KTM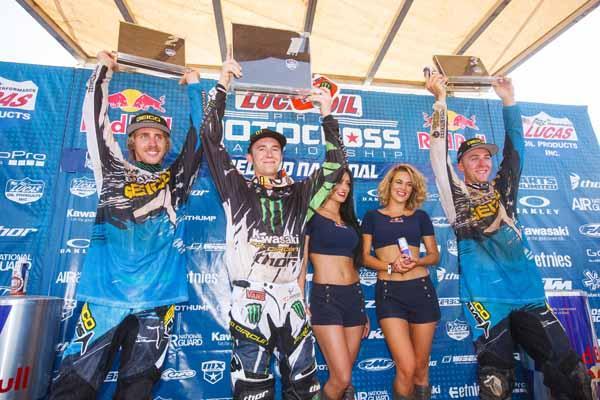 Eli Tomac (right) joined Barcia (left) and Baggett (center) on the podium.
Simon Cudby photo
WMX Overall
1. Ashley Fiolek 1-1 Hon
2. Sara Pettersson 3-4 KTM
3. Tarah Gieger 2-6 Hon
4. Kasie Creson 5-3 Hon
5. Jacqueline Strong 4-5 KTM
6. Mariana Balbi 14-2 Hon
7. Alexah Pearson 6-7 KTM
8. Sarah Whitmore 7-8 KTM
9. Sade Allender 8-9 Hon
10. Brianna DeGray 9-10 KTM
11. Amanda Brown 11-11 Hon
12. Shelby Rolen 10-12 Yam
13. Jackie Ives 12-15 Yam
14. Jessica Patterson 15-14 Suz
15. Taylor Levic 14-18 Kaw
16. April Zastrow 19-13 Hon
17. Mariah Andrew 16-16 Hon
18. Brittany Marcotte 26-17 Hon
19. Meghan McClain 18-20 Hon
20. Bryanna Marcotte 17-27 Suz
21. Marissa Plencheck 20-19 KTM
22. Sonia Williams 21-21 Hon
23. Alexandra Lopez Soliman 22-22 Kaw
24. Lauren Volentir 23-23 Kaw
25. Justine Cox 24-24 Kaw
26. Cady VanCura 25-25 KTM
27. Claudia Danielewicz 28-26 Hon
28. Tiffany Reed 27-28 Hon
WMX Points Standings
Jessica Patterson 201pts. Suz
Tarah Gieger 192pts. Hon
Ashley Fiolek 175pts. Hon
Mariana Balbi 155pts. Hon
Jacqueline Strong 148pts. KTM
Kasie Creson 146pts. Hon
Sara Pettersson 139pts. KTM
Sayaka Kaneshiro 137pts. Hon
Alexah Pearson 100pts. KTM
Sade Allender 99pts. Hon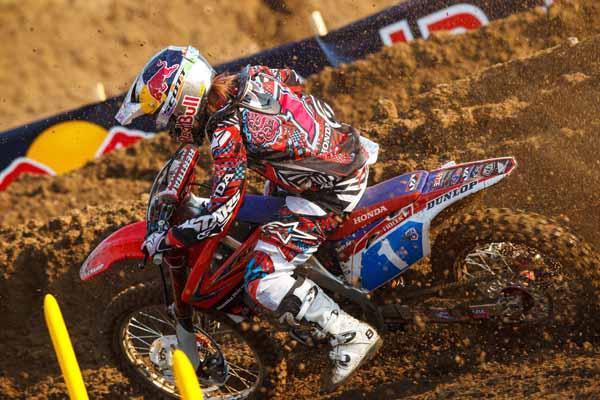 Ashley Fiolek took the overall at RedBud in her first race back from injury.
Simon Cudby photo
FIM World Motocross Championship
MX1 Points Standings

Clement Desalle 348pts. Suz
Antonio Cairoli 345pts. KTM

Christophe Pourcel 336pts. Kaw
Gautier Paulin 315pts. Kaw
Ken de Dycker 257pts. KTM
Kevin Strijbos 243pts. KTM
Xavier Boog 236pts. Kaw
David Phillippaerts 212pts. Yam
Tanel Leok 201pts. Suz
Rui Goncalves 183pts. Hon

Shaun Simpson 159pts. Yam

Sebastien Pourcel 143pts. Kaw
Evgeny Bobryshev 137pts. Hon

Jonathan Barragan 135pts. Hon

Mattis Karro 112pts. KTM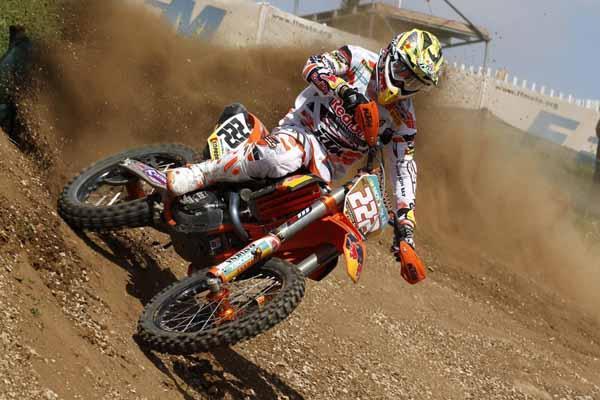 Antonio Cairoli sits three points back of Clement Desalle in the MX1 Class.Ray Archer/KTMImages photo
MX2 Points Standings

Jeffery Herlings 403pts. KTM
Tommy Searle 387pts. Kaw
Jeremy van Horebeek 330pts. KTM
Joel Roelants 263pts. Kaw
Jordi Tixier 243pts. KTM
Jake Nicholls 237pts. KTM
Max Anstie 199pts. Hon
Dylan Ferrandis 177pts. Kaw
Jose Burton 168pts. KTM
Alessandro Lupino 163pts. Husq
Harri Kullas 132pts. Suz
Petar Petrov 131pts. Suz

Glenn Coldenhoof 124pts KTM
Christopher Charlier 123pts. Yam
Nikolaj Larsen 92pts. Suz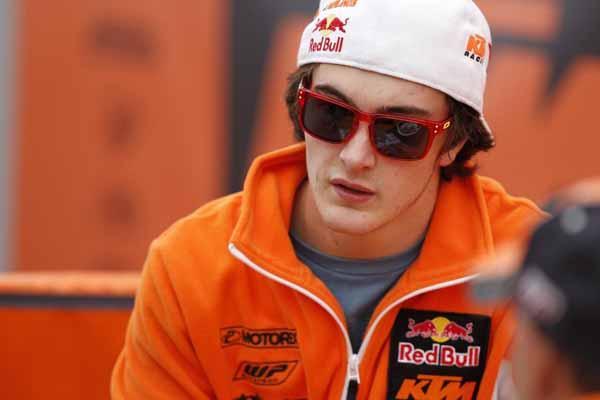 Jeffery Herlings leads the MX2 Class

Ray Archer/KTMImages photo
Can-Am GNCC Championship
The John Penton - Millfield, OH

XC1 Overall
1. Paul Whibley Yam
2. Kailub Russell KTM
3. Rory Mead KTM
4. Chris Bach Yam
5. Thad DuVall Hon
6. Josh Strang KTM
7. Jordan Ashburn Yam
8. Nathan Kanney Hon
9. Garrett Edmisten Kaw
10. Mark Fortner BET
11. Takeshi Koikeda KTM
12. Robbie Horton Yam
13. Steven Squire KTM
XC1 Points Standings
Paul Whibley 225pts Yam
Kailub Russell 216pts KTM
Rory Mead 167pts KTM
Thad DuVall 138pts Hon
Jordan Ashburn 132pts Yam
Charlie Mullins 129pts KTM
Chris Batch 123pts BET
Garrett Edmisten 116pts Kaw
Nathan Kanney 101pts Hon
Takeshi Koikeda 100pts. KTM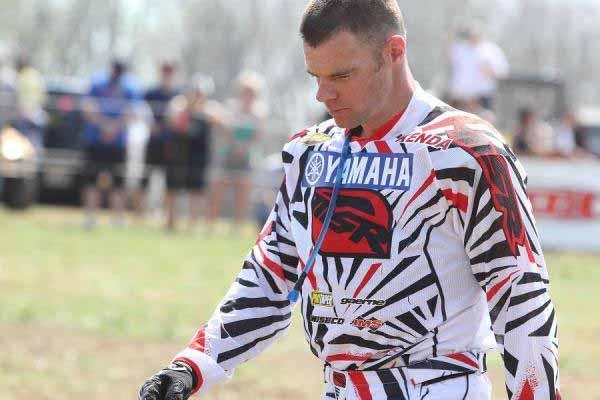 Paul Whibley leads the XC1 Class.
Ken Hill//GNCCRacing.com photo
XC2 Overall
1. Andrew Delong HSQ
2.
Jason Thomas
KTM
3. Steward Baylor Jr. KTM
4. Jedediah Haines Yam
5. Nick Davis HSQ
6. AJ Stewart Yam
7. Brad Bakken Yam
8. Ryan Lojak Yam
9. Ricky Mair KTM
10. Michael McGinnis KTM
11. Zach Nolan KTM
12. Cody Gragg Yam
13. Ryan Echols Yam
14. Scott Grills Hon
15. Jesse Robinson HSB
16. Joshua Gaitten KTM
XC2 Points Standings
Steward Baylor 200pts KTM
Jason Thomas 188pts HSQ
Andrew Delong 172pts. HSQ
Jesse Robinson 155pts HSQ
Jedediah Haines 153pts YAM
Brad Bakken 130pts YAM
AJ Stewart 107pts. Yam
Cody Gragg 91pts. Yam
Scott Grills 87pts. Hon
Zach Nolan 84pts. KTM
Monster Energy Canadian Nationals
MX1 Points Standings
Matt Goerke 197pts. Kaw
Bobby Kiniry 169pts. Yam

Colton Facciotti 144pts. KTM
Tyler Medaglia 142pts. Hon
Tyler Villopoto 113pts. Kaw
Dusty Klatt 110pts. KTM

Gavin Gracyk 100pts. Kaw
Morgan Burger 88pts. Kaw

Jason Burke 77pts. Hon
Borck Hoyer 76pts. Kaw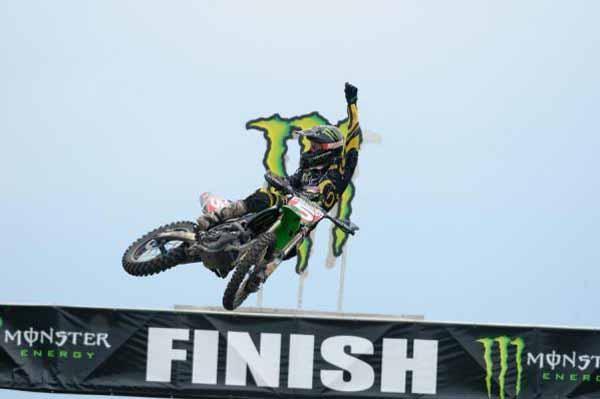 Matt Goerke holds a big points lead in the MX1 Class.
James Lissimore photo
MX2 Points Standings
Teddy Maier 184pts. Kaw
Jeremy Medaglia 169pts. KTM
Kyle Beaton 130pts. Kaw
Jared Allison 126pts. Yam

Brad Nauditt 118pts. Hon
Topher Ingalls 102pts. Hon
Ross Johnson 101pts. Suz
Parker Allison 98pts. Yam
Dylan Kaelin 96pts. Yam
Richard Grey 78pts. Yam
Maxxis British Motocross Nationals
450 Points Standings
Kevin Strijbos 313pts.
Matiss Karro 308pts.
Shaun Simpson 277pts.
Gert Krestinov 226pts.
Stephen Sword 198pts.
Martin Barr 189pts.
Kristian Whatley 186pts.
Alex Snow 159pts.
Jamie Law 156pts.
Dorron Coutts 137pts.
250 Class Points Standings
Elliott Banks-Browne 294pts.
Mel Pocock 286pts.
Steven Lenoir 233pts.
Nev Bradshaw 227pts.
Bryan MacKenzie 220pts.
Graeme Irwin 200pts.
Nicolas Aubin 151pts.
Stu Edmonds 145pts.
Jordan Booker 133pts.
James Cottrell 127pts.
GEICO AMA EnduroCross
Expert Points Standings
Taddy Blazusiak 69pts. KTM

Mike Brown 61pts. KTM
Taylor Robert 57pts. Kaw
Cody Weeb 57pts. Beta
Colton Haaker 51pts. Kaw
Kevin Rookstool 44pts. Husq

Destry Abbott 36pts. Kaw
Cory Graffunder 32pts. KTM
Bobby Prochnau 25pts. KTM
Justin Soule 25pts. Kaw

Taddy Blazusiak continues the Expert Class
.
Garth Milan photo

Monster Energy MX Nationals Austrailan Nationals

Pro Open MX1 Points Standings

Josh Coppins 352pts. Yam
Todd Waters 340pts. Suz
Brad Anderson 330pts. Hon
Lawson Bopping 327pts. Yam
Cody Cooper 269pts. Suz
Tye Simmonds 234pts. Hon
Jake Moss 210pts. Hon
Jay Marmont 207pts. Kaw
Daniel McCoy 189pts. Suz
Pro Lites MX2 Points Standings
Luke Styke 374pts. Yam
Ford Dale 328 pts. Hon
Cheyne Boyd 297pts. Hon
Josh Cahcia 296pts. KTM
Kade Mosig 283pts. Kaw
Kirk Gibbs 284pts. Yam
Adam Monea 264pts. Suz
Justin McDonald 224pts. Hon
Scott Columb 215pts. Hon
Lewis Woods 211pts. Suz

Share this article:
Did you like this article?
Check out MONSTERBALL
in our Latest issue of Racer X available now.

Playing soccer on 250cc motorcycles might sound like a strange form of riding, but in Russia they do it with great passion—and for very little reward. Page 112.
Look for the verified symbol
The Conversation