RedBud Track 'n Trail
Buchanan

,

MI
RedBud
Lucas Oil AMA Pro Motocross Championship
One of the casualties of the Suzuki City collapse was rookie Zack Freeberg. A rising star in the amateur ranks with Team Green, the Florida native signed with Suzuki City to contend the 2012 supercross season. Then, just weeks before the season began, Suzuki City folded and Freeberg was left searching for a ride. A ride he wasn't able to attain until after the checkered flag flew on supercross.
With the same determined attitude that oozes out with every word he speaks, something he credits to riding with Adam Cianciarulo and his family, Freeberg steadily rebuilt himself the same way he had after suffering numerous injuries (including two broken femurs) during his amateur career.
Rookie struggles would hamper his inaugural supercross season, but after spending the first half of 2012 as a privateer, Freeberg has begun to shine under the Langston-Witt KTM team. Signed to contend the Lucas Oil Pro Motocross Championship, the former amateur sensation is starting to show the talent that won him four major amateur titles with Team Green.
Racer X: You got left at the altar, so to speak, when Suzuki City folded weeks before the beginning of supercross. That had to have had a major impact on the start of your professional career.
Zack Freeberg: It was actually pretty gnarly. They were telling us how we were good to go for the season and we invested all the money we had to go racing into a supercross track. When they told us we weren't going racing, we were kind of left with the thoughts of, 'What are we going to do now?' We sat and thought about it for a day and we called them back to see if they could give us a race bike and they said they could do that. So we went and picked up the bike and went and did everything on our own.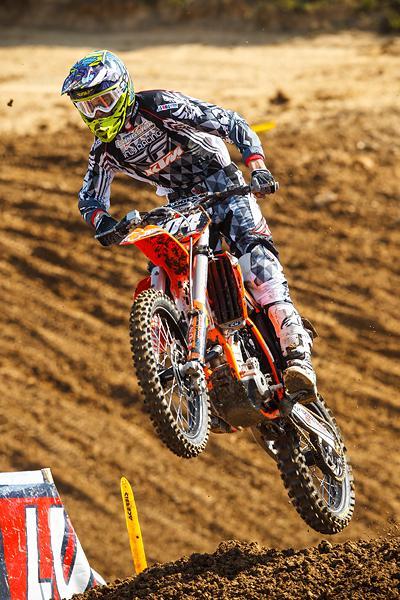 Freeberg signed with Langston-Witt KTM after racing supercross as a privateer.
Simon Cudby photo
After spending the supercross season as a privateer you signed with the Langston-Witt KTM team for The Nationals. Can you take us through how the deal came about?
I was struggling in supercross, and I had talked to the team before supercross but they were kind of nervous to sign me because I had never ridden supercross and they wanted to see how I was going to do. I didn't perform like I should have and the week of Vegas I called Scott Witt (LWR team owner) and asked him to give me a chance to ride the bike and that I would prove to him that I could do it. I went out to California and tested the bike and they were pretty happy with my performance, so they hired me for outdoors.
Your move to KTM marks the third different brand you will have ridden in the last year. That's got to be tough having to adjust to so many different brands in such a short span.
Yeah, it was pretty difficult. I started out the season riding a Suzuki, then went to Honda and then went to KTM. I had the chance to ride the KTM for two races in supercross so I kind of knew what to expect, but it was definitely hard.
You had your share of rookie struggles during supercross, but have rebounded outdoors and have put together some solid results through five rounds.
I'm still not really happy with how I have been performing outdoors. As an amateur I did pretty good, and although I had some setbacks with injuries, I have beaten just about everyone on that gate. I think if I can get a start down I know I can be up front. I'm not happy with the way things are going right now but we are getting the bugs worked out and I think I can be up front soon.
Being a rookie comes with many different and unique challenges. What have been the biggest hurdles you've had to overcome?
Mainly just my starts. I start twenty-fifth to thirtieth, and that ain't going to cut it. By that time those top guys are gone. I have only been able to come up to about eighteenth or so, because everyone is going fast and a bad start puts you way behind. I need to get some good starts and continue to learn the tracks.
You had a very successful amateur career but also dealt with a lot of injuries, including two broken femurs. What kept you motivated during those difficult times?
It was tough. When I got hurt in the beginning I was fine and wanted to get right back to riding. Once you come back from the hospital you are just dying to get back on the bike. But after some more injuries it kind of hit me that I couldn't keep getting hurt like this because it was costing me too much time off the bike. But at the end of the day it's in my blood to ride and that's what I want to do.
You spent a majority of your career under the prestigious Team Green tent. What were you able to learn from them that has carried over into the professional ranks?
It was great. I signed with them in 2007 to ride Super Mini and I rode with them up until 2011. They definitely have one of the best programs out there and take care of all of their riders. I won four championships for them and all the people under that tent are great people.
What do you think it's going to take to get back to the level you showed as an amateur?
I need to stay healthy. I know I can do it. There are no excuses; it just has to be done. And if I can get good starts I know I can do it.
Who would you like to thank for helping you out this season?
Scott Witt and everyone at the Langston-Witt team. Pro Circuit, Vortex, my trainer Johnny Louch, Rockwell Watches, my mechanic Josh Marsh, Lightspeed, SPY, Factory Effex, Dunlop, Maxima, Tim Ferry, Braking, Alpinestar, FLY and my parents.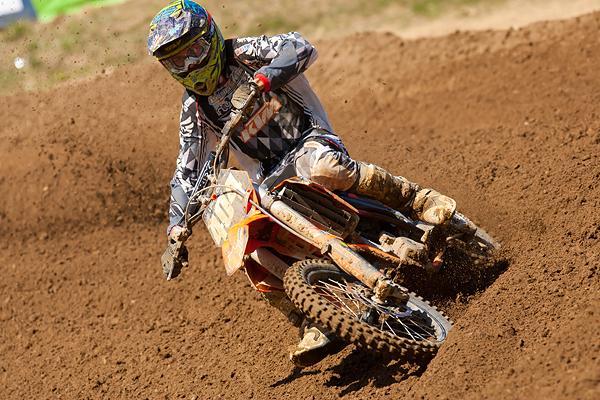 Freeberg has been solid through the first five rounds of The Nationals, scoring points in six of ten motos.
Andrew Fredrickson photo