Freestone Raceway
Wortham

,

TX
Race Center: Freestone Raceway
Lucas Oil AMA Pro Motocross Championship
It wasn't as hot as it usually is in Texas for the Freestone National, and James Stewart had addition level of shade: a constant shadow in the form of Ryan Dungey.
It seems almost impossible that two different riders on two different bikes could end nearly identical in two 30-minute plus two lap races, but Yoshimura Suzuki's James Stewart and Red Bull KTM's Ryan Dungey were as close as could possibly be through nearly every lap of the Freestone National in Wortham, Texas, the second round of the 2012 Lucas Oil Pro Motocross Championship, sanctioned by AMA Pro Racing.
After two thrilling 450 motos, Stewart came out on top both times, delivering a poweful 1-1 performance for the second-straight week, with Dungey pressuring him every inch of the way, but not able to make a pass. Dungey went 2-2 for second overall and Mike Alessi delivered another great ride on his MotoConcepts machine to take third overall via 5-3 scores.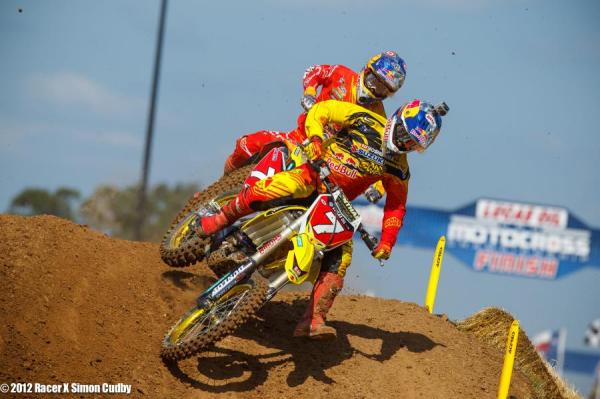 Stewart (7) and Dungey (5) were thisclose all day at Freestone.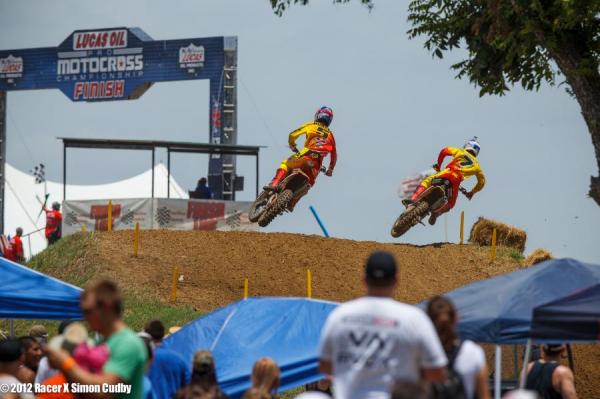 Like, really, really close. Stewart came out on top both times.
Simon Cudby photos
The 250 class, meanwhile, was a one-man show, as GEICO Honda's Eli Tomac logged two superb rides, charging from about sixth in both motos to take the lead and pull away each time. He was unchallenged to the finish, taking a key 1-1 overall win at a track that has given him troubles in the past. Monster Energy Pro Circuit Kawasaki's Blake Baggett put in two come-from-behind rides to go 2-2 and maintain the 250 class points lead, while Red Bull KTM's Ken Roczen scored third overall. In WMX action, Ashley Fiolek came into the race fighting food poisoning, yet persevered to finish second in moto one and then rally for a win in moto two when Jessica Patterson crashed. The Honda-backed Fiolek's 2-1 scores gave her the overall win over Rockstar Suzuki Patterson's 1-2. Third went to Aussie Meg Rutledge on a Kawasaki.
Off the start in the first 450 moto, JGR/Toyota Yamaha's Kyle Regal grabbed the holeshot but then crashed just a few turns later. By then, Stewart had already begun making moves, knifing past Dungey and Star-Valli Rockstar Yamaha's Nico Izzi to take the lead. Dungey passed Izzi on lap two in the same spot Stewart did on lap one, and from there, the battle was on as Dungey shadowed Stewart's every move around the track.
Dungey was close over and over, but couldn't find the line to get around Stewart. And when Dungey did seem to find an opening, Stewart was able to use his trademark bursts of speed to get back ahead and shut the door. They both rode hard, but kept it clean, and then late in the race Stewart once again did a better job slicing through lapped traffic to open a small lead. He held on to win by just over one second.
From behind, Monster Energy Kawasaki's Jake Weimer rode brilliantly to take third, his first podium in a moto on a 450. Izzi held strong with an impressive fourth, ahead of Alessi. Alessi's bike showed up late for the moto, automatically dropping him to the last gate pick, but he rode strong after a rough start.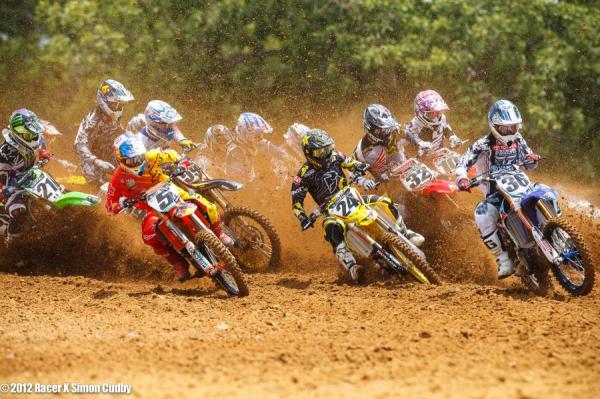 With Davi Millsaps out for the day with internal injuries sustained in a practice crash on Thursday, JGR teammate Kyle Regal (36) represented with a holeshot. But he crashed a few turns later.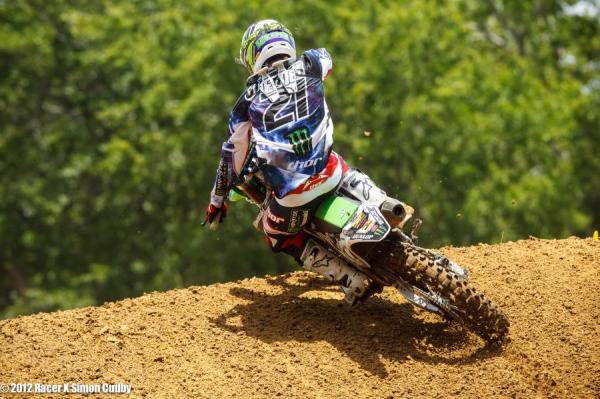 Jake Weimer rode a strong first moto to finish third. He came all the way back from a first-turn crash to net sixth in moto two.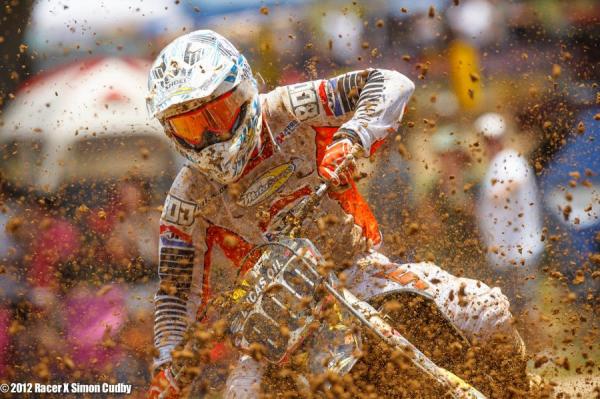 Mike Alessi hung with the Stewart/Dungey duel for a bit in moto two, and held tough for third.
Simon Cudby photos
In the second moto, Alessi had a better gate pick and used it to grab the holeshot, with Dungey right behind. But as Alessi and Dungey battled through the third turn, Stewart again knifed to the front, passing both on the inside and taking the lead. Dungey cleared Alessi, but Alessi struck back to repass the KTM rider. A few turns later, Dungey took second place back, and yet another Stewart/Dungey showdown began.
Dungey seemed even more aggressive and determined this time, dogging Stewart's Suzuki all over the track. He had a few key lines and twice pulled up alongside Stewart, but both times Stewart responded quickly to get back to the lead. The fans were going crazy as the duo pushed each other harder and harder each lap, leaving nothing out there in a push to get the overall win. Again, Dungey couldn't make a move stick, and Stewart proved he could handle the pressure with a flawless performance to take the win.
"I thought my day went good," said Stewart, who's 18th-career win ties him for fourth on the all-time wins list. "It was a tough one, but fun. I got two good starts, made quick passes, and set the tone with a good pace. Ryan rode really well, but I did my own (thing) out front. I knew he'd be there the whole time. I felt like we were even today and if he had gotten out front, he could have done the same thing."
Alessi did his best to hang with the duo, staying reasonably close until late. That's back-to-back podiums from Alessi. Weimer put on one of the best rides of the day, coming from way, way back to pick off Tommy Hahn on the last lap for sixth. His 3-6 scores gave him fourth overall, while Jeff Ward Racing/DNA Kawasaki's Josh Grant put in solid 6-4 finishes to take fifth.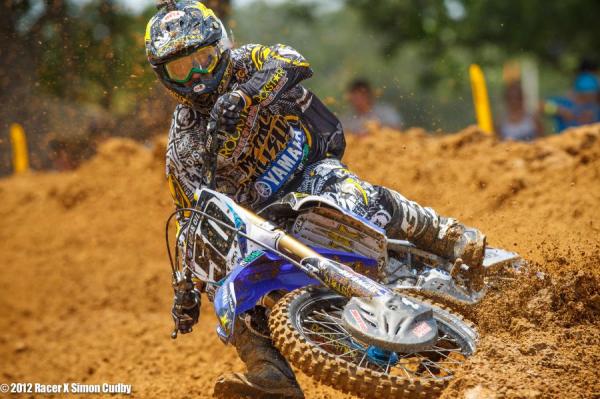 Nico Izzi had a dream day going. After fourth in 450 moto one, he was running fourth again in moto two until he crashed late.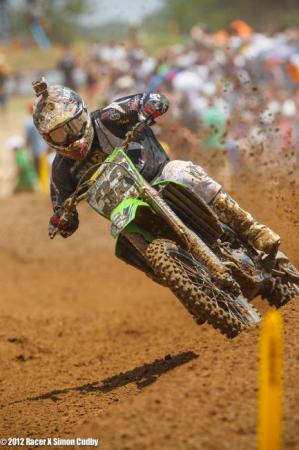 Josh Grant is inching closer to his old form. He was fast in practice, and took fifth overall.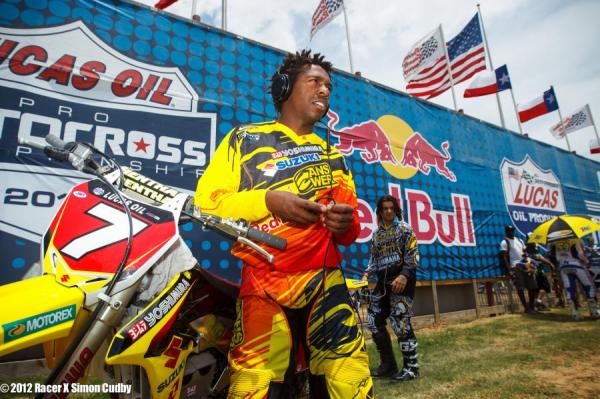 Two down, ten to go.
Cudby photos
In the 250 class, Lucas Oil Troy Lee Honda rookie Jesse Nelson had his "welcome to the pros" moment when he grabbed the first-moto holeshot. But while he had to deal with the crazy pace at the sharp end of the pack, he responded by hanging right with the field. In another surprise, Nelson's first challenge for the lead came from Phil Nicoletti on the Eleven10 Mods Honda. Then came the Red Bull KTM teammates Ken Roczen and Marvin Musquin. Unfortunately, Nicoletti's strong ride ended when he ran out of gas.
But the man on the move was Tomac, who was about sixth early but started rolling through the pack. He systematically got to the front, eventually taking the lead and taking off. About halfway through the moto, as he usually does, Baggett arrived on the scene. He started outside the top ten and started working his way forward. Baggett was the only rider in the motos to jump the crazy Wall into the Texas Twelve Pack of whoops, getting huge air and making up some time. Baggett rallied from 13th to second, but was not able to put any sort of dent into Tomac's lead. Roczen took third, while Justin Barcia came up to fourth on his GEICO Honda after a bad start, and Musquin held on to fifth.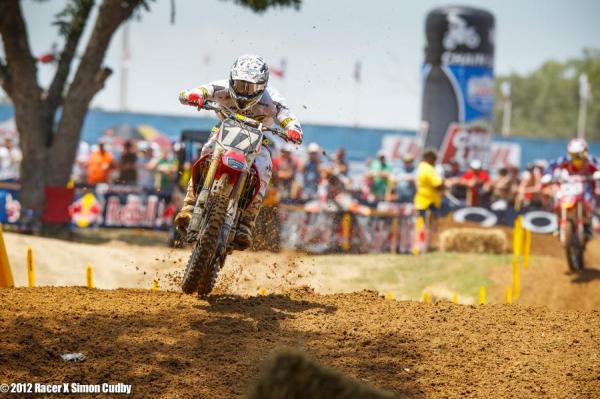 Eli Tomac was in a class by himself at Freestone.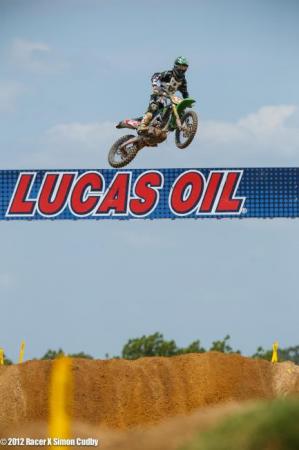 Blake Baggett was spectacular coming through the pack in the first moto.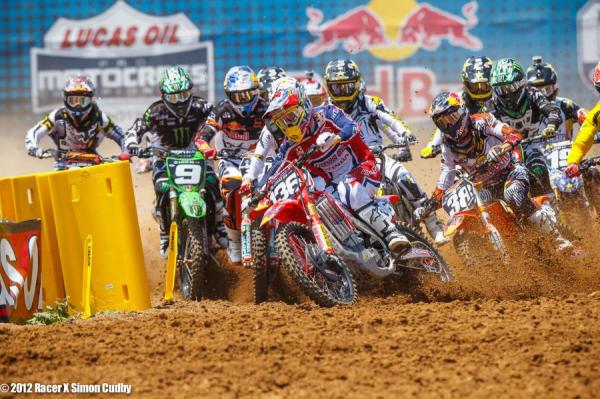 Jesse Nelson grabbed the first 250 moto holeshot.
Simon Cudby photos
In the second moto, a huge pileup in the first turn collected a bunch of riders, including Barcia and Monster Energy Pro Circuit Kawasaki's Ivan Tedesco. Out front, Rockstar Suzuki's Blake Wharton led and pulled away. Nelson had another good start, as did Wharton's teammate Jason Anderson, who had crashed hard running up front in moto one.
But once again, Tomac put on a charge, eventually plowing through the field to get second. Then he went after Wharton, whittling away his five-second lead until he could start a battle for the top spot. They went at it, with Tomac making a pass, Wharton striking back, and the Tomac repassing. Wharton hung close for awhile, staying with striking distance, but Tomac never made an error and taking his second career Pro Motocross win—his first coming at his very first pro race at Hangtown in 2010.
"Man, this is the greatest turnaround in my dirt biking career," Tomac said. "This track did in my 2010 season both mentally and a little physically. It seems like it's taken two years since I've been able to get my crap together.
"I've got podiums here and there since my first win in Hangtown (in 2010); to not get a win has been really annoying. Today feels like a weight is off my shoulders."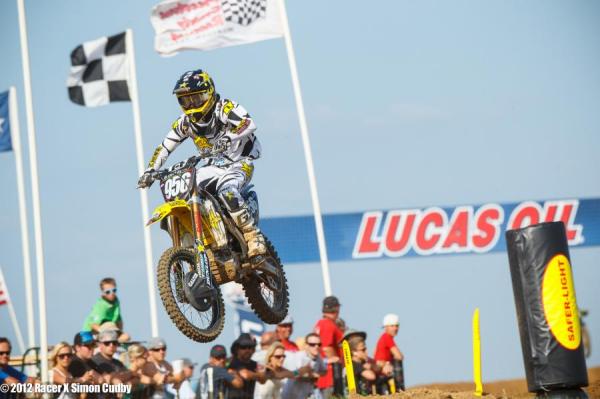 Blake Wharton led a bunch of laps early in moto two.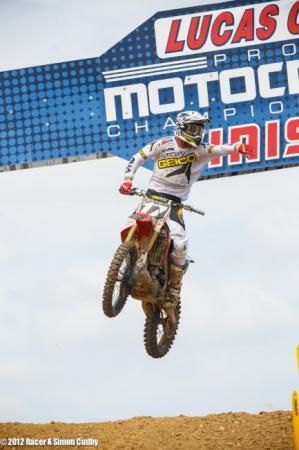 Once again Tomac raged through the field to win.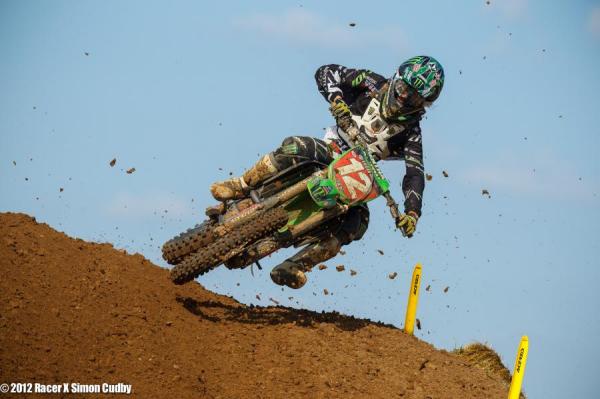 Baggett got past Wharton on the last lap to grab two more valuable championship points.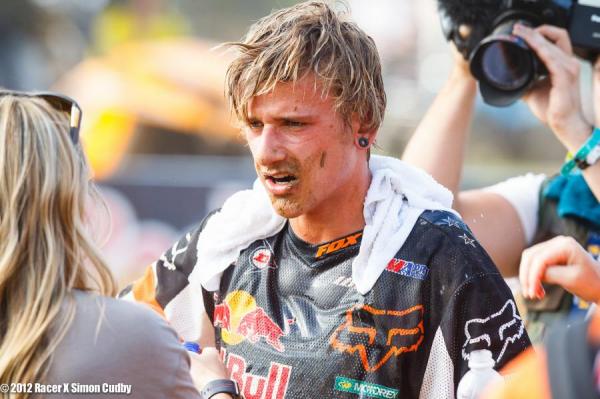 The heat didn't phase Germany's Ken Rozen much--he was third overall again.
Simon Cudby photos
Behind Tomac and Wharton, Anderson, Roczen and Baggett hooked up in an incredible duel for third, the three swapping positions all over the track. Roczen tried an inside line on Anderson and went down, allowing Baggett to jump into fourth, and then he passed Anderson for third.
Baggett kept digging and went after Wharton for second, catching him on the last lap. Wharton looked game to perhaps hold him off, until he ran into trouble on the last lap and couldn't jump a triple, allowing Baggett to fly past him.
In WMX action, Fiolek was struggling early in the day with food poisoning and even skipped a practice. But she grabbed her customary holeshot in the first moto. Patterson was able to strike quickly and put her Rockstar Suzuki into the lead and hold it, while Fiolek soldiered on for second. Rutledge and Lucas Oil Troy Lee Honda's Tarah Gieger battled for third until Gieger went down.
In moto two, Fiolek holeshot again, but Patterson was there to challenge her until she crashed on the first lap. Fiolek then had a big lead, while Patterson had to fight her way back, first around Gieger, then around Rutledge. She didn't have a chance to catch Fiolek, which meant the defending WMX Champion was able to secure the win on a day in which she wasn't feeling well at all.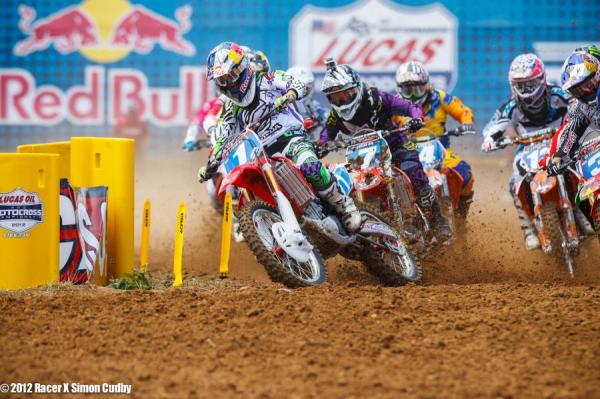 Ashley Fiolek was struggling with food poisoning, but she won the WMX overall anyway!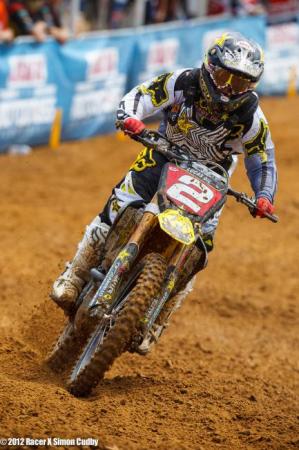 Jessica Patterson had a second-moto crash after a first-moto win. But she maintains the points lead.
Simon Cudby photos
The series heads to Lakewood, Colorado, just outside of Denver, next weekend for the Toyota Trucks Thunder Valley National.
450 Overall Results
James Stewart 1-1
Ryan Dungey 2-2
Mike Alessi 5-3
Jake Weimer 3-6
Josh Grant 6-4
Andrew Short 10-5
Tommy Hahn 9-7
Brett Metcalfe 13-10
Nico Izzi 4-25
Ryan Sipes 8-17
Michael Byrne 12-15
Robby Kiniry 17-11
Justin Brayton 14-14
Broc Tickle 7-40
Kyle Regal 25-8
Derek Anderson 22-9
Cole Thompson 19-13
Matt Lemoine 11-27
Kyle Chisholm 30-12
Kevin Rookstool 16-19
Jimmy Albertson 15-35
Preston Mull 38-16
Justin Sipes 24-18
Les Smith 18-21
Ben LaMay 26-20
Austin Howell 20-24
Billy Laninovich 21-23
Cole Martinez 32-22
Jason Thomas 27-28
Vince Friese 23-34
Heath Harrison 28-30
Trevor Ivey 39-26
Jake Loberg 34-32
Dustin Pipes 33-33
Robert Lind 29-37
Drew Yenerich 31-36
Dustin Kendall 37-31
Dillon Huddleston 41-29
Dakota Kessler 35-38
Tyler Livesay 36-39
Josh Greco 40-41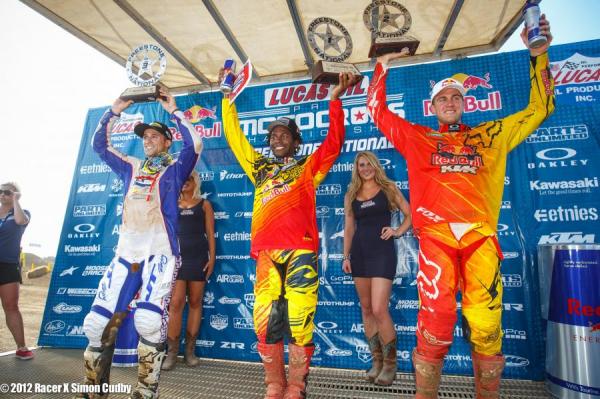 The 450 podium.
Cudby photo
250 Overall Results:
Eli Tomac 1-1
Blake Baggett 2-2
Ken Roczen 3-4
Blake Wharton 6-3
Justin Barcia 4-5
Marvin Musquin 5-8
Jessy Nelson 7-9
Wil Hahn 12-6
Jake Canada 8-14
Kyle Cunningham 13-12
Martin Davalos 14-13
Jason Anderson 22-7
Travis Baker 18-10
Kyle Peters 9-23
Alex Martin 16-15
Zach Freeberg 15-16
Gareth Swanepoel 10-38
Malcolm Stewart 39-11
Ivan Tedesco 11-22
Hunter Hewitt 17-20
Dakota Tedder 33-17
AJ Catanzaro 20-18
Shane Sewell 24-19
Joey Peters 19-27
Vann Martin 27-21
Broc Schmelyun 23-26
Travis Bell 26-24
Ryan Zimmer 25-25
Killy Rusk 21-31
John Pauk 28-29
Michael Akaydin 29-30
Ozzy Barbaree 30-33
Myles Tedder 36-28
Chad Crawford 31-34
Steve Roman 35-32
Luke Vonlinger 32-37
Beau Hudson 37-35
Phil Nicoletti 34-39
Tevin Tapia 38-36
Johnny Moore 40-40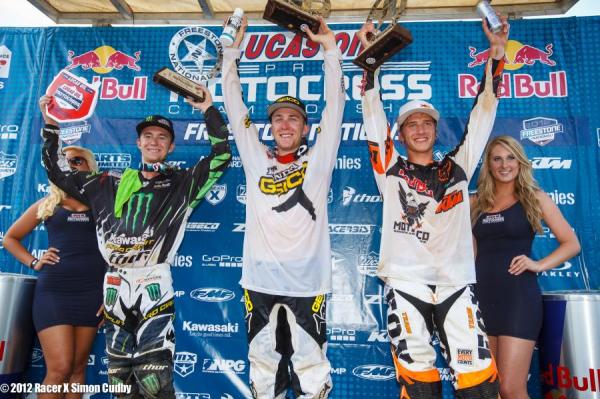 The 250 podium.
Cudby photo
WMX Overall:
1. Ashley Fiolek 2-1
2. Jessica Patterson 1-2
3. Meghan Rutledge 3-3
4. Tarah Gieger 7-4
5. Sayaka Kaneshiro 6-5
6. Kasie Creson 4-8
7. Jacqueline Strong 5-7
8. Mariana Balbi 8-6
9. Sara Pettersson 9-9
10. Sade Allender 12-10
11. Brianna DeGray 11-12
12. Amanda Brown 15-11
13. Sarah Whitmore 13-14
14. Lindsey Palmer 10-30
15. Jackie Ives 17-15
16. April Zastrow 16-16
17. Sydney Dickson 18-19
18. Chelsea Newbold 24-17
19. Shelby Rolen 20-18
20. Ashleigh Hall 19-2