by
Jason Weigandt
Racer X Rapid ReaXtion: The Single File Restart
Sunday, March 18, 2012 | 3:50 PM
For over 28 years,
Rocky Mountain ATV/MC
has been the trusted source for off-road and racing enthusiasts who demand high quality riding gear, low prices and unmatched customer service. Get fast, free shipping on orders over $99 and free apparel exchanges.
Tweet
After the red flag flew on the fifth lap of last night's Indianapolis Supercross Lites main event, caused by a medical emergency and the need for the Asterisk Mobile Medics to attend to the downed Kyle Cunningham, who was knocked out, the AMA employed a new restart procedure: the riders were lined up single-file down the start stretch in the order they were last scored, and then the race began anew after a green flag start. Here's our takes on the new procedure, and be sure to add yours in the comment section below.
Davey Coombs:
Last night's first-ever, single-file restart of a Monster Energy AMA Supercross main event probably had a lot of people scratching their heads. Darryn Durham called it "a GNCC start" on the podium after the race but it looked more like a flat-track start! Either way, to me it was a good way to reward the guys leading early -- like Red Bull KTM's Ken Roczen, who must have been totally bummed to see the red flag. Yes, it took some explaining, which Erin Bates got the FIM's John Gallagher to do right away, live on SPEED, but it seemed to work well. The restart was not compromised by anyone jumping, and the race continued with more or less the same context it had when it ended the first time. What was interesting was the Roczen appeared even faster after the restart, only to crash all by himself and throw away what seemed like a sure win. And Rockstar Energy's Blake Wharton was faster too, immediately forcing a pass on Blake Baggett, whom he couldn't seem to get around in the first stanza, using the short gap given on the restart to get right by the out-of-sync Monster Energy/Pro Circuit Kawasaki rider.
The other thing I liked about the program is that it only kicks in after three laps, which is even time to do some work, be it lead or pass people, and have that work reflected in the restart. No one ever wants to see a red flag, but they are necessary when a man is down on the track, or the race has been otherwise compromised (like the girl turning the card sideways 23 seconds too early at Budds Creek '09) but when it does happen, it's nice to have a smart, simple way to get the same race going again.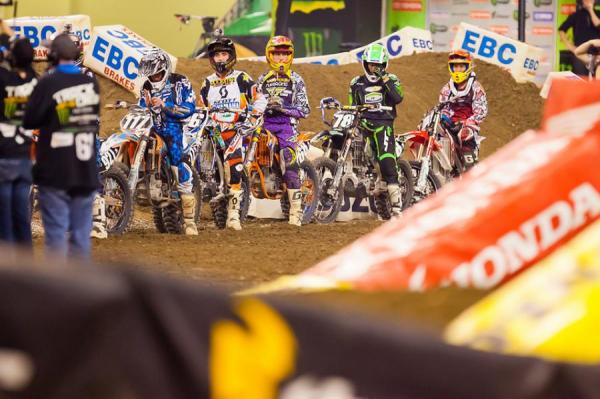 Riders lining up for the restart.
Photo: Andrew Fredrickson
Jason Weigandt:
The single-file restart rule has been on the books for a few years now but the right circumstances have not taken place to use it--until Saturday night. But did you know that, in San Diego, a heat race was red flagged when the leader was about two turns away from getting into lap three? So we almost saw this earlier in the season...instead the riders and teams were learning it on the fly in a main event race that counts for points.
I think it's a good plan, though. Just think about if the racers went back to the starting gate, and Justin Barcia, who clearly was too far back to make a bid for the win during the first start, pulled a holeshot and won. Roczen had earned his spot up front for five laps and deserved to keep it, and that's why this is a good, fair rule.
I'm also impressed the riders seemed to handle it so well considering they've never done it before. It does get used in Arenacross from time to time, but their the pack is jammed in a little tighter because the start straight isn't as long. Surely Tyler Bowers felt comfortable using this system thanks to his experience with it on the smaller tracks.
So this rule works. Now that everyone knows how to do it, what's the next step? How about throwing out some mysterious "competition cautions" like they run in car racing to tighten the pack back up with a few laps to go!
Steve Matthes:
In my sixteen years on the AMA circuit as a mechanic or as a media member, I had never heard of the rule that says the bikes can have a staggered start until actually a few weeks ago in Atlanta. It was there talking to AMA's John Gallagher and Kevin Crowther along with Weege that we were informed the previous week's San Diego restart had almost gone to a staggered start as the required number of laps had almost been completed.
We all chuckled and thought that would be pretty funny to see but in reality, none of us had seen it before. Until yesterday that is when Kyle Cunningham went down and brought out the red flag on lap five of the 250 main event. At first it seemed confusing as the riders went back to the gate and then after a little while the riders were lined up front to back according to their positions on the last scored lap and then, finally, they lined them up again but staggered so as to not have a pileup with guys just running into each other. It took a little while longer than most would have liked but the important thing was, they got it right.
Who benefitted from it? Well, points leader Justin Barcia was a ways back due to a crash and he was now twenty feet from the leader Ken Roczen. And some of the guys at the back got to be much closer to the front. It probably didn't help out Roczen as he looked to be in the groove in the first race but fell soon after the restart. Blake Baggett seemed to be worse after the restart as well. Blake Wharton was flying to the front before the red flag came out and he continued that roll afterwards in winning the race.
Like I said, with the amount of laps that had gone by, it was a strange call by the AMA but it's in the rulebook and I'm glad they did it. Even if it did take a while.
Bonus!
Here's Blake Wharton's take on it:
http://www.youtube.com/watch?v=FaAMZH_gxw8&feature=player_embedded
Share this article:
Did you like this article?
Check out KING CAIROLI
in our Latest issue of Racer X available now.

Americans know very little about seven-time FIM World Champion Tony Cairoli, but in Europe he's treated like royalty. Page 102.
Look for the verified symbol
The Conversation