Edward Jones Dome
St. Louis

,

MO
St. Louis
Monster Energy AMA Supercross Championship
Ryan Dungey
entered St. Louis with a fist full of confidence after a statement win in Atlanta. But it didn't last long as
Ryan Villopoto
made a declaration of his own in St. Louis. Villopoto would end the night on top of the box for the fourth time in the last five races, but it didn't come without debate—more on that later.
Justin Brayton
continues to ride through agonizing pain, and further proved his toughness in St. Louis en route to his first podium with Honda Muscle Milk.
Justin Barcia is showing he's the cream of the crop in the Lites class, dismantling the field en route to a third straight win. Ken Roczen and Justin Bogle were locked at the hip in a battle for second, before a case of the rookies bit Bogle on the final lap, surrendering his podium position in the process to Blake "Slash" Wharton.
Now, let's move onto the lap charts to see how it all broke down.
Speculation has swirled on whether Ryan Villopoto "backed it down" so to speak down the stretch in St. Louis. So let's dig into the lap charts for further examination. Through laps 2-10 Villopoto's average lap time was a 51.44—including three sub 51-second lap times. In laps 11-20 Villopoto averaged a 52.73—a full second and change slower than laps 2-10. RV also had three laps in the 53's during that span.
But let's dissect this even more. Ryan Dungey moved into second on lap 14, so let's compare his and RV's times from laps 14-20. During that period (laps 14-20) Villopoto averaged his worst times of the night with an average lap of 52.959, while Dungey averaged a 52.278. Add up seven-tenths per lap for six laps, and Dungey was definitely closing. Whether RV "backed it down" or not lies in the eyes of the beholder, but he may have opened the door for Dungey to believe that he can catch RV with an open track.
On the other hand, many fans were left wondering how James Stewart would have fared against Villopoto and Dungey had he started toward the front with them. His lap times indicate he has the speed to match up, with only he and Villopoto dipping into the 50s, and Stewart did it while slicing his way through the pack.
All this data points to the obvious: we want to see Villopoto, Dungey and Stewart square off wheel-to-wheel for 20 laps!
Interesting stat of the night: Although Dungey finished second behind Villopoto his 52.108 average lap time bested RV's 52.126. This isn't the first, or the last, time this oddity has occurred but it is a rarity and deserves recognition. [Note: Times are only clocked and averaged beginning on lap 2, which allows for this occurrence].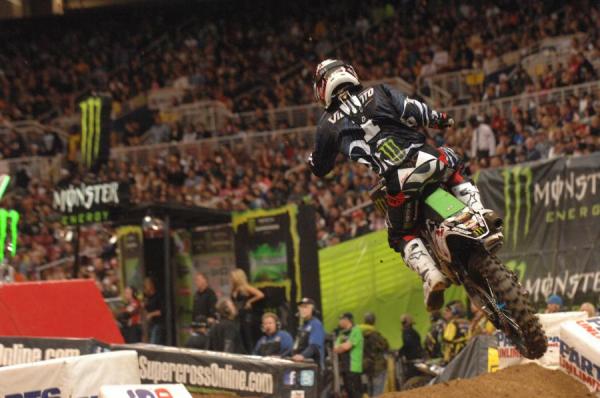 Villopoto would set the fastest lap of the night in St. Louis.
Photo: Carl Stone

AMA Supercross Lites
GEICO Honda's Justin Barcia continues to straight up beast squad the rest of the Lites class on the track and the lap charts. St. Louis marked a third straight win for Barcia, coinciding with his third straight week a top the charts—setting a 51.370 on lap 6 (which also stood as the third fastest lap of the night, including both classes). Can Barcia be stopped? That question still remains to be answered. But Barcia has made a resounding statement through three rounds—the title runs through him.
With Blake Baggett's season in a whirlwind, the weight of the Goliath that is Monster Energy Pro Circuit Kawasaki has fallen on the shoulders of Darryn Durham. Currently third in points, Durham is trying to shoulder that weight and become the rock of the PC firing squad. Durham set the third fastest lap in the Lites class en route to a fourth.
Arenacross Champion Tyler Bowers had a rough night in the results column. He had to qualify through the LCQ and then he crashed out of the main event, leading to a 20th-place finish. But he logged the 10th fastest Lites lap of the night, indicating there's more speed in Tyler on the supercross circuit than his St. Louis results indicated.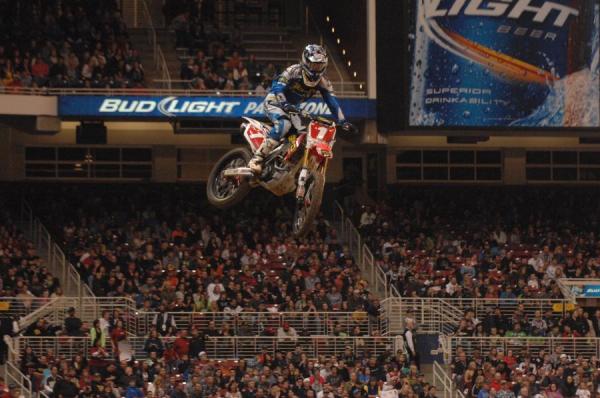 Barcia would top the charts in the Lites class en route to his third straight win.
Photo: Carl Stone