Real Motocross Track Profile: Oak Hill
By Iain Grae @ http://realmotocross.com
With riding season about to be in full swing (and spring) throughout the country, the folks at RealMotocross.com have sent us profiles of some of the top riding spots in the nation. Check out this profile of the Oak Hill track in Texas, which is hosting the top amateur riders right now.
Oak Hill is one of the nations premier amateur motocross parks. Located about an hour away from Dallas in Alvord, TX, Oak Hill hosts an annual Grand National Championship (GNC) where the top amateur riders come to compete and earn pro rides for future years. In recent years top names like Eli Tomac, Malcolm Stewart, Justin Bogle, Justin Barcia, Darryn Durham and many more have participated at Oak Hill. If you are an amateur racer and want to get the chance to race or ride on a national caliber track, whilst being noticed by the top sponsors in the industry, Oak Hill is definitely a must see.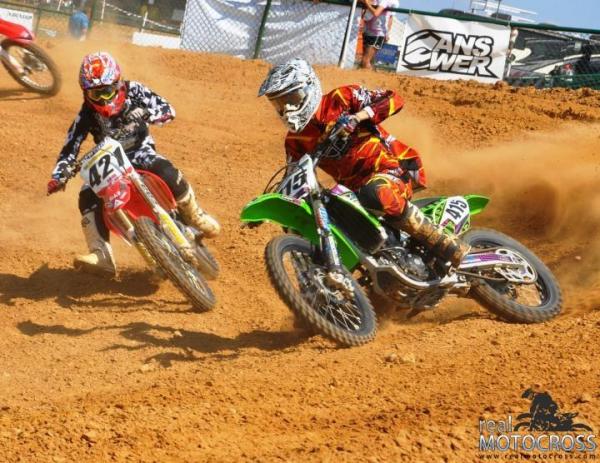 Oak Hill is famous for its "Baker's Dozen," a stretch of 13 whoops which are steeply peaked and as intimdating as you'd see at Monster Energy Supercross. The track itself has lap times that are usually just over two minutes -- depending on the riders skill level -- and has sections that are challenging while also including a "safe" and a "fast" option. This keeps the track kid/vet friendly but also keeps things exciting for spectators and faster racers. The dirt is a bit deceiving as it looks like it might be hard packed but is also super sandy. This makes for really good ruts, berms and lines, but also means the track gets rough and more difficult as the day wears on.
Oak Hill has multiple race series and events which they host and also offer open practice days. With several tracks on the premises there is something for everyone. For more info, photos, videos check out Oak Hill Motocross on Realmotocross.com.
Get a full listing of upcoming and previous Oak Hill Motocross Events
Quick Facts:
Track Style
●      Motocross Track, Supercross/Arenacross, Beginner Track
Number of Tracks
●      3
Bikes Allowed
●      PeeWee, Minicycle, 125cc+
Track Best Suited for
●      Beginner, Novice, Amateur, Expert, Pro, Peewee