AT&T Stadium
Arlington

,

TX
Arlington (Dallas)
Monster Energy AMA Supercross Championship
The San Diego Supercross has been on the schedule since 1980 and other than '83, '84 and '88 (there were races there, but not AMA sanctioned ones), there has been an AMA supercross there every single year. That's a long string of races, and with notable pros like Marty Smith, Broc Glover, Ron Lechien, Rick Johnson, Mike Fisher, Scott Burnworth, Larry Brooks, Regis Harrington and Mike Craig all from the area, San Diego is a breeding ground for future stars. And guys named Regis.
Coming into San Diego, we read all week about how Chad Reed felt at home in San Diego, and how he has posted a winning percentage of 75 there over his career. That's no fluke ladies and gentlemen, and I've figured it all out. I've got the secret to Reed's success in San Diego. You ready for it? San Diego is closer to Reed's homeland of Australia than any other mainland city in America. Boom! You're welcome for that. Whatever the true key to Reed's success Qualcomm Stadium is, the bottom line is that he feels lucky there. But would he be able to duplicate his landmark win from last year? You know, the race where there wasn't a dry eye in the house and the old man of supercross proved that he's still got it?
Before we dive into that, however, let's talk about the track. Let it be known that I'm sometimes the first guy to jump on the, "Let's bash Dirt Wurx because they made the track too easy, too hard, too one lined, too short, too dumb or without an over/under bridge," bandwagon, and sometimes, they deserve it. But this weekend in San Diego, I think they did a great job for one reason and one reason only: the whoops. The whoops were the difference maker out there and riders would basically hold their breath, count to three, and hit them wide open. They were big and nasty and they separated the men from the boys.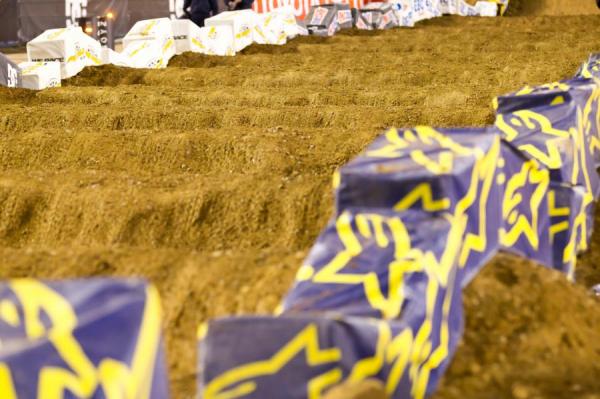 The whoops played a big part in San Diego.
Photo: Matty Fran
The rest of the track wasn't that tough by any means, but it was creative and it taxed the riders. There was one rhythm lane that that the guys were getting a little ridiculous in by tripling their way through it in practice, but Justin Brayton ate poop doing just that, and it seemed to knock that silly idea out of the guys' heads. That and the fact that the people I spoke to who use the rider overlay imaging software to watch video could see that it was only a tad faster and not really worth the risk.
More than a few mechanics and riders have told me that the test tracks they ride on during the week are tougher than what they see on Saturday. Consequently, their bikes may not be set up properly for the race. It's definitely something to chew on because the tracks have been pretty easy up to now. Oakland was tricky and tough because of the dirt breaking down, and A2's whoops were troublesome until they rolled them flat. Most riders I speak to have commented that the tracks seem easier than they can ever remember, but I think I can safely say that that one rhythm lane (in practice anyway) and the whoops provided some thrills in San Diego.
Don't look now, but Ryan Villopoto seems to like that red number plate, and with two consecutive wins, is showing that he has every intention of holding on to it. Villopoto won San Diego in a great ride as he held off Reed's San Diego Super Charger Charge to the front. RV wasn't the best guy in the whoops (Reed was), but he was the best guy everywhere else, which he demonstrated by grabbing the lead from Brett Metcalfe early and sprinting away for the win.
The race wouldn't have been that close if it wasn't for some lappers holding up Villopoto and allowed a closing Reed to close faster, and even make a pass. It's a difficult situation for those guys getting lapped, and I've worked for guys that got lapped every weekend, as well as guys that did the lapping every week. I've seen both sides, and I get it that those guys are racing and trying their hardest to get around the track faster. They're just significantly slower than the guys lapping them. On the other hand, is there that much of a difference between thirteenth and fourteenth at the end of the day? No. No matter what, both RV and Reed were feeling some anger and harsh feelings after the race toward the guys that wouldn't get out of the way.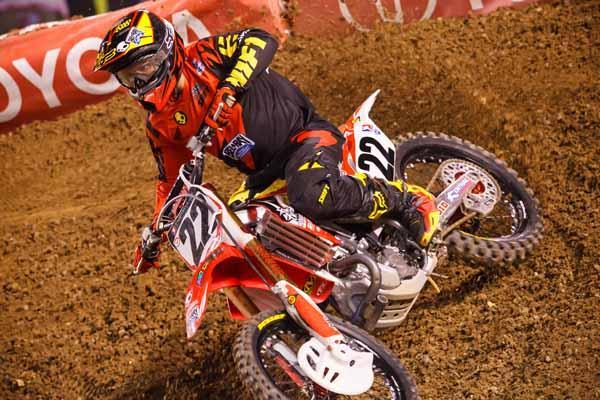 Reed was able to track down RV late, but had to settle for second.
Photo: Simon Cudby
Reed was good and he led a race for the first time since Oakland, but in the end, he was a bit off. Still, he seemed happy after the race. He passed his way into the lead (like L.A), and didn't fall back like he did at A2 and Oakland. That's the thing with these guys, they don't like to be passed. Like, ever.
I wrote last week that I thought Dungey and the KTM guys would be out at the test track burning through clutches trying to get his starts right, and it looked like they made some improvement on them this weekend. This week, the mission for the orange guys is figuring out how to get through the whoops; Dungey and his teammate Musquin struggled through them all day long in San Diego. Rob Hendrickson at RG3 handles the bumpsticks on the bikes, and he'll get it right, but on Saturday, it was ugly.
Speaking of Dungey, early in the main event, it was nice to see him show some aggression with Weimer (unless of course, you're Weimer, who definitely doesn't think it was nice). We've long talked about how Dungey lacks the aggression of his competitors, but in San Diego, he showed us that he does indeed have it. Dungey got third in a smart, calculated ride. He didn't have anything for RV, Reed or Stewart on this night, but he didn't go down in the whoops like others did, and when it was over, he walked away with twenty points. With a little work on his setup, he's still in it.
Stewart on the other hand, is facing a much more serious situation. I guess I shouldn't say James is out of thid (a guy like him is never out of it until he's mathematically eliminated), but it's going to be a lot more work for the #7 as he crashed himself back to a fifteenth. And where did he go down? Three guesses, the first two don't count. Yep, the whoops. Stewart was in third with RV and Reed inching away from him. This is the type of situation that illustrates just how differently Dungey and Stewart are wired. Dungey realized that a third was the best he could do on the night and took it. James wasn't going to accept a third and pinned it to make up time. The result? A big crash and Stewart's worst result of the year.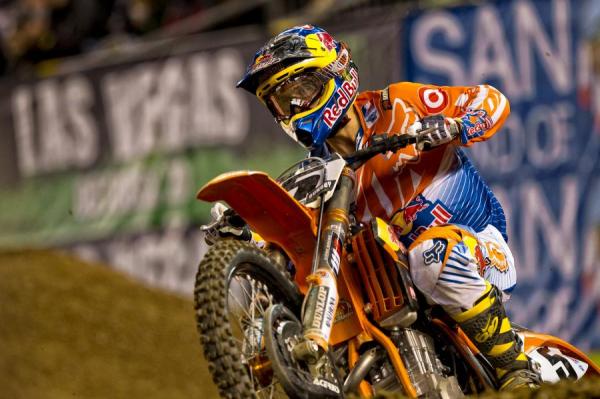 Dungey and KTM struggled in the whoops at San Diego. Can they find a solution by this weekend?
Photo: Garth Milan
I texted back and forth with James this week and there's no doubt that he's as frustrated as he's probably ever been. He's not able to accept just being another guy right now (and really, if you put yourself in the shoes of a multi-time champion still in your prime years, and you've crashed in five of six races, you would feel this way, too) and is working hard to figure things out. The JGR team went to Florida again this past week to test with James to try and get a setting that he feels comfortable with. Just know this, Stewart's either going to figure this thing out and be more of a factor, or he's going to crash more and more trying to push to the front. He's not going to accept his current mediocrity (mediocre for Stewart, anyway) much longer.
In the 250 series, it was Pro Circuit's Dean Wilson who won going away. Just when all of us smart media types were typing out stories praising Eli Tomac and throwing dirt on Wilson's grave (I include myself in this category, by the way), he comes out and dominates while Tomac crashes out. This wild night resulted in Dean-O becoming the new points leader! Yes, just like that, a twenty-four-point swing in the series in a single night of racing. Wow.
In speaking to Wilson, he just said he went back to having fun and was letting the pressures of being this big-time "next" guy get to him. He did some whips, hung it out in the whoops and probably ate some Lucky Charms or something. Wilson was absolutely killing it in the whoops and he used that and the fun factor to easily win in San Diego.
Poor Eli Tomac. The "Elimator" (by the way, that's the name I made up for him and I haven't seen it anywhere else so if you want to use it, please credit me for my awesome-ness) was charging up to the front and was in third when he went over the bars in the "hoops," and that was it. Tomac's DNF is a major disaster for both him and the GEICO Powersports Honda team. And even worse, he's got eight weeks to sit there and stew about it (well, maybe not. More on that below). The good thing for Eli is he's been on fire this year and he's only two points down to Wilson. Know what the gap between the first and second points payout is? Three points. So if Tomac wins the next race, he's back into the points lead. And that folks, is making lemonade out of some lemons.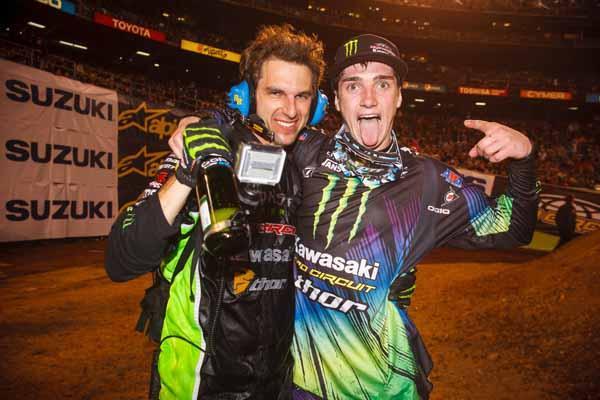 Wilson got back to having fun in San Diego, and now holds the Lites West points lead.
Photo: Simon Cudby
From what I hear, Factory Honda is planning on putting Tomac on Trey Canard's unused 450. At least, that was the plan before Eli endoed his brains out in San Diego, and I'm not sure if the resulting points shakeup will change things. Maybe Honda doesn't want him to focus on this west title now that his huge cushion is gone. If you're Honda, you see the success that Canard and Barcia had on the bike and think, "Why Not Eli?" But to me, I wouldn't do it. I realize that Honda really doesn't care what I think, but too bad, it's my column and I'm going to tell you guys.
Eli is only in his second year and he's still in position for a title (in contrast, Barcia was out of the title hunt outdoors last year when he jumped on the 450, and Canard was a ways back in second when he tried one in '10). You have to keep Eli wrapped up in bubble wrap for the next eight weeks (memo to Honda guys, don't use the stuff you used on Ben Townley because it didn't work). And unlike Canard who was pointing out and moving to the 450's the next year, Tomac has another year in the class.
Why not put Cole Seely on the bike like last year? He was pretty good on it, and although he's third in the points, he's still a ways back. Or how about putting privateer and former factory rider Billy Laninovich on the bike? Lano has filled in before at factory Kawi, knows the drill, will give you solid finishes, and it's a feel-good story. All of us hacks in the media and all those kooks that scream "the privateers get crapped on all the time!" will love it. I say kooks because what most of these people don't realize, the reason privateers are privateers is because in 96 percent of cases THEY AREN'T AS GOOD AS THE RIDERS ON FACTORY TEAMS. There isn't a grand conspiracy by the OEMs to keep good, hard working riders from being on their teams.
So, Honda, put Bad Billy on the bike and we'll all be good. Stamp it.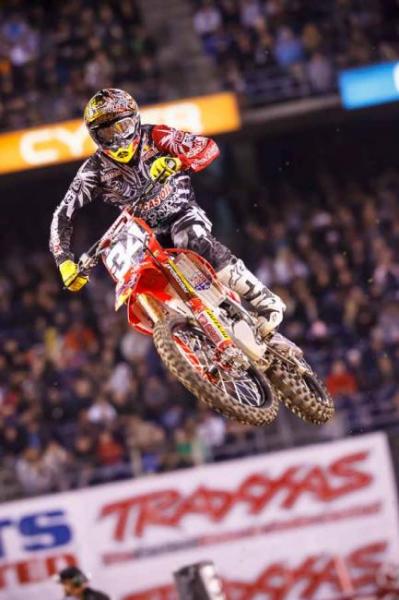 After a second in San Diego, Cole Seely finds himself right back in the hunt for the championship.
Photo: Simon Cudby
Congrats to Matt Moss and the entire JDR KTM team (even team manager Nathan Ramsey, who stole the '02 Pontiac SX win from Tim Ferry) for their first podium here in the USA. Look, no one's made more fun of Moss than I have when he was on factory Suzuki and did nothing due to injuries and probably not being ready to be on a 450, and he'll surely not be brought up when someone writes a column detailing Roger DeCoster's greatest hires. However, in the last two weeks, he's shown that he has a future here in America by putting in some great rides. His third this weekend was great for him, JDR and KTM. In speaking to KTM head honcho Pit Beirer this weekend, he really sees the JDR guys as a Pro Circuit-type setup for his factory KTM team, and Moss' podium finish will certainly help out.
Let's take a look at the results shall we?
Lites West Overall
1. Dean Wilson Kaw
2. Cole Seely Hon - Seely rode well and that's back to back second's for the TLD kid. Did you know that Seely and I share the same weird California area code of 805? Now you do.
3. Matt Moss KTM
4. Gareth Swanepoel Yam - Of course we all knew that Star Yamaha's Swanepoel would record the team's best finish of the year. Such a supercross specialist that Gareth. Only natural that he be the indoor lynchpin of his team.
5. Nico Izzi - Yam
6. Gavin Faith Hon- Faith's best finish of the year. He was a curious choice to fill in for the injured Wil Hahn on the GEICO team but hey, a sixth is great.
7. Billy Laninovich Hon - Billy's comeback has worked out much better than Michael Jordan's stint with the Wizards. Laninovich is right there with that next tier of guys and seems to be finding another gear.
8. Travis Baker Hon
9. Vince Friese Hon - Look, I know that Friese is a good starter but I watched him this weekend a little more. He's like Jose Canseco back in the day, no fielding but all hit. That's what Vince is, all starts.
10. Nick Paluzzi Kaw - Paluzzi made his second main of the year and ended up doing pretty well in the main. I don't know what's up with Nick this year but I thought he'd be better. I'm sure he did as well.
11. Kyle Beaton Kaw - The pride of Surrey, BC, Canada, made his first main of the year and registered a career best at that. Beaton's main event qualifying to races entered ratio was pretty high (I'm thinking it was something like 85%) until this year, when he didn't make the first five main events. Always a good starter, teeny, tiny Beets' starts came back this week, and so did his main event. Imagine that.
12. Bruce Rutherford Hon
13. Max Antsie Hon
14. Killy Rusk Hon
15. Martin Davalos Suz - Martin's team manager Dave Gowland told me that Davalos started working with team trainer Randy Lawrence recently but since then, he's done worse. Maybe back to the old ways?
16. Marvin Musquin KTM - Poor Moving Marvin The Martian Musquin. He was taken out in the main and was forced to come from the back. I didn't think Marvin was going to win the series or anything but I also didn't think he was going to have all this bad luck. He also struggled in the whoops.
17. Jason Anderson Suz - Anderson had another rough night. It really sucks to get a bad result in the last race before the break because then you're just left sitting there stewing for eight weeks.
18. Jean Carlo Ramos Hon
19. Scott Champion Hon - Hey, at least he has Erin Normoyle to go home to.
20. Eli Tomac Hon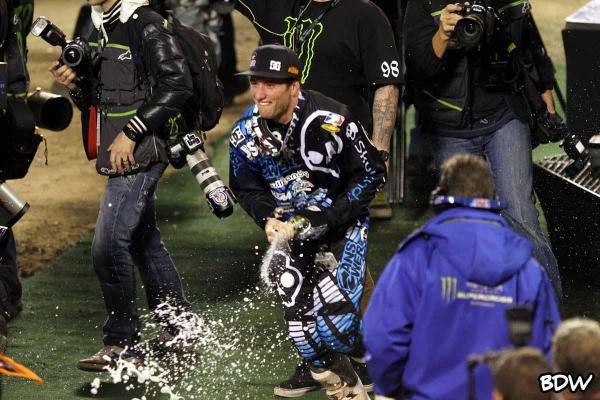 Matt Moss celebrates his first SX Lites podium.
Photo: BrownDogWilson
Supercross Overall
1. Ryan Villopoto Kaw
2. Chad Reed Hon
3. Ryan Dungey KTM
4. Brett Metcalfe Suz
5. Josh Hansen Kaw - A career best for Hanny and a nice rebound after his DNF last week. He's the rock steady of the H&H team. Who would've thought that?
6. Justin Brayton Hon - Justin went down hard in practice and most people down there with him figured he was done for a while. It was a vicious crash, but being the tough guy that he is, he got checked out and gutted up for the main event. After the race he told me that every pass caused him unbearable pain.
7. Davi Millsaps Yam - That's three straight seventh places and one eighth in the last four races, and to me, that's good. Take a look around at the other riders, they don't seem to be nearly as consistent as Millsaps.
8. Kyle Chisholm Kaw
9. Mike Alessi Suz - Mike was on fire in the heat race before a red flag came out. He passed Stewart and was holding strong in front. Bummer for him, I didn't think he rode as well in the main as he did in the heat for whatever reason. Big whoops are not Mike's friend but he was okay through them this time.
10. Nick Wey Kaw- Best finish of the year for Wey and hopefully he can keep it up.
11. Jason Thomas Suz
12. Cody Mackie Kaw - Mackie is on a week-to-week deal with the Jeff Ward Racing team, and there are no plans to keep him once Josh Grant returns. So if you hear about Josh laying on the ground yelling, "Why me, why now?" you know that one of Mackie's henchmen has struck.
13. Weston Peick Kaw
14. Robbie Kiniry Yam - I spoke with Kiniry for a while in the morning and I asked him if he's on the team for the whole year and he said, "I don't know, I guess as long as I'm doing good I will be." He was smiling when he said this. But then again, Bobby is always smiling!
15. James Stewart Yam
16. Kevin Windham Hon - KW went down in the whoops while running fourth with just two laps to go. As he said on Twitter afterwards, at least he went down going for it.
17. Matt Goerke Suz
18. Broc Tickle Kaw - Broc had a rough race after a good ride last week. So far this year he's been on a good race/bad race rhythm, so the good news is that Dallas should be much better.
19. Kyle Partridge Kaw
20. Jake Weimer Kaw- Weimer's night wasn't good. He had an incident with Pooh Sipes in the LCQ that left Sipes on the ground and upset (rightfully so). After apologizing to Sipes afterwards, Weimer went into the main and was cleaned out by Dungey in what looked to me to be a racing incident. Then he crashed by himself a lap or so later. Weimer's been unable to recapture the magic from the early rounds, and I bet he's so frustrated that he's working himself into the ground during the week and thereby hurting himself at the race. These racers judge their self worth by how they do on Saturday so right now, Weimer's probably in bed with the covers pulled over his head and not coming out.
Thanks for reading, send me an email if you want to chat- matthes@racerxonline.com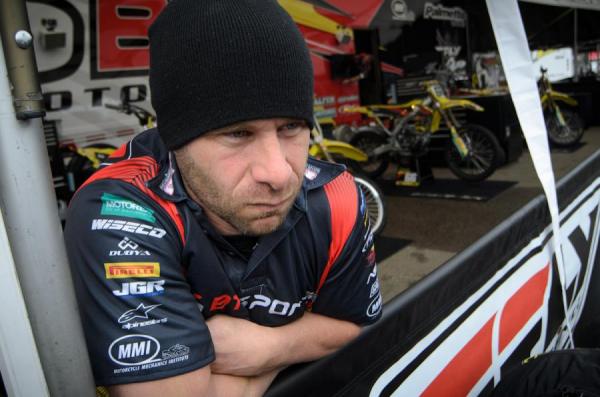 Photo: James Lissimore
This is Jason Thomas [above]. He hadn't made a main all year and is a fan of the Rocky movies. Remember in Rocky IV when Rocky grew a beard and wore a beanie while training for the Drago fight in Siberia? Yeah, well JT copied that mentality for San Diego (I'm being dead serious) and it worked. He qualified and got 11th. Afterwards he was seen pulling Forrest Butler around in an apple cart.