Qualcomm Stadium
San Diego

,

CA
San Diego
Monster Energy AMA Supercross Championship
Interviews by Jason Weigandt and Aaron Hansel
Jason Thomas, BTOSports.com BBMX Suzuki, 11th in SX main event
It was good, but I really didn't ride good all day. I was really unhappy with how I was riding, honestly. The heat race I found a little rhythm and got lucky with [Austin] Stroupe having some trouble, but the main event I felt solid. I would just kind of latch on to Nick Wey. I had the whoops dialed. I wasn't blitzing them, but my rhythm was pretty decent in them. The race was pretty easy. I really wasn't in a battle with anyone. I just kind of did my own laps and ended up eleventh, which I was pumped with.
Was it a race where you were just putting in your laps and then at the end, you were like, "What did I get?" You weren't racing for a position in particular?
I saw the board and I was in 12th and then [Kevin] Windham had some problems and [Broc] Tickle had some problems. Nick passed me and then those guys went down, so it was kind of like back and forth. I knew I was doing decent for the way the class is. I was just a little nervous, it was my first main event of the year, so I was kind of nervous about my fitness. I need to use this weekend to get the ball rolling and kind of build on it.
Is there something you learned from putting in the 20 laps in the main?
Yeah, it's just really confidence. It's hard when you do bad week in and week out and you're just expecting to do bad again. It's like, "Man, if I do bad again, what am I gonna do?" It's hard to stop that momentum. I kind of realized I can still do it, but you start doubting yourself and that's never good. I just need to come out next weekend, come out swinging, and ride like I did at the end of the night tonight.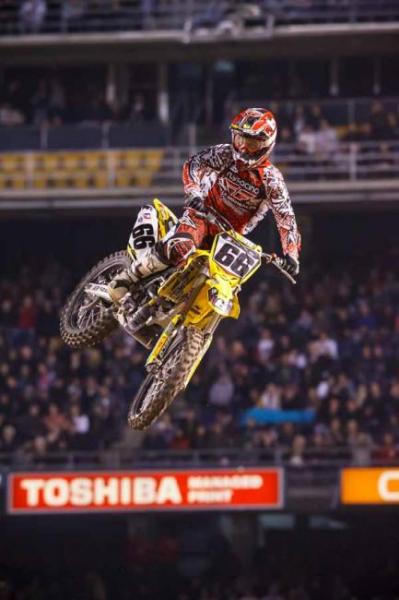 "I was just a little nervous, it was my first main event of the year, so I was kind of nervous about my fitness." - Jason Thomas
Photo: Simon Cudby
Brett Metcalfe, Yoshimura Suzuki, 4th in SX main event
Racer X: How was it?
Brett Metcalfe: It was good. It was really good for us. During the day, we qualified 14th, which on paper doesn't look great, but I felt good. It was so close. From 14th, which is where I was, to sixth was all on the same second, so it was really tight. The track was gnarly today, but it was a really, really well designed track. It's just good. I felt good in practice and then coming in the heat race, I was able to wrap up a third. Got a good pick for the main, which was important, and then just got out there. I got that holeshot, which felt awesome, man. It felt good just coming around in the lead and I think I was able to lead a lap and three-quarters. That was good. I felt good up front and then I just wanted to keep putting in consistent laps. That track was really slippery. Obviously everyone's saying the whoops were tough and they were getting pretty sketchy. They took a few guys down, but I just wanted to keep plugging away and just do laps and attack the track where you could and be smooth in other spots. The biggest thing was, I was just happy with how the Yoshimura Suzuki was working today and how I felt the whole day was really good. That's a good sign for me that I'm comfortable and now we can start to progress and push forward until you find that setting or whatever it is you're looking for. Until you find that thing where you connect with the bike, you can't really ride aggressive. I'm happy that we're at that point now, so let's get going.
It seemed like the track was so gnarly. Where you kind of just getting through it?
You had your moments. Like early on, I was up front and I was trying to go. Once you get a good start, you have to push and the field will separate, so you get that advantage of it. I think the whoops, halfway through the main, there were some good lines and then those lines got used a lot and got ruined. So then you had to switch to a crappy line and it was just tough. Kevin [Windham] was riding well. He moved up on me and I could hear he was a little bit better in some spots. He made the move, I let him take it, then I just really focused on where he was better and focused on those spots and I got back on him. Then I could see where I had some pass opportunities. I was just like wait, wait until later on in the race and then just attack the last part of the race there. Then before the whoops, he made a little mistake, and I came up the inside. Then we both came through the whoops together, but we were both super tentative because we were on the crappiest lines possible and we both came in and I let off a little bit. I was like "No, I'm not gonna go for it, it's too risky."  And I looked over and he just leaned back and pinned it! I was like alright and just let him take it. Then halfway through I just saw his leg come off and he yardsaled big. But he's alright. He got up and finished the race, which is good. It's good for me. I got the move back and finished fourth, so it was a good night for me.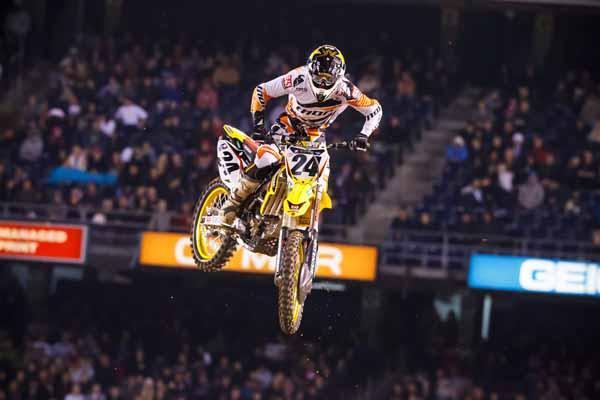 "I got that holeshot, which felt awesome, man. It felt good just coming around in the lead and I think I was able to lead a lap and three-quarters." - Brett Metcalfe
Photo: Simon Cudby
Bobby Kiniry, Rockstar Star Valli Motorsports Yamaha, 14th in SX main event

It was all right, I made it a little tough on myself out there by going down in my heat race in the first turn. I put it in through the LCQ, the hard way, and tried to ride twenty solid laps and build on the last main I made. My goal is to get up within that top fifteen, and I ended up getting fourteenth so we met our goal, but I should have rode a little stronger and beat the two guys in front of me. But that's the way it rolls every week, you always think you should have done a little better. But it's a step in the right direction and we're making good changes. The Rockstar Yamaha was working great for me, and we're working on building and getting more comfortable every week.
Not that you want to be in the LCQ, but you rode well in it.
Yeah, I've been in a few of those in my lifetime, I'm pretty good with the stress of them and putting the urgency out of my mind, and just doing what you have to do out there. It sucks being in them, I wish I could put it in in the heat, but those first turns are pretty tight nowadays with twenty of us going in there for blood.
In the closing stages of the race, guys were starting to have a pretty tough time in the whoops. How bad were they?
They, were, gnarly. They got really cupped, and I'm a short little guy, so I swallowed my pride and stopped trying to skim them and started jumping through them and passing a few people that were laying on the ground there. I realized at that point, it was a good decision on my end, taking the easy route through there. It was slower, but it was a little more consistent over twenty laps.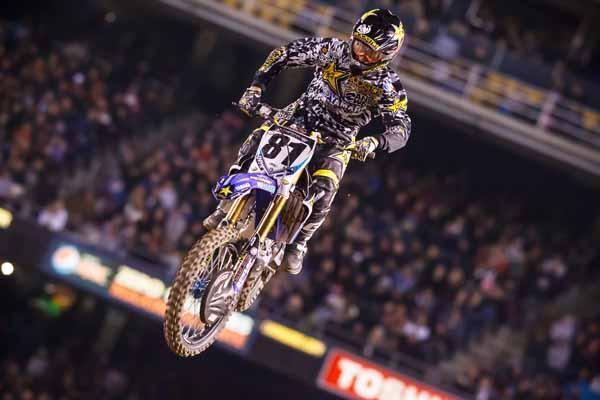 "They, were, gnarly. [The whoops] They got really cupped, and I'm a short little guy, so I swallowed my pride and stopped trying to skim them and started jumping through them..." - Robby Kiniry
Photo: Simon Cudby
Chad Lanza, co-owner of Rockstar Star Valli Motorsports Yamaha
Let's talk a little bit about how it went for your team out there. Good night huh? [Gareth] Swanepoel in fourth, [Nico] Izzi in fifth, two top fives, that's awesome. And [Bobby] Kiniry made the main again.
Yep, fourteenth, his best finish.
You know what, I just summarized what I wanted you to say.
Yeah.
Okay. Next question. Why didn't Austin Stroupe line up in the LCQ?
Well, Austin, as everyone knows, has been out. Austin rode tonight and rode pretty well, but is still having some effects of getting into the competition of things. I'm pretty happy with how he did tonight, and we're hoping that next week he'll make a bit more progress. Our goal is here in the next two or three weeks, he can get back into the competitiveness of the business. I and Bobby [Regan] understand that this is a very difficult sport, it's very competitive, and it's going to take him a few more races to get back into the swing of it. He looked good tonight, he rode good, but he's still having some issues, so we're going to check it out this week and see how he does. But he will be at Dallas, and we'll hope that he does better this week.
He was in qualifying position in his heat when he stalled.
In the first heat before the restart, he was in qualifying position, looked good, and had a big gap back. In the second heat, after the restart in qualifying position, he had a good gap and stalled the bike in the whoops. He didn't line up for the LCQ, but he'll be back in Dallas and hopefully he'll make more progress. He did one lap and had some bike issues at Anaheim 1, and had had a severe crash after that and knocked himself out. He had another crash in Phoenix and knocked himself out again. He'll be in Dallas, and we want him to do better every week.