Qualcomm Stadium
San Diego

,

CA
San Diego
Monster Energy AMA Supercross Championship
Last summer, Dean Wilson was in a dogfight for the Lucas Oil 250 Pro Motocross Championship until he got to Unadilla, started having fun again, and took off. He carried a similar attitude adjustment heading into the San Diego Supercross, and it paid off—now he's in the points lead! Eli Tomac crashed out of the San Diego race while Wilson was on his way to winning it, resulting in a 24-point swing in the standings. Now what seemed to be a disappointing season for Dean could result in a championship, and he's clearly happy about it—although he knows quite well how quickly things can change in this sport. After emerging from WADA doping control, Dean chatted with a bunch of reporters after the race.
Racer X: Can you talk about the start?
Dean Wilson: The start was good. I changed the gearing up a little bit and it seemed to be better. I came out and I actually shot off pretty early. I wanted to hug the inside. I came around about fourth or fifth and I got into third over the first rhythm section before the whoops. I actually passed right into the lead and I just went for it in the whoops and got into the lead. I just tried to click off the laps and hit my lines. It was good. It was awesome.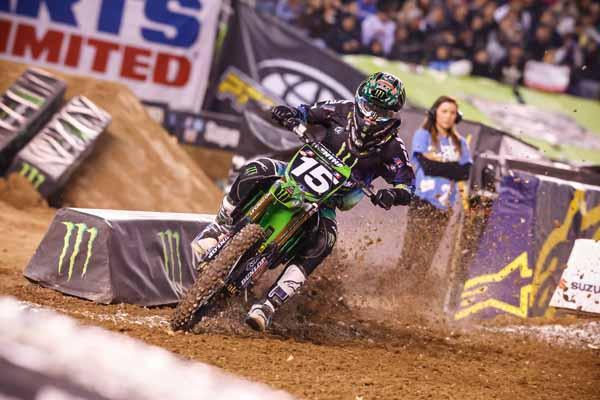 After his win in San Diego, and Eli Tomac's 20th place finish, Dean Wilson is the current Lites West points leader.
Photo: Simon Cudby
What was different about tonight than the other nights?
What was different about tonight was that I didn't keep telling myself I have to win, win, win, win. Now that I'm a champion after winning outdoors, everyone expects so much of you and I've been putting pressure on myself. That's not what got to be a champion, you know? What got me to be a champion was having fun, being loose and relaxed. I was so far back in points. Not having the right mentality hasn't been working for me, so I'm just going to go back to what got me to winning in the outdoors. I just had fun whipping it in practice and just being a goof, pretty much, and just enjoying myself.
You looked like you were feeling it after the heat race.
Yeah, I was enjoying it. I don't really like being first heat because the track's pretty loose. But, yeah, I did a whip in the heat race and it just makes me feel good. I'm enjoying myself and having fun. That's what it's all about. You have to enjoy what you do for a living and I really do. Sometimes the ups and downs are really crappy in the sport. Like right now I feel unbelievable. I've got nine weeks and a two-point lead, so it's nice. But the downs, like I've had a few weeks back, are terrible. I'm just going to enjoy my break and I've got my work cut out for me in the last three. It's going to be gnarly, but I have an opportunity now.
That was a huge turnover in points.
It was unbelievable. I mean, like I said, it sucks for Eli, but I've had my share of crashes as well and it's part of it. I feel… I don't even know the word for it. Not lucky because, like I said, it's part of it. But I just feel really blessed that I won tonight and I'm in the points lead.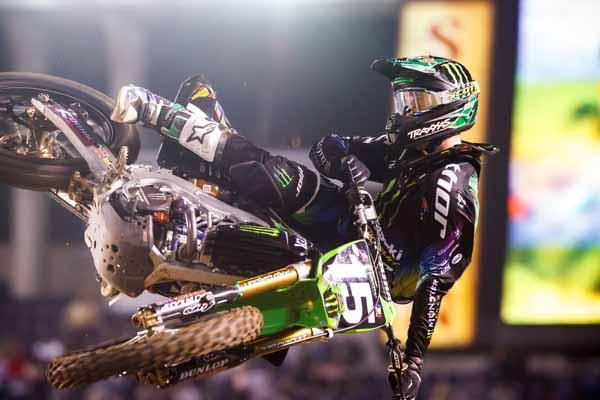 Wilson holds a two point lead over Eil Tomac as the Lites West season goes on hiatus until Seattle.
Photo: Simon Cudby
Is that the most unusual way that you've ever celebrated a race win right after [Wilson tried a few freestyle moves after the race]?
No, not really. You can always celebrate every race win like it's your last. You never know what could happen, so I take full advantage of it. I knew Eli didn't finish the race. I didn't know if I was in the points lead or not, but I was ecstatic. I was so happy. It was like one of the best wins I've ever had.
I meant the doping control.
Oh! The doping! Well, yeah, that was a shame because I missed the whole 450 race, I had to go take a pee. It kind of sucked because I had to have some guy watch me take a piss the whole time. He's just staring at me. So it wasn't good.
Is that the first time we've seen 250s get doping control?
Yes, that's the first time I've ever had any of the doping control. So hopefully all the steroids that I've been taking don't take the win away [laughs].