Your Collection: 1999 CR250
This weeks collection comes to us from Rory O'Neill.
It started out as a cheap bike that I bought to leave at my friend's house out west, so that I have something to desert ride when I'm out there, but like most used bikes it needed a little attention especially cosmetically as it looked like some kinda Metal Mulisha refuge wannabe, although at least the plastic actually was black and not just spray painted with Krylon while still on the bike as has been the case with a lot of bikes that fit that category.
Even though I just wanted it to desert ride on, I still wanted it look decent but after getting hold of the guys at Throttle Jockey graphics in Kokomo IN. that idea went out the window and the 'project' took a whole new turn, I won't call it an Ezra Lusk replica as a lot of the parts I used are different to the ones used by Factory Honda in '99 but I would definitely say that it was inspired by him but mostly it was inspired by Throttle Jockey. I had gotten a hold of them to try and get of any kind of graphics for a '99 CR as they are scarce and they said that they had done the graphics for Factory Honda in '99 and could go ahead and reproduce them and the seat cover for me, they also made me pre-printed backgrounds with my number on them in the same font as Lusk's bike, they also changed up the logos on the fender decals to products that I use and the piece-de-resistance was the seat cover that they put my name on (spelled correct) just like the '99 team bikes did.
So after Throttle Jockey going all out for me I needed to do the same with the bike to make it worthy of their efforts and the look of the bike, So I got a Plasticwerks front number plate like Honda ran in '99 which is actually still available from Plasticwerks, some flo-red UFO plastic, an RK gold chain, Sunstar sprockets, a Twin Air filter, V-Force reeds, Smith grips, Bridgestone M404 & ED11 tires and Ultra heavy tubes, some Works Connection bling & function ( radiator guards, billet oil cap & clutch perch/lever) , ICW stand, Renthal bars, changed all the fluids to Motul and lastly a used '99 CR250 tank from Ebay as the previous owner had installed an Exxon-Valdez tank that I think would have done the Paris-Dakar on one tank!
Then I had to get it all shipped out to Utah with the plan of building the bike on Thanksgiving day and then racing in the next, obviously with a task like this I needed some help so I owe a lot to my boys Muckser and his uncle Roger the dodger who helped me put it all together and then Eric Cook and Herb Grover from Pro-Form/Maico Only who ordered me a lot of what I needed and made sure I had it on time and of course Throttle Jockey for making me see the light.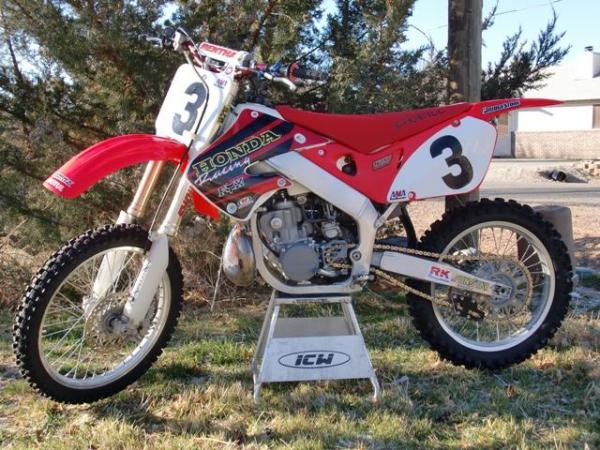 In the end I did make it to the race I was looking to do in Mesquite Nevada but the less said about that the better but I did have a blast riding the bike with my buddies in the desert for 2 weeks after the race, which at the end of the day is what riding dirt bikes is all about, hanging with friends, throwing some roost and poppin' a few wheelies. So mission accomplished.

- Rory O'Neill