O.co Coliseum
Oakland

,

CA
Oakland
Monster Energy AMA Supercross Championship
There can only be one greatest season in history, and if the rest of the year mirrors the action we saw Saturday night in Oakland, 2012 is sure to replace 2011 as the  best Monster Energy AMA Supercross Season of all time.
In the Lites main, Martin Davalos took the holeshot and jumped out to an early lead, followed by Dean Wilson, Eli Tomac, Cole Seely and Zach Osborne. Then, disaster struck for Dean Wilson when he got cross-rutted in a rhythm section and went down right before a triple. Wilson went off the side of the track in the crash, and by the time he we was able to get going, he was in a distant twentieth place. Moments later, Cole Seely had issues of his own and went down.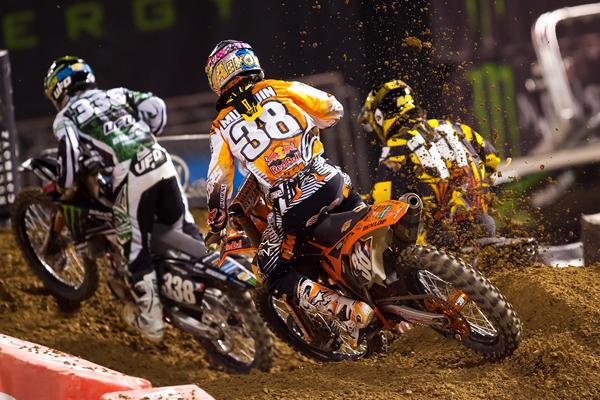 Osborne, Musquin, and Anderson had a good battle in the Lites main.
Photo: Andrew Fredrickson

In front of the carnage, Tomac was putting in some strong laps and it wasn't long before he had caught and passed Davalos. It helped that Davalos bobbled, but Tomac was ripping, and most likely would have passed Davalos anyway. Once Tomac got into the lead, he dropped the hammer and sprinted away from the pack, taking the eventual win by over twelve seconds. Meanwhile, Davalos continued his backward slide, losing spots to Osborne, Jason Anderson and Marvin Musquin. It was at this point that a ferocious battle for second place between Osborne and Anderson began to unfold. The two swapped positions several times, which allowed Musquin to sneak up and get in the mix. Then, after coming together with Musquin in a corner, Anderson went down, handing the battle for second over to Osborne and Musquin.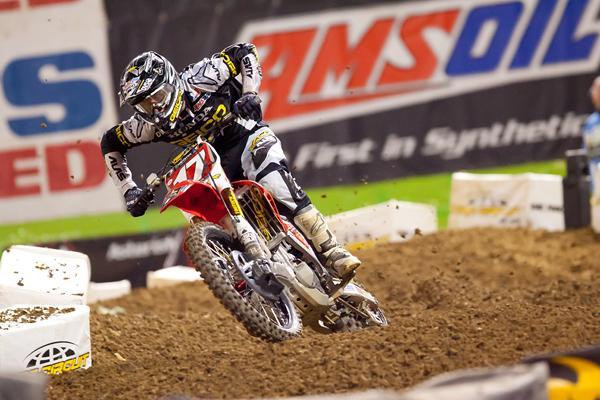 Eli Tomac
wins his second main event of 2012.
Photo: Andrew Fredrickson

As the race started to wind down, Osborne tightened up and was unable to hang with Musquin. One week after crashing out in Dodger Stadium, Musquin crossed the line in second place, matching the best AMA supercross finish of his career. Osborne took third, followed by Ryan Sipes and Matt Moss. Tyla Rattray crashed hard in his heat race, and did not return to the track. Early reports indicate that Rattray has suffered a small fracture in his C-7 vertebrae. We'll post more updates on this situation as they become available.

Lites Main Event Results
1. Eli Tomac
2. Marvin Musquin
3. Zach Osborne
4. Ryan Sipes
5. Matt Moss
6. Travis Baker
7. Nico Izzi
8. Max Anstie
9. Martin Davalos
10. Dean Wilson
11. Cole Seely
12. Jason Anderson
13. Billy Laninovich
14. Gavin Faith
15. Gareth Swanepoel
16. Michael Leib
17. Vince Friese
18. Killy Rusk
19. Ryan Marmont
20. Topher Ingalls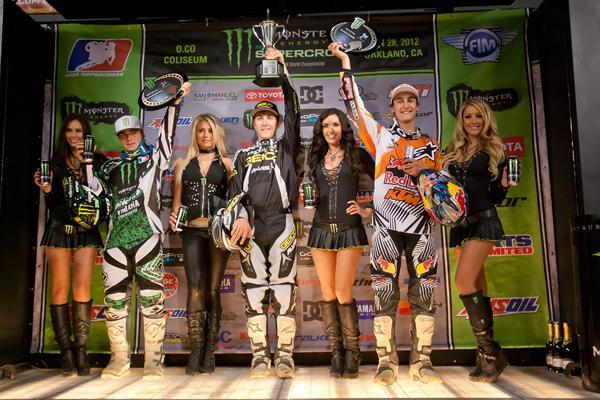 Western Regional SX Lites Point Standings
1. Eli Tomac 88
2. Dean Wilson 73
3. Zach Osborne 67
4. Marvin Musquin 64
5. Tyla Rattray 60
6. Cole Seely 57
7. Jason Anderson 53
8. Nico Izzi 46
9. Max Anstie 45
10. Ryan Sipes 43

In the supercross class, the fans got what they paid to see when Reed took the holeshot with James Stewart and Ryan Villopoto only several positions behind him. Within a few laps, both Stewart and Villopoto had worked their way past Andrew Short and Josh Hansen and were hounding Reed. For five or six laps, they circulated the track within a few feet of one another. Every time it looked like Stewart was close enough to make a move on Reed, he would have to guard against Villopoto, who was putting a wheel on Stewart every chance he got. They refused to give one another an inch, and the crowd was eating it up.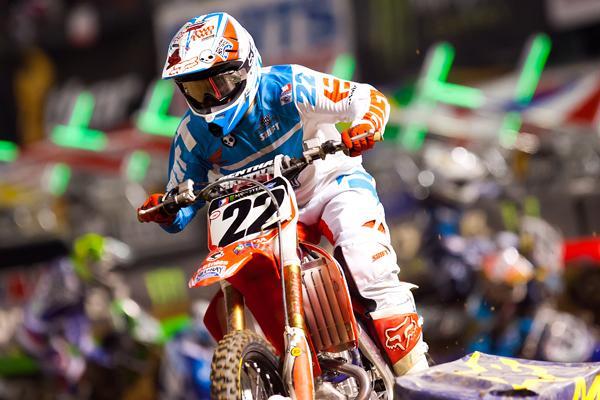 Chad Reed
got out to the early lead.
Photo: Andrew Fredrickson

Then, after what seemed like an eternity, Stewart made put a move on the inside of Reed as the two entered a straightaway, pulled a gap, and just like that, the battle was over. Villopoto kept the pressure on Reed, but was simply unable to make anything stick. Finally, right when it looked like Villopoto was going to take another run on Reed, he was forced to double a triple when Reed took the preceding corner a little wide. The result was a bit of breathing room for Reed, which he was able to turn into a sizable gap that would last the remainder of the race.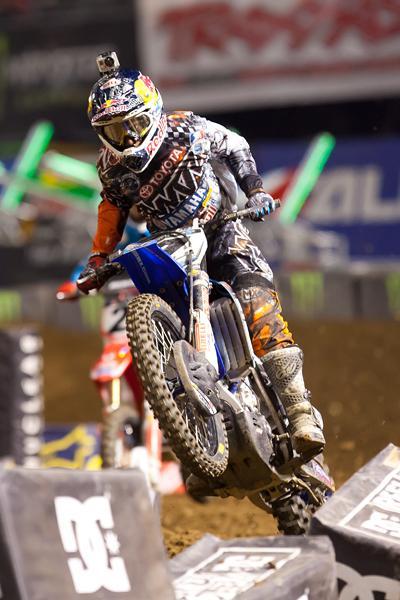 James Stewart
took his first win in 2012, and was the fourth main event winner in 4 races.
Photo: Andrew Fredrickson

After getting somewhat of a decent start, Ryan Dungey wasn't able to move through riders as quickly as Villopoto and Stewart, and by the time he had worked his way into fourth, the leaders were long gone. Stewart took the checkers, becoming the fourth man to win a supercross main in as many races in 2012. On the podium after the race, Reed was clearly upset about giving up the win to Stewart. In his interview he said he "rode like a girl," and instead of shaking and spraying his bottle of champagne, he casually opened the bottle and poured it onto the dirt. 

Next week at A2, both Chad Reed and Ryan Dungey will wear red number plates, as they now share the points lead. Strap in race fans, if the rest of the series is as exciting and tense as the action was tonight, it's sure to go down as one of the best seasons we've ever seen.

Supercross Main Event Results
1. James Stewart
2. Chad Reed
3. Ryan Villopoto
4. Ryan Dungey
5. Andrew Short
6. Kevin Windham
7. Davi Millsaps
8. Jake Weimer
9. Justin Brayton
10. Josh Hansen
11. Mike Alessi
12. Kyle Chisholm
13. Broc Tickle
14. Brett Metcalfe
15. Nick Wey
16. Cody Mackie
17. Weston Peick
18. Robert Kiniry
19. Ben Lamay
20. Kyle Partridge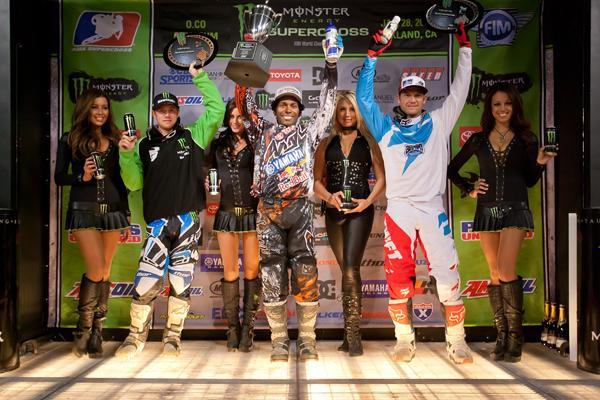 Supercross Series Point Standings
1.
Chad Reed
85
2.
Ryan Dungey
85
3.
Ryan Villopoto
83
4.
James Stewart
73
5.
Jake Weimer
61
6.
Kevin Windham
58
7.
Andrew Short
52
8.
Josh Hansen
47
9.
Brett Metcalfe
45
10.
Davi Millsaps
42