Welcome back to the fringe. Last week I covered the AMA Arenacross Series here in Redux, a series chock full of great racing and great racers giving it everything they have in pursuit of a championship. This weekend, I went to the double-header finale of the Can-Am Grand National Cross Country series and witnessed the same type of stuff. Yes, it's lower profile than the MX and SX tours, but to the riders and teams competing, it's every bit as important. And the storylines are the same. I learned this 10 years ago when I first started working for the GNCC Series. As a motocross and supercross fan, woods racing was only there in my peripheral vision. But once I went to a race, I saw that, at the core, GNCC or Arenacross is the same as AMA Motocross or Supercross. The bench-racing sessions are the same, just with different rider names filled in.
For example, this final GNCC double-header round offered up the same heartbreak, drama and elation as this year's "greatest season ever" of supercross and motocross. I'll draw some parallels.
First, Charlie Mullins came into these final two races sporting a huge points lead. Mid way through the year he was down something like 14 points on defending champion Josh Strang, but Mullins launched a torrid late-season charge including three wins and a second place finish in the final four rounds. Previous to this, Mullins has been tagged with a "can't handle the pressure" label, because he's started the GNCC tour strong only to falter down the stretch. And also this year, he battled to defend the National Enduro Championship he won last year, and held the points lead again heading into the final round. But Russell Bobbitt dominated the event and overtook Mullins to steal the crown. The "can't handle pressure" tag was getting inked again.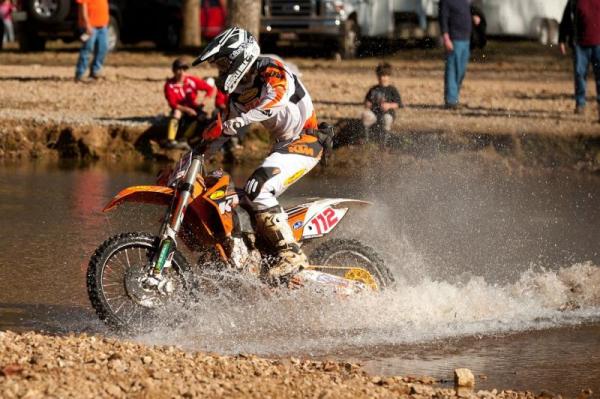 Mullins survived bike problems on Friday to capture his first career XC1 title on Sunday.
Photo: Shan Moore
Sound like Ryan Dungey a few years ago?
Mullins proved he could handle the pressure on Friday at Loretta's. He checked out early and logged one of the most dominant GNCC rides in awhile. In these races, even if a dude pins it early and tries to check out, he gets tired, crashes, or gets stuck behind a lapper in tight woods and loses the lead. Lappers in a woods race are akin to a pace car in a car race. But Mullins was so fast and strong and focused at Loretta's that he really looked like he could hold everyone at bay the whole way. It was over. The championship was about to be his.
Until his bike stopped running. With the title in his grasp! Heartbreak!
This is mega-drama. Can you imagine if Dean Wilson's bike blew up in the second moto at Steel City this year, when he was just laps away from winning the race and the championship? Now Mullins would have to try to win in it at Sunday's finale, only with a much smaller points lead.
Paul Whibley completed a come-from-behind charge to inherit the race lead when Mullins stopped. It was quite a come back. Whibley and Josh Strang were the only riders with a mathematical shot at besting Mullins for the title, and they collided in the first turn. Strang went down elbow first on a pile or rocks, and Whibley bent his shifter. In three hours, we witnessed a major momentum swing, from Whibley and Strang seeing it all slip away, to suddenly getting new life. Whibley got the shifter straight during his mid-race pit stop, upped his pace, took over second and then the win.
Meanwhile, Strang hitting the deck in turn one was fitting—the dude has had no luck as of late. He lost his brakes at one race, bent a sprocket at another, and ripped off a footpeg two weeks ago. Hitting the deck in turn one on Friday and bashing his arm on the rocks sucked. But guess what? To illustrate how his season has gone, THE EXACT SAME THING HAPPENED ON SUNDAY! He and Whibley collided, and Strang hit the ground and banged his arm again. You could literally see blood on his forearm as soon as he rounded the second turn of the three-hour race. He still managed to finish third on Friday.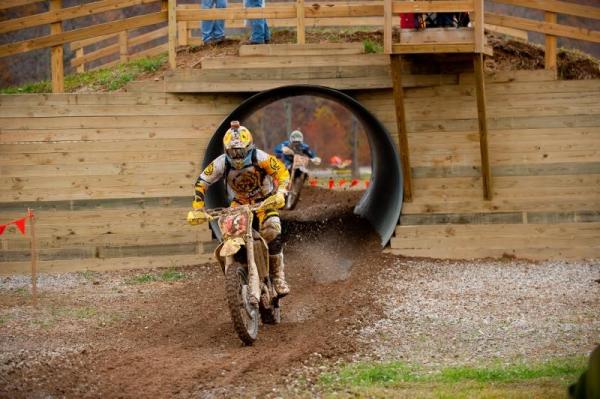 Strang's title defense came to an end with a hard crash on Sunday.
Photo: Shan Moore
The final piece? On Sunday, Strang was pushing hard early trying to come through the pack again, and he crashed and suffered a broken leg. A painful, horrible way to end a title defense that just kept unraveling. Normally, the previous year's champion comes up to the podium to hand the plate over to the new champ. This year, Strang was getting driven to a hospital when Mullins was taking the title. Imagine how we'd be flipping out if Dungey had went down and out at Pala, while Villopoto wheelied away with his title?
Meanwhile, Mullins was facing legit championship pressure on Sunday, but he shed the "can't handle pressure" label for good and promptly grabbed the holeshot and checked out again, just like he did on Friday. This time the bike didn't miss a beat. He was focused, determined and unstoppable. Much like Dungey breaking through for titles in '09, which changed his rep from fragile to closer, Mullins has done the same.
Mullins becomes the first rider to ever go through the GNCC Youth ranks and then win the XC1 Pro Class Championship. He's the first of a new wave of riders who were raised as GNCCers, instead of racing motocross or other off-road events. Behind him comes a trio of Thad DuVall, Cory Buttrick and Kailub Russell, who have all won GNCC Youth Overall Championships, and now have factory rides and make a living as pros.
DuVall was probably the most hyped; he had a Yamaha deal from way back, and also won the XC2 Lites (250) Championship in 2008. But nothing has gone right in his three years in the big class. DuVall crashes a lot, and it seems like every time he does, he'll smash a radiator, or water pump, or damage something on himself. But he had pieced together two podiums in a row coming into this race and it seemed like he had finally figured things out. Nope.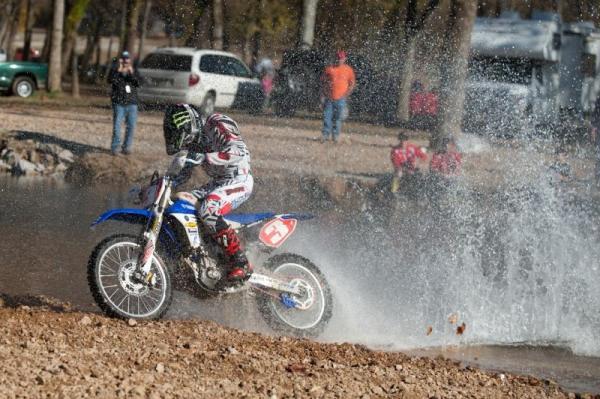 Even with his win on Friday, Whibley was unable to catch Mullins for the title.
Photo: Shan Moore
On Friday he busted his YZ450Fs radiator with a crash, and on Sunday he crashed and knocked the wind out of himself. Three years in the big class and not wins yet—this is the "can't miss kid" who may end up missing after all. We see it happen in motocross, and the storylines can be the same here.
Cory Buttrick made a name for himself with a perfect season in the 65cc class, and has worked his way into the pro ranks with consistency. He also got a race win last year as an XC1 rookie. This year, things didn't go as well. He switched from a KTM 450 to a 350, which seemed promising in the woods. It didn't work, as for whatever reason, Cory B's results sagged. At the last two races, KTM decided to stick him on the new generation 450 (same engine Dungey is testing) and he appeared much faster. They didn't have a big gas tank ready for the new bike for the last race, and he ran out of gas. But the bike (and tank) was ready for Loretta's, and Cory B nailed a solid second on Friday. He could have done the same on Sunday, but he crashed and hurt his hand. Either way, the new 450 may have saved Cory B from a stop in the career doldrums.
Mullins, by the way, won the title riding a current generation 450 SX (carbureted). He'll get to testing with the new motor in a few weeks.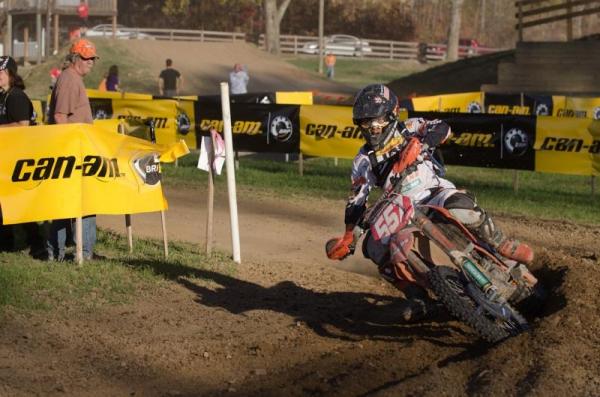 Two-time XC2 champion Kailub Russell had a fantastic rookie season with KTM.
Photo: Shan Moore
KTM also has Kailub Russell riding the 350, and the bike works wonders for him. KR raced a 250F the last two years in route to back-to-back XC2 Lites titles, so, at least for him, KTM's "if a rider jumps from the 250 to the 350 without riding a 450 in between" theory seems to work. Russell won a race this year and was arguably Mullins' most consistent threat in the last part of the season. He's already decided he wants to stay on the 350 next year.
After a long weekend of racing, the discussions were the same as a motocross race. New bikes versus old ones, 350s 250s and 450s. Injuries, pressure, fitness, focus. If you like moto, you'd like GNCC. And Arenacross. It's like the great philosopher Jon Bon Jovi sang in Wanted Dead or Alive: It's all the same. Only the names have changed.