It was night two at the 29th annual Paris-Bercy Supercross here in Paris, France and for as much calm as we had last night; we got fireworks and more tonight!
GEICO Honda's Eli Tomac grabbed an unlikely win last night with Kyle Chisholm second and Monster Energy Kawasaki's Jake Weimer in third.
The night started off with two heats to get into the main event and it was Weimer and GEICO's Justin Barcia easily winning their heats and making it into the main event. Along the way all the top riders made it through, as well, setting the stage for a great show. But first up was a one-lap Superpole contest, as well as a series of elimination races, which determined the gate pick for the main event.
The Superpole was won again by Frenchman Gregory Aranda, and he once again collected the 1,000 Euro prize for being the fastest rider for one single lap.
The first elimination races went off with no issues as Suzuki's Mike Alessi, who made some changes to his machine and looked much better today, won in a great ride.  Weimer was second with Barcia taking home third.
The second elimination race was where the fireworks happened.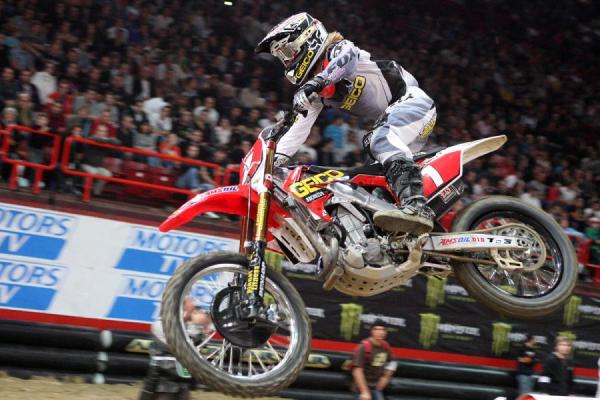 Justin Barcia and Gregory Aranda set off the fireworks at Bercy.
Photo: Pascal Haudiquert
The pack roared into the first turn with Alessi right there as well as Aranda just inside of him. Aranda grabbed too much throttle, slid out and then his Kawasaki KX450 hooked up and shot him from the outside to the inside of the track. The change in direction caused a chain reaction crash that took out Weimer and Barcia, which left Barcia fuming.
When the pack roared back into the stadium, Barcia and Weimer were just getting going and as Aranda came by Barcia, Justin rode Aranda to the outside of the berm. He then proceeded to show Aranda the finger that you usually use for bad drivers. That was it for the Parisian crowd, boos, paper and air horns came raining down on Barcia as he and Aranda continued their jawing in the mechanic's area. At that point the two riders were separated and Aranda, in a show of his frustration laid down on the track hoping to draw a red flag and a restart. Eventually he was pulled off, but not before the pack had to avoid him—there was no red flag anywhere.
Barcia was not permitted to race the rest of the night and was fined 500 Euros for unsportsmanlike behavior. The fine was immediately suspended because Barcia showed remorse for his actions.
Meanwhile there was an actual race going on with Alessi grabbing the win once again in the second elimination race. This left a final four of Alessi, Nick Wey, Kyle Chisholm and Eli Tomac. Those four went at it in the final race with Wey grabbing the win when it was all said and done.
The final was now set minus Barcia, and when the gate dropped it was once again Mike Alessi who led early on. Alessi had made some bike changes all weekend and they seemed to agree with him as he took off with the lead. Right behind him was Chisholm and Weimer with Eli Tomac lurking and Nick Wey way back after a bad start.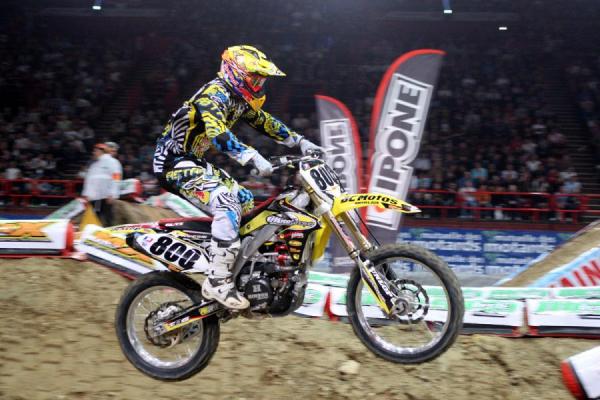 Alessi struggled to an 8th place finish in the main.
Photo: Pascal Haudiquert
Chisholm hunted Alessi down and was applying heavy pressure to the 800 inside the tunnels of the arena. Eventually Chisholm forced a move on Mike and contact was made in those very tunnels. It was reminiscent of these two riders getting together last night and the collision tonight left Alessi trapped in the hay bales and out of the race. At the same time that this happened, Weimer got out of shape entering the beginning stages of the tunnel and he went down hard. That was it for Weimer, his helmet showing the damage of the crash. He was done.
The benefactors of these incidents was Aranda and Wey who went up into third and fourth respectively. Wey was riding strong as catching Aranda a little bit. In fact he would end up with the fastest time of the main event in his effort to catch third. It didn't happen though, despite getting close, Wey ended up fourth in what was still a good ride.
Meanwhile, up front, Tomac was trying to get Chisholm. But in a repeat of what we saw last night, the roles revered. Tomac wasn't able to do much with his deficit, and fifteen laps later Kyle Chisholm won his first ever Bercy SX main event with GEICO Honda's Eli Tomac in second.
So it's a 1-2 for Tomac vs. Chisholm's 2-1. In the Olympic style scoring they use, these two are tied at 3 with Wey in third with 9. Frenchman Cedric Soubeyras and Alessi are fourth and fifth. Last year's King of Bercy, Justin Barcia, has failed to finish either main event this year in what has been a disastrous trip for the 2011 250 West SX champion.
Stay tuned here on Racer X for Sunday's race report as well as on Twitter @racerxonline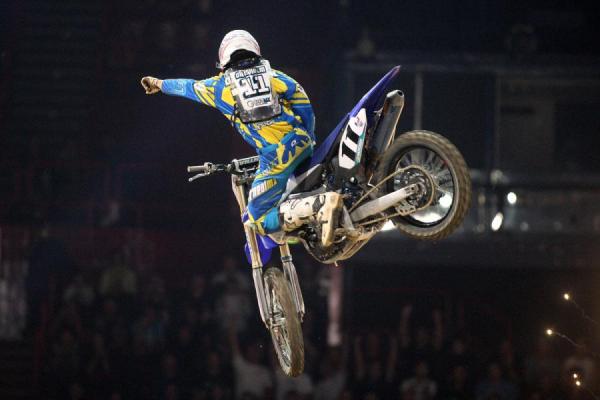 Chisholm took the win on Saturday.
Photo: Pascal Haudiquert
1- Kyle Chisholm Yamaha
2-Eli Tomac Honda
3- Gregory Aranda Kawasaki
4- Nick Wey Kawasaki
5-Cedric Soubeyras Honda
6- Fabien Izoird Suzuki
7- Tommy Searle Kawasaki
8- Mike Alessi Suzuki
9-Cyrille Coulon Honda
10- Arnaud Tonus Yamaha
11- Jake Weimer Kawasaki
12- Chrsitophe Martin Honda
13- Khounsith Vongsana Honda