Scratching and clawing to fight his way into the top five in each and every 30-minute-plus-two-lap moto of the brawl that was the 2011 Lucas Oil Pro Motocross Championship 250 classification, full-on privateer Darryn Durham and his #37 Eleven10 Mods/Morgantown Motorsports Honda was, as we would all find out, a force to deal with. A privateer in every sense of the word
—
a world used quite loosely in this day and age
—
the Butler, Pennsylvania-based 22 year-old, working out of the back of a non-descript flat black box van while on his self-proclaimed "Eleven10 Punk Rock MX Tour," fought for all he was worth, hovering near the top five on many an occasion (including leading 12 laps of the first moto at High Point). Displaying old school, circa 1980s true grit and determination, Durham caught the eye of the most powerful (that word can be taken many ways) man in motocross, namely Mitch Payton. The Enzo Ferrari of the satellite set, Payton was looking for another rider for the 2012 Supercross and National season, and as fate (and little bit of luck, good timing and a lot of tenacity) would have it, Durham got the gig. Recently, after shaking down a new Monster Energy/Pro Circuit/Kawasaki 250F, we caught up with the wide eyed, grinning kid from the Keystone State.
Racer X Online: Darryn, what are you up to today in the Inland Empire region of California?
Darryn Durham: I'm actually on the way to the track right now. I'm riding outdoors today. I'm heading to Perris.
And you'll be riding one of the Monster Energy/Pro Circuit/Kawasaki bikes, right?
Yep.
Okay, well how does it feel to now be a part of the Pro Circuit team?
It feels good so far. I'm really happy and the bike is awesome. So I'm just going with it for now and trying to get ready for supercross.
You started riding the bike somewhat recently, correct?
Yeah. I rode Thursday and Friday of last week. It's a practice spec bike, but it still felt really, really good. It was the best thing I've ever ridden.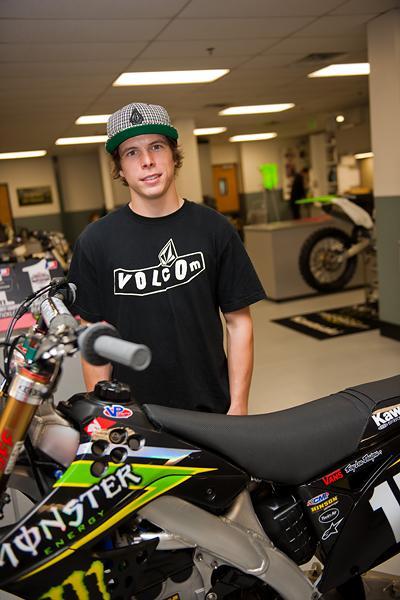 Expectations are high for Durham heading into the 2012 season.
Photo: Monster Energy
I watched you race throughout the summer and there were a number of motos where you ran way up front. Then I came to realize that you were working right out of the back of a box van…
Yeah, yeah I was out of the box van all year.
Was your equipment pretty close to being stock?
We had pretty good equipment. Eleven10Mods really did the best with the bike that we had, so it was good. The whole thing was tough, though. It really wore on you by the end of the year. Doing it all out of a box was hard. It's a lot of stress when you're doing it by yourself.
How did you get the ride with Mitch? What happened?
I don't know…I'd see him at the track. He was cool to me and always waved and gave me the thumbs up. At the races, I'd always go over to see him, and I started talking to him every week. Then I told him that I really wanted to ride for him. At Pala he told me I got it and I was super pumped.
How did Pala go for you?
Actually, I did badly at Pala. I got in a big crash at the start with [Broc] Tickle in the first moto and my bike was about to blow up during the second half of the second moto. I didn't do really well, but after the crash at the start I charged through really good and I never gave up, and I think I did the best that I could.
A large contingent of guys who have raced for the Monster Energy/Pro Circuit/Kawasaki team have been World Champions or very highly heralded amateur riders. You made your way onto the team without a lot of pomp and circumstance. I guess what I'm saying is that you really must have made an impression on Payton and his race team members to earn a place in the semi-truck.
Yeah, I think I pretty much did it on my own. I worked hard and raced for a small team and made it onto the best team out there, so that's pretty cool.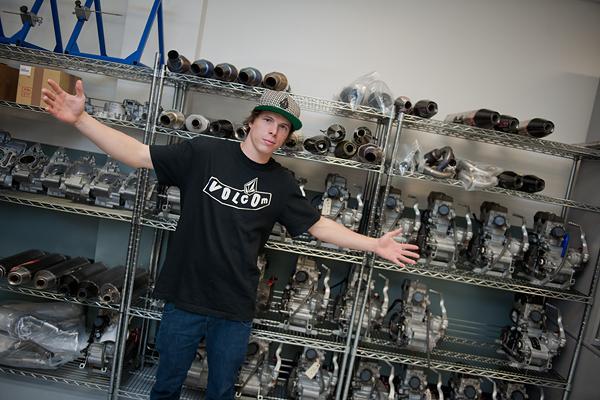 After a year as a full-on privateer, Durham will have the luxury of factory support in '12.
Photo: Monster Energy
It's now late October. What's the plan from here on in? Stay here in California and test and train for 2012?
Yeah, I'm staying out here in California and working on my supercross technique and just getting ready for the supercross series.
You broke your foot at the opening round of the East Region Supercross Lites Series in Houston last year, correct?
Yeah, yeah that was a bummer. I don't know…I worked hard coming into that season and I was leading the first heat race and it kind of sucked to have that happen four laps into the season.
Do you enjoy racing supercross?
Yeah, I really like supercross and I think it's one of my strong points.
I know it's really early, but how do you feel about being on the team? You walk into the Pro Circuit race shop and see all these bikes and technical resources and mechanics and all the other people Mitch has working for him. Is it still a little bit intimidating or are you starting to warm into it?
I'm starting to warm into it. I kind of knew it was a top notch program so that didn't surprise me. Everyone has been really cool and it's a great place. I'm really happy.
Certainly a cornball question on my part, but is being on this team a dream come true for you?
Yeah, it really is. When you're a kid you look at those Pro Circuit bikes and think, "Damn, those things are really sweet." Now I'm riding one and it's really cool.
Will riding for a team at this level bring any added pressure or will you put the pressure on yourself?
No, I don't think it's going to be added pressure, I think it's more me added confidence for me which I think that will be a big help. I think that's why those guys always do so well—it's because they know they have the best of the best.
It's a few months off, but have you set any goals yet for the 2012 season?
I mean it's still a little early, but I definitely want to win races and I want to consistently be on the podium. That's what Mitch expects out of all his guys and that's what I expect out of myself.
How do you feel about the Nationals this summer? You had some really good runs in 2011—especially at your home track, High Point—and really appeared to break through.
I feel good about the outdoors. I wish I could have finished the job off at High Point this year.
Yeah, you led the first 20 minutes of that opening moto at High Point this spring. You must realize that you certainly have the speed, you know?
Yeah, speed wasn't really an issue but fitness was a little bit. However, I think it was more nerves of being my first race up front. I think I should have all that it takes this year.
As the holidays approach, will you go back to your home in Pennsylvania or stay in California and keep preparing?
I'm not sure. It kind of depends on whether I'm going to be racing West Coast or East Coast. I'd like to go visit my family for the holidays, but if not I'm going to stay here and focus on making sure this supercross season happens.
Hey Darryn, in closing, anybody you want to thank for your new place in the AMA SX/MX social strata?
Yeah, I want to thank Mitch and Pro Circuit and the whole team. I really don't know all the team sponsors yet, but I'd also like to thank my family and my team from last year for helping me get this ride and I also want to thank Volcom.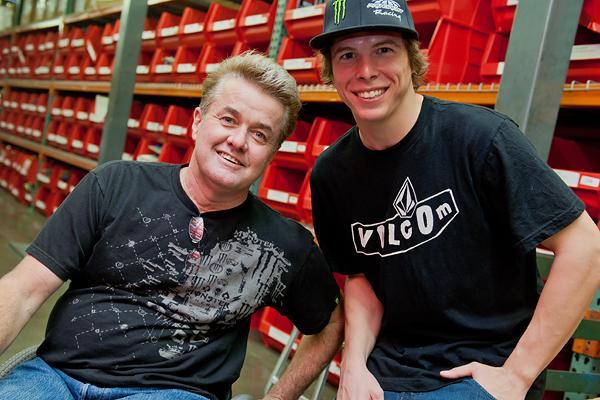 Payton has lofty expectations for Durham next season.
Photo: Monster Energy
From a quick jaunt over to the Pro Circuit race shop in Corona, California, Racer X caught up with Mitch Payton and asked him about Darryn Durham, the new rider on the Monster Energy/Pro Circuit/Kawasaki team roster.
Mitch, as history has taught us, most of your team riders have been World Champions, National or Supercross race winners or highly acclaimed amateur riders. What made you take notice of a lesser known racer such as Darryn Durham?
Mitch Payton: Well, you know actually a few years ago I had spoken to his father about maybe doing something with him. For some reason, we just kind of went a different direction. When he came into the pro ranks, I don't know if he was really buttoned up. I think he was kind of a loose cannon kid that was out on the road and digging it. He turned pro and was a cool guy. He kind of almost blew it in every fashion that you would expect, you know? And then it kind of seemed as though— and maybe he's faking it—he has realized he needs to put the work in and that he is trying. This year his results have been better. I think in supercross he would have been really good, too, but I think Deano [Dean Wilson] hit him and broke his ankle at the first race. I think he would have been good at supercross. I think he was good in outdoors, but he had a lot of mechanical issues this year that maybe if they wouldn't have happened he would have some better results. It's like the same old thing<—its fun to take a chance on a dark horse. It's up to him. The opportunity is there now and they'll be no excuses. If he puts in the amount of effort it takes to be successful, I think he can be successful. If he doesn't take it for real and he takes it for granted then he'll be in and out of here in one year and we'll replace him.
So you have high expectations for him?
I wouldn't have anybody on the team if I didn't have high expectations for him.
And you expects wins out of him?
I expect wins out of him.