We've collected a giant stash of photos from the 2011 season, and we're running through the best before they get sent to DC's infamous "slide room."
In a long season, it's easy to forget all of the moments that made this season so special. But photos, as they say, say a 1000 words. Here's a whole bunch of them, first, reviewing the supercross tour for the Red Riders. Much more to come!
Grant Sidelined Early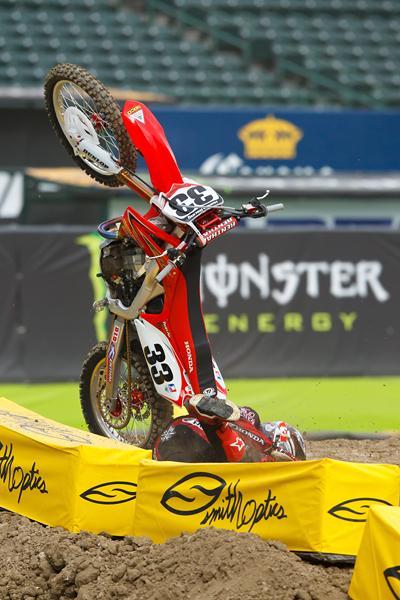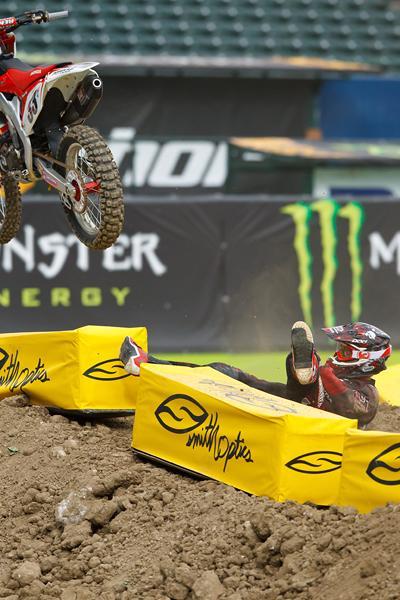 Considered by many to be a bona-a-fide contender for race wins in 2011 under the tutelage of American Honda, Josh Grant's season can be summed up in this microcosim. Above is Grant's horrible practice crash at Anaheim 1, which he survived without injury, but was a preluded to his season ending knee injury the following week in Phoenix. Grant came out on the bad end of a collision with Jeff Alessi, the brother of Josh's long-time rival Mike Alessi, leaving Grant writhing in pain and out for the remainder of the supercross season.

Hahn's Championship Hopes End Prematurely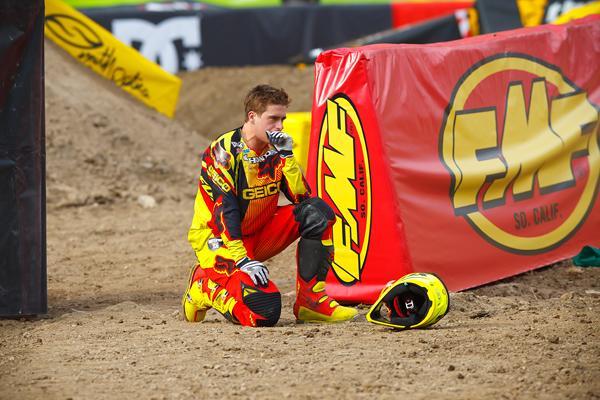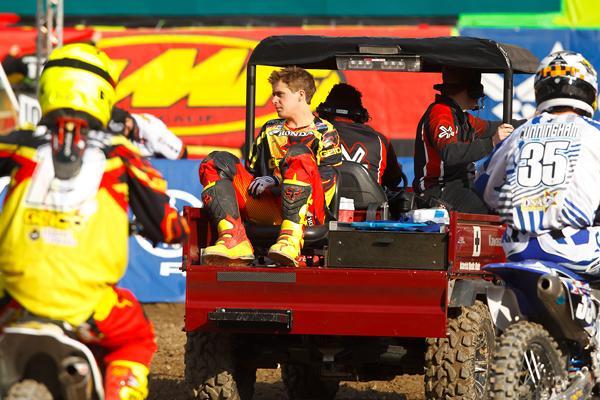 After taking second in Lites West points in 2010, GEICO Hondas Wil Hahn entered the 2011 SX season as a heavy favorite to capture his first career Lites title. But those hopes were dashed prematurely when he suffered a devastating crash in practice at Anaheim 1 leaving him with a broken back and on the sidelines for the remainder of the '11 SX season.

Seely Shocks the Crowd in L.A.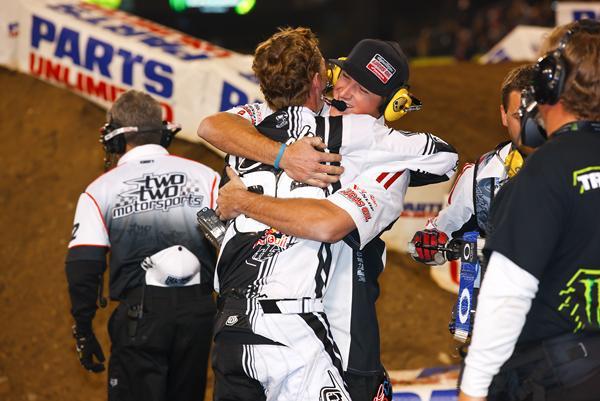 Supercross made its inagural visit to historic Dodger Stadium in '11 and left was the most surprising winner of the season. Lucas Oil/Troy Lee Designs Cole Seely wasn't the most prized prospect to enter the pro ranks. After a brief stint with Fun Center Suzuki, Seely signed with TLD and blossomed under the tutlege of then team manager David Pingree. Seely stepped up even further for 2011, and he was finally able to bring it all to fruition in L.A. outlasting Eli Tomac for his first career Lites victory. Seely' win also marked the first Lites win in Lucas Oil/TLD history.

Reed, TwoTwo Motorsports Break Through in Oakland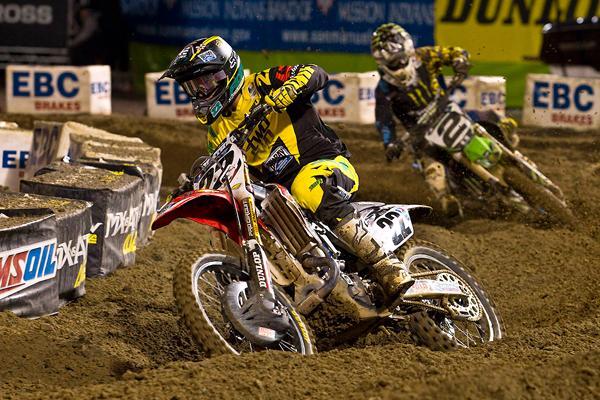 Left out to dry during the off-season, Chad Reed decided to forgo the conventional route and started his own team—TwoTwo Motorsports/Bel-Ray Racing. After struggling to find the speed that had made him a star through the first three rounds of the series Reed finally broke through in Oakland reaching the podium for the first time in '11, marking the team's first career SX podium appearance.

All Systems a Go in Houston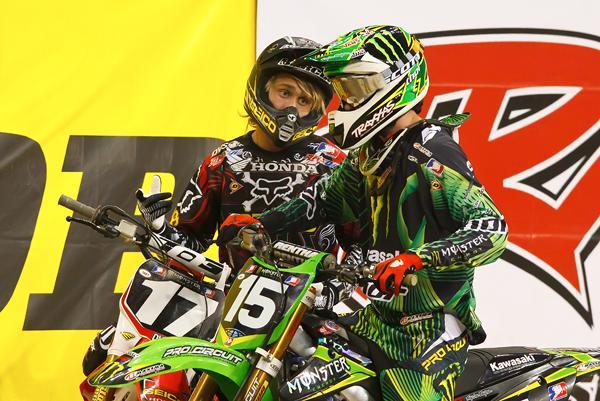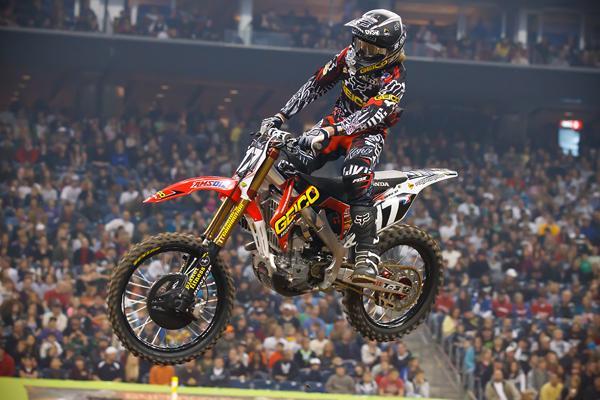 GEICO Hondas Justin Barcia and Pro Circuit Kawasakis Dean Wilson have a long history of "dust ups," with neither rider willing to back down. It didn't take long for Barcia and Wilson to bang bars once again, as the two engaged in a heated battle at the opening round of the East Coast Lites in Houston. Barcia landed the first punch, with the opening round win, in this nine round title fight.

Durham Rockets Out of the Gate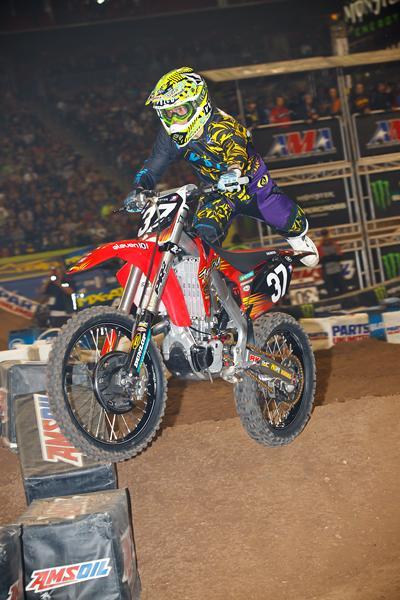 After winning the 2008 AMA Horizon Award, Eleven10 Mods Darryn Durham had a rocky start to his pro career. Battling to find his consistency Durham entered the 2011 SX season with a renewed enthusiasm that had many wondering what '11 would hold for the once prized amateur prospect. Durham came out firing on all cylinders as he grabbed the holeshot in his heat and fought off a feisty Dean Wilson before the two came together resulting in a broken foot for Durham—causing him to miss the next three rounds.

Houston, We Have a Problem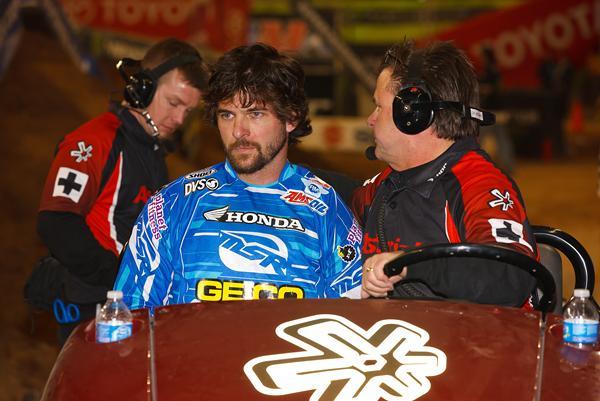 Fan-favorite
Kevin Windham
had the Houston crowd in a frenzy as he jumped out to an early lead. But the usual steady and reliable Windham tossed it all away in very un-
Kevin Windham
like fashion when he crashed late leaving him with a spot in the Asterisk Medical Unit instead of the podium.

Canard Captures First Career Win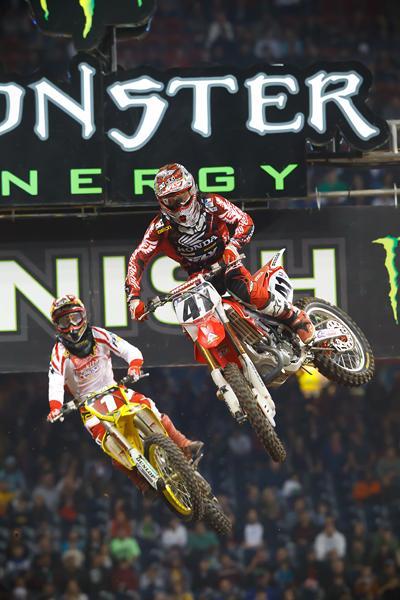 American Hondas Trey Canard was no stranger to the Supercross Class when he made his rookie debut in 2011. The previous year Canard made his mark on the class when he reeled off consecutive podiums while riding as a fill-in rider for American Honda. Honda wasted little time moving the young, fiery Oklahoman to the big class the following year and the move paid off with huge dividends. Canard had a rookie season that could stand alongside many of the greats, and it all started with a monumental win over defending champion Ryan Dungey in Houston.

Reed, TwoTwo Strike Gold in San Diego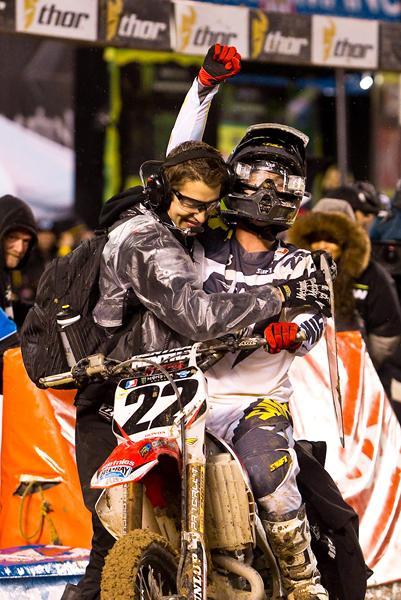 Riding high of his teams' maiden podium appearance in Oakland, Reed entered San Diego with a renewed confidence in not only himself, but his new team. As the skies began to open, brining atypical showers to the usually sunny Pacific coast, Reed became an instant favorite. Always regarded as one of the most prolific bad weather riders—and someone who always seems to find magic in San Diego—Reed felt right at home in the sloppy conditions. Reed flourished that night en route to his first SX victory in over a year (as well as TwoTwo Motorsports first SX win), placing him right back in the thick of the championship hunt.

Rivalry Renewed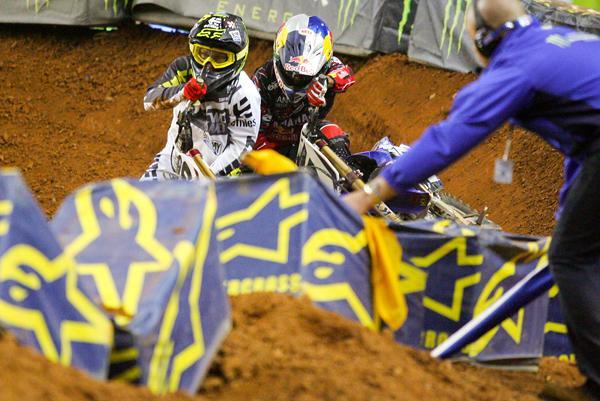 James Stewart
and
Chad Reed
had been playing nice all season—that is until the Atlanta Supercross. A rivalry deeply rooted in a general distain for one another reared its ugly head once again in the ATL. Stewart and Reed had over 70,000 fans in an up roar, pushing each other to the limits, yet still keeping it clean. Then came the last lap. Stewart and Reed were locked at the hip as the white flag ruffled under the roar of 70,000 fans. Then Reed made an aggressive pass (or a dirty pass, depending on what side of the fence you're on) that sent the stadium into a frenzy. Reed would go on to make a last corner pass to secure third, with Stewart finishing fourth. But things were just getting started for one of the longest-running rivalries in the history of the sport.

Tomac Breaks Up PC Podium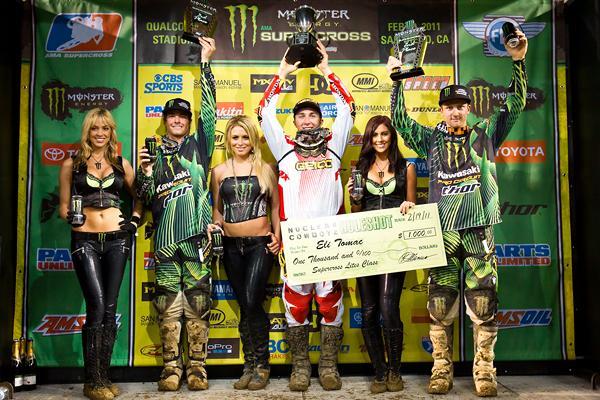 After struggling to a tenth and fifth place finish in the first two rounds of the West Coast Lites Series, rookie Eli Tomac would reel off three straight podium appearances, capping it off with his first career SX win in San Diego. Tomac would go on to capture his second victory in Salt Lake City, propelling the young GEICO star into championship contention in his rookie season.

Wharton Can't Hang On In Atlanta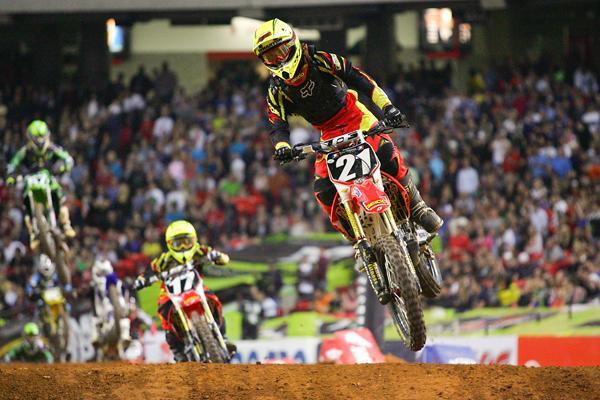 With Tomac and Barcia looking to bring #1 plates to the GEICO Honda team, Blake Wharton seemed left out of the limelight. He jumped into it in Atlanta when he grabbed the holeshot in the Lites East main event, and sliced through lapped traffic to hold a determined pack at bay. The win was his—until he crashed in a routine corner and threw it away. Wharton struggled through most the season and eventually had to bow out for double shoulder surgeries.

Canard Strikes Again In Jacksonville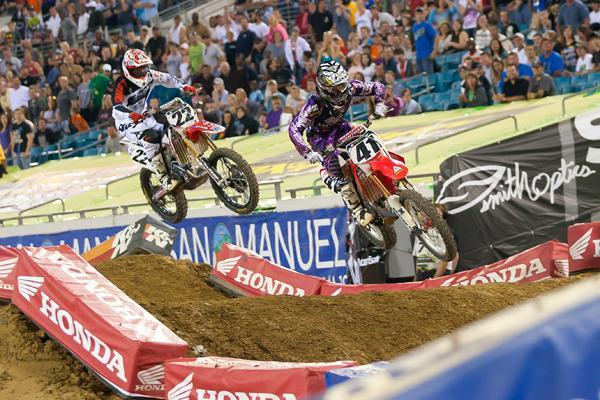 If anyone was doubting Trey Canard's ability to stir the pot in the Supercross class after his first career win in Houston, those doubts were quickly put to rest four rounds later in Jacksonville. On one of the craziest nights in supercross history—points leader Ryan Villopto failed to qualify for the main event, and James Stewart crashed out before reaching the second turn—Canard took his game to the next level. Like his win over Dungey in Houston, this time Canard was fighting with another former Supercross champion, Chad Reed. Reed would push the kid late, but Canard was able to hold on for his second victory, further supplanting his place in the "Fantastic Five."

Canard Picks Up Win No.3 in Dallas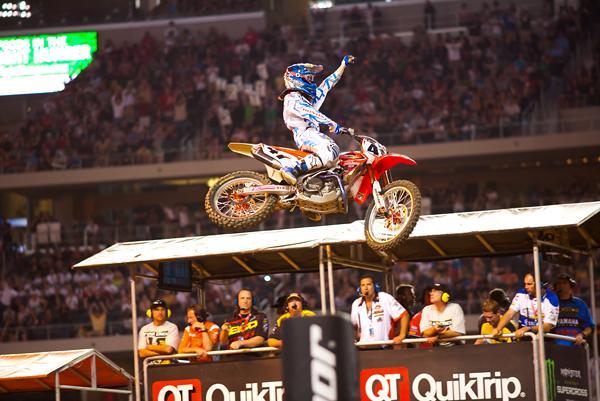 Now he was getting serious. Just when you thought Trey Canard was done terrorizing the Supercross Class he struck again in Dallas. Canard would grab the start and use a late crash between Reed and Stewart (more on that later) to hold onto his third victory of the season. He left the race with momentum, and right in the thick of the points chase. Unfortunately for Canard it would be his last win of the season as he broke his femur just a couple of weeks later while testing—putting the brakes on a spectacular rookie season.

Reed, Stewart Cross Paths Again in Dallas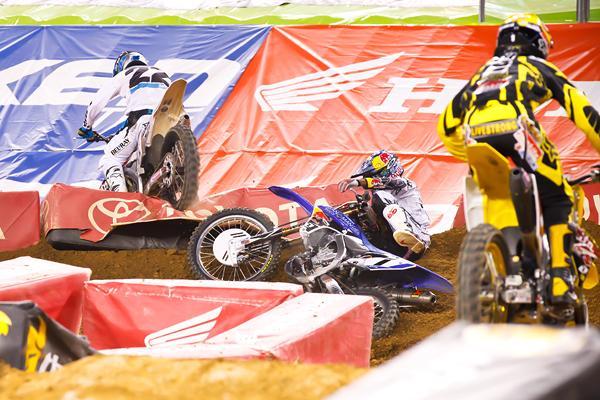 Here we go again. This time Stewart gets squirrely in the whoops and crashes into Reed, knocking himself down and Reed off the track and over the bars. At the time of the crash, Reed was leading the points and ahead of eventual champion Ryan Villopoto on the track. This crash changed the momentum—but after Atlanta, we were back to anything and everything can happen between Reed and Stewart.

Privateer Hero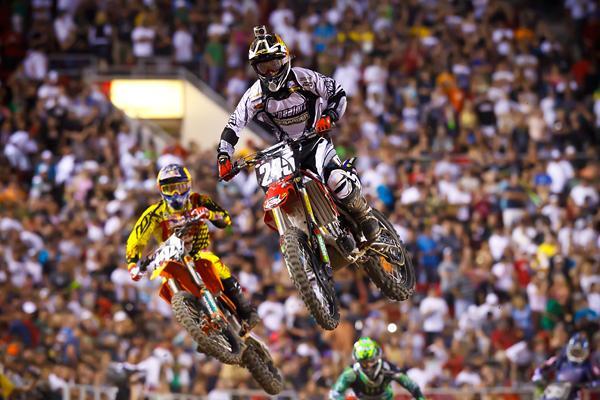 Rookie Lance Vincent turned some heads with decent rookie rides in Lites East. He ended up eighth in points, and the privateer earned a boost for the outdoor tour when GEICO Honda snapped him up for a replacement ride.

Barcia Rolls in Vegas, Tomac Denied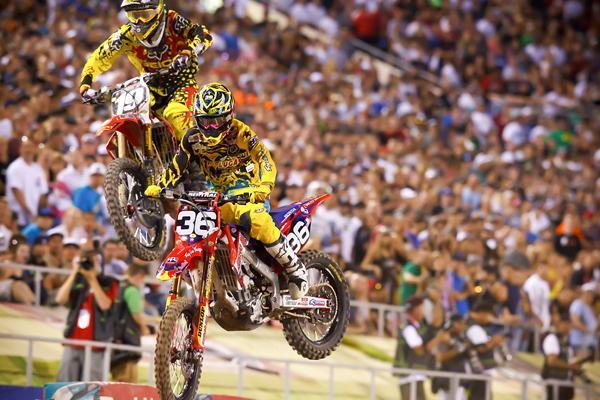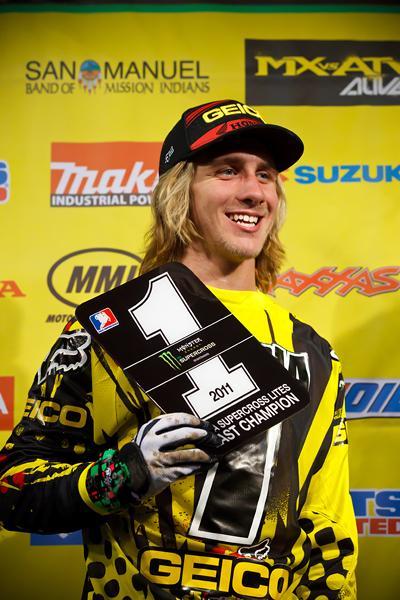 GEICO Honda teammates
Justin Barcia
and
Eli Tomac
entered the final round at Veags on opposite ends of the spectrum. Barcia held a comfortable lead over
Dean Wilson
in the East Coast Series heading into the final round, while Tomac was engaged in a tight battle with Wilson's teammate
Broc Tickle
for the West Coast crown. Barcia would go on to put the wraps on his first career Lites title. For the west, Tomac was in position to get the crown, but he was engaged in a heated battle with Tickle,
Cole Seely
and
Kyle Cunningham
—that ended in conspiracy theories being tossed around—and was eventually denied in his first attempt at a SX Lites title.

Reed Goes Out a Winner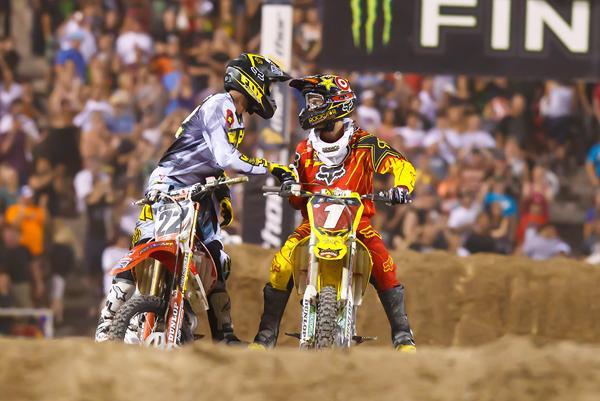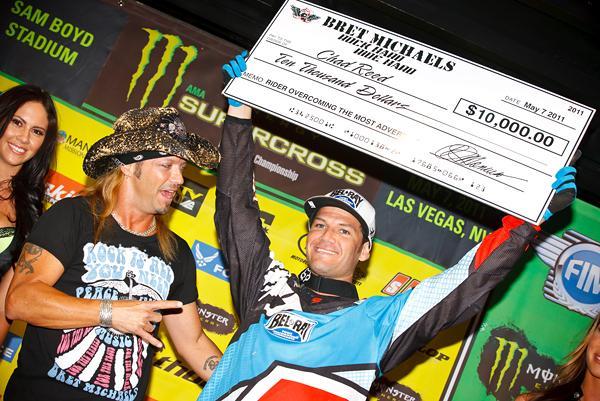 Fittingly, the year billed as the "Greatest Season Ever" ended with a dramatic battle for the Las Vegas win between Chad Reed and Ryan Dungey. Reed hung on for the race victory, but was a few points back of Villopoto in the championship hunt. By any measure besides the number-one plate, though, Reed's season was a rousing success, and, heck, he was even recognized for that via the Brett Michaels' Rock Hard Ride Hard Award. Privateers can always use some extra money!

Windham Leads Early in Vegas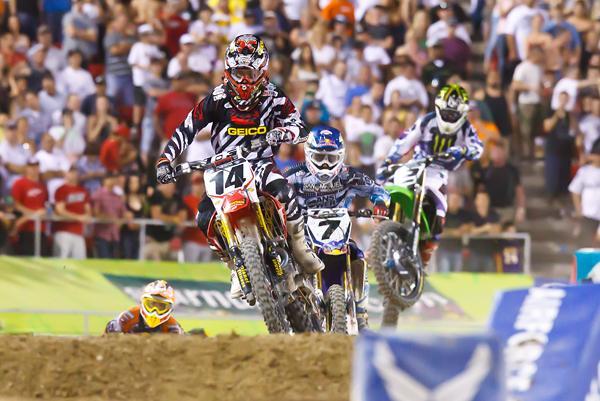 Just when it looked like Kevin Windham was going to ride off into the Vegas sunset with a win, and another defining moment on an already superb career, Windham collided with James Stewart ending any hope that Windham would capture victory in '11. Windham went winless in during the 2011 Supercross season. But the fans still loved him!

The New "Showtime"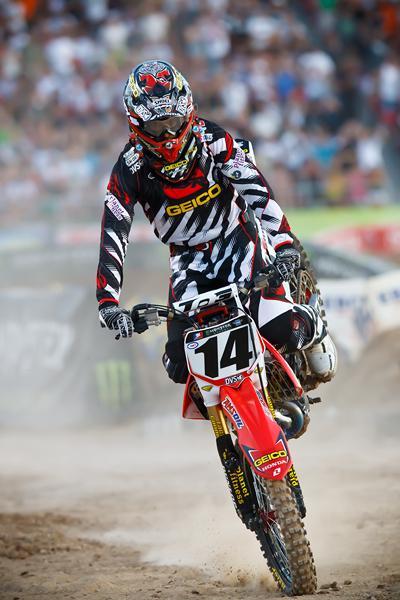 During the 1990s, the world of supercross had been brought to its knees in the form of a dominant superstar. At the head of the roundtable sat a Southern California kid with a flair for the dramatic named Jeremy McGrath. Known for his flamboyancy, on and off the track, McGrath garnered the nickname "Showtime." A decade later veteran Kevin Windham has taken the reins as the showman of supercross. His pre-show transfer jumps and nose-wheelies have become a industry wide phenomenon, propelling the seventeen-year veteran to the forefront of supercross lore.