In racing, they say you can get faster by riding with riders that are faster than you. The whole JDR KTM team is living by this credo. In Australia, the squad quickly rose from obscurity to become the official KTM factory arm, and started reeling off wins and championships. This was quite the shocker, but it did not make the team's next decision seem any less wild. JDR was going to set up shop in the U.S. and make a go of it in the deepest waters in the sport.
Adding familiarity, the team snapped up the vacated shop and truck from the old MDK KTM team. They secured factory support from KTM North America. They hired veteran American racer Nathan Ramsey as team manager, and brought young South Carolina native PJ Larsen back to the States with them.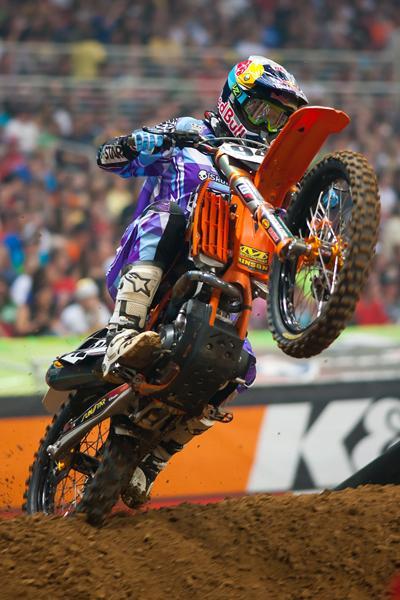 Simmonds finished 23rd overall in his rookie season in the Supercross class.
Photo: Andrew Fredrickson
But their other piece was a weird fit. Tye Simmods may be the most talented young Australian rider, but as large as he is on talent, he's also large on being, well, just on being large. Tye isn't huge by NFL standards, but he's tall and heavy for a motocrosser. So when the JDR team decided to bring the 18-year-old with them to the U.S., they also had to put him in the big class, because he's just too darned heavy to compete effectively on a 250F. So now you've got a fresh rookie to the U.S. racing the fastest riders in the world, and, he was doing it on a KTM 350 against the 450s of the competition.
Simmonds' parallels his own team in going straight to the deep end of the talent pool. He made eight main events with a best finish of tenth at the Las Vegas finale, taking 23rd in the final SX Class standings. He faired a little better on more familiar turf outdoors, finishing 17th in the 450 class with a best moto finish of ninth at Millville.
Over the weekend, he finally got to race back at home and show what he learned in the U.S. He won the opening round of the Monster Energy Australasian Super X Championships—riding a KTM 450. And his Lites teammate Matt Moss won the small-bore class.
Simmonds and JDR USA will be back for 2012, keeping Larsen, bringing Moss over, and also adding Malcolm Stewart. JDR's plan has certainly been ambitious, and success is not a guarantee. But you don't get better unless you race the best—and for one weekend, at least, Simmonds showed just how much he improved.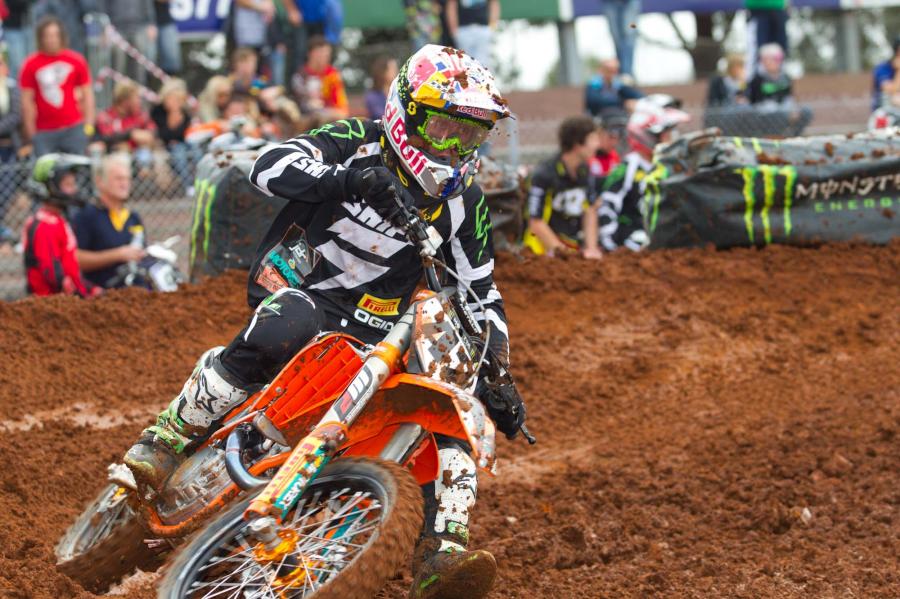 Simmonds won the opening round of the Monster Energy Australasian Super X Championships.
Photo: Shayne Rice