Am-Pro Yamaha's Thad DuVall was considered the star of the future in the Can-Am Grand National Cross Country Series ranks-- beginning with two overall GNCC Youth Championships, and then the XC2 Pro Lites Championship in 2008. But since he's hit the XC1 Pro class in 2009, the 22-year-old West Virginia native hasn't quite seen the results. However, DuVall has landed his YZ450F on the XC1 podium two consecutive races and has high hopes of continuing his streak in the final two races of the GNCC Series. DuVall finished second in Sunday's festive Amsoil Ironman GNCC, just outside Indianapolis. We caught up with "Bad Thad" after a successful weekend in the Midwest.
Racer X: Tell us about your season, it seems like you've had a rocky ride in 2011.
Thad DuVall: Yeah, the first round started off on the wrong foot after I broke a water pump in Florida, but I bounced back at round two and got on the podium. I was running a great race in round three but I crashed pretty hard and broke my arm and dislocated my hip, leaving me out one race. I had a few great races in between there until the summer break. I broke my foot before Unadilla and struggled after that until the past couple races where I've been on the podium.
Have you switched up your program or is luck just finally on your side?
I haven't really been doing anything too different. Just kind of riding a little bit more and having my own time to relax and really not working that hard to be honest. I'm just kind of laid back more now and having more fun with it and it seems to be working.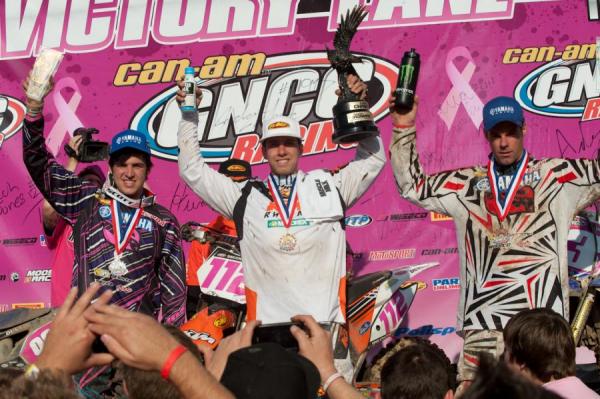 After some early struggles, DuVall (left) has landed on the podium in two consecutive races.
Photo: Shan Moore
You clearly have the speed to run up front, but it seems like something always happens in the three hours of racing.
I don't know, when I first moved up to the XC1 Pro class, I struggled a little bit and I didn't have the best confidence heading in. I kind of fell off the earth a little bit and just have been trying to bounce back. I worked pretty hard to help develop the Yamaha 450WR and it wasn't really working out for me. Once Paul Whibley joined the team, it seemed like he felt the same way and that's when we started running the YZ450 instead. I think that bike suits me better and I feel like I've been doing a lot better since then. Most of the things are my fault. I usually crash out and get hurt, but this year is a little bit better. I started turning things around, especially after the break, with two podiums in a row and hopefully I can finish the double header at Loretta Lynn's in two weeks on the podium.
The Amsoil Ironman marks the second podium in a row for you this year. Tell us about your day.
I thought the Ironman track was awesome! We got some rain earlier this week and man it was really loamy and really rutted up. It was just one of those days where everything worked. This track is everybody's favorite because it's really fast and flows really well and there are so many spectators out there cheering us on and helping us out on the hill climbs. It's just one of those races that everybody loves, and its fun to race because it's just a laid back atmosphere. Then we throw in the Breast Cancer Awareness theme and all.
Did you do anything in honor of Breast Cancer Awareness?
Yeah for sure. I rocked the pink gear today and some pink graphics on my bike as well. My mom is really involved with it and she had fliers and the whole nine yards floating around the Yamaha pits, so it was really cool.
Like Charlie Mullins, you're a racer that's gone through all the ranks of GNCC Racing and you've been pretty successful, right?
Yeah, I have five Youth Class Championships, a 200 B Championship and in 2008 I won the XC2 Pro Lites Championship and I finished seventh overall [Pros included]. Ever since then, I've kind of struggled a little bit but things are starting to turn around this year and hopefully next year we can bounce back even stronger!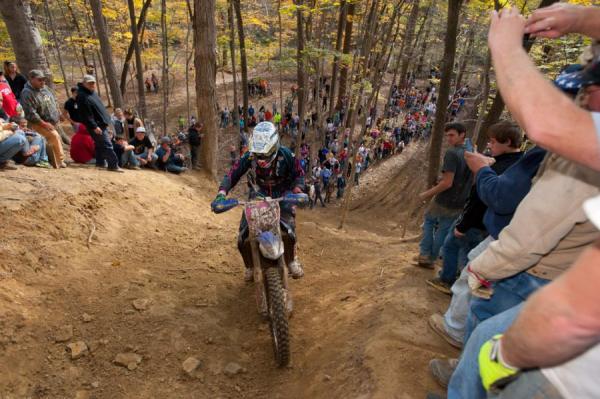 DuVall currently sits seventh overall in the XC1 class.
Photo: Shan Moore
Speaking of next year, have you secured a ride for 2012?
No plans just yet. Just playing stuff by ear right now. I'm trying to get things going for next year, it's just one of those things--the economy is so tough right now and everybody is looking for a job. Everybody is trying to pick up deals here and there or trying to find new deals. I don't have anything for next year, yet, but hopefully getting on the podium the last two rounds and at Loretta's will turn some heads and secure something for next year.
Who do you want to thank for this year?
Definitely my Dad for taking care of my bike. AmPro Yamaha, FMF, MSR, Kenda Tires, GYT-R, Yamalube, Pro Taper, Wiseco, Cycra, Motion Pro, EBC Brakes, Rekluse, IMS, EK Chains, Factory Connection, Pro-Wheel, Shoei, Scott, Leatt, Twin Air, Gaerne, CV4, Vortex, Zip TY, G2 Ergonomics Asterisk, Fastway, Athena, Cycle Gear, Eleven10 Mods, All Balls Racing, Leo Vince, HBD Moto Grafx, Obermeyer Yamaha, Pacific Equipment.