Thunder Valley Motocross
Lakewood

,

CO
Race Center: Thunder Valley Motocross
Lucas Oil AMA Pro Motocross Championship
After season after season where the winner seemed like a foregone conclusion before the races ever ran -- Ricky Carmichael, James Stewart, and last season, Ryan Dungey --  the 2011 outdoor campaign shapes up as the most incalculable contest since... well, since supercross ended, anyway.

Ryan Dungey won 19 of 24 motos and 10 of 12 overalls last season on his way to amassing a huge points lead and the championship. Many of those victories came late in the race, with Dungey starting good but not great, then picking off riders at the halfway point and riding away for the win. This year, that's not happening.

In that championship rookie debut, Dungey won several races from the back. In this season, with the added competition of Chad Reed and Ryan Villopoto, both healthy, Dungey might have to win from the front.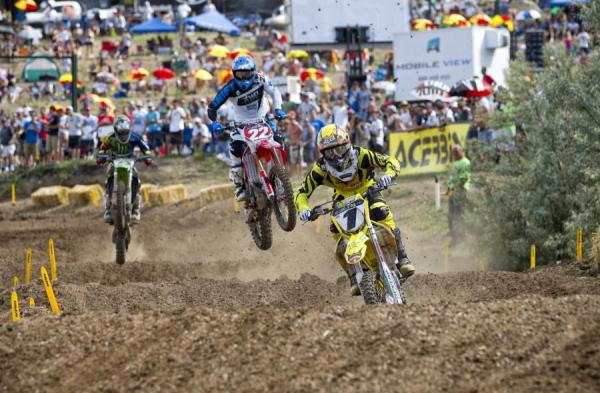 It looks like a three horse race already.
Photo: Garth Milan
In the first moto at the round five Thunder Valley national, Dungey was the last of the three riders to displace early leader Christian Craig and by far the last of two riders to pass Reed. Reed took the first shot at Craig but came out on the wrong end of a bumping match, and Villopoto went by both. Dungey quickly followed Reed's more successful second attempt to get around Craig -- but was unable to make the next pass, this time on Reed, until after the halfway point in the race. By then, Villopoto was already gone. Dungey again settled for second, his sixth time in that position out of nine tries.

But Dungey had another chance left in the day, and he made the most of it by again hounding Reed in the opening laps, but this time with a much quicker result. From the third lap of the tenth moto of the this season, Dungey looked a lot like he did last season, when he also went 2-1 at Lakewood to take the overall. What a difference a year can make even with the same scores: Dungey won both his second moto and first overall by round two last season, but in this campaign it would take the defending champion five races to accomplish same.

With Reed and Villopoto in the mix, Dungey has to get out front early -- at least with the lead pack -- to have a chance to win. And what a lead pack it is.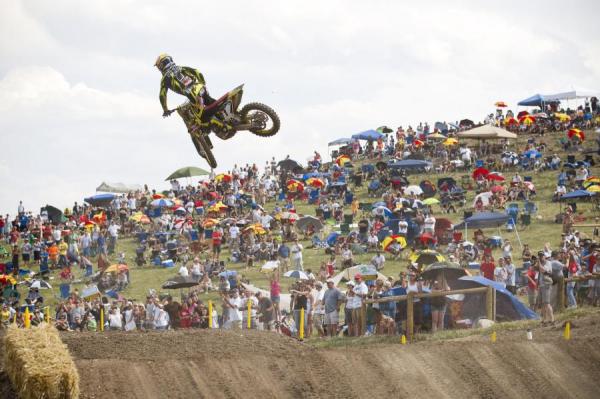 Dungey won his first overall of the season at
Thunder Valley
.
Photo: Garth Milan
Reed had won every second moto of the season coming into round five, but had to settle for third on a track that is not exactly his favorite venue. Villopoto has won every first moto since Mt. Morris, and he kept that streak alive with another runaway ride in Lakewood.

Reed will tell you that Thunder Valley is not his favorite track; he went 3-7 in his championship year of 2009 and 10-7 last year. So if his off-day thus far this season is a 3-3 for third, he'll probably take that. Reed retains the series lead and the red plate, and while both Dungey and Villopoto gain points on Reedy, neither gained maximum points. By splitting the 1-2 scores, the damage to Reed's points lead was minimized.

Now it's Villopoto -- who beat Dungey to the punch with his overall win at Mt. Morris -- who is still looking for his first second moto victory. Since that first moto at round three RV has looked almost unbeatable in the opening race of the day, with three near runaway wins in a row. If not for a stall (at Budds Creek) and a fall (at Lakewood) Villopoto would have won all three of those first motos by wide margins. In the second moto, well, he's still swinging.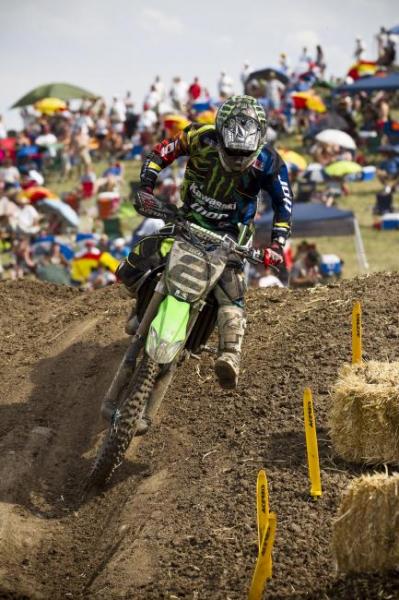 Villopoto sits second in points after
Thunder Valley
.
Photo: Garth Milan
So what's the scorecard? Reed has three overall wins, half of all moto wins with five, and 223 points. Villopoto has one overall win, the three moto wins, and is just eight back with 215 points. Dungey has his first overall of the season, his second moto win, and is still 21 points out of the lead.