High Point Raceway
Mt. Morris

,

PA
High Point Raceway
Lucas Oil AMA Pro Motocross Championship
You already know Mr. Positive and Mr. Negative. They're your friends. You bench race with them, and one guy is always pumped on everything and expecting greatness on the horizon, and the other guy would be bummed that, when he won the lottery, the government took half of his money.
These guys are out in full force early in the Lucas Oil AMA Pro Motocross Championship. This early in the year, it's impossible to figure out what's really going to happen over the next 20 motos, so the natural half full and half empty tendencies that optimists and pessimists fall back on rule the day when it comes to predictions.
To try to see it both ways, I've written this week's Redux column from the perspective of two fans, Mr. Positive and Mr. Negative, and covered the top ten in points in the 450 class. Where do we go from here? Up or down? We'll know for sure by September, but for now, it's all just a guess.
1. Chad Reed, 97 points:
Mr. Positive Fan: I like Chad because he, like me, is a yes man. Think of all of his positive answers. Is he going to ride this year? Is he going to start his own team? Is his privateer bike going to be competitive? Is he going to win races again? Is he now riding a factory Honda? Is he going to race outdoors? Is he fast enough to compete with Villopoto and Dungey? I count eight yeses to those questions. I love this guy!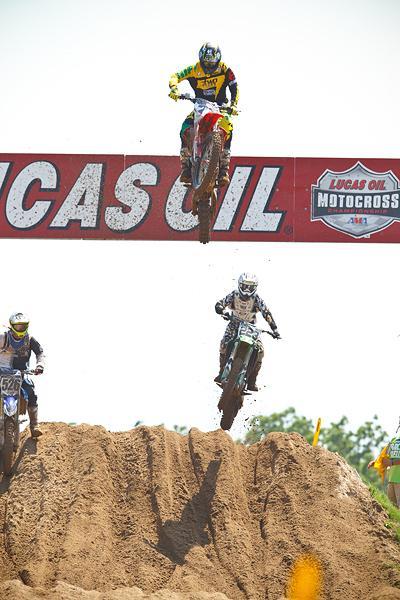 This has to be a positive, right?
Photo: Simon Cudby
Mr. Negative Fan: Simply, ridiculously amazing that Chad Reed is making an honest bid for "best dirt bike rider in the world" right now. Yeah yeah, all you Mr. Positives are going to say people like me should never doubt proven champions like Chad, but c'mon, when he was off of the lead pace at the first few rounds of supercross, no one was even surprised! He was supposed to be over the hill! So this comeback story is one I would have never imagined. I'm not one to think positive, but yet I have to happy for Chad. However, I don't think we're seen the real Villopoto outdoors yet, and he's only holding a big points lead because Dungey had some bad luck at Freestone. This is far from over.
2. Ryan Villopoto, 76 points:
Mr. Positive: Ryan has figured out the game. He minimizes the damage on his bad days and then will absolutely rail once he has a good day. His outdoor speed will be incredible once he really unleashes it. Dude was just sick during a critical training and testing time before the series started, but he'll be winning soon. By the way, he had the fastest lap time in two of the four motos this year. The magic is still there.
Mr. Negative: Have you seen Reed and Dungey sprint away at these races? They're on another level. Him running second in points is misleading. RV got too skinny and doesn't have the reserve to get through this grueling season, especially with the pressure he was under for most of the supercross season. Yes, he's proven fast outdoors, but I take that more as a negative than a positive. With his talent, skills and speed, he should be winning even when he doesn't feel good!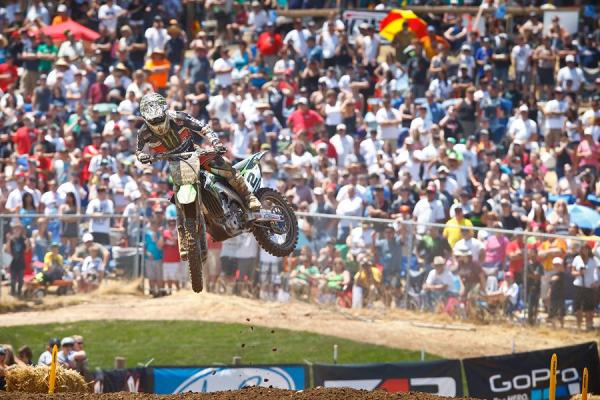 Villopoto should get stronger as the season wears on.
Photo: Simon Cudby
Mr. Positive: I don't like to say mean things, but you're an idiot if you think the same training program that delivered the supercross championship is suddenly a bad thing. And didn't you just say that Reed's season isn't going to hold up because Villopoto is going to get faster? Make up your mind!
Mr. Negative: Why do you always have to find the flaws in everything I say?
3. Davi Millsaps, 72 points:
Mr. Positive: What a great story here, seeing Davi getting back to his potential. We've seen lots of gnarly injuries in this sport (I just hope we don't see any more) but rarely does someone bust a kidney. We really don't know how long it takes a rider to get back up to speed after that, so maybe you all should have given Davi more time before rushing to judgment. Look at him now!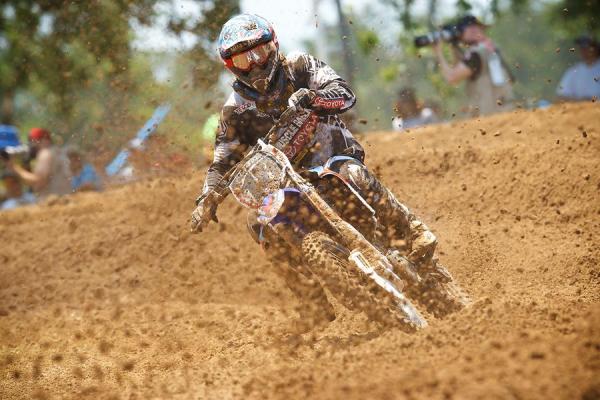 Millsaps is starting to regain his form at a terrible crash at Budds Creek last year.
Photo: Simon Cudby
Mr. Negative: Two decent races isn't enough to convince me we're seeing Davi reach his potential. I'll agree that he has been riding better lately, and clearly he's coming around from that big injury. But he has always been hot and cold. He could win this weekend at High Point or go like 8-8. I wouldn't be surprised either way. I never am. I pretty much know everything—I even know when I don't know.
4. Ryan Dungey, 69 points:
Mr. Positive: I feel so bad for The Dunge. Fourth in points? He by all rights should be tied with Chad for the points lead. And I'd love to see them both running the red plate at High Point, because it would be great for both of them!
I'm not worried about his point's deficit because this is a long season, and everyone (unfortunately) deals with some bad luck during the season. Ryan just got his out of the way early!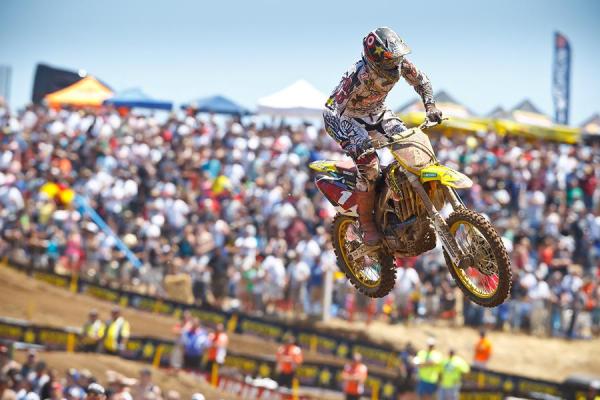 Hangtown was a positive for Dungey, while Freestone turned out to be a negative.
Photo: Simon Cudby
Mr. Negative: Dude, his good luck from last year is gone and moved on to Reed. I think it's going to be "one of those seasons" for Dungey. Kind of like it was in supercross. He tries hard, but this is not 2010. Reed can match him stride for stride, so that's a lot of points to make up. Plus his contract is up and he probably has a lot going on. I don't know, maybe I'm just being negative.
5. Brett Metcalfe, 64 points:
Mr. Positive: Pumped to see Metty instantly back up front after a tough supercross campaign. It's not just the results that count, it's the fact that Brett is getting starts and mixing it up at the front. He knows he belongs there, and he's only going to get better as the year moves along, just like last season.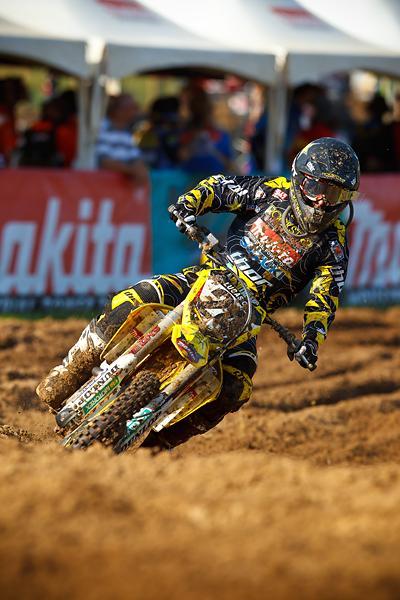 Metcalfe has been solid through two races.
Photo: Simon Cudby
Mr. Negative: Brett works hard, he probably has a shot of confidence coming outdoors since he did so well on a 450 last summer. I think he'll be even better this year than last. Except that the other dudes are just going to keep pushing themselves faster, too. Did you see Dungey and Reed sprinting at Freestone? It's not going to be easy to win motos this year.
6. Ricky Dietrich, 53 points:
Mr. Positive: What a great story here. Ricky threw away a bunch of money and security to keep racing off-road to instead chase his dream and see how good he can be at motocross. And he is good! Plus, he's only going to get better. He's only raced a handful of nationals and he's learning with every moto—everyone else in this class spent years racing motocross in the small bike class, or in the GPs, whatever. Ricky is just getting started!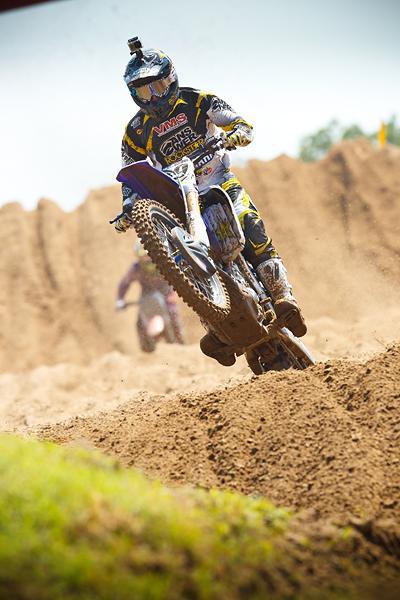 Dietrich has made quite the impression through two races.
Photo: Simon Cudby
Mr. Negative: Oh, what a shock, the dude who races for in the desert for like two hours without getting tired had a good day at Freestone? Gee, you think he'd be strong at the end of those motos? Conditions aren't going to be that brutal every weekend. Plus, he's been practicing and working at moto for months, where just about everyone else he is racing is still cramming in outdoor work after supercross. We've seen riders in his situation start out hot before.
7. Christian Craig, 47 points:
Mr. Positive: Maybe the best story of all! Christian broke his back and could have been done with racing, but he stuck with it, and the Lucas Oil Troy Lee Honda team stuck with him. Now it's paying off, as he's clearly a top ten guy on a 450, and maybe a podium threat if it all goes right. Like Dietrich, he's just getting started at this. It's really his first full pro season!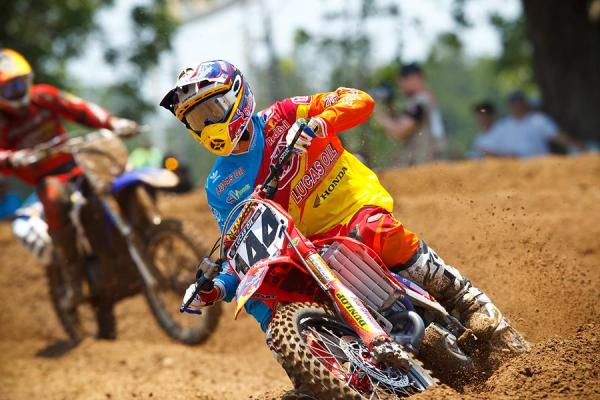 Raise your hand if you thought Craig would be seventh in points through two races. Anybody?
Photo: Simon Cudby
Mr. Negative: Lots of riders have crazy talent and can go fast when things are going their way. Christian has good style and could run up there every week. But I emphasize could. This is a grueling tour and I want to see more proof he can handle the grind on the big bike before I go all in on him. Like Carmichael always said, it's how you do on your bad days that count. And man, I have a lot of bad days.
8. Kevin Windham, 45 points:
Mr. Positive: Oh man is it awesome seeing K-Dub out there! He's having fun and the fans love it! I was really impressed at Hangtown, he showed he can jump right onto that Reed/Dungey/Villopoto pace. Okay, so Texas wasn't so hot (okay, it was hot, but you know what I mean) but hey, you have to give Kevin credit for getting out there. He could have just hung out at the lake all summer, faked an inury, quit, whatever. He did what he could, and that's awesome to see when a guy doesn't really even have to try.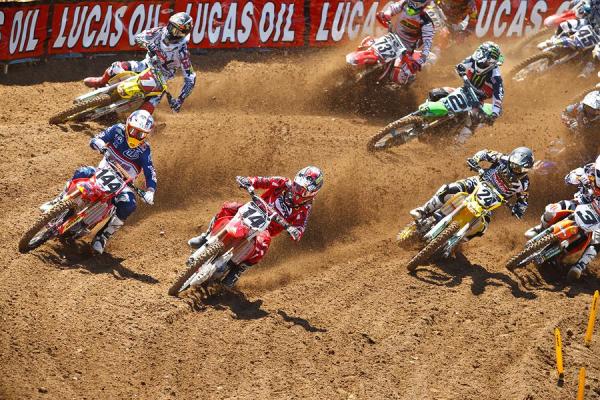 Windham just keeps plugging along.
Photo: Simon Cudby
Mr. Negative: I know, if I say anything bad about Kevin people are going to want me beheaded. But let's be honest, he's like a grown up Millsaps. You just don't know what you're going to get. One week he will be on pace and the next he will not be. After Hangtown, I was starting to think Kevin could maybe even be a player for this championship, but once again, as soon as I start thinking positive like that, something goes wrong. In this case, something with his bike in the first moto at Freestone. Kevin will have his good days and his bad days. Hey, that's better than me. I think every day is bad.
9. Jacob Weimer, 44 points:
Mr. Positive: Awesome to see Jake finally getting his shot on a 450 after supercross didn't work out. And have you noticed he's improving just about every time the gate drops? Weimer isn't one of those guys who flashes quickly. He builds steadily. That's how he found success on the 250 and that's how he's going to find it here.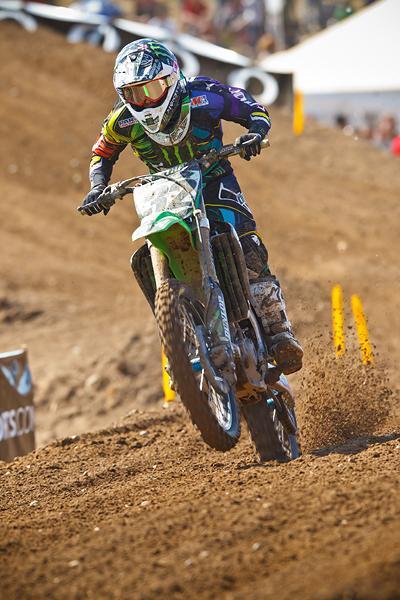 Weimer is racing his way back from injury and should progress as the season moves along.
Photo: Simon Cudby
Mr. Negative: You can steadily build up to wins and titles on Lites bikes, but if you're not crazy balls-out fast in this class, you ain't winnin' nothin'. He will have to deal with Reed and Villopoto in this class, not to mention the defending champion, Ryan Dungey, and all of those guys are all-time talents. I mean, who was Weimer beating when he won on the 250? Oh wait, Dungey. Okay, point taken, but I'm just saying that this class is really hard because it's packed with the best of the best (or as I like to say it "the least worst of the worst").
10. Tommy Hahn, 40 points:
Mr. Positive: Tommy would be further up in points but he had a bike problem in the second moto last weekend. He has all the tools to be up front, and I think he's the kind of guy that gets better as the season goes on. Remember how it all came together for him late in 2009? I think that will happen again here.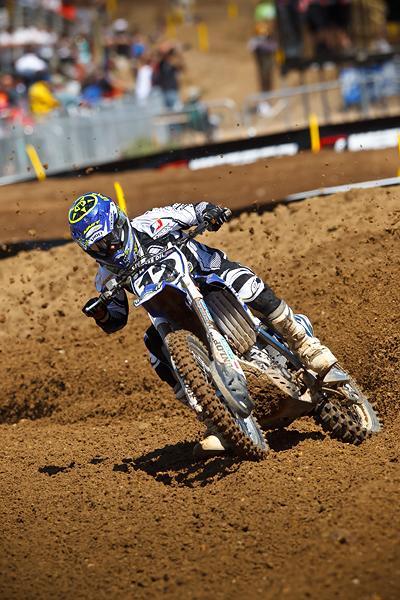 Tommy Hahn continues to grab top tens.
Photo: Simon Cudby
Mr. Negative: How many times are you going to cite bike problems for these guys like it's a positive thing? Something is up this year, seems like a black cloud is following these bikes around the track. Maybe you should program some of that "power of positive thinking" you always talk about into the EFI units on these bikes. Tommy is solid outdoors but like I'm saying with Metty, Weimer and others, those fast guys at the front will be really, really, really, fast this year, and they're coming in with a ton of momentum from supercross. So it's going to take even better riding than 2009 for him to win a race. Just sayin'.
Wild Cards:
Mr. Positive: I like Nick Wey, he always tries hard and gives it his all, and he's a fun guy in general. I believe he has good finishes in store. Andrew Short always seems to have bad luck at the beginning of the season, but he turns it around each time. Why? The power of positive thinking!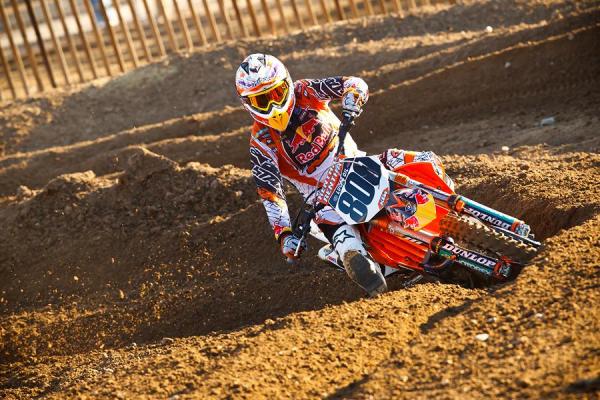 Alessi's championship hopes ended early.
Photo: Simon Cudby


Mr. Negative: Dude, bad times for Mike Alessi. Wanted to cash in all of his chips on an outdoor run with the 450, and just when it looked like it would work out, it came crashing down. Where does he go from here? And same thing for Christophe Pourcel. I'm not sure what the deal is with him, but I can guarantee you it's not positive.