Hangtown Motocross Classic
Rancho Cordova

,

CA
Hangtown Motocross Classic
Lucas Oil AMA Pro Motocross Championship
Bruce Rutherford, a 20-year-old from Murrieta, CA won some serious mini amateur titles with support from KTM as a kid, then took some time off for everyday normal childhood.  Later Bruce would return to racing seriously and turn pro. This marked his first season of supercross, and he finished 11th in the Las Vegas main event and 14th overall in the West Coast Lites series.  It was there in Las Vegas where we caught up with Bruce for this edition of the Racer X Privateer Profile.
And hopefully we'll have the chance to see number 795 at a national this summer!
Racer X: Bruce; thoughts on your 2011 West Coast Lites Supercross season…
Bruce Rutherford: Everything turned out pretty good for my first year doing Supercross.  I really learned a lot, and had a couple very good rounds early in the series.  I got an eighth at Anaheim 1, and then a ninth in Oakland.  I did have a couple bad rounds as well; like in Salt Lake City and San Diego with a couple little mistakes.  But you take the good with the bad, try to learn from it, and then move forward.  Coming into the season I knew that the guys were going to be fast, so I just wanted to be prepared as much as possible.  But even with trying you cannot prepare for everything though; racing the different tracks, with different weather conditions did make it tough at times.  On the other hand it was pretty cool to learn a new track every weekend.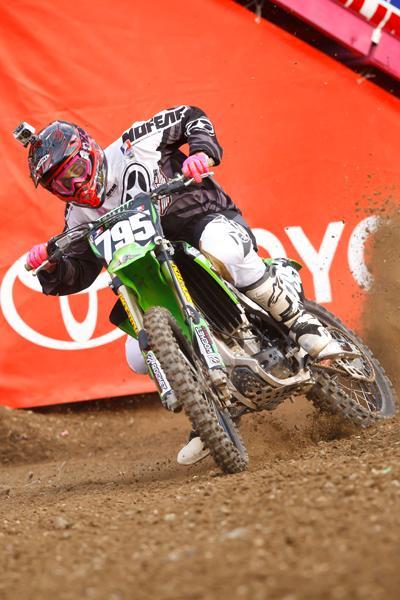 Rutherford had an impressive rookie SX season.
Photo: Simon Cudby
I had not realized that this was your first year doing Supercross, and would imagine that it would be difficult to find a practice tracks that compare to what you are racing on in the stadiums?
Oh for sure. I think that it's near impossible to find a track that compares to one of the actual race series' tracks.  You just need to do your best when you get to the race, learn as much as you can, and then go with the flow.
For those that may not be very familiar with Bruce Rutherford, what racing have you done?
Well, it was about a year ago when I got my AMA Pro License.  We were planning on doing Supercross last year, but then I got injured in December and missed the entire series - later though we did race some of the outdoors.   As a kid in the amateurs I raced the 60cc class a lot, but then we took a break for a while, and I missed the entire 80cc class racing.  Then when I got around 15 we got back into, and I raced the amateurs again for a little while, then turned pro.
You live in about the center of motocross racing; has that helped you?
Definitely. Everywhere you go you see a bike in the back of a pickup truck.  There are lots of tracks around and if you ride motorcycles there is always someone to ride with, and somewhere to go.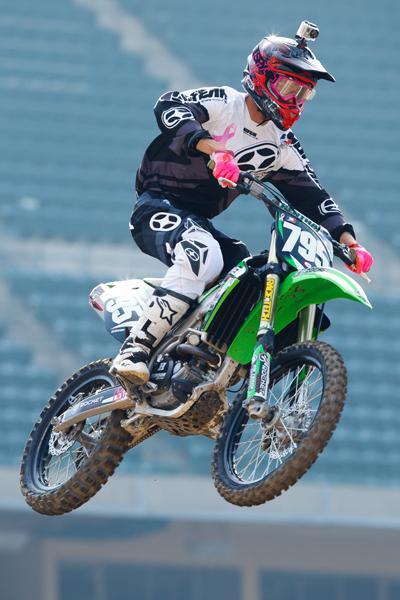 Rutherford finished an impressive 14th overall in the West Lites standings.
Photo: Simon Cudby
Talk for a minute about choosing to race the Supercross Lites class as opposed to the Supercross (450) class; isn't racing the bigger bikes less costly?
Basically, I had to race the 250 class in supercross just because I had never raced supecross before.  But if I would have had the chance to choose the class I raced, I would have chosen the 250 class anyways – the 450 class is tough!  I thought that it was way better to race the 250 class so I could learn a lot of the fundamental stuff that goes with racing supercross.  Plus another big advantage was that we could drive to all the West Coast races; which of course helped us financially.  It was not possible at this time to race the entire series.
Are you going to be racing the AMA Motocross series this summer?
It's still a little bit up in the air; I know that I want too!  We can drive to Hangtown, so we'll be there – and I may be riding a 450 there.  We'll have to see how it goes from there, and if I can get any more help. If it does not work out where I can do the entire series, we'll at least try to hit the ones that are more west coast based – then focus on getting ready for supercross next year.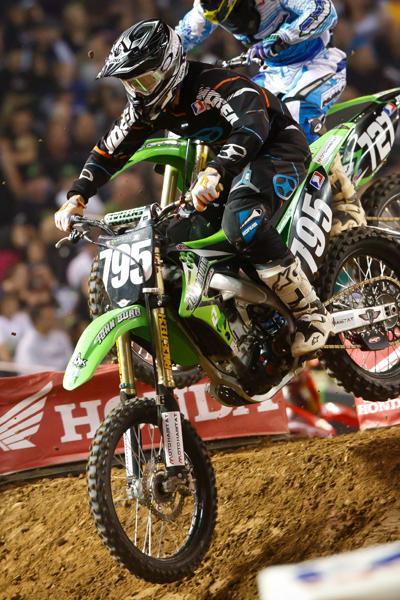 Rutherford's plans for the outdoor season are still up in the air.
Photo: Simon Cudby
With that said, Bruce, who would you like to say thank you too?
There have been so many people that have helped me to get here; it's been awesome.  But a couple of the main guys that have I want to thank include Rocket Exhaust, Pala Raceway, Race Tech Suspension, Hostility Clothing, Novik Gloves, Spy Goggles, Renegade Fuels, Vortex, Dunlop, my family, and anyone else that I may have forgotten – thank you!