Rice-eccles Stadium
Salt Lake City

,

UT
Salt Lake City
Monster Energy AMA Supercross Championship
Four, nine, two. It's pretty simple math folks—four riders, separated by nine points, with two races to go. With one of the most dramatic seasons in the history of AMA Monster Energy  Supercross just two weeks away from becoming a distant image fading away in the rear-view mirror, can the boys conjure up one lasting impression? Judging by the season thus far, things have only just begun.
From James Stewart's and Chad Reed's rekindled warfare, to Ryan Dungey's chain break—yes, that did actually happen to a top rider in the year 2011—to Ryan Villopoto's DNQ, with every passing race this season has become more and more like a day time soap opera than a Supercross series.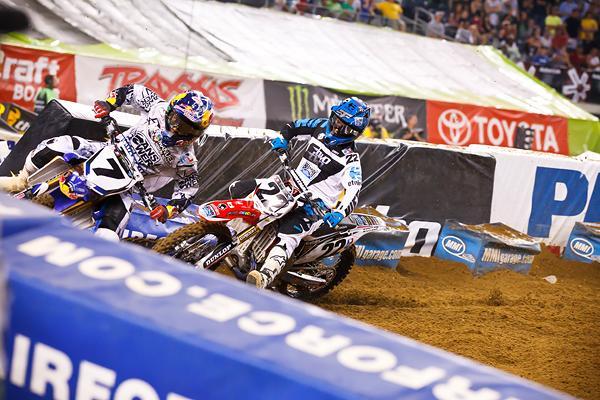 A rivalry renewed.
Photo: Simon Cudby
Now with just two rounds remaining in one of the most hotly contested supercross series on record, will the play live up to the billing or will the hype fade off into the Vegas sunset?
We'll know soon. Until then, we'll break down the supercross class title contenders.
Ryan Villopoto 293 points: It seems like this series has been Villopoto's for the taking for quite some time. After grabbing command of the series early and building what seemed like an insurmountable points lead, lately Villopoto has been on, for lack of better words, a cold streak. Beginning with the now infamous DNQ at Jacksonville, Villopoto has only two podiums in the last five races. He started the year with eight podium finishes in ten races, including five wins.
Although he has also gone without a win since Indianapolis in mid-March, Villopoto still controls his own destiny with two races to go. He holds a six-point lead over Reed with two to go, so the moniker "win and you're in" only fits for Villopoto.
And winning is still a goal. After his disappointing fourth-place finish at his home race in Seattle (where he overcame getting bumped onto a tough block in the first turn), Villopoto mentioned after the race that he would still like to get at least one more race victory before this season ends. Clearly, he knows trying to back into the crown with consistency is not the best mindset—RV wants to get back to his aggressive early-season mode.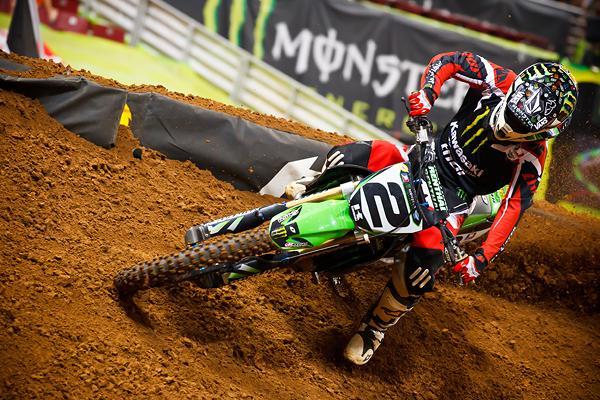 RV still controls his own destiny.
Photo: Simon Cudby
Being the only rider in the hunt without a Supercross title to his name, and with a points lead to boot, all the pressure would seem to be on his shoulders. But this is what Villopoto prepared himself for with a rigorous off-season training regimen that included hiring the infamous Aldon Baker. He's a lean machine this year, but no doubt Baker has him prepared to not peak too soon and not break down during the stretch run. In addition, Villopoto has never been the type to lack confidence during his pro career, and if anyone should be able to avoid overthinking the situation and succumbing to the pressure, he would be the one.
But the Monster Energy Supercross Championship is a big one. And this is an historic season, and no one wants to be remembered as the guy who threw it away. Even for someone with Villopoto's considerable mental strength, that's a lot to think about.
Chad Reed 287 points: The model of consistency. This style has fit Reed since the beginning. Never one to push the proverbial limit unless needed, 2011 has once again proved to be a "Reed" type year. While Reed says he's surprised with the amount of mistakes he has made this year, in the big picture, consistency and patience have one again placed Reed right in the thick of things.  After watching contender after contender fall victim to the proverbial "bad race" Reed was finally struck in Dallas in the form of a freight train named James Stewart, costing Reed not only a podium position but the points lead. But even that night serves to point out Reed's most critical stat: his eighth in Dallas was his worst finish of the year. Everyone else has had a much, much worse finish on their bad night.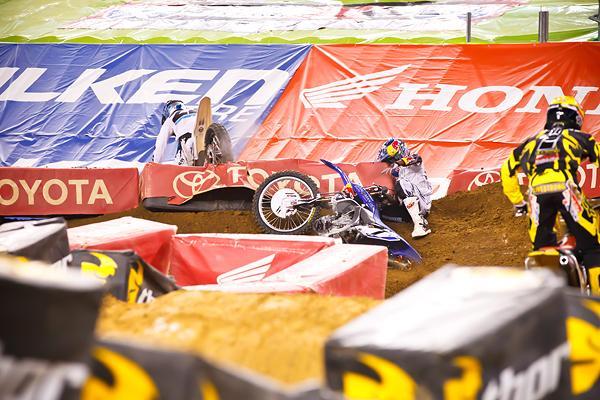 Reed survived Dallas with an eighth place finish.
Photo: Simon Cudby
As is the case with Dungey, Reed only has one victory to his credit this season (San Diego) but continues to be at the forefront of the spotlight. The trouble is, there have been a few nights where Reed just couldn't quite find the pace, and he can't afford anymore of those over the last two rounds. If Reed cashes in at Vegas he will become the first privateer in Supercross history to win a championship, along with becoming the first rider/team owner to stake his claim to the throne. History, of course.
Ryan Dungey: 286 points: Just a year ago echoes of "what if" reverberated throughout the message boards after then Supercross rookie Ryan Dungey wrapped up his first career title—becoming the first rookie since Jeremy McGrath in '93 to capture a championship in his inaugural season. What if Villopoto hadn't got hurt? What if Stewart and Reed were healthy? Sentiments rang throughout the supercross community after Dungey's title run.  Now a year later and with a stable full of riders chasing the title, Dungey once again finds himself in the thick of yet another championship hunt.
Having only toped the box only once this year (Toronto) Dungey's series-leading eleven podiums have keep him in the championship chase. Often criticized for his lack of aggression throughout 2011, Dungey has fired back with consistency and a willingness to settle for what is being given. In this season, especially, that's critical. Dungey's bad run with a broken chain was not his fault, so you can safely say he hasn't crashed away big points this year like many of the others. But with two races remaining can Dungey continue to settle for podium finishes?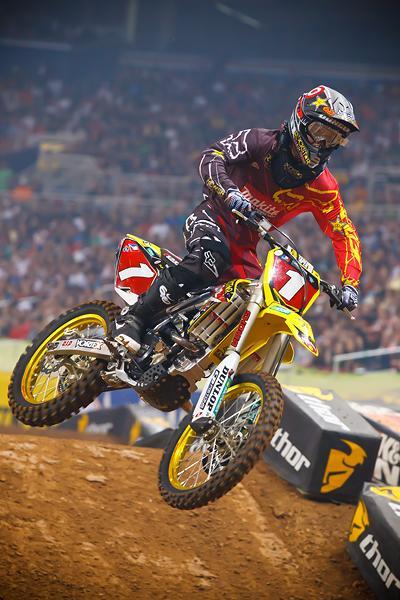 Can Dungey bring home back-to-back titles?
Photo: Simon Cudby
James Stewart: 284 points: The rider most affected by the off-week had to have been James Stewart. Coming off back-to-back dominant performances in St. Louis and Seattle the bye week couldn't have come at a worse time for the hottest (at least) rider on the planet. After enduring the longest losing streak of his career (eight races between wins), and an off-track incident that drew criticism far and wide, Stewart was finally able to put all the pieces of the puzzle together in St. Louis. Seattle was no different as Stewart jumped out front early and decimated the field en route to yet another convincing win.
So what do you do if you've overcome some on and off track obstacles and put together a quick win streak? After Seattle, Stewart said he was going take his family to the Bahamas for Easter!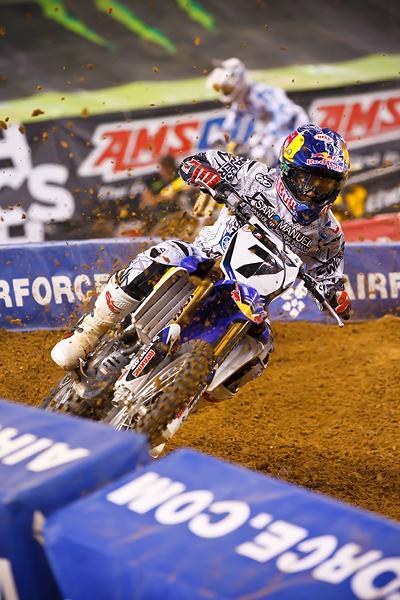 Can Stewart complete the comeback?
Photo: Simon Cudby
That's what happens when you're fourth in points. Not much strategy, not much to stress about. Sitting nine points back of Villopoto, Stewart has one choice and one choice only: just win baby. Stewart has little room for error and even with wins at Salt Lake City and the series finale in Vegas, is still in need of help from those in front of him. So the Vegas deck is stacked against him, but if anyone is capable of taking the big gamble to win it all, Stewart is the guy.
If Stewart does overcome his roller coaster ride of a season on and off the track, his legacy will receive a serious boost. But really, that goes for all four of these riders. Win in 2011 and it will be remembered forever.
No pressure.
Spoilers: With Trey Canard out with a femur injury the list of spoilers diminishes even more. But let's not forget that Kevin Windham has a history of performing well under poor conditions (see Seattle), and with rain in the forecast throughout the week in Salt Lake City don't be surprised to see the wily veteran stick a wheel inside the top-five. He won in SLC last year.
The other major factor that must be mentioned is the teammate factor. Villopoto's teammate Jake Weimer is making his season debut in Salt Lake City. Stewart's teammate Kyle Regal has had a tendency over the last few races to line up beside Villopoto on the start. Don't be surprised if things get a little "touchy" in the first turn. With Dungey's mate Brett Metcalfe out with injury, he and Reed will be saddling up lone ranger style the last two races.