by
Bad Billy
Bench Racing Ammo: Starts
Thursday, March 17, 2011 | 12:20 PM
MOTOREX is used by factory teams worldwide, by independent pros and by top amateurs who demand the best performance from their race machines. The complete MOTOREX line includes a broad range of synthetic engine oils, lubricants, aerosol sprays, cleaners and care products. MOTOREX is available at dealerships nationwide.
Tweet

Each week, Speed TV's Jeff Emig stresses the start as a key to the race. And each week, the riders talk about needing to get a good start.
We all know the start is important, but how important is it? We decided to look back through the first ten races of the season and see where the winner was after the first lap of the main event. See below: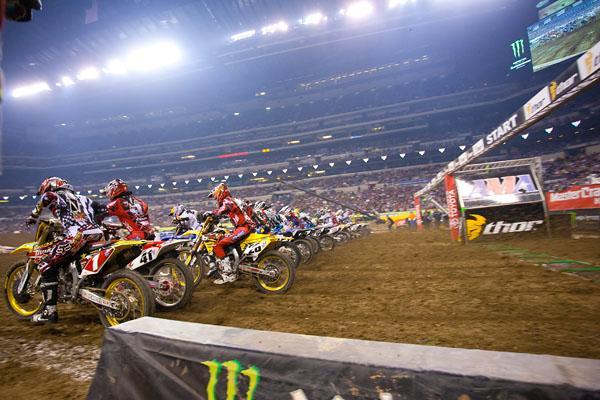 The start. A key to any race.
Photo: Andrew Fredrickson
Race – Winner – Position after the first lap
Anaheim 1 – Ryan Villopoto – second
Phoenix – James Stewart – first
Los Angeles – Ryan Villopoto – ninth
Oakland – James Stewart – second
A2 – James Stewart – first
Houston – Trey Canard – fourth
San Diego – Chad Reed – first
Atlanta – Ryan Villopoto – fourth
Daytona – Ryan Villopoto – second
Indy – Ryan Villopoto - second
As you can see, there were only three times where the rider who got the holeshot won the race, but every time except once, the winner did get a top five start. (The worst position an eventual race winner was on the first lap was when Ryan Villopoto came around on the first lap of the Los Angeles supercross in ninth.)
So what does all of this mean? The start is key! Didn't you already know that?
Share this article:
Did you like this article?
Check out RESET
in our Latest issue of Racer X available now.

This off-season saw very few major team changes or injury rehab periods—the riders were all on fairly even ground. That makes the work put in during this, the least glamorous part of the year, even more important. Page 112.
Look for the verified symbol
The Conversation