Anaheim 1 Track Walk with Jeff Emig
Wednesday, December 31, 2008 | 1:35 PM Tweet

Welcome to our Anaheim 1 Track Walk with Jeff Emig, presented by

Smith Optics

. Jeff Emig is the 1997 AMA Supercross Champion. In his Hall of Fame career, he also won three AMA Motocross titles, the U.S. Open of Supercross, and was on three winning versions of Team USA. Now retired, he is the color analyst for Speed TV and CBS Sports' coverage of Monster Energy Supercross. As we count down the days to Anaheim, which will be shown live on Speed TV this Saturday night (10 p.m. EST, 7 p.m. local time), we asked Jeff to take a lap around our virtual Anaheim 1 layout, which you can download as your desktop wallpaper right

here

.

"Overall, it's going to be fast," began Emig. "There are a couple of tight sections, but there's also quite a bit of open space. It should be a good track for the opener."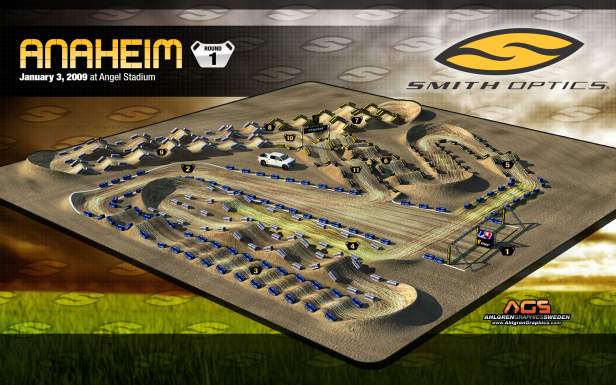 1.) "Depending on if it's hard-pack or loose, it may be a second-gear start where you can really launch out of the gate, or even third if it's really hard-pack. Back in my day, it was for sure second, but now with four-strokes and fuel injection, the bikes have such an incredible amount of horsepower that they really can pull third-gear starts. There's enough low-torque and low-rpm power that you can get away with it."
2.) "We've seen a double-left set of first turns like this create some problems, if you go back to Seattle last year, which wasn't quite as distant between the two turns. Here, you have an extremely long start—almost from end to end—and there's not a lot of berm on the outside, so there's a good chance that the excitement and desire of the first race will get to some of these guys. You could see some carnage here."
3.) The whoops are always important, and this looks like a pretty long set right off the start. The double before it has a good, long downside, so if you hit it just right and get a solid landing and a good drive coming down off it, it could be literally fourth or fifth-gear, as fast as you can go, across the whoops.
James Stewart
and
Chad Reed
will be clicking it up and going for it! It could make the 180 at the end of them pretty tough to make if they get too much of a head of steam going."
4.) "The sand is pretty basic for the most part, but it has the potential to shape up into something difficult. In 2007, they had a step-up double coming into the sand, then a triple coming out, and it got pretty rutted up. This is flat all the way through, but once it gets rough, we could see some old-school technique with these guys getting the bike up on the rear wheel and just floating across it, then dropping the front wheel down at the precise time. They might even jump as far out into it as possible, then when you come down to take that bounce, trying to land next time in the corner."
5.) "That's an old-school single! We haven't seen something like that in a long time at supercross, except maybe for the ski jump coming out of Thunder Alley in Vegas. This is just a big peak, so you could launch it or use some technique and really scrub it, Jo Jo Keller style, flatten it out and do a turn-down."
6.) "This single-table-table-single is similar to what they had at the U.S. Open. Really, the fast line is to step on, scoot across the two tabletops, and then step off. You don't want to go really high or low, but rather find the straightest trajectory. Going forward is faster than just going up. This is going to be a difficult section for everyone."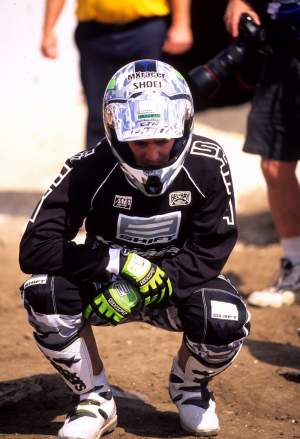 7.) "When I first got the diagram, this is the section that stuck out in my mind as the most difficult. This is where you will see the top end of the SX class really have an advantage, because they could be tripling this, into the 180, which is very tight, then triple out. Horsepower and skill is what's going to separate the guys here. The race could be won or lost in this section."
8.) "Triple-quadruple-triple? Not if this were 1999. But it's 2009 now, and it could happen. Just last week in Simon's
Racer X Film
of [Ricky] Carmichael and [Chad] Reed riding, we saw Reed doing that rhythm section that was a lot like this—he just had it dialed. It was essentially the distance of four of these three-footers, which is what you have right here. The horsepower is there, so I have no doubt that if a guy can get out of the turn clean, clear that triple out, click to third and let it rip, they can make it."
9.) "By the looks of this section, it could be double-triple-double, because the fourth jump is the highest, and if you hit that, you're going to sky it. From the side profile, draw a line over these where you're going to go the straightest and the lowest, and that will likely give you a 2-3-2 situation."
10.) "Ninety-degree turns like this are made for contact, no doubt. Just think back to St. Louis last year, where
Trey Canard
got on the inside of
Ryan Villopoto
. They came together and Trey got the better end of the stick—or finish-line structure, as it turned out—than Ryan did! There's the ability here to try to apex the corner and straighten it out and get a wheel under someone, especially on the last lap. It's not really a T-bone situation, but rather just getting a wheel inside a guy and pushing him wide."
11.) "The finish-line double, you can flatten it out, big whip, cross-up, no-hander... The thing that looks the best no matter what is to just be the first man across the checkered flag, then you don't have to do anything. Heck, a Wardy [Jeff Ward] first-pump would work! Just knowing that you have won the first round of the 2009 Monster Energy Supercross Championship, that's more than enough."
Stay tuned to
www.racerxonline.com
next week for the Phoenix track walk!
Share this article:
Did you like this article?
Check out MY LIFE IN MOTORCYCLE RACING
in our Latest issue of Racer X available now.

Jean-Michel Bayle, the iconic superstar of yesteryear, raced motocross for the first time in twenty-one years at the Vets MXdN in England. Page 126.