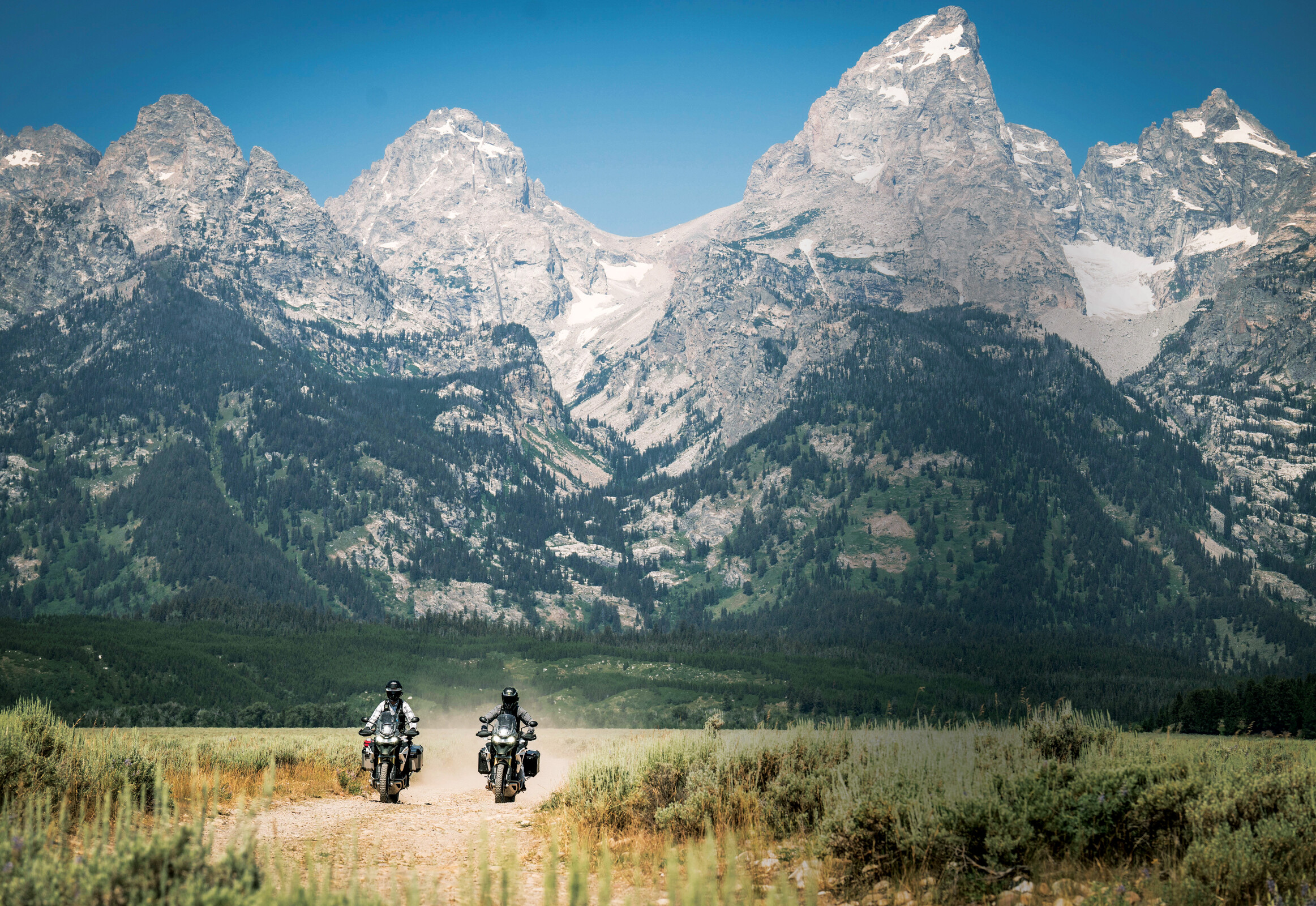 Ricky Carmichael takes us along on his annual RC Summer Adventure Ride across the beautiful northwestern United States
WORDS: Ricky Carmichael
PHOTOS: Stephen Clark
What a great ride! The RC Summer Adventure is an annual trip that a few friends and I have been making across the northwestern United States, and it keeps getting better and better each time. We say it every year and it's true: there is no better way to see this country than on a motorcycle. And an adventure bike like the newly updated and redesigned 2023 Triumph Tiger 1200 made this year's ride even more fun because it expanded our possibilities to explore nontraditional routes, which in turn led to new places we wouldn't have otherwise found. This time we covered nearly 1,500 miles, riding across six states over four awesome days of riding, with countless laughs and memories.
The crew gathered at Empire Cycle in Spokane, Washington, after having flown in from various places—Australia, California, Tennessee, Mississippi, Florida. As we all went to work on getting our bikes set up for the ride, Kristen and Amy rolled out the red carpet for us with a great lunch spread. We then got to meet some of the shop's customers and share our stories from past adventure rides, while also getting some tips from the locals about our first leg of riding, which we would start the next day. Once we were done setting up the things we'd need for our ride—QuadLock phone mounts, Mosko bags, Boxo tool rolls, Cardo PackTalk coms—we headed off to dinner to make our final plans for our morning departure.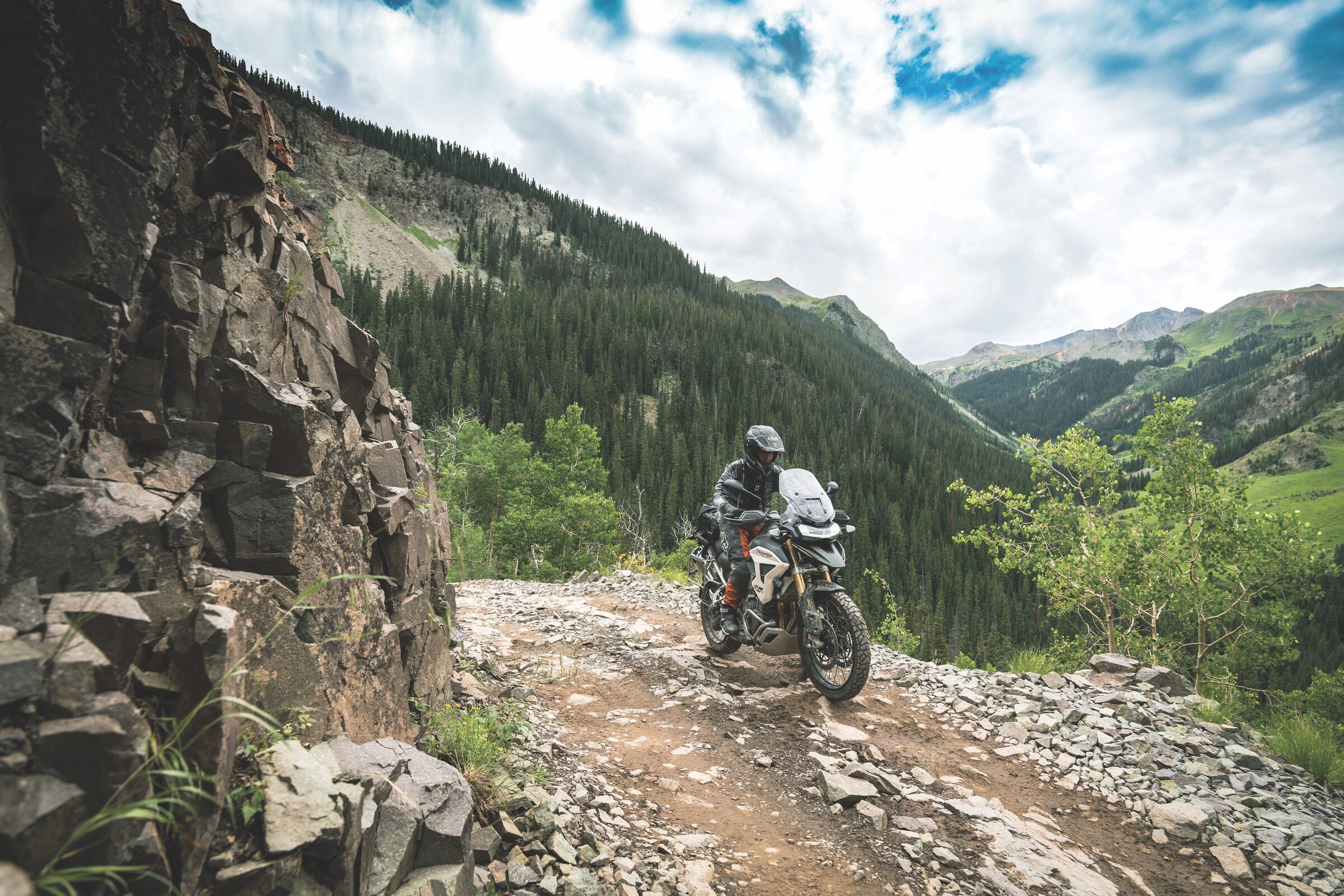 Day 1:
Spokane to Darby
We left Spokane early because we wanted to get over to Darby, Montana, as early as possible. Darby has become a staple of our summer ride and one of our favorite places to stay. The route we took had us head southeast to St. Maries on St. Joe River Road, through Hoyt, then up to St. Regis. It's a super fun, twisty road that follows the river—perfect for getting ourselves adjusted to the new Tiger 1200s. After a quick stint on the interstate to Alberton, we headed south on Petty Creek Road towards Lolo. The road turned to dirt pretty quick, which gave us a chance to check out the Tiger in off-road conditions.
After a few hours in the saddle we came across the Jack Saloon just before Lolo—a great spot to wash the dust down. One of my favorite parts of these rides is finding fun spots to take a break. The Jack Saloon had great atmosphere and our out-of-the-country guests loved seeing a real western saloon with tons of character.
From there it was on to Darby. The town is amazing with some really fun places to eat and listen to live music at the end of a long ride (301 miles, to be exact). The last couple years, some serious darts have also been played (perhaps getting a little too competitive at times) at the Sawmill Saloon. Darby is located in the Bitterroot Valley and the famed Yellowstone Ranch from the TV show Yellowstone is also located nearby. We have stayed at the same place, the Rye Creek Lodge, for three years now. Their cabins are first-class. It's a peaceful place to rest after a long ride of nearly seven hours. We made a quick grocery stop for some provisions for breakfast the next morning, then made our way to the cabins for a quick shower before heading into town for dinner. We found the Big Cat Cafe a couple of years ago, and that has been our spot ever since. It's a great place to relax and enjoy some food and reflect on the day's ride. My buddy Chad Warrix was on this year's ride, and thankfully he brought his guitar. We closed out the day with some outstanding playing by Ray, Chad, and our buddy Apples —the perfect ending to our first day.
Day 2:
Darby to West Yellowstone
It's hard to explain how nice it is waking up in the middle of a beautiful Montana valley at a place like the Rye Creek Lodge. Pictures don't do it justice; you just have to experience it. It was a cool 55 degrees and not a cloud in the sky. It was going to be a great day to ride!
After making some egg sandwiches for the crew, then everyone getting zipped in for the ride, Chad led us in prayer before we mounted up and headed off for West Yellowstone. We wanted to find some more of those nontraditional routes, so we headed north to Grantsdale then turned east towards Anaconda. Not too far into our trip, we came across an amazing little spot called Skalkaho Falls, a great place for a quick photo with the crew. We then rolled on, climbing the pass on our way to Butte, where we made a quick pit stop, then back off the main road heading to Virginia City. It was an old mining town with lots of cool shops and places to eat. It's fun to imagine what life must have been like there 150 years ago! The crew grabbed some pizza, then we checked out the old Pioneer Bar, took a little walk around the town to stretch our legs, then headed back out on the road.
We made our way through Ennis and saw some more epic views, then turned south on a fun road that ran us past Earthquake Lake, which was formed after a huge earthquake in 1959 caused a rockslide that blocked the river. Three weeks later there was a lake! Mother Nature sure is impressive.
After nearly seven hours and 284 miles, we made it to our spot in West Yellowstone with time to relax and clean up before dinner. Half of our group stayed at the West Yellowstone B&B just outside of town, while the other half stayed at some really nice cabins at the Yellowstone Inn. That night we had one of our best meals on any of our trips (and possibly the best BBQ I've ever had in my life) at Fire Hole BBQ. Turns out my buddy Guy Fieri has been there as well and was so impressed he shot an episode of his show there. They made the crew a platter of food and filled us with so many sides that we all knew breakfast was going to be a challenge the next day!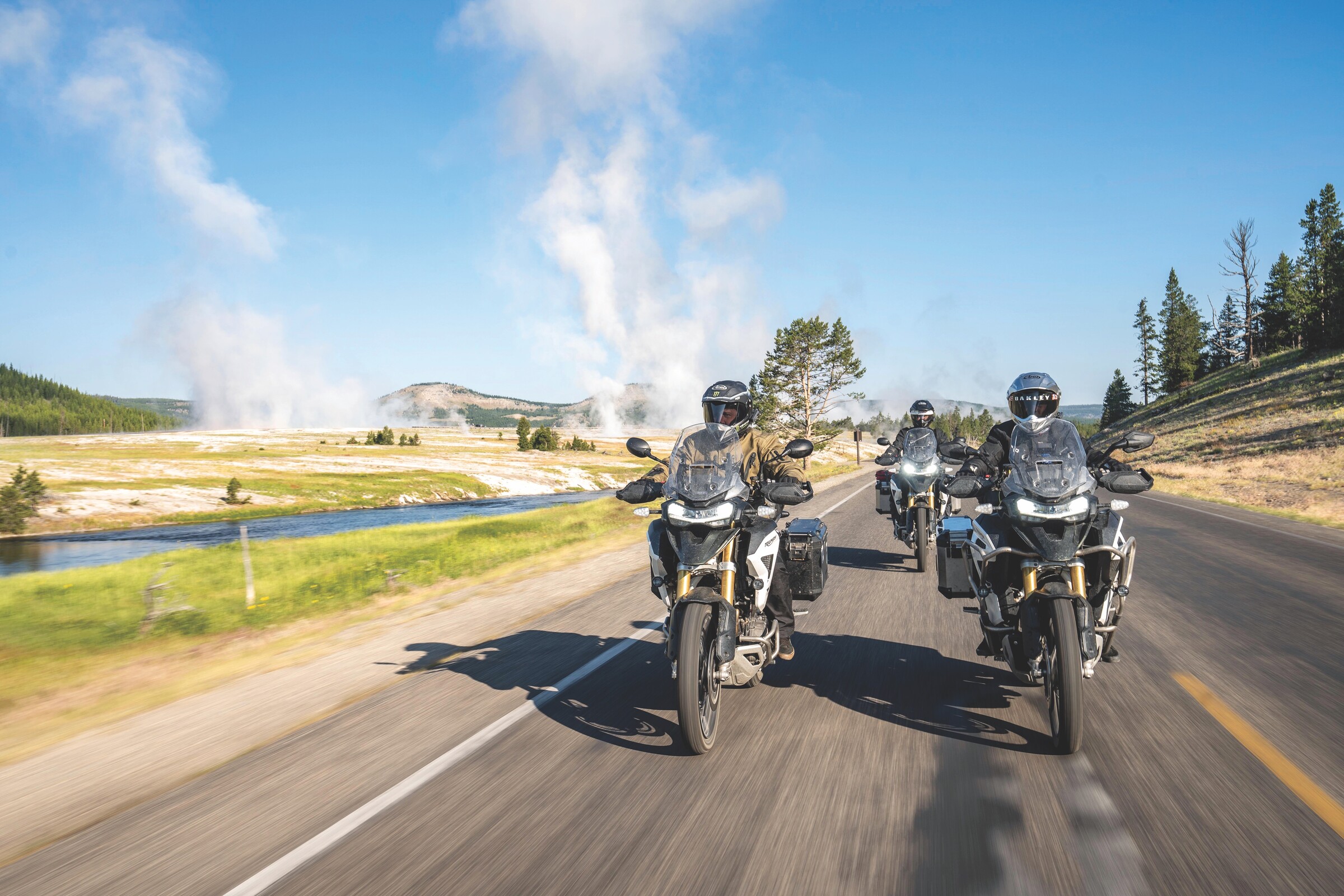 Here's the final tally for RC's Summer Adventure Ride 2022
Riders
Ricky Carmichael (Tallahassee, FL), Anthony Paggio (Laguna Nigel, CA), Ray Butts (Lexington, KY), JH Leale (Tallahassee, FL), Chad Warrix (Nashville, TN), Jimmy Keys (Odessa, FL), Chris Goolsby (Tampa, FL), Russel Griffin (Laurel, MS), Scott Runciman (Australia), Ian "Magoo" McGillivray (Australia), Shaun "Apples" Appleyard (Australia)
Gear
Bikes: 2023 Triumph Tiger 1200 Rally Pro
and Tiger Rally Pro Explorer
Tires: Dunlop, Trailmax Mission
Gear: Fox Racing, Legion Gear
Communication System: Cardo Systems,
PackTalk Edge
Phone Mounts: QuadLock Moto Mount with
anti-vibration damper
Tool Roll: Boxo USA ADV Tool Roll
Bags: Mosko Moto, Pico Tank, Nomax tank
and 30L seat bags
Satellite Coms: Bivy
Navigation: TrailTech Voyager Pro
Helmet: Arai XD4 Adventure helmets
AntiFog: Klotz AntiFog Gel
Rental bikes for our crew: Eagle Rider
Stats
Miles: 1,465
Saddle time: 34 hrs., 5 min.
States: Washington, Idaho, Montana, Wyoming,
Utah, Colorado
National Parks: Yellowstone, Grand Teton
(plus multiple national forests)
Day 3:
West Yellowstone to Palisade
This idea seemed better on paper—over 500 miles in a single day. We knew it was going to be a long one, but the payoff was being able to ride some off-road in Colorado. We got an early start so we could hit Yellowstone National Park before the crowds started flowing in. It was 41 degrees when we rolled out, so the Tiger's heated grips and seat were great to have that morning. And right off the bat we saw amazing wildlife, including bison, elk, and deer. We also made our way past some of the hot springs, which looked amazing in the clear, cold morning. We rode past Yellowstone Lake and got to see some of the park's epic sites before heading to the Tetons. It was an absolutely beautiful morning, and the mountains looked like a painting. Our guys from Australia were blown away by the size of the mountains and how majestic they were.
Luckily, we found a fun little off-road section we got to ride for a bit and were able to get some great pics that will last as memories for a lifetime. With plenty of miles ahead of us still, we made our way south via Flaming Gorge for some more amazing views with absolutely epic winding and twisting roads. Along those beautiful winding roads, I was amazed by how well the new 1200 performed because of its nimbleness from the lower center of gravity and lighter overall weight.
We continued south into Grand Junction, Colorado, then over to Palisades to our motel for the next couple of days, the Spoke and Vine. We were in luck that the motel had a food truck that night, because after 571 miles and more than 11 hours of riding, we didn't feel like going anywhere. The motel has a cool little bar as well, so a few drinks were in order to celebrate the longest day of the trip.
A massive mudslide had just closed the road! I have never seen anything like it before. We had just missed it by about 15 minutes."


RICKY CARMICHAEL
Day 4:
Palisade to Ouray, Engineer Pass and Silverton, then back to Palisade // 283 miles // 8hr 20min
We knew this would be a super fun off-road day in the San Juan Mountains, but it was going to be shorter, too, so we had a later kickstand time. Little did we know we were about to get more of an adventure than we planned for! My buddy Chad has been telling me about the mountain town of Ouray for years. It's a part of the country that me and others on our ride had never been to before. Colorado has always been a favorite place to visit, so I couldn't wait to check out a new spot. Turns out the town of Ouray is amazing! It's known as the Switzerland of the U.S., one of those places you just have to experience in person. It has everything an outdoors person would want to do. For us, we were there to ride some trails and see the amazing views it has to offer.
Just outside of town we jumped on the trail to Engineer Pass. It was probably one of the toughest rides I've done on an adventure bike, especially with the lack of oxygen that far up in the mountains, but the Tiger 1200s made it, and with the views we saw along the way, the payoff was incredible. It was super rewarding to make it to the top, but that's when the real adventure got started, as weather was starting to roll in. We made a quick exit, only to get caught in some pretty heavy rains. We made it to Silverton, another cool western town, and thought we were home free navigating the paved twisty roads back to Ouray, only to make it to within a few miles away before finding a massive mudslide that had just closed the road! I have never seen anything like it before. We had just missed it by about 15 minutes.
At this point things got serious pretty quick. In that part of the wilderness, your options are limited. We knew the roads were closed over on the Lake City side as well, so our only option was to take the pass back out and go around the mudslide if we didn't want to wait for the crews to come and open the road, which might have taken hours. With it getting late, we made the decision to head back to Silverton, grab some fuel, and make our way back into the mountains and over the Corkscrew Pass (which ended up being an awesome addition to the ride) and around to Ouray. With the rain falling, it was for sure more challenging than what we planned on doing on our last day of riding, but luckily the Tigers were up to the challenge. We were able to successfully navigate out and get back on our way to Palisade. (At one point we were able to look across the valley, where we saw the crews just started to clean up the mudslide, so we knew we made the right decision.)
Once we were heading north of Montrose, the skies cleared up and it warmed up as well. We were pretty much dry another 50 miles later and had a great time chatting it up on our Cardo Edges about an amazing and unexpected experience.
We wrapped up our trip with an amazing wine tasting at the Blue Beryl Winery, hosted by our dealer friends in Grand Junction, All Terrain Moto. It was so nice of the Wells family to welcome our crew at the end of our ride and host us at such a beautiful spot. It was the perfect ending to the 2022 edition of RC's Summer Adventure Ride.
And when a trip like this is all over and I have a moment to reflect, I'm always humbled by the support that our great partners give us. Especially the incredible Triumph dealers. They take time out of their own lives, workdays, and workforce to make our experience incredible and seamless. I'm so thankful for their dedication, because I know they have a business to run. Finally, to our summer ride crew that made the financial sacrifice and spent valuable time away from work and family, I appreciate you all so much and sincerely thank you for making this ride one for the ages.
Maybe next year we'll really mix it up and go full off-road with some new Triumph offerings, which will be a whole new adventure for me and the crew. Stay tuned!