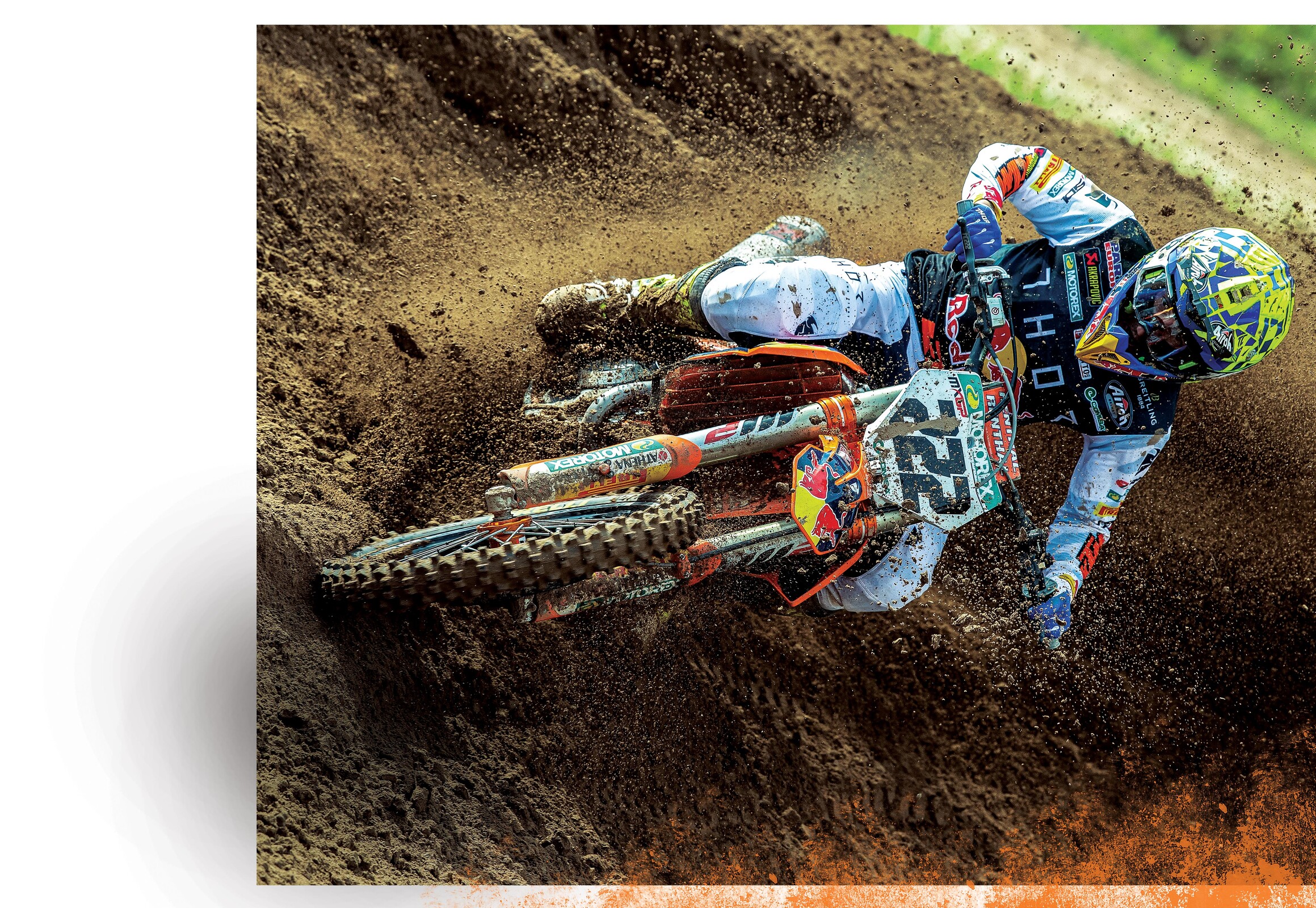 Antonio Cairoli's long career bridged a path to the ultimate accomplishment: he became the first Grand Prix star in decades that American fans knew could beat their own
WORDS: JASON WEIGANDT
PHOTOS: KTM IMAGES/RAY ARCHER & ROMERO
This didn't really make any sense. After getting out of a Mercedes van en route to a posh hotel in an ancient district of Rome, I headed up the elevator to the top floor. The doors opened, revealing a rooftop bar and a view of the city that was once the center of world power. I was greeted immediately by Tony Cairoli's wife, Jill, whom I had never met and only recognized from social media. (She only knows me from TV.) Then I saw Tony himself. We shook hands and shared introductions. This on a Wednesday evening on a rooftop in Rome. Then I grabbed a hors d'oeuvre and an apertivo spritz from a waiter. Hey, when in Rome, right?
We are deeply rooted in Moto—We've been here all our lives. Back in 1998 when we turned an underground newspaper into a shiny color magazine, it immediately changed the game with its unprecedented depth of coverage, sense of humor, and access to the sport's biggest names. Today, our readers know they can go to Racer X Online for all the news, race results, and event coverage they need, and then enjoy even more detail and perspective in the pages of Racer X Illustrated. The mag offers a chance to learn something new on every page and stay connected with the people and personalities that shape our sport—the competitors out on the racetrack, as well as the ones behind the scenes—through our exclusive deep-dive stories and columns.
Our trademark has always been insider knowledge from the experts who are at the races and around the sport. We have long prided ourselves on our unparalleled race reporting and detailed storytelling. We go deep with the riders and teams to provide comprehensive coverage you won't find anywhere else—all with first-class photography and design. It's a full education in motocross past, present, and future.
Davey Coombs
Editor-in-chief & Founder
Racer X Illustrated
Subscribe

Now
to continue reading Not Built In A Day
and other premium content from the pages of Racer X magazine