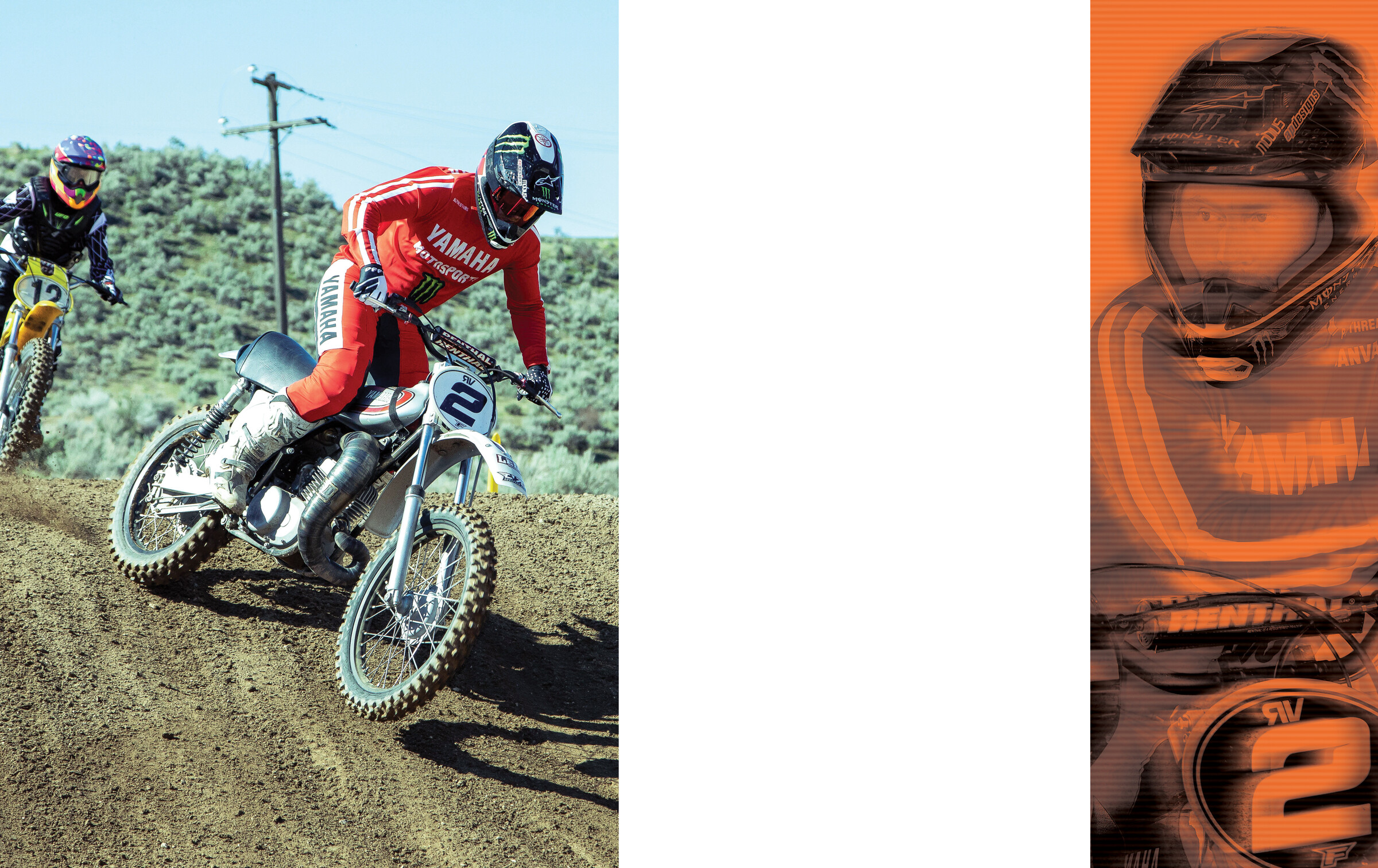 When Ryan Villopoto told us he was going to attend the Racer X Inter-Am in Boise, Idaho, we invited the nine-time AMA Supercross/Pro Motocross #1 to tell us all about his weekend and his journey into the vintage motocross world
WORDS: Ryan Villopoto
PHOTOS: Dean Bradley & Wayne Denny
I jokingly tell people I am now "the world's best retired guy." I have definitely been busy in that role, what with my wife, Kristen, and our twins, Brax and Gage, and just life in general. Last year I had made a plan to go up and race the 13th Annual Racer X Inter-Am in Boise, but that was pre-COVID. My dad's good buddy (and now my good buddy) Leon Capps has a bunch of vintage bikes, including a 1974 Yamaha YZ125, as well as the '74 YZ250. He was like, "Hey, would you ever want to race one of these?" And I was like, "Hell yes!" But then COVID hit, and everything was canceled. Now things are finally getting way back to normal, and the race was finally going to happen, so I decided to drive up to Boise from Southern California to get my first taste of vintage racing.
Right before the race I called up my old teammate Jake Weimer and told him I was coming to Boise, which is about two hours away from him. I said, "Come on out, let's drink some beers, have some fun, talk some shit, and ride old bikes." He was like, "I'm in!"
We are deeply rooted in Moto—We've been here all our lives. Back in 1998 when we turned an underground newspaper into a shiny color magazine, it immediately changed the game with its unprecedented depth of coverage, sense of humor, and access to the sport's biggest names. Today, our readers know they can go to Racer X Online for all the news, race results, and event coverage they need, and then enjoy even more detail and perspective in the pages of Racer X Illustrated. The mag offers a chance to learn something new on every page and stay connected with the people and personalities that shape our sport—the competitors out on the racetrack, as well as the ones behind the scenes—through our exclusive deep-dive stories and columns.
Our trademark has always been insider knowledge from the experts who are at the races and around the sport. We have long prided ourselves on our unparalleled race reporting and detailed storytelling. We go deep with the riders and teams to provide comprehensive coverage you won't find anywhere else—all with first-class photography and design. It's a full education in motocross past, present, and future.
Davey Coombs
Editor-in-chief & Founder
Racer X Illustrated
Subscribe

Now
to continue reading Ryan Villopoto's Brand New Old School Vibe
and other premium content from the pages of Racer X magazine