Geneva Supercross is a little under the radar. Of course, there's Paris (Bercy), there was Genoa for a long time, and whenever new races pop up they seem to get some hype. Geneva though has been going for a long time and most of the greats of the sport from the late '80s on have raced it. The crowd is pretty passionate and it's a good show. For a few years they had Arnaud Tonus to cheer for, but he's had a rough few years with injury. With the race being so close to France, lately Marvin Musquin, who's won this race four times, has been the crowd favorite. The venue is cool, it's close to the airport, it's a two-night race, there's Starbucks just a 13-minute walk away, and the hotel is next door to the arena. All in all, it's a win-win!
This year I was brought over to cover it with my usual flair for Racer X/PulpMX but also do a pre and post race show each night. That was a lot of fun, we were in a small little room so I couldn't do much about the echo in there, but all the riders stopped by at one point or another plus some industry people. Grab the archive on the Steve Matthes Show on iTunes or wherever or HERE.
Thanks to the riders for stopping by, they all seemed to make an effort to give me some time after practice and before the race. Of course I didn't do any prep whatsoever and just winged it hoping people would come by the room but I think it turned out well. Even Georgia Lindsay came by to update all of us on what she's been doing since returning to the motherland.
Justin Brayton AKA the Larry Ward of this generation, had won the overall at Geneva four times which tied him with Marv for most all-time. And truthfully, I wouldn't have picked him for this weekend because Zach Osborne was balls-out fast in Paris a couple of weeks ago and Justin Barcia is, well, also very fast. Granted, Brayton's been sick and was recovering from that in Paris, so he wasn't at 100 percent power there.
Even in practice the first day he trailed the other guys but he's a cagy veteran and figured things out. The first night he was riding well in second when Osborne made a mistake and threw away the win on the last lap. Brayton took a very unexpected win. Saturday he was better and although he didn't win the heat or the head to head races and got a so-so start in the main, he made it happen. He seemed to get better almost every time he hit the track and he closed on Christian Craig way quicker than I thought he would. I mean it's a 32-second lap time, how much time can you make up on a dude in a lap, you know? But Brayton was great in the whoops and just ate CC up to get second in night two and clinch the overall.
A few years ago Brayton was almost finished. He had hit his head a bunch, he didn't gel with the KTM and the BTOSports.com team and when he got picked up by the Smartop/Bullfrog Spas/MotoConcepts Honda team it was thought to be a last resort for both parties. He got on a roll by winning the Australia Supercross Championship; he didn't do great his first year on the team but stayed healthy and figured the new Honda out. Since then he's done nothing but continue this upward trend. Winning Australia again, winning Daytona, a Triple Crown main, and just generally killing it. What a story for the veteran and by the way, he's raking in the cash I would bet. I would think with all his Aussie stuff, his Euro off-season stuff, he's conservatively in the 400K range for September to December off-season. All hail King Justin Brayton, it's his world right now and we're just living in it.
Zach Osborne could've easily won the overall this weekend. The 450SX rookie continued his impressive riding from Paris and was the fastest rider on night one. Although in the first heat on the first night he had his vent tube come out and splash gas on him, his heart rate monitor slipped down, and his start light for his ECU came off and was dangling around his forks. He still took the win with some erratic riding as he was worried about all three of these things. In the main he was gone, riding great, but collided with a lapper with three turns to go on the last lap. (Cameron McAdoo also threw away the win on the last lap in the SX main. Weird, right?). He wasn't stoked but salvaged a third. Had to be comforting to him that he had the win in the bag over some pretty good dudes.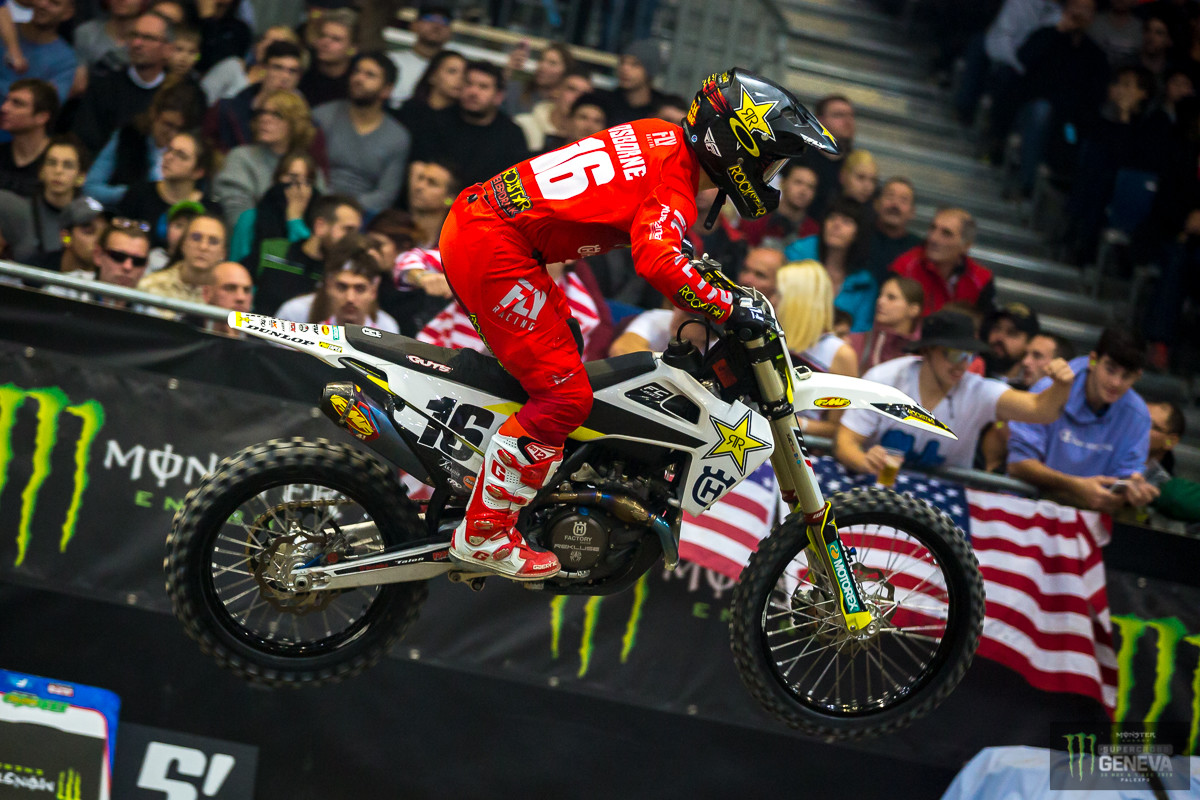 Second night he was winning the heat, on his way to number one gate pick when his seat broke and flew off. That made it very tough, as you can imagine, to hold onto the lead and he slipped to third and sixth gate pick. He went far inside where basically no one pulled a good start from all weekend and pulled a great start. It was impressive. Unfortunately, he went in deep into the first turn and got plowed into, his back got all jacked up, and he DNF'd. Still, just like Paris, he was very good and if you want to jump on the Zach Osborne, winner of a 2019 Monster Energy Supercross round bandwagon with me, come onboard. We're not stopping until then!
The great Chris Rock has a line about the tiger that attacked either Siegfried or Roy and put an end to their decades long Vegas show. His line is something like "That tiger didn't go crazy, that tiger went tiger" meaning that it's a predatory animal and it was just doing what it's supposed to do. Well, in Geneva, Barcia went Barcia.
After missing some off-season races to get LASIK (Brayton joked at the press conference that hopefully the problem with some passes in the past were that he couldn't see and now hopefully he can!) Barcia came into Geneva looking as good as usual. He was consistently one of the fastest guys. He won the second night after getting the holeshot and for sure could've won night one if he had gotten the start. But he didn't and was forced to come up from the back. In the head to head races, he won Friday night with ease. The start was everything on the track for obvious reasons and outside of the main on Friday, Bam Bam was pretty good at those.
He went "tiger" though on Christian Craig on Saturday night in the head to head races. He won the first best out of three races and the second one saw Craig pull the start on Justin, the only rider to do it at these races. But Craig went a bit wide in the first turn and Barcia couldn't help himself. He went Barcia and slammed into Craig, taking them both down! The crowd was on their feet as the two riders tried to get up first… Barcia with no clutch lever and Craig with a bent up disc and front end. After some more shenanigans getting their bikes picked up, Craig went on to take the win. But his bike was jacked, as was Barcia's so they just called Craig the winner! It was like a scene out of Road Warrior—bikes, riders, and parts strewn everywhere, and CC just declared the winner! Afterward the two riders hashed it out and Barcia admitted he felt really bad and "…we're okay. That was my only bad thing of the weekend, so all in all…"
Even Barcia knows that sometimes he goes Barcia!
Cole Seely was in Geneva and didn't get good results either night due to bad starts and getting involved in that crash with Osborne on night two, but he was fastest qualifier on Saturday. He pulled into the pits Saturday for some quick front-end adjustments and came out maybe 3-4 seconds in front of Barcia who was leading. He then proceeded to pull away from Justin and everyone else which is a good thing. He ripped up through the pack (which he told me was "terrifying") in a good ride. Seely's been out for a long time with that bad injury suffered at Tampa and admitted that he was pretty nervous the first night to be back racing. All in all, although the results were poop, Seely looked pretty good. It was also great to see him back racing again.
He was also one of the best riders through the inside rhythm lane as his corner speed was pretty unreal. A lot of guys couldn't get through it as smooth and as fast as Cole (there was a small inside berm that you had to hit, you couldn't go too fast in it) hit his marks there lap after lap. It was the perfect little technical thing that Cole is so good at.
Christian Craig was in position to win Geneva with a 2-2 before Brayton got him and he was pretty much the opposite of Seely. He didn't have the raw speed either day that some of the other dudes had but you what he did have? Starts! Christian is always a good starter and used that to put himself in position to have success. Heck, he was the only guy to beat Barcia off the start all weekend (in eight starts, Barcia only once didn't come out first out of the first turn) in the head to head races. Of course, he got plowed into for that though!
Malcolm Stewart was there, but he had issues all weekend long. From his suspension not showing up until after the first practice to some chain/sprocket issues, it wasn't a good weekend for Mookie. But for a few laps in main event one, he was fast. Then he got taken out by Jordi Tixier and that was that. Day two he had some serious HEAT RACE MOOKIE speed in the, well, heat race, before bike gremlins struck again. I was even over there looking at the bike trying to figure it out and when that's happening, you know you're on the last resort.
Malcolm looks skinnier though, he looks fast (as usual), and he's got a good program behind him. I don't think he's thrilled to be out in California but knows that it's the best thing for him and his career in what some people might say is a make or break year for him.
Vince Friese finished fourth overall again. He probably wasn't as impressive as he was in Paris, where he also finished fourth, but he was still good. He's continuing to impress as he works on his skills. The local French racers have their own series going on and Paris and Geneva are part of it. They're just thrown into the mix with the American riders and I believe are scored separately for their own championship. Somewhere along the line Friese got into it with Cedric Soubeyras and left Soubs on the ground which sucked for Soubs because he had the red plate for the championship. The French contingent were not too happy with Vince (hey, man, get in line after a lot of American guys!) but I didn't see it, so I can't comment on it. Apparently at the after party some tensions got high, but some American riders stepped in to back up Friese and everyone calmed down. Hey man, getting into an incident with Friese should be experienced worldwide and now it has. Congrats, Soubs!
Cameron McAdoo went from losing his ride at GEICO Honda after the season to not having any plans or ride to being wide open. First, I called him to fill in for A-Ray at Red Bull Straight Rhythm after Filthy Phil recommended him. There he met Eric Perronard and made a good impression on him so there was a deal to bring him to Paris to ride a Honda. Cam did pretty well there in getting second on the weekend. Before that though Brayton got him a deal to race in Australia at the AUS-X Open on a Honda and he won there. Based on Paris, Perronard brought him to Geneva, but in the meantime, he had gotten a deal with ClubMX/Traders but on a Yamaha so he was #BluCru in Switzerland.
And he should've swept the two SX2 races but threw it away on the last lap of the main the first night. He recovered to get second but it was a pretty good crash. Cameron mentioned he forgot the rhythm that he was in so the tabletop on the end caught him by surprise. By the way, in all the heats and mains, his starts were garbage even though he was on a Yamaha which are very fast. It was stock though but let's hope Cam figures the starts out on blue.
So nice little payday for McAdoo this off-season and it all started because Filthy Phil told me to pound sand to ride Straight Rhythm. The ClubMX/Traders team is going to wear FXR but the gear didn't make it in time so McAdoo had to bring his Fox stuff from Straight Rhythm that had PulpMX logos on it. So the millionaire riders like Seely, Brayton, and Craig were harassing me to give him a bonus even though I had nothing to do with this race and technically McAdoo wouldn't have even gotten any money if he hadn't done RBSR. I tried to get McAdoo to pay me actually, but he wasn't having it. Due to rider and Twitter pressure, I agreed to give Cam $450 for running PulpMX logos and winning Prince of Geneva. Hope you're all happy! (FYI: Brayton and I negotiated it on the air on the night two post race show.)
My flight back was a lot cheaper for the promoters if I stayed in Geneva an extra day. This wasn't ideal, but hey, I'm no diva. I'll do what I can to help people out. The good thing is that the MCR mechanics and Vince Friese were in the same boat so we all went to dinner on Sunday night at this great steak place by the lake in the middle of the town. Continuing the bizarre world I live in where Tony Alessi and Mike Genova were in my house on the PulpMX Show a month ago, I was now eating with the team and Friese! I don't have an issue with Vince, but let's face it: he's done some dumb stuff on the track and I've written/talked about it. But he's been much better lately (although this weekend Cedric Soubeyras might disagree; I didn't see it) and riding very well. Anyway, good meal, good stories, and Friese even paid!
That's all I got from Switzerland, the off-season has been fun. From Montreal to RedBud to Monster Energy Cup to Straight Rhythm to Paris and now to Geneva, it's been hectic but I think about the different types of racing I saw, the fun I had, and the experience of it all and yeah, pretty cool. Onto A1 it is. Email me at matthes@racerxonline.com if you want to chat about this or anything else.