5 Minutes with... Jimmy Albertson
Jimmy Albertson is one of the nicest guys in motocross. He's also one of the most unemployed right now. After two years on the Grand Prix tour, Albertson is back from Europe, but he's not getting much traction in the market place, likely because he hasn't been able to show fans here what he can do both indoors and out. Now he's looking for a chance with someone, doesn't matter which class, because he's in shape, he's going fast and, with some assistance from his good friend Trey Canard, he's been riding a lot of supercross.
Racer X: Jimmy, the last time I saw you, we were celebrating Ben Townley's moto win with BT, Troy Lee and seemingly all of New Zealand, late-night after the MXoN. What have you been up to since then, Jimmy?


Jimmy Albertson
: Not much. Actually, I got home and just took a little bit of time off. I didn't ride for about a month after that. I'm just kind of waiting to see if something would happen, but then I kind of realized that nothing was really going to come up, so I just started riding one of my old bikes that I had at my house. I got it prepped for supercross and I've just been practicing and hoping that something will come up before Anaheim 1.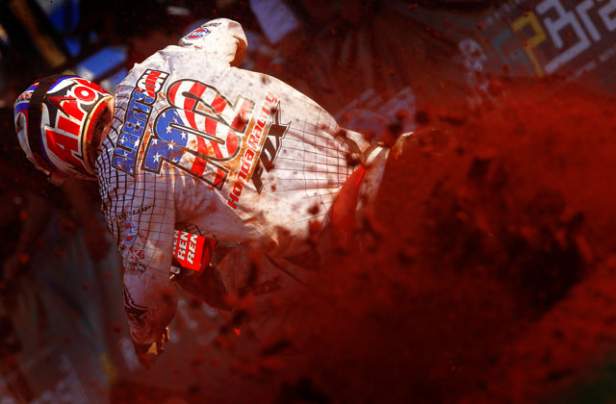 Photo: Sarah Gutierrez
Where do you guys practice at out there?


I've just been riding out at Trey's place. It's the perfect setting for me. I got an awesome supercross track to ride—honestly, it's probably one of the best supercross tracks in the country. It is long, it's got a water system and a skid steer, so we prep it every morning. I've just been staying down here and riding every day and training with him in his shop. I'm lucky to have a friend like Trey that'll just let me come out and use all of his stuff while he's gone, but it's been working out perfect.
We saw the Vurbmoto video:
How pumped are you for the year Trey had?


I'm incredibly stoked for Trey. I know how hard he works. After winning that first championship in 2008 and watching him do that, it was kind of like he got thrown on top without even knowing or expecting it. He then had a lot of pressure right away…guys like
Ryan Dungey
and
Ryan Villopoto
, they didn't achieve something like that right off the bat. Trey kind of got thrown into the deep end all of a sudden. It's not that he didn't have the speed, he just went from zero to hero right away, and it took him a little while to get that mindset that, 'Hey, I'm
Trey Canard
and I'm just going to ride and have fun and do what I have to do.' I think those years between championships that he kind of got into the mode that if it wasn't a win, it's not acceptable. I think he then got into the mode where it's ok not to win, and then this year he started winning and he couldn't stop winning. I'm just really happy for him.
Last year his main rival was Christophe Pourcel, and he's kind of in the same boat as you are right now, just waiting to see what happens. Then there's Chad Reed, who's starting his own team. Do you think it's just a tough year for free agents?


Yeah, you know, I wouldn't say I'm in the same situation as those guys. Pourcel, he's got stock—he's got big-time stock. He's a Regional SX champion, runner up outdoors—he could get a ride. It's whether or not he's going to accept what's out there. My situation, when I signed up to go to Europe, I figured I'd be coming home with a bunch of money saved up, but the reality is that I'm broke. And when I say I'm broke, I have no money! For me, I can't financially go and race. I got to find a sponsor or someone with some money just to sign me up. I've been trying to make some money here and there doing motocross schools and stuff like that just so I can show up and race.

I think
Chad Reed
is going to be fine. He found out he wasn't going to get what he wanted, but he still has that drive and he's going racing. I totally respect that. We're all in the same situation, but at the same time they're completely different.
I don't want you to get any angry letters from Pourcel's agent. His situation is a lot different. So what are your options? Can you still ride the Lites class in supercross?


Yeah, of course. I'm up for riding anything. Right now I feel great. I have twenty laps in me to go ride the 450 Class. So right now, man, the 450 Class is stacked, but do I think I can go out there and be consistent and make the mains and have top ten speed by the time Anaheim rolls around? Yeah, I do, but people may think that's crazy because I don't have good supercross results. People don't understand that going into supercross with TLD, I broke my navicular three days before the first round and I didn't race until Salt Lake and only got a few races in and got a sixth and an eleventh in Vegas It wasn't much, but for how much riding I actually got to do. I do believe I got supercross skills and I want to show them this year. In my Mini O's interview I said I may not show up at Anaheim 1, but now that I'm riding so good and putting so much into it, it's really stupid for me not to show up, so I just got to find a way. That's how it's always been with me—I always find a way to go racing. Right now I don't know what's going to happen, but I will find a way to show up at Anaheim.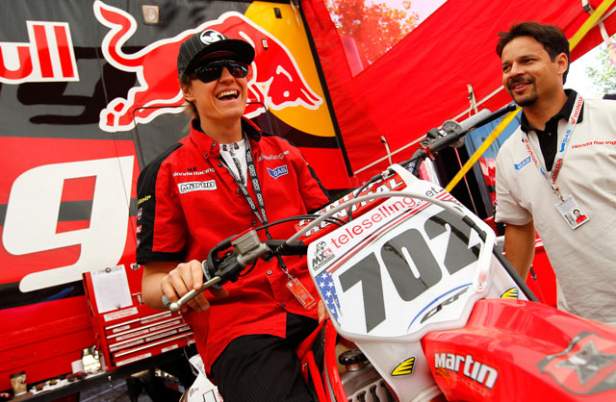 Photo: Sarah Gutierrez
Well, if you don't find something to do, you have a future in television. I watched a few of the online shows from the Grand Prixs and you do really good in the booth.


That's kind of like my second passion. I love racing, and I know everything that goes on in Europe and here in America. I know the Canadian series, the Australian series…I'm a fanatic. So when it comes to racing, I'm a nut. When I was in Europe I was watching supercrosses every day and I'd be looking up results from other places, so I got a lot of knowledge. When it comes to calling the races, I just really love it.
Jimmy, good luck, hopefully the door to some team will open soon for you.


Thanks, see you at Anaheim.