5 Minutes with... Josh Hansen
By Eric Johnson
After winning the final round of the 2010 AMA Supercross Lites West Series at a rain whipped Salt Lake City, and then racing to second in the Dave Coombs Senior East-West Shootout in Las Vegas, Team Monster Energy/Pro Circuit/Kawasaki rider Josh Hansen looked to winning his third Moto Super X Gold Medal at the '10 Summer X games (he placed third due to some bad racing luck). As summer segued into fall, talk between Pro Circuit and Monster Energy – both based in Corona, California – began on just what mission Hansen was to be sent out on next. Well, less than a fortnight before the opening round of the 2010 Monster Energy Super X Series in Australia, it was decided that the rough around the edges supercross star would be placed aboard a 747 and along with a number of works Kawasaki/Pro Circuit bits and pieces dropped into a crate, flown 7,487 air miles to Energy Australia Stadium in Newcastle, New South Wales, Australia. Round one of the seven-round series, Hansen rode quite well, placing a fighting second to AMA supercross refugee Chad Reed. Seven days later at Canberra Stadium in Canberra, Australia, Hansen placed second overall again, this time to the venerable Kevin Windham. Now atop the point standings in the fight for the Monster Energy Super X Series Open Championship heading into Saturday night's round in Aurora Stadium in Launceston, we found out Hansen was sitting alone in an airport near Queensland at 5 A.M. this morning, we tracked down his global phone number and broke him out of sleepy stupor. We then interrogated him and asked him what the hell was going on.
Josh, its Eric. What's going on Down Under?
Hey what's going on? I'm just about to fly out right now. I'm sick as s#!t right.
You're sick? What, do you have a cold or something?
Yeah, I feel like hell. I have something. I don't even know, man. It's six O' clock in the morning now or seven or some s#!t. I don't even know.
Where are you flying to?
To Tasmania.
That's the next race, right?
Yeah, that's the race in Launceston this weekend.
Well, if you feel like crap, I'm not sure I want to be a pain in the ass to you right now…
No, I'm alright. It's SO early here. I'm barely still awake.
Have you adjusted to the time pretty well – you're 18 hours ahead of us here in California?
Yeah, I'm getting there. Yeah, it's not bad now. It was a little harsh.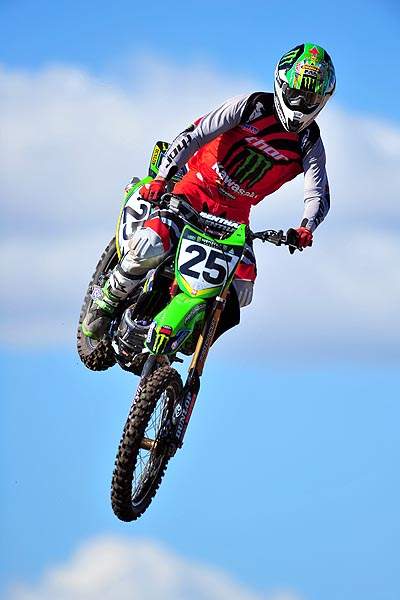 Photo courtesy Monster Energy
With two rounds down and now going into the third, how are you feeling about the series and everything?
I mean it's good, but it's kind of gnarly with the rain. Like even this weekend they're calling for gnarly thunderstorms. These mud races make it a little bit scary. Like last weekend was a mud race, too. I don't know. It's been unpredictable. But as far as it being dry, I think I can just go out there and win. That's my goal. Still, even when it's raining, I plan on winning. You know how it is, though, it's just survival mode.
Jumping back, how did the first race go for you? You finished second overall and ran strong against winner Chad Reed. How did you feel about the crowd and the racing and all that?
It was cool. I was pretty jet-lagged, for sure, for that first race. It was good. I don't know. I just basically just kind of rode my own race. It was good. I just wasn't very prepared going into the first race, you know? And I wasn't even far off Reed, so that was kind of cool. I definitely hope he comes back and does some more before the year is done because I think each week I'm getting stronger and stronger. Yeah, the first weekend was good. I got solid seconds and got some good starts. Last weekend I felt like it was a little bit better. I felt a lot better, but then it started raining so that kind of threw a wrench in it. So it was kind of hard to be real intense out there.
So you've sort of been the second place guy thus far…
Yeah, I've been the second place guy, but I think each weekend is going to get better and better for me because I'll be in better shape and have more time on the bike. I just need some dry track so I can get after it. I only got the first weekend of it being dry so I'm ready for some more solid races.
How did Chad Reed's speed look to you at the opening round?
He was good. He definitely seems good – he seems good on the Honda.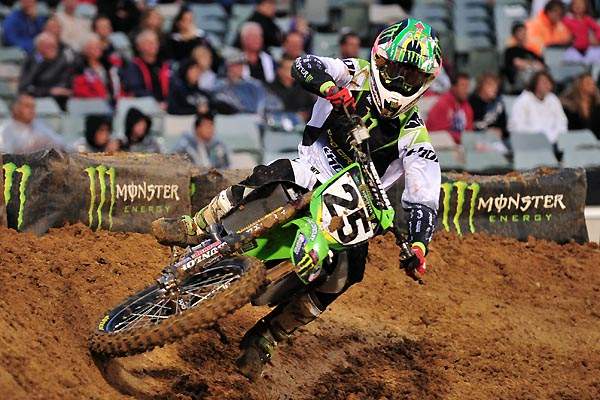 Photo courtesy Monster Energy
How about Windham? How did he look at round two?
Windham looked good. Windham surprised me. I put it on Windham. Usually Windham kind of just gets in one groove and kind of dies off, but he was on it. He surprised me. I think he'll be good. The older and more grey hairs he gets, the more he goes fast. It's really weird.
Brayton is riding good. Brayton is just the same old Brayton, you know? He's fast and solid. I think he is a little bit more prepared than I am. I've been making it happen, but Brayton is always solid. He just does his thing. He is definitely one guy that you just can't ever count out.
Whether they be American or Australian – or from anywhere – are there any other riders racing down there that have impressed you?
[Jay] Marmont is good. It's kind of weird. You gotta be a little bit scared of [Mike] Alessi because he does some crazy dumb s#!t all the time. So he isn't that cool to race against. He usually wins every practice session, though, because he gets the holeshot and takes off. So that's his deal. I don't know. I've just been racing dirt bikes and just trying to win.
How have the tracks been down there? Are the comparable to American tracks?
How's the tracks? They're good. It's all kind of the same. These may be a little off because of the weather. The weather has made it a s#!t show down here.
Hey, how have the fans been to you?
They're pumped. They're super stoked; super-stoked. Everybody is super pumped. It's been pretty bad ass. In fact I guess I'm going to go do the Melbourne Cup. It's like world's biggest horse race or some s#!t. (Note: Held since 1861, the Melbourne Cup Thoroughbred horse race is hyped as "The race that stops a nation.") I guess they're taking me out there to do a bunch of press stuff. I guess there's going to be a photo shoot with all these Victoria's Secret supermodels and s#!t. I'm pretty pumped about that. I'm just doing my thing by racing down here. It definitely helps that I'm getting results. I'm just doing my thing. I have a lot more races to come, so I'm definitely not trying to make it or break it at the first few rounds. I have a lot more to come. I need to get some wins under belt. I fu*#ing hate getting second. I need to start getting going and start making s#!t happen. Even there has only been two rounds, I've ridden s#!tty, I think. I mean good enough, but not like where I can go home and feel inside, "I rode good this weekend." I'm ready to make that happen and I think the results will show for themselves.
What have you been doing at night or during the week to keep yourself occupied?
I went and bought a skateboard, although I can skate worth a s#!t. I went and bought a skateboard and I've been running so I went and bought running shoes. They have these big stairs next to where I live and I run up them a lot. I live on the beach and there are topless chicks everywhere. So I either practice, I run chicks or I try to skate.
So you've managed to pull a couple of Australian chicks?
Oh yeah. (Laughter). Yeah, it's been good. I don't know, dude, I just go riding and try to pull girls. That's all I think about.
How's the lifestyle and racing scene down there compared to Southern California?
It's so much cooler. I like it because everyone is way more laid back. There's not so many donkeys everywhere. You know there are not so many "yeah" guys everywhere around the industry here. I like it. Everybody seems way cooler and not so tight ass.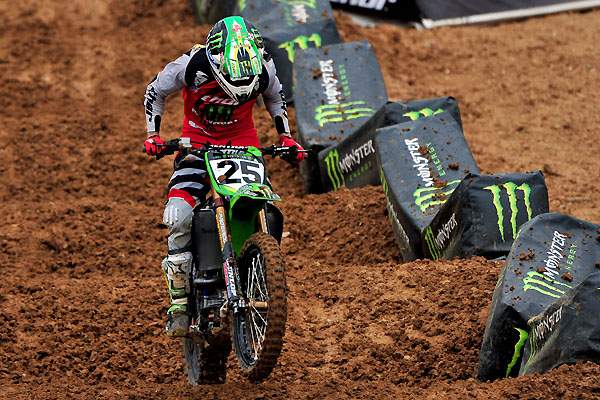 Photo courtesy Monster Energy
Where are you living down there?
Gold Coast at Mermaid Beach.
Has Mitch Payton been checking in on you?
Yeah, I took to him all the time. He's been good. Yeah, everything has been cool. He's just like, "We need to get a championship. That's our goal." I want to go out each weekend. You know if you're a boxer and you're one on one with somebody and if you lose that, you lose the match. I want to start getting in that mind frame where I start winning and I'm not just be a second place guy. That's my goal. I want to win everything here and then basically go screw everybody up when I go back home.
Mitch told me yesterday that if it looks like you're going to win this championships, he's going to come down there for the final round. Do you expect him down there?
I don't really want him to come down, but I'd like to still win.
Even if you're going for the championship, you don't want him there?
Yeah, if he's going to be cool and want to get loose, then sure.
What if he comes down and is a hard ass?
Then he should probably just stay home.
Is the Dirt Shark going to swim his ass all the way down there to lurk around and look at sinking his teeth into things?
Hey! There's some big ass sharks around here! Hey! No joke, just the other day I was sitting on the beach – oh, and I have a tan now, too, you know? – and, dude, right in front of my house, I'm laying there and these three huge fu#$ing whales jumping out of the water. It was like Discovery Channel s#!t. I couldn't believe it. It was so gnarly. It was sick. This is all one of the coolest experiences I've ever had.
What about the Dirt Shark?
I'll kick his ass!