5 Minutes with... Brett Metcalfe
It's as if GEICO Powersports Honda's Brett Metcalfe didn't change classes. Some people wondered if he could ride a 450, but at the 2/3 point in the championship, he's third in the points standings. However, he's not satisfied with that, and he hopes to move forward after the break. We caught up with him on Monday for this interview.
Racer X:
This past weekend, you were killing it at Washougal. The first moto, you stayed right on Andrew Short for basically the whole race and he wasn't that far from Ryan Dungey for most of the race. Talk about that first moto first.
Brett Metcalfe
: It felt like that moto was a good moto for me. The past few rounds, I've kind of been having some problems holding pace and keeping up there in the front end of the field. Last week, we made a lot of changes with my bike. We went back and reviewed a few things and came out this weekend with a much more comfortable bike. It wasn't huge changes, but it was just some little things that made me feel more confident and comfortable racing on. The first moto, I got a good start; right where I needed to be. I think the changes made it easier to stay at the front. It was just a good moto. I started out third, Dungey got by me and pretty much got by everyone and checked out a little bit. He was riding good. I was able to stick in third and kind of chase down Andrew a little bit. Toward the end of the moto, I just couldn't pull him in quick enough to catch him and put enough pressure on for a mistake. We all rode a good moto and it just felt good to be back riding how I feel like I can ride.
And that's what it looked like. Obviously you got a pretty crappy start in the second moto. Why was that, what happened?
Actually, I had a good start again; I started out fifth. On the backside [of the track], you have a tabletop into a 180-left, and they kind of threw a bit of water down on the downside. I saw that on the parade lap and I made a mental note to pay attention to it. Then, in the heat of the moment, I couldn't pay enough attention to it. When I landed on the downside of that tabletop, I tried to pull up for the inside. I'm not sure who was in front of me, but they went wide, so I thought, "Perfect, I can go inside and try to make the quick move." I tried to pull up on that slippery dirt and the back end slid out, and then I went into the braking bumps sideways and ended up going down. I got up pretty quick and kept the bike running and everything, but on the first lap off the start going up horsepower hill, I was behind Kevin [Windham], Andrew and Dungey there and just ate so much roost that I got a rock or something to the goggle and it blew my lens out of the frame on the goggle. It hit that hard. And my goggles just completely filled up with huge clumps of dirt. The first lap, I hard dirt flying all in my eyes and stuff. So, once I crashed and was back there, I took off again and thought, "Man, I'm not going to ride 30 minutes like this." Before the finish-line whoops section, I just put the bike in neutral and stopped in the middle of the corner, took my goggles off and shook all of the dirt out and put them back on and took off again. So, I probably lost about 10 spots right there in the first lap, but I had to do it otherwise I was going to ditch the goggles off completely, and that was a dangerous track to lose goggles.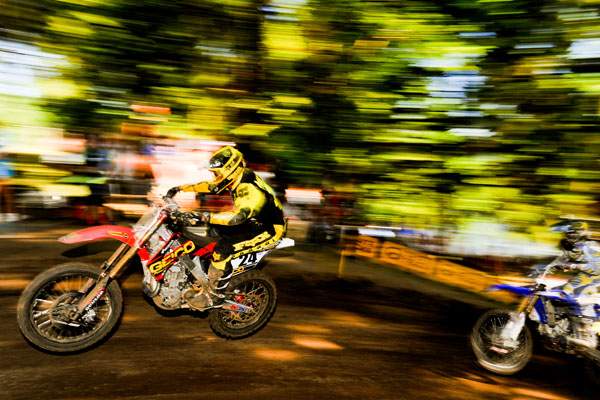 Brett Metcalfe (24) works his way through the pack in the second moto.
Photo: Steve Cox
The ride from there was pretty awesome, though...
All I could think about when I hit the ground and then had the goggle issue was, "I'm going to have to just give it everything I've got." Before the moto, we talked with the team a little bit and it was like, "Hey, you've got a two-week break after this. Get out there and give it everything you've got; go to the end." So that was in my mind, just to let it all hang out and use all of the energy you've got because you've got a few weeks off. So, that's what I did. I went down and had that issue then just said, "I'm a bad dude, let's go. I gotta be bad now." [Laughs]
How hard did the passing get once you passed your way into the top 10?
The further up the field you go, the harder it is to make the passes. The level is a little bit higher. Even early on, as soon as I got going, I was on the ragged edge making some moves and stuff just because the track is kind of a one-lined difficult track to pass on. You have to ride on some off-lines to make things happen, and that's what I was doing. There were a couple times I got a couple little gimmes, like when
Josh Grant
fell; I got right onto the back of Josh and then he made the mistake. It was a big weight lifted off because I knew it was going to be hard to get by him, so he made it easy for me. I think there was someone else that fell, too. Other than that, I was just making things happen. I just didn't have time to wait. Every time I got behind someone, I just tried to take the first opportunity that came to me and that's how I was making moves happen out there. I was really stoked and the whole team was saying it was probably my best moto of the whole year. I felt the same way.
How does this help how you look at Unadilla and beyond?
It gave me a little bit more confidence again to go back and race. Coming into the start of the year, I was feeling awesome and confident. The last few rounds I feel like I've been riding really really good, nothing has changed. I know I'm in control riding the 450 really good, but I just haven't been able to hang with the pace for the whole moto. It's kind of been bothering me a little bit. Then, last week, we made the small (but big) changes, and I think that really was the big part of the key to being able to ride my potential. So I'm excited to go back to racing. I want to race again this weekend just to see what else I can pull out of the bag. I'm excited now that we've got a few things worked out. It's working better for me and I can't wait to get to Unadilla. It's a track I love and every year I've excelled there, so I'm looking forward to it.