Monday Conversation: Christophe Pourcel
Monster Energy/Pro Circuit Kawasaki's Christophe Pourcel has been pretty dominant all year in the 250cc Nationals, all things considered, so it's kind of surprising that it took him until the fifth round to put together a 1-1 performance – and, for that matter, to win his second 250cc overall of the season. On top of that, Pourcel's first win – at Texas, with a 1-5 score – was really lucky, as it should've gone to Dean Wilson. We caught up with the 250cc points leader after the race.
Racer X:
This is the first time this year that you actually pulled off a 1-1. What was the difference this weekend?
Christophe Pourcel
: Finally! It's just not easy at all to win with those guys, because you always have a few guys this year that ride really, really good. A couple weeks ago, [Trey] Canard didn't ride really good, and then this weekend he was just up there. He was on the gas! So you never know who is going to be there, and I've had a lot of crashes or something and I couldn't make it happen before.
Every single week, why do you keep covering Mitch Payton with champagne? You're just destroying the guy!
Because Mitch works a lot on the bike, and he always wants everything to be perfect, and even last weekend, I finished fourth, and he said, "That's good. You're trying your best, and that's how it is."
So, you reward him by completely covering him in champagne?
I like to do that to him a lot, and it's pretty easy because he's not going to run. (Laughs) We joke about that all the time. It's kind of funny. He can't just go anywhere. And he likes it anyway, because he likes to drink it. And I cannot find anybody else most of the time, so it's like, "I like Mitch, so let's do that!"
He always acts like he doesn't want you to do it, but then he always smiles because it means he won.
He does love it. If he's drinking champagne, it means we had a good weekend and we can celebrate a little bit.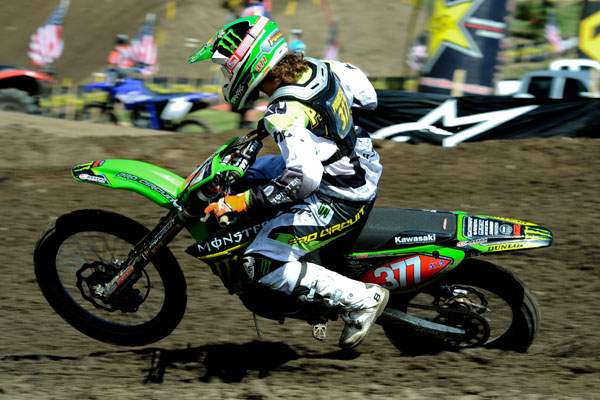 Christophe Pourcel scored his first 1-1 finish of the season in Colorado.
Photo: Steve Cox
What about the altitude? Did that mess with you at all?
The second moto, the bike was way better than the first moto. The first moto, it was shitty. It was really slow.
Didn't you say you started in first gear?
Yeah, I started in first, and normally we all start in second. Starting in first gear here is like starting in second gear anywhere else!
The second moto, you caught Trey Canard, and he was trying everything he could to keep you back there, so how were you planning to pass him?
I was just trying to get a feel for his speed and his lines, and then I had two spots on the track where I knew I could pass him because he was leading the race the whole time, so I knew he didn't see any of the lines I was taking. And then, when I was close enough, I just made it happen.
Were you worried about him checking up on your lines and sticking to you?
Not really. I think he just maybe got tired and realized that I was going pretty fast and was kind of wide-open everywhere...
You were doing 2:13s during that moto!
Yeah, I don't know the times, but I was wide-open! And then, with two laps to go, I just slowed down a little bit, and that was it.
So, now you've extended your points lead a little bit more again... Do you even care? Do you look at the points?
Not really, I'm just happy that I finally made it [got a 1-1 score]. I won all those first motos, but I couldn't get the second moto! I didn't crash, either, so I'm really happy and I'm just going to try to keep going.
What do you have to say about France in the World Cup?
Oh, they're not good at all... I'm not going to lie.
So, who are you backing now that they're out?
I like Argentina and Portugal. Those two. I like them.
We'll see how your teams do, then...
Yeah, we'll see. Let's check it out!