5 Minutes with... Trey Canard
Hybrid Honda Red Bull Racing/GEICO Powersports Honda rider Trey Canard is killing it in the 450cc class. In the last three races, he has recorded three podium finishes, and he has only raced the 450 four times total. It was already a record for a rider to be on the podium two out of three times in his first three 450cc races, and Canard extended that record with another third-place finish in Toronto. We talked to him after the main event.
Racer X: You started out with a 20th at your first 450cc race in Indy, and you followed that up with a second and two thirds. That's pretty good...
Trey Canard
: Man, I'm stoked, but at the same time, I'm kind of bummed because I got beat. As a racer, that bums me out, but as a Lites-class rider, and this being my fourth race on the 450, I mean, what's there not to be happy about? I'm just thankful for the opportunity, and it's been a really neat experience.
That holeshot was massive. I have photos of it, and you had a full bikelength behind you as you went by.
Yeah, that bike's awesome! I'm just thankful to be on it. It's been a great opportunity, and hopefully I'm taking full advantage of it. I tried to run with those guys, and I was trying really hard, but I was making a whole bunch of mistakes and kind of tuckered myself out trying so hard, and then
Davi Millsaps
crashed and I kind of just cruised it in. But it's awesome, and I'm just thankful to be here.
Do you think Davi's pushing just a little bit harder the past couple of weeks because he wanted to catch you? Both times, he was gaining on you for third and then fell, and he is on the same team, so I'm sure he doesn't dig having you show up and throw it on the box every week like this...
That's not my concern, but I'm sure he wants to beat everyone, not just me. As a racer, you want to beat everyone, and I don't see him going after me specifically. I think that Davi wants to do better, and that's why he's pushing hard.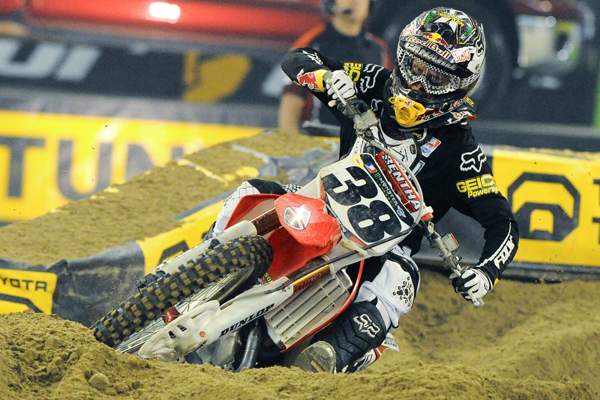 Trey Canard extended a record, landing his third podium in his first four premier-class races.
Photo: Cox
In the sand, it looked like you let Ryan Dungey by after about five laps...
Well, I felt like I was holding him up, and I thought it would be a better opportunity for me if I tucked in behind him and tried to run with him. I thought I did pretty well for a few laps, and then he kind of dropped me, but it's been a really awesome experience, and I'm stoked.
What's the difference between a 15- and a 20-lap main event?
This track was tough. That triple-on [in the second rhythm section] wore you out. But that five laps extra, it doesn't seem like a lot, but when you're on the track, it seems like a whole lot.
Plus, I would imagine the 450 is a bit tougher on you, isn't it?
Yeah, it wants to roll and do weird things, but overall, I think it's been good, and having this chance is going to help me big for next year.
So, how much longer are you going to be on the 450 this year?
I'm going to do Dallas, which is cool, and it's kind of a home race for me, and then I'll do Jacksonville.
And that's it...
Yeah, that's it.
Then you're back on your little bike...
Yup!
Have you ridden your CRF250R at all since you started riding and racing the 450?
I haven't, but I'm really looking forward to it. We're going to test the Monday and Tuesday after Jacksonville, so I'm looking forward to getting back home with the GEICO Powersports Honda team. They've been really good to me, and I'm looking forward to working with those guys again and hopping back on that Lites bike.
You raced 450s in the amateurs, so you know sort of what it's like to go from a 450 to a 250, so what do you anticipate it's going to be like at this level to go back to your 250?
I'd say the biggest thing is going to be the turning. The 450 just feels big compared to the 250F, just because of the inertia of the bike. It wants to keep rolling [forward]. I think having the 250F and being able to turn better will be fun because I'll be able to throw it down into the turns a little better. I'm stoked, though.
Say something funny now...
There once was a man from Nantucket...
No, you can't do that one on the Internet, Trey!
I don't even know the rest of that...
I bet you don't! You're such a goody-two-shoes...
[Laughs] Thanks, Cox!