5 Minutes with... David Pingree
Troy Lee Designs/Lucas Oil Honda team manager David Pingree is obviously familiar to those who frequent this site, as he's also a part of the
Racer X
crew. With the recent success of his team, though, we figured it was time to do an interview with our buddy Ping, and this is how it went:
Racer X: Hey, Ping, ready for your interview?
David Pingree: Yeah, but there's a new rule in our team, where anyone who does an interview of any kind – podium or whatever – we pick a word, and they have to use it in that interview, or they have to pay me 20 bucks, and vice versa. I was just talking to Cole [Seely], and I told him, "Hey, Steve Cox is calling me to do an interview," and he goes, "Okay, here's your word," and he hit it. So I've got to work it in, and I can't tell you what it is.
But he had one ready to go? One on deck?
(Laughs) Yeah, I've got one, and I'm going to have to work it in...
Okay, let's start then. You got started with the Troy Lee team because you were racing for them in Supermoto, right?
I actually met Troy in '95 when I rode for Mitch [Payton, at Pro Circuit] and Troy did our helmets. I just always thought his helmets and stuff were amazing, and I got to know him over my career, because he did a lot of my helmets. So I started wearing his gear as soon as I quit racing, and I worked with them for gear stuff, but with the race team, I had dabbled with Supermoto just for fun here and there, and he asked me if I wanted to be their Lites rider in '07. That was my start with the team.
Was this always a goal of yours to become a team manager or something like that? You're obviously a smart guy...
You know what's weird is that I never really knew what I wanted to do. No, I didn't ever say, "I'm going to be a team manager." I knew I liked riding, and I started working for Racer X and I enjoyed doing that, and I figured, "You know what? I'm going to do this for a while, and something will come up." I didn't really know. I wasn't like, "I want Erik Kehoe's job. I'm going to move to Torrance and just move right in." I didn't see that as what I wanted to do. I just figured something would come up. It's really weird how it did, because I was just trying to dabble in as many different types of motorcycle racing as I could, and write stories about it, and I was enjoying that job when this whole opportunity kind of came up. I didn't plan it out, it's just kind of where I'm at.
It just kind of happened.
..
I know you're not a super-spiritual man, but I just feel that God's got a plan, so you just keep the bicycle moving, and he'll steer it, you know?
You should try not to hold that against me, because I didn't know what I was going to do in life, either. I was kind of just rolling along and happened upon one thing, which led to a series of events, which led me to this, so it's the same thing.
It's just funny how it happens. You don't have a plan. You're just kind of Forrest Gumping your way through life a little bit. That's what it feels like.
As Bruce Lee says in the Tao of Jeet Kune Do, you should be like water, because water can take the shape of anything. You put it in a saucer, and it takes the shape of the saucer. You put it in a cup, and it takes the shape of the cup. Something like that.
I actually saw that saying on one of Ronnie Faisst's T-shirts. He makes clothing now; "Shui"? Do you know what I'm talking about? Have you heard of that stuff?
"Shui"? No.
It's Ronnie Faisst's clothing line, and he has a saying on one of his shirts that says, "Be like water." I'm like, "Be like water? That's the dumbest thing I've ever heard! What's it mean?" My own take on it would've been like to take the path of least resistance, maybe?
I think it's more about becoming one with your environment, but it's about fighting.
Okay.
So that's a little weird and deep for a Racer X Online interview... The odd thing about it is that obviously you're good at being a team manager, but that doesn't mean that you had to mean to get here. There's a definite skill set to picking out riders, and as a former rider, I'm sure that helps a whole lot, so you can see it in somebody when they have what you're looking for. With this off-season being so crazy, you landed two guys that it seems like weren't really in high demand, but you saw something in them, and now last weekend they filled up two of the three spots on the podium.
Yeah, but before you give me too much credit, we had other riders originally slated. We wanted both of the Moss brothers – we wanted Jake back and we wanted his brother, Matt. All of that kind of went sideways, and we were left scrambling. So we were like, "Okay, what now?" You start looking at results, and the thing with Wil was that I had a few people saying, "Hey, look at
Wil Hahn
, because that kid is fast, and he showed it last year." But we never got to see him ride. We only did West Coast Supercross, and he raced the East, and at the Nationals we did, I think he was hurt for a lot of them. I was just kind of going off of him on paper. He was getting seconds, and he got a fifth, and he was showing improvements. With Cole [Seely], we all saw flashes of speed from him last year. I don't know if you saw San Francisco where he led [Trey] Canard around for a long time, but you could tell he was totally out of shape. When we got him signed up for the team, that was an understatement. I mean, my wife could've done more pushups than him in a row. I'm not even kidding you. He was built like a busboy. There, got my word in. Anyway, honestly Jeff Ward was the one who really pushed Cole. He's known Cole for a long time, and he says, "I really think this kid's got it, so let's give him a shot." It wasn't like I had this epiphany and said, "These are the two guys." What we did was, with Wil, on paper, he was the best guy we could get at the time, and we had heard great things about him. One thing about our team is that Troy has always said, "Hey, if it's not fun, we're not going to do it anymore. So let's pick guys we enjoy being around, and that usually leads to a better environment where people thrive anyway." Sure enough, Wil is a nice kid. You don't meet a lot of people who don't like him. And same with Cole; he's the nicest kid in the world. We just got real lucky there, and we have a great team, and every aspect of it is really good. I think the best way to put it is that it's really rich soil, so you just put anything in there, and it's going to thrive.
That was going to be my follow-up question, asking if it's more about the environment than the rider. Is that kind of true in general, that as long as equipment is up to par, that it's really just about the personnel on the team that make it successful?
Well, you have to have someone on the team who knows what they're talking about a little bit. Like, there are teams out there whose managers or people in charge – owners – have never raced a professional race in their life, or never raced a supercross, and it's really tough for a rider to come in – and I know this, because I used to be a rider – and look at a guy who has never done it, and have them say, "Dude, you can triple that. I know you can!" It's like, "No, you don't know I can. Shut your mouth. This is my life we're talking about. It's easy for you to sit in the stands with your headset on and tell me to jump."
Yeah, tell me to jump, and then I'm the one with the rod in my femur next week...
Yeah! I've been in that position, so I know, and I'll tell my guys straight up, "
Jake Weimer
and
Trey Canard
did this jump, and it didn't look like they really reached for it. They got it clean. I think you've got it." I'm straight up with them. They know our bikes are good, so they can't say, "Yeah, but he's on this bike," or something. If two or more guys are doing a jump, our guys will do it all day long, because they're confident enough in their skills and the bike that I can say, "They're hitting it on the right," or, "They're seat-bouncing it there," or, "They're downsiding the jump before it," or whatever. You've got to have people who know what they're talking about, and I think that helps that I've got that aspect of it. We've got a really, really good lead technician who's good with the bikes. We've got Pro Circuit helping us a bunch. Everyone on the team is good at what they do, so I guess that's the bottom line. I don't know if that answered your question or not.
I think there are different types of environments that different types of riders fit into. Some guys need less pressure because they put enough on themselves, and other guys need more pressure because they don't.
But have you ever seen a rider who needed more pressure put on them? Here's the way I look at it: A rider who's worth hiring, he's putting enough pressure on himself to do well. I actually had to have a sit-down with Mitch about it when I was racing, because he would put a lot of pressure on me, and I was like, "Dude, I don't work well like that!" and I think
Nathan Ramsey
kind of had the same blowout with him like that. "I need your support, and don't blow sunshine up my ass, but I need your support, so please help me." So I don't want to put pressure on these guys saying, "Dude, you have to be on the podium." It's more like, "Let me help you get on the podium. I want you to do this. How can we make it easiest for you to get on the podium?" That's what we try to do. I don't think I need to put pressure on anyone. We try to keep it light when it's appropriate, and when it's time to get down to business, we get down to business. Everyone knows everyone wants to do well, so there's no need to be uptight about it.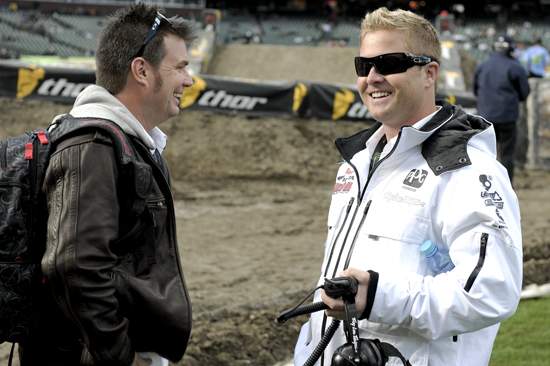 David Pingree (right) and Troy Lee (left) at this year's San Francisco Supercross.
Photo: Cox
The reason I brought it up that way is because I think Weimer told me that one reason he went to Pro Circuit was that he felt like it was too light of an environment at his old team. So I don't know if that meant that he wanted more pressure on him, but...
Well, maybe he did!
Yeah, and if so, obviously it's working out for him. He's doing okay. And obviously Mitch has won a lot of titles, and he won a lot of them in that period when you were racing for him and he was putting pressure on the riders, so maybe there's something there. I don't know what. How does your experience with injuries help you to help Cole Seely through a time like this, where he was on the podium for the first time ever, and then he got hurt a few days later?
Well, he was just so bummed, and he kept going, "Oh, man, why now? What about my points?" I'm all, "Dude, don't even worry about points." To me, it doesn't mean that much. You get fourth or fifth in the series, and it doesn't pay you anything extra, and people have seen he has skills, because he got a second. I tried to put it in perspective for him a little bit. I'm like, "Dude, you're good. Don't worry about doing this for anybody else. I realize you're bummed, and nothing's going to change that, but let's look at the bright side here, because your dislocation was super standard, there were no complications to it, it went right back in..." I mean, he has partial weight-bearing for a couple weeks, and then he's going to ease right back into it, so he'll be back for the next round of West Coast Supercross in Seattle. All things considered, it almost couldn't have happened at a better time, if you've got to find a silver lining, and the biggest thing is just trying to give a kid like that some perspective, because when you're that age, and you get hurt, it seems like the whole world is coming down on you. They get a little dramatic about it. It's like, "Dude, just relax, you're going to miss one motorcycle race." Beyond that, I'm just trying to help him manage it as best as he can. I called Daron Rahlves and had Cole deal with his doctor, because he [Rahlves] has had four hip dislocations...
Oh, yeah, that actually makes sense that it might be common with the way skiers crash.
Yeah, and he just did it at Winter X, and he's got the Olympics in two weeks, so he told me the quickest he'd ever come back was eight weeks, but he said he's doing everything he can and he's racing the Olympics. There's no way he's sitting it out. So he shared some stuff they're doing, including these injections called PRP (Platelet-Rich Plasma) injections that they inject right into the site in the hip, and that speeds up soft-tissue recovery and stuff like that. So that's one thing I help with, too, because I know when I was hurt, I would just do what the ER doc said, and that was kind of it. Now, I'm like, "No, let's go to a specialist, have them look at the X-Rays, and let's be proactive with this injury and make sure we've got it handled."
Well, how much of your outlook on that has changed based on your medical training for your potential future firefighting career?
Well, I understand everything a little bit better, but I learned by the midway point of my career that you don't half-ass injury management. When you have something wrong, go get it fixed right, heal up the appropriate amount of time, and then get back on the bike. I didn't do that early on when I tore an ACL in my knee and figured I'd just run it, but that did a lot of meniscus damage because my knee was loose and wobbling around in there and you don't have any stability, so your femur is just rocking around on your Tibial Plateau there and putting gouges and nicks in your cartilage that it sits on. He's a young kid, and you have to remember these kids are 19. They don't know what to do.
So to wrap it up, what's it like to be interviewed by one of your co-workers?
It's different, for sure. I don't know, sometimes I feel bad because I'll see editors from other magazines kind of walk by our pit and look at me, and I'm like, "Dude, you can come in! I don't bite!" It kind of bums me out that there has to be that sort of stuff going on, but there's not on my end, you know? It's hard having to wear two hats, but I wear like four, so they come on and off really easily.