Privateer Profile: Eric Sorby
Eric Sorby has always done things his way. Since coming to the U.S. from France, Eric has been a tough competitor, the subject of controversy and he's made friends and enemies along the way. In 2007 he also made his debut in the premier 450 class riding for the Tamer Kawasaki team. After the Las Vegas SX Sorby called it a season. Now, the charismatic Frenchman is looking to go down a different road.
Racer X: You had a pretty good Supercross season, didn't you?
Eric Sorby: Yeah, the team was good. I made 15 main events out of 18. That was pretty good for me. I had a lot of good heat races and made the top ten once and I led some laps. I think it was a good year.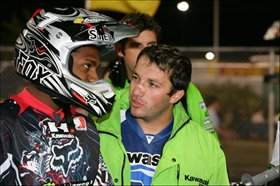 Eric spent a lot of time at James Stewart's house this past supercross season

What did you end up overall?
I think I ended up 17th in the AMA and maybe 18th in the world championships. I didn't really check after Vegas. I was so over it. I was just happy to get to all the rounds my first year. It was a good experience for me.
Did you spend the whole winter in Florida?
No, just the last couple months of the season. That is when I started to ride better when I was riding with Big James and Bubba.
Where were you before that?
I was in California. It was just too hard to get prepared in California because as a privateer you can't ride the factory track. So, when I go to ride somewhere, it would be too muddy or too dry or whatever. It's tough to get ready for the 450 class. In Florida it was much better. It went a lot better once I moved there.
What was your best finish?
It was ninth and Houston. Or maybe it was in Indianapolis. So many races, you know?
Did you have a Supercross-only deal?
It was but they asked me to race the nationals, but I wasn't getting a salary from them and it would be too hard for me to make money racing the nationals. They are a lot of work.
So, what are doing the rest of the summer?
Right now I'm doing some riding and testing with the Troy Lee Designs/Red Bull/Honda team, as you know. That is the main thing I'm working on. Hopefully I can do something with him next year because I know he is going to have a Supercross team as well as his supermoto team. It would be good to do both those series. I'm looking forward to the new challenge of supermoto. I've been riding with you a little bit and it's been fun. I can't wait for Detroit next weekend.
The Detroit round on the 7th of July. What other races are you going to do?
I think I am doing 3 or 4 other races depending on which ones Troy doesn't ride. I am using his bike at the races I do, so hopefully he misses a bunch of them! We don't know for sure right now.
What number will you use?
I will keep 917.
Why do you run that number?
I was number 17 in Europe and DV and some other guys that came over just put a nine in front of their numbers so that's what I did.
So, it's like a French area code?
Yeah, I guess so.
What do you think of supermoto so far?
So far I really, really like it. It is a new challenge for me and the last couple weeks have been a lot of fun. The Troy Lee team is really good and everyone is really nice over there. The crew is great. And I get to be teammates with you and Wardy so that's cool. Hopefully I can put something together with them for next year.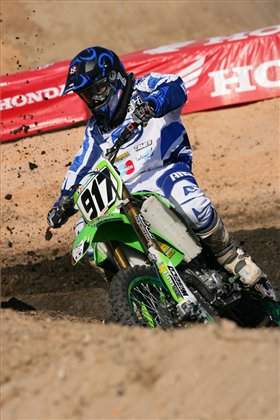 Sorby is going Supermoto racing

You're not completely new to supermoto though. Didn't you tell me you raced at Bercy once?
Yeah, I raced in Bercy in '99 and won the 250 class. I did another race in Belgium and got seventh overall. But, I never practiced for any of those. If this is my job then I will work hard at it. I hope I can put something together.
You are on the alternate list for the X Games Supercross, right?
Yeah, but I think Nick Wey got hurt yesterday. We'll see what happens. I hope I get in.
Are you doing any other races?
No. I had a Supercross in Spain but it fell through. I think I'll just go back to Florida later this summer and get ready for the X Games if I get in.
You are in between teams right now, but is there anyone you want to thank?
Yeah, definitely Troy Lee and the guys there for giving me a chance and also the Todora family for all the things they do for me when I'm in California. They are really good friends.