Kawasaki/Racer X Race Report: Houston
February 10, 2007 10:07pm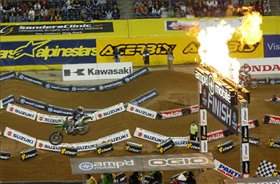 Stewart won big in Houston
For those of you repeating the mantra that James Stewart could be a much more successful supercross racer if he would just learn to back it down a notch when he needs to, let tonight's Amp'd Mobile Supercross from Houston stand up as proof that he has already figured that out.
Stewart's win in Houston tonight continued several streaks of domination, including five wins in six rounds of racing, and three-straight wins in Houston. But it was the way he did it that proved that he's not only fast, but smart, and for riders hoping James will throw the championship away via a crash or injury, that's actually much scarier than seeing him just blitz the field.
Stewart appeared to have plenty of speed in the tank all night long, but he got off to a rare bad start in the main, while his Monster Kawasaki teammate Tim Ferry grabbed his first holeshot in a long, long time, along with a $1500 bonus from Progressive Direct. Sobe No Fear/Samsung Honda's Kevin Windham was right in the hunt early, too, with Makita Suzuki's Ivan Tedesco close by, as well as Chad Reed. With an opportunity to make up ground early on Stewart, it was expected to see Reed blitz to the front and try to put ground between himself and his rival. But Reed simply didn't seem like the same rider he was a week ago in Anaheim. Instead, he remained in third place during the early stages of the race, while Ferry and Windham battled for the lead. Windham, in fact, was experiencing a tremendous renaissance when he grabbed the lead from Ferry and started opening it up a bit. Finally, the old K-Dub was back, looking smooth, confident and comfortable out front.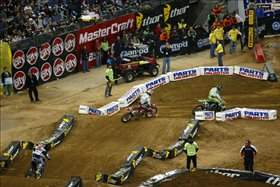 Look who's out front, Ferry and Windham!
But while all this was going on, while Reed was trying to get going and
Windham
was trying to keep it going, Stewart was carefully sizing up the opposition and working his way toward the front. He caught Reed and made short work of him in a whoop section, and then he zeroed in on Ferry and
Windham
, passed them, and had the lead. From there, he rode methodically to the win.
"All the people out there who tell me I should jump something, when I don't do it, I'm thinking 'Man, you're the same people who tell me I need to ride more in control,'" joked Stewart after the race. "I know what I'm doing."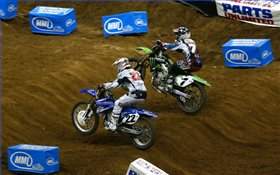 Stewart made passes in these whoops
It took Reed almost 12 laps to finally find his rhythm, and he was eventually able to get around both Ferry and Windham to take over second. This left a great duel for the final podium spot between Ferry—who was there last week—and Windham, who was looking for a breakthrough spot on the box. Ferry poured the pressure on and Windham made a mistake by clipping a few tough blocks. That was enough to allow Ferry to pass, and he ended up third for the second-straight week.
Reed admitted that he struggled, especially in the whoops, which had become so deep and cupped out that the pack had to jump through them, which is not Reed's preference.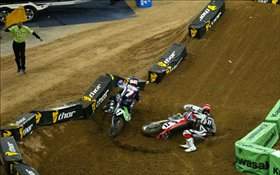 Stewart took over fourth when Preston tipped over
Stewart was very happy with the win, even letting out a big cheer when he got to the podium. While it didn't look it, James said he had struggled all night until the main, and was happy to pull it out when it mattered.
Windham finished a solid fourth, easily his best ride of the season. Tedesco looked to be set for fifth until he threw it away in the whoops, which dropped him back to eighth, with Travis Preston getting back into the top five.
Bad news on the night for MDK/Xyience Honda's Nick Wey. He crashed in his heat race with Ware Racing/Pro30.com's Jeff Dement, and preliminary reports are that he dislocated his thumb. Wey sat out the rest of the evening.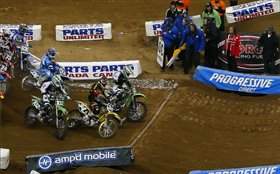 Survey says: Holeshot to Villopoto
In the Lites class, the battle was on for once between Ryan Villopoto and Jason Lawrence. Villopoto grabbed the holeshot, but Lawrence was off in second and proved game for the challenge. He stuck to Lawrence's wheel for a few laps and then dove to the inside to make an aggressive pass for the lead. Soon after Villopoto struck back when Lawrence made a mistake, but Villopoto was sure to make an extra stop in the corner just to pay Lawrence back for the aggressive move.
Karma came back around when Kyle Partridge crashed in front of Villopoto, and Villopoto ran into him and crashed. Now Lawrence had a solid lead, but he stopped riding as aggressively and allowed RV to catch right back up. Villopoto then secured the lead and pulled away.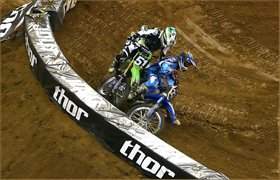 Lawrence gets under Villopoto in the main.
Lawrence was unhappy that his pass seemed to ruffle Villopoto so much, but Villopoto tried to douse the flames at the post-race press conference by admitting it was all "just racing." Lawrence at least proved he could battle the Monster/Pro Circuit/Kawasaki rider, but beating him is going to be tough, because RV is still on one heck of a roll.
Third went to Sobe No Fear Samsung Honda's Josh Grant, who admitted he rode too conservatively in the main to make a run at Lawrence and Villopoto.
Supercross returns to California one last time next weekend for the San Diego race. Will the Stewart vs. Reed battle from Anaheim re-ignite? Or has Stewart taken complete control back over? Stay tuned.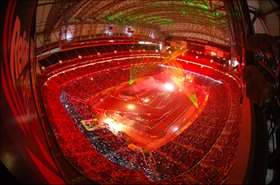 The roof at Reliant is really high!

Photo by PK

Amp'd Mobile AMA Supercross Series Event Results, Houston
James Stewart, Haines City, Fla., Kawasaki

Chad

Reed, Tampa, Fla., Yamaha
Timmy Ferry, Largo, Fla., Kawasaki
Kevin Windham, Centerville, Miss., Honda
Travis Preston, Hesperia, Calif., Honda
Michael Byrne, Newnan, Ga., Suzuki
Heath Voss, Mico, Texas, Honda
Ivan Tedesco, Murrieta, Calif., Suzuki
Paul Carpenter, Ithaca, N.Y., Kawasaki
David Vuillemin, Menifee, Calif., Honda
Amp'd Mobile AMA Supercross Series Season Standings
James Stewart, Haines City, Fla., Kawasaki, 147

Chad

Reed, Tampa, Fla., Yamaha, 126
Timmy Ferry, Largo, Fla., Kawasaki, 110
Michael Byrne, Newnan, Ga., Suzuki, 88
Kevin Windham, Centreville, Miss., Honda, 84
Travis Preston, Hesperia, Calif., Honda, 76
Ricky Carmichael, Tallahassee, Fla., Suzuki, 69
Heath Voss, Mico, Texas, Honda, 69
Ivan Tedesco, Murrieta, Calif., Suzuki, 66
David Vuillemin, Menifee, Calif., Honda, 62
Amp'd Mobile World Supercross GP Season Standings
James Stewart, Haines City, Fla., Kawasaki, 189

Chad

Reed, Tampa, Fla., Yamaha, 171
Timmy Ferry, Largo, Fla., Kawasaki, 142
Ricky Carmichael, Tallahassee, Fla., Suzuki, 116
Nicholas Wey, Murrieta, Calif., Honda, 108
David Vuillemin, Menifee, Calif., Honda, 101
Travis Preston, Hesperia, Calif., Honda, 98
Michael Byrne, Newnan, Ga., Suzuki, 96
Heath Voss, Mico, Texas, Honda, 95
Paul Carpenter, Ithaca, N.Y., Kawasaki, 86
Amp'd Mobile Western Regional AMA Supercross Lites Event Results, Houston
Amp'd Mobile Western Regional AMA Supercross Lites Season Standings
Ryan Villopoto, Poulsbo, Wash., Kawasaki, 147
Jason Lawrence, Carlsbad, Calif., Yamaha, 113
Jake Weimer, Rupert, Idaho, Honda, 89
Josh Grant, Riverside, Calif., Honda, 84
Christopher Gosselaar, Victorville, Calif., Kawasaki, 77
Matthew Lemoine, Pilot Point, Texas, Yamaha, 77
Josh Hansen, Lake Elsinore, Calif., KTM, 71
Josh Hill, Yoncalla, Ore., Yamaha, 70
Steve Boniface, Corona, Calif., Kawasaki, 61
Troy Adams, Homosassa, Fla., Suzuki, 58