Between the Motos: Eric Peronnard
When they flash up those sophisticated fashion ads in the sophisticated fashion magazines, they always tell you cities you can buy the stuff in to make the line of clothing sound really important. As in: Versace – Paris Rome New York. Well, all of those guys have nothing on Eric Peronnard, who spent last weekend promoting a race in Paris and then will spend this one promoting the Maxxis EnduroCross in Las Vegas. That's two big cities and about eight hours worth of time zone changes. Somehow, Eric found time to talk to us. Here goes.
Racer X: Eric, you have a few minutes to talk?
Eric Peronnard: Yes, certainly. But I've been pretty busy lately.
I'm sure of it. First of all, how was the Bercy Supercross?
It was a blast. I just landed in Las Vegas at midnight on Monday after three days of non-stop fun in Bercy. That race was very clean this year compared to last. We didn't have that much drama, and the home country won!
So how are the preparations going for this week's Endurocross?
We're actually finishing up the track right now. We have about 80 percent of it done. It's unbelievable how much we've accomplished in two days—compared to the first one. It's funny how we get better at that stuff.
Well, what can we expect at this year's event?
Basically you'll still have the same elements, as far as rocks, logs, tires and mud. This year we've been investing in a real nice waterfall so the water crossing will be very sophisticated. That will probably be the biggest difference from the last couple years.
So who can fans expect to see out on the track this year. I know you're probably losing some riders due to the ISDE.
We have all the best riders that are not at the ISDE. David Knight will be here, as well as the return of John Dowd and Ryan Hughes. We have Steve Hatch and Nathan Kanney, Bobby Garrison, Ryan Dudek, Robbie Jenks, Kurt Nicoll, Russ Pearson, Ty Davis, Destry Abbot—just a ton of great riders. We then have 10 guys who are going to work really hard on Friday to qualify. We have 200 entries for the qualifiers, and the top 10 will race the invited riders on Saturday.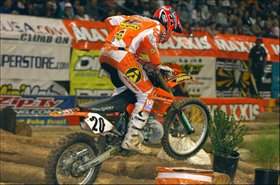 Last year's Endurocross winner, David Knight.

And I understand for a fan wishing to attend, it may be difficult if you didn't buy a ticket well in advance.
You have to be lucky enough to have friends who have already purchased tickets, because it's not looking too good as far as availability. Sorry for the bad news, but that's just the reality of it. It sold out two weeks ago, and it's a good reward for us because we've worked really hard to get to that level.
Well, I hear the machines in the background, and they're getting a lot louder, so we'll let you get back to work, Eric.
Okay, thank you so much.
For more information, visit www.endurocross.com.