Kawasaki/Racer X Race Report
Sobe/Samsung Mobile's Kevin Windham cleaned house both nights at the Home Depot Center in Carson, California , taking home $185,000 from the all-new Jeremy McGrath Invitational (JMI). The event purse was the largest ever, a half-million for two nights! Unfortunately the event's host, Jeremy McGrath, was hurt right after the first night opened and missed the second night.

Windham won $30,000 each night for winning the bracket race competition, which was run elimination-style in one-on-one match races. On both nights, the final two were Windham and his Sobe/Samsung Mobile teammate Josh Grant, who was on a CRF250R. It was okay to ride either a 450F or a 250F. The show
each night featured a 15-lap main event, and Windham won both of those, which was worth a $125,000 check for both nights. Also as part of the show, and just as memorable, was a freestyle exhibition featuring top names like
Travis Pastrana
, Nate Adams, Mike Mason, Myles Richmond, Adam Jones, Ox Kargola, and even some Mulisha guys. (MM at a supercross?Hey, it's southern California.)
The main event podium for Friday was Windham, Grant, Wey, and for Saturday it was Windham , Vuillemin, and Grant. Wey got hurt early in the second night with a suspected broken collarbone.

The JMI was billed as "supercross redefined," with the bracket races the most obvious difference. The other big change was large metal ramps! This was not a supercross to use for practice. They worked well and gave the fans some really big air. At one point on Saturday they were a little damp so the program got a quick change to give them time to dry.
Not only was it supercross redefined, it was at times, just nuts. On Friday, Pastrana was up against Josh Hansen in a bracket race, and after two turns he was in the lead and backflipped-during the race! He lost, but he got to do something no one ever did in supercross race. As the riders gained experience in bracket racing, things got more and more aggressive and interesting.
By the end of the second night, they were trying all kinds of block passes, take-outs, and mayhem. Sorby was entertaining Saturday in a race with Hansen that featured a couple of lead changes per lap--and they were only two laps long. Vuillemin and Grant had an intense race too, with Vuillemin parking Grant in the first turn, and Grant charging up for an aggressive, last-turn elbow-to-the-shoulder pass to win it.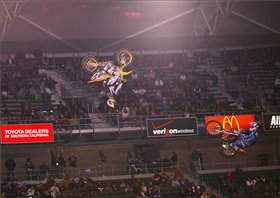 Friday night, Pastrana pulled off the first ever (planned) backflip in supercross competition-that we know of. He was leading Hansen in a bracket race and pulled a flip!
Since the bracket races and freestyle pretty much filled the show, they just needed 20 riders, invitation only for one class--no "Lites," but you could race a 250F anyway.
Josh Grant
and
Josh Hansen
both raced 250Fs.
Injuries reduced the field by three the first night. KTM's Mike Sleeter was out first with an injured shoulder in the afternoon. McGrath himself was the first victim in Friday's night show. He fell not long after the show started and got up slow, with medics checking his vision, and his arm. He pulled out for the night and stayed on stage to watch and comment, and wasn't too happy about it. Then Ryan Clark got his hand badly cut in an incident with Eric Sorby.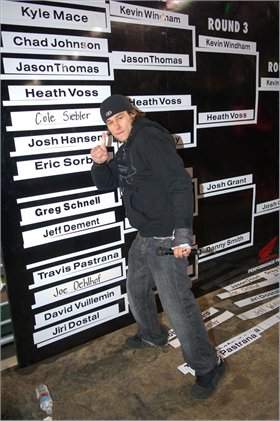 Brian Deegan was in attendance
By Saturday morning, there were replacements. Joe Oehlhof, Jeff Willoh and
Cole Siebler
were happy to fill in, and the pay was good. Oehlhof even turned heads in his match race with Pastrana; he beat him straight up in an exciting two-lap battle.
Right after Saturday's show started, Nick Wey crashed and was out for the night with an injured collarbone. None of the injuries were around the metal ramps.
McGrath told the media his idea for the event was a BMX movie from back in the day called, Rad, with a track called "Helltrack." It may not have been hell, but it was for sure different. There were four large towers with flame throwers on top, a covered start, those metal ramps, and the freestyle thing.
Unfortunately he missed the second night of his own race, because he was in a Long Beach hospital with fractures in his c7 vertebrae and his big toe.

That sounds alarming, but it didn't seem bad enough to worry about Friday night, when he watched from the stage and commented "this was not in the script."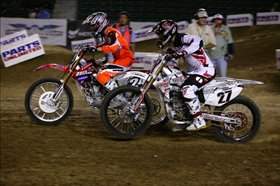 Nick Wey rode strong on night one, but crashed out early Saturday night
The freestyle show was already called one of the best ever done, with Pastrana and Nate Adams doing side-by-side backflips more than once, both nights. On Saturday they were doing them just to warm up the crowd while the main ramp was going up. They also organized a train of riders, Bercy-style, where all the riders got in a line and did a trick in rapid succession.
Attendance was pretty bad the first night, but things filled up okay for the second. The event was shown live on Motocross.com, which was bought by the same people running the event, Wasserman Media Group, WMG.
The JMI will be on NBC on October 26, so check it out.