Welcome to Racerhead. This one is going to be all over the map: Los Angeles, New Jersey, England, Ireland, Holland, Arizona, and more.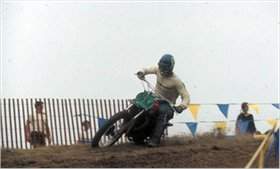 The Flying Finn is riding into the AMA Hall of Fame
photo: Dick Miller Archives
Everyone had a favorite rider growing up, and mine was
Heikki Mikkola
. He was known as the Flying Finn, and he played
Joe Frazier
to
Roger DeCoster
's
Muhammad Ali
—they were fierce rivals but also friends, and together they accounted for every 500cc World Motocross Championship from 1971 to 1979. That's back the Europeans still dominated motocross on a global level, just before the influence of supercross would catapult the Americans past them in the 1980s.
Anyway, the first major race I went to was the 1972 Honda Hills Trans-AMA with my dad and mom, and it was a race that Mikkola won. From that moment on I was a fan, and I even had the rare occasion to meet him a time or two. He was quiet, competitive, and mysterious, and oftentimes the underdog to The Man—all of the things that made me like the guy.
So when I was invited to introduce Mikkola at the 2006 AMA Museum Motorcycle Hall Of Fame Induction Ceremony, I jumped at the chance.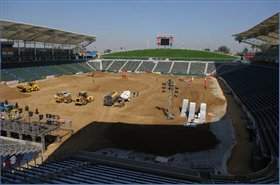 The Home Depot Center will be rocking this weekend
photo: Steve Bruhn
Unfortunately, I didn't look closer at the calendar, as tomorrow night's ceremony is the same time that the second night of the inaugural Jeremy McGrath Invitational Supercross goes off in Carson, California. So
Eric Johnson
and
Simon Cudby
got the call to cover this new hybrid of supercross and freestyle. But I will be watching tonight at 7:30 p.m. over at
www.motocross.com
, where they plan on showing the race live.
The Hall of Fame is not until tomorrow night, but AMA Congress is meeting as we speak. The hot topic, of course, is Honda's revolutionary new CRF150R, which is easily the most talked-about minicycle since Bud Maimone unveiled his 50cc Cobra at Loretta Lynn's in 1994 and his son Brett beat some Y-Zinger kid from Florida named James Stewart Jr. Some say the bike is too potent for kids; other say it's the future, already here. Is it fair to place against 85cc two-strokes?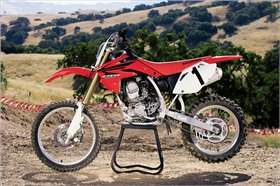 The CRF150 may be the most controversial minicycle since the Cobra!
photo: Courtesy of American Honda
Well, this just in: Sources tell me that this is how the AMA Sports amateur rulebook is going to read: The Honda CRF150R will NOT be allowed in any 85cc categories. However, they will find a home for it in the Super Mini (12-15) and also in one of the 125 Schoolboy class.
The Super Mini class for Loretta Lynn's will probably look like this: 80 to 112cc two-stroke and 75cc to 150cc four-stroke. As for the 125 Schoolboy class, it will be 86 to 125cc two-stroke and 75cc to 150cc four-stroke (with minimum 16" back wheel and 19" front). The other schoolboy class will be for 250Fs, and limited to kids 14 and 15, I believe.
Also, looks like there will be a big announcement on two-stroke handicapping very soon.
So why aren't more gig stars doing Jeremy's race? It's a $500,000 purse—the biggest in supercross history—and it's on network television, it's right there in Los Angeles, and it has a unique format. Yet RC, James Stewart, Chad Reed and Davi Millsaps are all passing on it. What gives?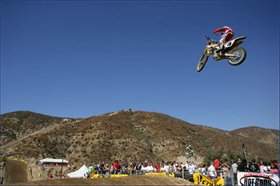 Carmichael won't start racing again until next weekend
photo: Simon Cudby
Carmichael has been riding and testing at the Suzuki track and, according to someone who has been watching very closely, he looks pretty darn good. But RC is committed to going to Arizona this weekend for his wife
Ursula
's grandfather's birthday party, which means he's going to pass on all of MC's cake for some actual birthday cake!
Reed is hurt and Stewart is taking the weekend off—he had commitments to be at Englishtown last weekend for the Kawasaki Race of Champions, and next weekend he will be racing the Rockstar Energy Drink U.S. Open, which also boasts a huge purse and network TV.
Why isn't Millsaps racing this weekend? He's been on the 450 for a while now, just not on a supercross, and with Andrew Short hurt and Travis Preston leaving the squad, he will be Team Honda's best chance in the Amp'd Mobile Supercross Series. So he's passing on the race, even though Honda's a big sponsor.
Add it all up and it shows just how well these guys must be doing now. A win this weekend would pull well over six figures, but that wasn't enough to get these guys to add one more weekend to the already crowded schedule. I feel bad for Jeremy and the fans out there, but I also think it speaks volumes for how big today's contracts and endorsements are worth.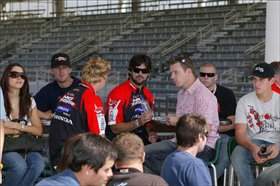 Kevin Windham should be the favorite at Jeremy's race
photo: Steve Bruhn
EJ spoke to Jeremy about being a promoter on Wednesday afternoon. "I was really nervous yesterday and this morning before the press conference," explained McGrath, the all-time King of Supercross. "Once that was over and it seemed to go okay, it was a big pressure release for me. I don't know why I'm nervous. I guess I feel responsible for this race—and I guess I
am
responsible for this race—and I want my idea to work."
"This has been an idea of mine since I was a young kid, To have a big racetrack that is unique, and that's what we have here," MC continued. "Looking out at the track, it definitely makes me nervous."
EJ then asked the promoter what he might feel like on Friday. "I'm going to be a racer," answered MC.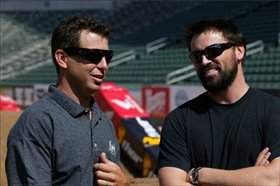 Matt LeBlanc must be the highest paid pit reporter in the history of the world

photo: Steve Bruhn

Matt LeBlanc, the well-known television actor—Friends, Joey—will be helping his friend Jeremy with some behind-the-scenes pit reporting. "Since I was a kid, I've been a big supercross race freak," he said on Wednesday. "Jeremy called and asked me if I wanted to be a part of this race, and I jumped at the chance. I'll be in the pits talking to the riders, and we'll also take time each night to reflect back on Jeremy's career. I'm really excited to be a part of it."
Meanwhile, over in Europe, where Team USA won its second straight Motocross des Nations two weeks ago, there is a troubling, ongoing rumor that apparently started on a Dutch board and goes like this: Team USA would not attend the race if they were not given exemptions to testing on three things: performance-enhancing drugs, fuel, and noise.
First of all, it's bullshit. Team USA never asked for or got any exemptions—we can't even get the FIM and Youthstream to put race on TV here. Our riders were no less quiet, no less unleaded, and no less liable to be drug-tested than anyone else in that race, whether they were from Belgium or Belize.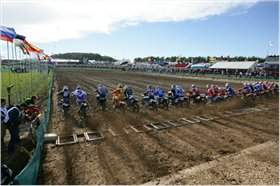 The magical race is now under a cloud of ignorant net banter
photo: Simon Cudby
They should have checked everyone for all of those things, in my opinion, because as we've seen and heard before, bikes can and will be slightly leaded and kind of loud, and any sport where athletes are making the kind of money ours are now must have some kind of PED corruption being served up. But to single the Americans out is unfair and impossible to defend—how do you argue with beer-tent mentality?—and it also comes at an unfortunate time for this event. Yes, the race is coming to America next year, and surely everyone on this side of the pond will support it as much as possible. But as I mentioned above, while the fall is filled with lucrative races on network TV, the MXdN remains a mystery to mainstream American motorsports fans because the race has no meaningful TV deal here, and there is barely a purse involved.
Now is the time for fans of the race like myself, Rob Andrews, Marc de Reuver, and everyone else who's weighed in on this topic to defend the integrity of the event, not pass along unfounded rumors. If I came off hard on either Rob or Marc in my defense of Team USA, I apologize here. But in America, accusations of cheating are fighting words—especially when it comes after so much sacrifice and effort by the riders and the team.

So we tried calling Dr. Wolfgang Srb, but as one could expect, the FIM did not want to even acknowledge such rumors. So we called Mr. Luongo, President of Youthstream. Guiseppe said, "This is bullshit. This is the first I've heard of it. I can assure you that the FIM does not care who wins. I do not care who wins. It was a good motocross race. Good for USA, good for Belgium, and it would be impossible to fix with such rule changes or exemptions. It did not happen, it will never happen."
Moving right along, here's the latest from Racer X Films: The Team USA Video we've dubbed "Calling Mr. Chamberlain." The anthem-on-guitar was done by Robert Raese. Check it out.
Remember the Johnny O'Mara Team USA '86 lid that we featured in Racerhead a few weeks ago—the one that Marc and Ludo of One Industries outbid everyone for at the David Bailey Auction? Ludo sent over a couple of pictures of some of the other helmets that legendary lid will be joining, including an open-face Jeff Ward crash helmet, one of Ron Lechien's JT helmets (which Marc had a hand in designing back in the day), and two of Rick Johnson's early buckets. Sweet!
Time to turn to two of the more interesting letters we go this week.
From Giovanni Bartoletti: "The sport has grown enough for an evidence-based analysis of the strengths and weaknesses of the two circuits (AMA circuit vs. Grand Prix). Rivalry is good as it fosters competition… I think there is a huge and unexploited opportunity in motocross. I bet the fans would warmly welcome a race featuring the top 15 U.S. vs. top 15 GP racers (in both the MX1 and MX2 class)."
Giovanni's idea (or something similar) has definitely been kicked around Mario's Fishbowl a time or two, and it's got some legs for sure. But I like the idea of Team USA vs. Europe vs. The Rest of the World. Think about what a cool race that would be:
Carmichael (for one more year), Stewart, Villopoto, Tedesco, Windham, Alessi, Millsaps, Short, Hepler, Wey, Ferry, and a few more for the Yanks.
Everts (if it were now), Cairoli, Ramon, Pourcel, Leok, Strijbos, de Reuver, MacKenzie and a few more on the European ride.
Reed, Coppins, Klatt, Langston, Townley, Metcalfe, McFarlane, Rattray, Byrne, Boyd, Davalos, and a few more for the Rest of the World.
Now that would be a hell of a race!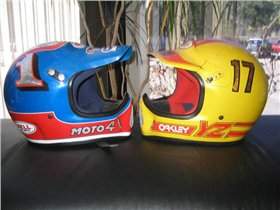 Looks like an RK '84 and RJ '87 in the One collection
photo: Courtesy of One Industries
By the way, looking ahead to 2008,
Trials & Motocross News
in Great Britain is reporting that the proposed site for the '08 race—Northern Ireland's Desertmartin circuit—might not be big enough! After seeing what some generously put as 50,000 fans at Matterley Basin, they are rethinking the venue.
Check it out
.
Letter number two, from Rob: "Ricky Carmichael is meant to release a "MAJOR announcement" at the U.S. Open, as Racerxill.com has put on the site. I think RC is going to chase a World Motocross Championship in 2007. Here's why:
"Mike Brown is going over to fill in for Josh Coppins, and Ricky knows Mike so they could travel together. Ricky has been training with Ben Towney this season. Ben would've told RC how good it is over there. And RC is a god when he went for the Des Nations. Roger DeCoster is the best motocrosser of the past, team manager, I think he would probably tell RC the significance of what RC could achieve if he wins it. He could also do a few Supercross rounds before going to Europe to race. It could also put to rest which rider is the best: RC is to me, but Everts is Gr8 also. I like them both heaps. Also Everts is now going to KTM, which, if he wanted to do one more year to race RC he would have to do a bit of testing on the KTM to get up to speed?"
Dear Rob: Good letter, but it ain't going to happen. RC's announcement is about his future in America, and I'm guessing he's finalized some things and wants to share them with everyone at once. As for Everts, he's absolutely done with Grand Prix racing. After the race in England, as Stefan and RC and Greg Albertyn were talking about the race in the press tent, someone made a comment that Stefan just keeps better with age. He smiled and laughed, "It's like wine; it gets better with the years, but at one point, you've got to drink it. Now the time is coming that I'm going to start to drink it!"
Want to see a bunch of cool Everts pics over the years? Check this out.
Now seems like a good place to turn it over to Ping, who got a dose of just how rabid Stefan's fans are after last week's only-Ping-thinks-this-way take on the MXdN: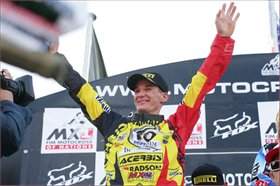 Stefan "Fine Wine" Everts is happy to be moving on
photo: Simon Cudby
Obviously, there is a ton of buzz and curiosity in southern California surrounding the Jeremy McGrath Invitational that kicks off tonight at the Home Depot Center in Los Angeles. With its 20-foot-wide freestyle ramps, hidden start, and head-to-head race format, the fans who show up will be in for something different.
This week, Wonder Warthog had their first tryout for the two internship positions and ten support positions available on the team formerly known as the SoCal Racing team. SoCal and Wonder Warthog have partnered to create a team that is providing incredible opportunities to up-and-coming riders. They have purchased a $1.4 million hauler, and they will be transporting bikes for fifteen riders altogether. I don't know how much they are paying their truck driver, but it isn't enough.
There will be three 450 riders and two interns under the teams awning. Plus, ten more will pit out of a separate tent behind or beside the semi. It's a huge undertaking but definitely one of the coolest things to ever happen for privateer riders in our sport.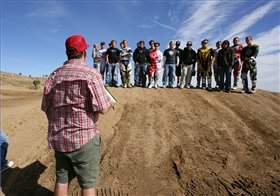 The Wonder Warthog Racing tryout at Competitive Edge
photo: Simon Cudby
The good news for
Ryan Morais
is that he signed with Yamaha of Troy for the 2007 season. The bad news is that he crashed last week while riding at Lake Elsinore MX park and broke both of his wrists. Ryan had surgery on one of the wrists last Friday and is currently in casts and healing. He finished out last year's SX series with a fifth place finish at the Dave Coombs Sr. East-West Shootout but has spent most of the summer injured or recovering from injuries.
It looks like Sean Hamblin will be joining Ryan Mills and Mike Brown at the GPs in Europe for the 2007 season. Sean will apparently be riding for factory KTM under the guidance of the new KTM race director, Stefan Everts. Hamblin has always been more comfortable on a bigger bike and on fast, outdoor tracks, so the Grand Prix circuit should suit him well. Good luck, Hambone!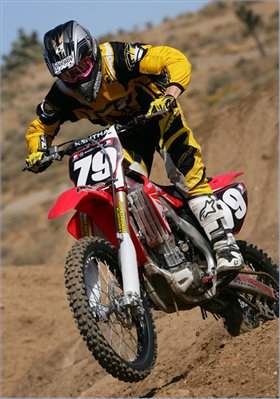 Chris Blose was one of the riders up for the WWR inter program
photo: Simon Cudby
I also got a chance to ride the new Suzuki RM-Z450 this week. The 2007 model is polished by the championship-winning season of
Ricky Carmichael
. The bike has the cooling system, the cam chain tensioner, the airbox vents, and the coil mount (among other things) that RC used on his RM-Z450 in 2006. The big thumper feels significantly faster than last year's model even though the changes to the motor seem minor.
The Racer X Tested Shootout is next week, and we have a special guest test rider who will be helping us sort through the 2007 450s. Check in next week for the results right here at Racer X Online.
Kerry Graeber from AMA Pro Racing just checked in to remind us that it's time to start thinking of your favorite advertisements from the 2006 racing season, as the AMA Advertising Awards will once again be handed out at the AMA Pro Racing Banquet in Las Vegas on November 19. Last year's winners were Fox Racing and Suzuki—it probably the closest contest of the year! For more information, log onto www.amaproracing.com.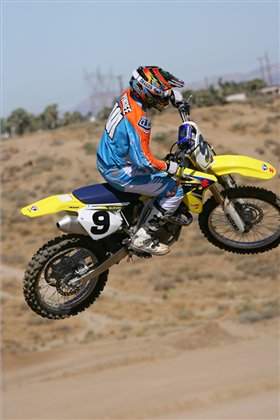 David Pingree or Steve Ramon? Too close to call
photo: Simon Cudby
A motocross industry person received a prestigious honor this week:
Josh Grant
's girlfriend
Cameron
was named ESPN.com's NFL Cheerleader of the Week. Cameron visits a lot of races during the summer, but she's all about the San Diego Chargers come the fall (sort of like Danny Dobey).
Click here
and scroll down to see more on Cameron.
This is from Weege: While the motocross set is still settling down from the international showdown at the motocross des nations in England, the off-road world is bracing for a similar battle this weekend. And it takes place in St. Clairsville, Ohio just outside of Wheeling, West Virginia, at the Power Line Park Suzuki GNCC race.
The showdown is between GNCC Champ Juha Salminen, of Finland, and World Enduro Champ David Knight, from the Isle of Man. The two have been dominating almost in parallel on two continents for the last two years, just like RC and Everts, and now it's finally one-on-one. Juha has won the '05 and '06 GNCC titles, and Knight the '05 and '06 World Enduro Titles in the E3 (open) class, as well as the ISDE overall, the EnduroCross, the Last Man Standing, basically everything. So we've got an irresistible force and an immovable object here. Making things even more intriguing, both will pit together at the KTM semi, with Knight on a 450XC and Juha on a 250XC-F for the first time. Next year they will swap jobs, with Juha going back to Europe and Knight taking his place here in the GNCCs. So they will only race against each other thie weekend. There's plenty on the line here in pride, ego, momentum and all of that, because you don't dominate like Juha and Knight have without being super competitive. It should be a wild three-hour showdown beginning at 1 p.m. on Sunday. Check www.gnccracing.com for more details.
Now for some baby news
Ken and Lucy Block became the proud parents of a baby girl this week. Her stats: 7 lbs. 8 oz., 21 inches long, 13.75 mm head, black hair, and giant feet! But she doesn't have a name yet. (Is "Lottery Girl" taken?)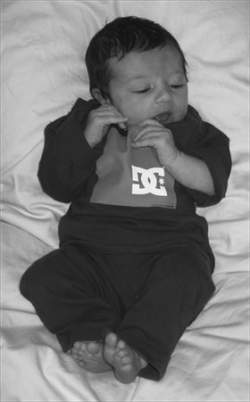 Little Miss Block

photo: Courtesy of Ken Block

Pat and Heather Schutte welcomed Katie Ann into their world on 10/2/2006 at 10:50 a.m. She weighed in at 8.1 lbs and she's 21 inches long. Mom, dad & Katie are at home and enjoying their new family.
Schutte said, "I'm feeling like Larry Ward when he won the Seattle SX!"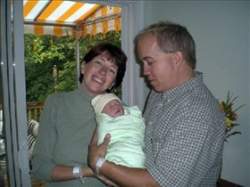 Little Miss Schutte
photo: Courtesy of Pat Schutte
More recently,
Leum Zachary Oehlhof
entered this world in the Super Duper Pee-Wee class. His first moto came off the gate on September 15 at 12:02 a.m. He tips the AMA's scales at 7 lbs. 15 oz. His stock height? 20 inches.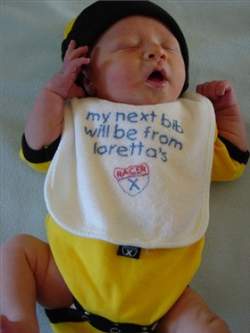 Little Mr. Oehlhof

photo: Courtesy of Joe Oehlhof

Forrest Ryan Butler Jr. was born into the Butler Brothers MX team on a recent Tuesday night, joining Jason Thomas and Marco Dube with the rest of the Butler brothers in the big rig. He was 8 lbs. 1 ounce, bone-dry. They are changing the name of the team to the Three Butler Uncles and One New Butler Dad.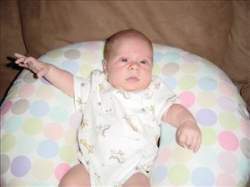 The next Butler
photo: Courtesy of Butler
And Laguna Seca's
Andy Leisner
is the proud father of his fourth baby. It's actually a twin he calls "Aprilla." He had to sell his Ducati street bike and the WR450F to pay for it. "I saw it and it was the world's sexiest dirt bike. I fell in love! Incredible power, beautiful sound, artistic architecture.… Now if I can just get it to hook up!"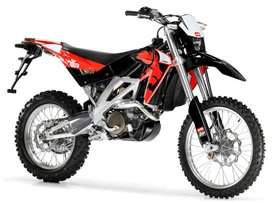 Miss Aprilla Leisner
By the way,
Ping
just called from the Jeremy McGrath Invitational, where he was kicking himself in the ass for not signing up. No, not because of the $500,000 purse, but because of the cool gift bags each rider got. In Academy Awards-like fashion, each rider received: a Sony PSP, an Amp'd Mobile phone with free service until the next MCSX, Z Gallery gift card, Ogio golf bag and balls, hand lotion (which Ping could certainly use), and more. "And the guy who finishes LAST gets five grand!"
A few more last-minute notes from TFS out at the MC Invitational: Heath Voss debuts tonight on a privateer CRF450R with MB1 suspension and Dubach pipe and engine. Next year he's on his own, SX-only. And Danny Smith is here, testing the new Honda that he will should be racing in AMA Toyota National Arenacross, probably along with Justin Buckelew on the Thor Honda team that Dave Antolak is running.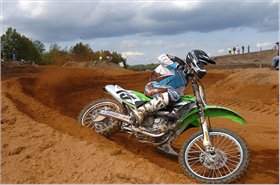 That's Red Dog back on green
photo: Carl Stone
Finally, a cool couple of cool shots from
Carl Stone
from Englishtown last weekend. The first one is of
Tim Ferry
, who looks pretty darn good on his new factory Kawasaki. Ferry has had quite a ride through the sport of motocross. When he came out of the amateur ranks, Tim was on Team Green, but the only team that would support him was
Mike Rossini
of New Jersey-based RRP. All these years later, Ferry is back in New Jersey, back on Kawasaki. Somewhere in the Englishtown pits, Rossini must have been smiling.
And then Carl said it was cool to see a James Stewart few are used to seeing. He was there to ride a demo for Kawasaki, but he was also packing his brother Malcolm's gate for his motos, then watching Malcolm race out on the track.
"One week ago, James was over in the United Kingdom representing the USA in front of the world," wrote Stone. "And a week later he is in a little town in New Jersey representing his li'l brother". Good stuff!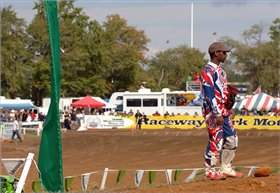 James wore his Team USA fatigues on the infield at the KROC
photo: Carl Stone
That's it for Racerhead. Thanks for reading, and see you at the races.