Thursday Rev-Up: The Spirit of St. Louis
"While flying, Lindberg explained that he felt as though he had lost 'all conscious connection with the past,' that he lived 'only in the moment in this strange, unmortal space, crowded with beauty, pierced with danger.'"
-James Bradley, Fly Boys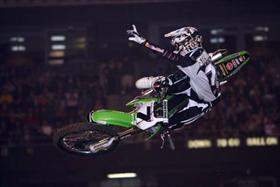 Can Stewart gain the momentum with two in a row?
Hello, everyone, and welcome to the Rev-Up. The 2006 Amp'd Mobile AMA Supercross Series heads east to St. Louis, MO, for round 7. This event holds a special place in my heart, as it was the site of my first professional supercross experience in 1996. There was a huge triple on the track that year, and I remember hitting it for the first time on lap three on my KX125. I had seen decades of supercross races on TV and seen the biggest of triple jumps, which at the time seemed fairly rudimentary. As I clicked third gear and felt my suspension compress to the bottoms, I was sent sky-shot, 30 feet into the air on a professional SX track for the first time.
Anyway, I just finished reading James Bradley's Fly Boys, and I wrote down Lindberg's account of what it felt like to be alone in the air because that mirrored that unforgettable moment I experienced in St. Louis. It's incredible.
The boys heading east to continue their aspirations of victory are all too familiar with this incredible state of mind. For the AMA Supercross class, the action and battle for points supremacy has reached never-before-seen levels of intensity. And joining them this Saturday night is a new arsenal of talent in the East Region Supercross Lites division. Come fly with me as we get Revved Up for the continuing flight and fight between
Ricky Carmichael
,
James Stewart
, and the boys, and the arrival of the Lite Class Beasts riding the East!
Supercross Lites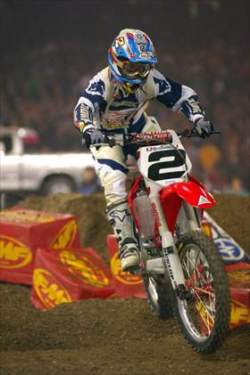 McGrath is staying home. It's been a blast, Showtime!
Being from Kansas, I am going to display some biased opinions and talk about my favorite for the dark-horse contender for the East Coast title. I picked up Thomas Hahn as a member of the
Fox Racing
Amateur Support Team around the turn of the century. Todd Hicks was my manager, and he balked at first at my decision to pick up a relative unknown from the Midwest. Tommy went on to win championships at most of the amateur nationals and had a respectable rookie season in 2005 before blowing out his knee. Hahn visited Dr. Ting in Northern California and stayed with Hicks while he rehabilitated. I got a call last week from my good friend Stickman, and he wanted to make sure I used this week's Rev-Up to tell the world that
Tommy Hahn
is ready to lay wood.
"His mind is right, his knee is strong, and he is putting in lap times at the Honda test track that have people tripping out!" said Hicks, a man who knows young motocross talent as well as anyone. So look out this Saturday night for the man from Belpre, KS, to be putting on a show!
Joining him is his SoBe/Samsung teammate
Josh Grant
, who has proven he can get the job done indoors and out. Ah, but one of his biggest jobs in 2005 was avoiding conflict between himself and new born bad boy of the Lites division,
Josh Hansen
. Sparks, fists, and about everything else flew between these contenders last year. As Li'l Hanny rolls into 2006 with all of his doin'-big-thangs bravado, I forecast the drama spotlight being fixated tightly on #100.
But the heavy favorite for the East Coast crown is
Davi Millsaps
. Armed with the potent CRF250R, Maverick could be making his final attempt at tiddler-class stardom before moving on to the big boys in 2007. No one but no one can ride the whoops sections like #118, and all Davi needs to do is avoid the Curse of the Horrendous Starts that has plagued his 190+ lb. frame throughout his first two pro seasons.
Some other class notables will be BooKoo Honda-mounted
Steve Boniface
, Monster Energy.Pro Circuit-sponsored
Chris Gosselaar
, Sean Hamblin, and none other than the preeminent press-conference favorite, Matt Walker. Walker saw some tough days in 2005 and will be looking to turn it around this year.
Okay, I left two other guys out on purpose, but only to see if everyone back in District 5—the birthplace of
Racer X
—was paying attention. Team Makita Suzuki's
Broc Hepler
is a question mark with that sore foot, and Yamaha of Troy's comeback kid Branden Jesseman is even more of one. Will he be the Brando of old—he won St. Louis in 2003—or the Jesseman of late—a quiet also-ran? I expect him to be his old self.
AMA Supercross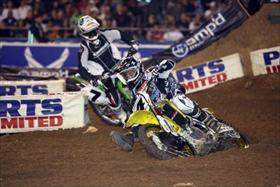 For some, RC is the unlikely leader coming out of California
James Stewart
and
Ricky Carmichael
have both hit the hat trick on main event wins thus far. And while RC holds an 11-point advantage coming into Round 7, it's hard to say which rider has the momentum. The infallible Carmichael has placed on the steps all six rounds, led the most laps, and has yet to fumble away too many points in the presence of the incredible pressure Stewart has put on him. James, on the other hand, was already facing desperate times after his eighth-place showing at A3, and his win in San Diego was almost a necessity to prove he has the staying power to knock off the 12-time champion in 2006. Last week's nail-biter between RC and James proved that if both riders keep it on two wheels, it will come down to the last lap or two. A repeat win this weekend will put #7 right back into the neck-and-neck battle for the points lead we all want to see.
Behind them,
Chad Reed
has apparently lost the draft. He seems to have entered into a grudge match between himself and
Ivan Tedesco
rather than apply pressure to the title contenders ahead of him. We are going to see an entirely different track surface this weekend, as the St. Louis soil is typically soft and produces more ruts and bumps. Hopefully, this will play to Reed's advantage, because we need another horse in this clash of the titans. And maybe Ivan will come with him and we'll see a four-rider battle for the win instead of the Floridian freight train of yesterweek.
St. Louis will also mark the first race of 2006 without Jeremy McGrath, who was wildly popular out West, not to mention still pretty damned fast. His fourth-place last weekend in his farewell ride no doubt felt as good as a win, and I tip my hat to the Mac.
We're heading east, ladies and gentlemen! Can you believe the ride we have been on so far?! Isn't it great not knowing who will win as each round comes to us? I, for one, have had a great time juggling between listening to the live feed, waiting for next-day coverage, or attending the races themselves! St. Louis is regarded as the "Gateway to the West," but for we of the supercross beloved, it will serve transversely as the gateway to the East! With the stainless steel awesomeness of the St. Louis Arch looking on, and the soul of the great Charles Lindberg hovering in the heavens above, it's once again time to fly, baby!
Thanks for reading, see you next week!