Facciotti, Surratt Dominate Round 9 of Canadian Nationals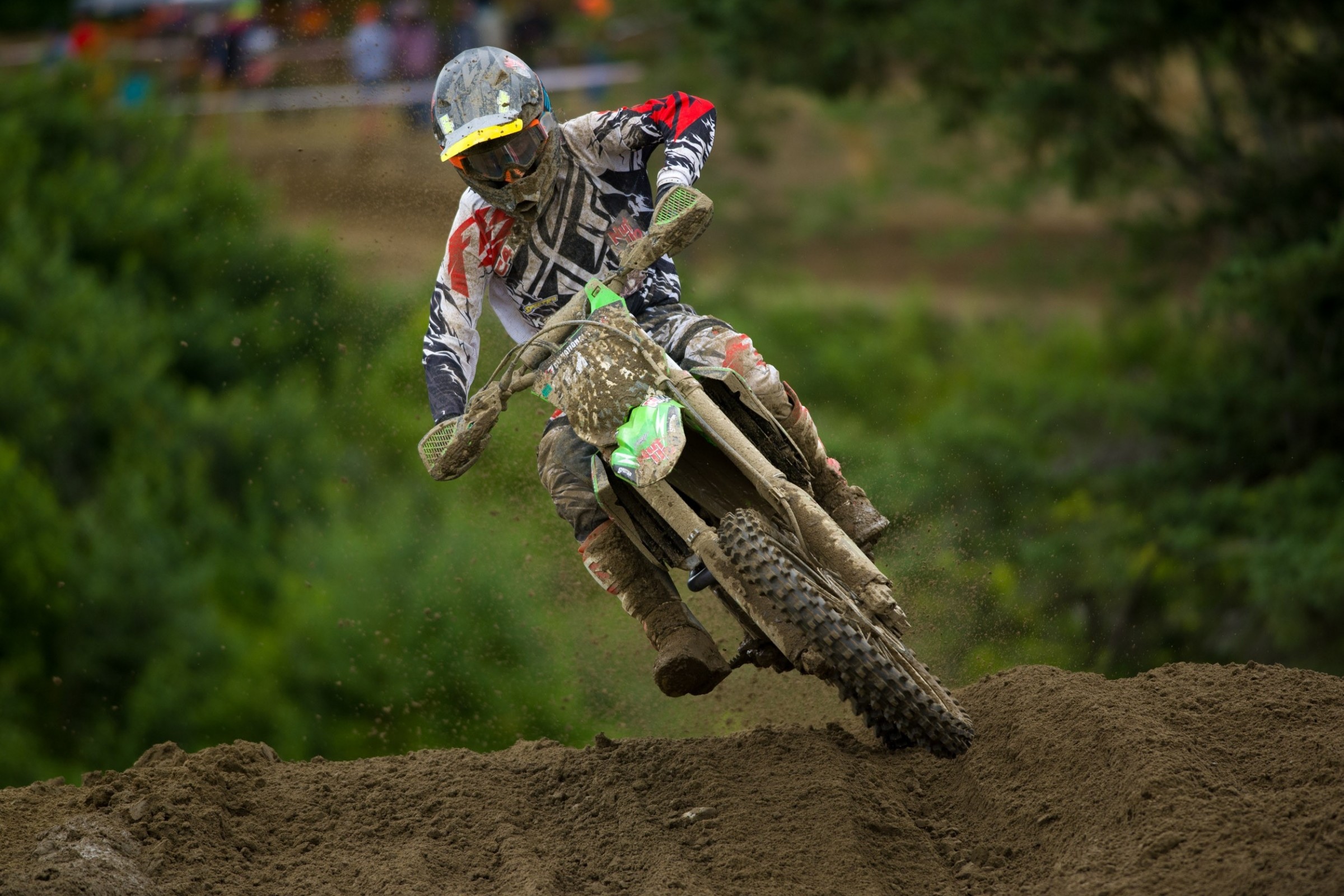 Report provided by CMRC
With only two rounds remaining in the CMRC sanctioned 2017 Rockstar Energy Drink Motocross Nationals presented by Motovan, Round 9 took place this past weekend at Motocross Deschambault just outside of Quebec City. This weekend's National followed a week of racing at Deschambault as the best Amateurs in the country raced in the CMRC Eastern Canadian Amateur National.
What started as a wet, cold, muddy day changed considerably as the day progressed, as the sandy soil was able to absorb the rain that had fallen over the previous few days, so track conditions in the afternoon were a lot better. Earlier in the day, riders struggled with the conditions while their mechanics worked overtime as preparation became essential, even though practice was cancelled. Qualifying sessions were extended and motos were shortened by 5 minutes to allow more time for the bulldozers to prepare the track between races.
Race fans were treated to a group of new faces on the MX2 podium as the series took another turn and will go down to the last round to decide the champion. In the MX1 class, Christophe Pourcel closed the gap with a bold pass on the last lap that left Matt Goerke angry, which set the stage for some great drama going into the season finale next weekend.
MX1
Honda Canada GDR Fox Racing's Colton Facciotti got edged out by a wheel for the first moto holeshot and a few corners later made a little mistake that allowed Jeremy Medaglia to get by. Facciotti then made quick work of both Jeremy and Mike Alessi and took the lead before the end of the first lap, and rode mistake free for the rest of the moto for the win. Colton got another great start in the second moto and passed Matt Goerke to take the lead early on, and was able to extend that lead after he busted out the huge 130-foot double on the opening lap. Colton posted the fastest lap of the second moto on route to the win, and was a perfect 1-1 after leading every lap on the day. With the win, his second of the year, Colt 45 took over sole possession of third place in the series standings, and still has a mathematical chance to win the Championship at the final round next weekend.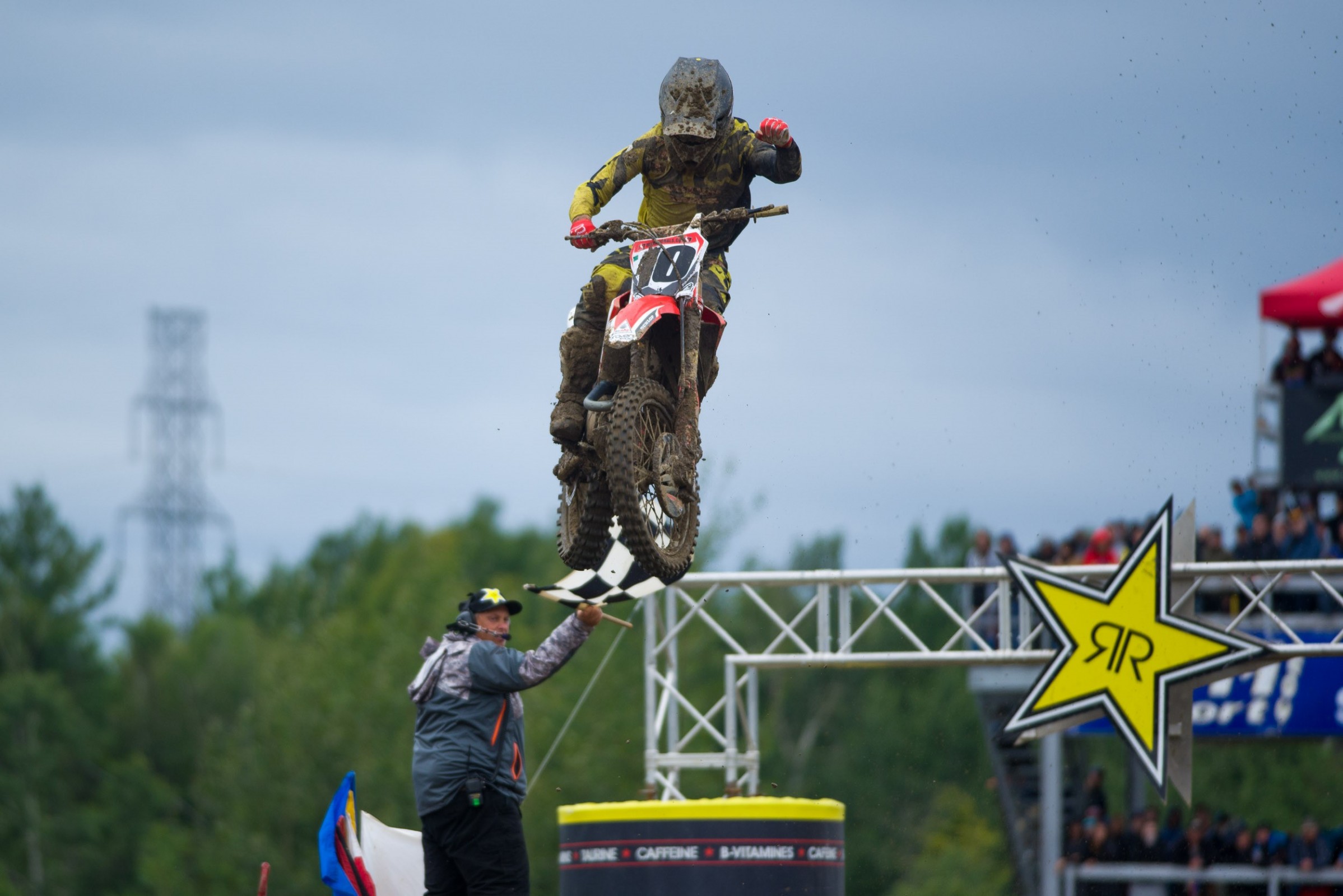 Coming into the weekend, Rockstar Husqvarna's Christophe Pourcel knew he had to beat Goerke who held a 19-point lead in the series standings, and got off to a good start as the fastest qualifier in the morning. Pourcel got a good start in Moto 1 and by Lap 4 had worked his way into third place behind Goerke, who then fell with four laps remaining, handing second place over to Pourcel who had the fastest lap of the moto. In Moto 2, Christophe again found himself in third place behind Goerke but this time made a bold pass on the last lap, forcing Goerke out of the racing line, to take second overall for the day and gain a few points on the series leader as the Championship moves to Barrie, Ontario for the series finale next weekend.
Rockstar Energy OTSFF Yamaha's Matt Goerke came into Round 9 with a comfortable series lead, knowing that his third National Championship is well within reach, but Goerke doesn't have to win to take the title. His 3-3 performance this weekend was smart racing, including a holeshot in the second moto, and he will go into the final round with a 15-point cushion over Pourcel. Nonetheless, Matt is a fierce competitor who hates to be beaten, and was not very happy about the aggressive pass Pourcel made on him during the last lap of Moto 2. That was the second time this season that Matt has been passed by Pourcel on the last lap, and if you include Regina when Matt's chain came off, that was the third. With only two motos left this season, Matt will probably play it smart and keep his eyes on the big prize, but this is motocross and as we have seen in the past anything can happen.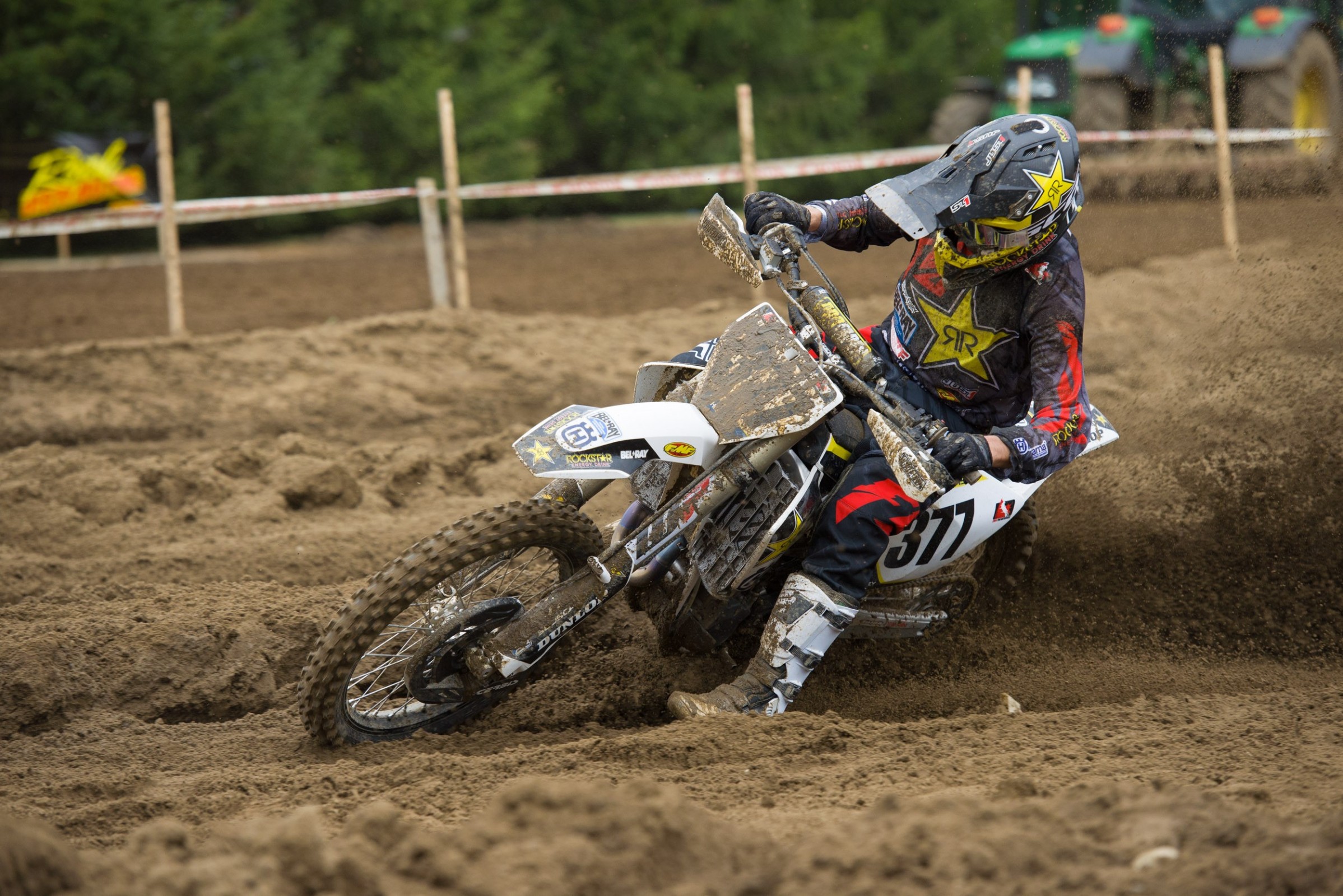 Coming from Florida, Royal Distributing Motovan Piller's Race Team's Kyle Chisholm was probably looking forward to Deschambault all season to showcase his sand skills, evident by him being the second fastest qualifier. Chisholm's starts were probably not what he was hoping for, but he managed to work his way up in both motos to finish 5-4 on the day for fourth overall. Kyle has now finished one step off the podium in each of the last three rounds, and if he could grab a holeshot has showed enough speed that he could win.
Monster Energy Alpinestars Kawasaki's Mike Alessi finished 6-5 on the day for fifth overall and now sits fourth in the series standings. Alessi grabbed another holeshot in the first moto but appeared to struggle in the deep, wet sand and was pushed back to sixth by the end of the race. Mike looked like he would finish sixth again in Moto 2 until Tyler Medaglia was forced to retire late in the race moving him up to fifth.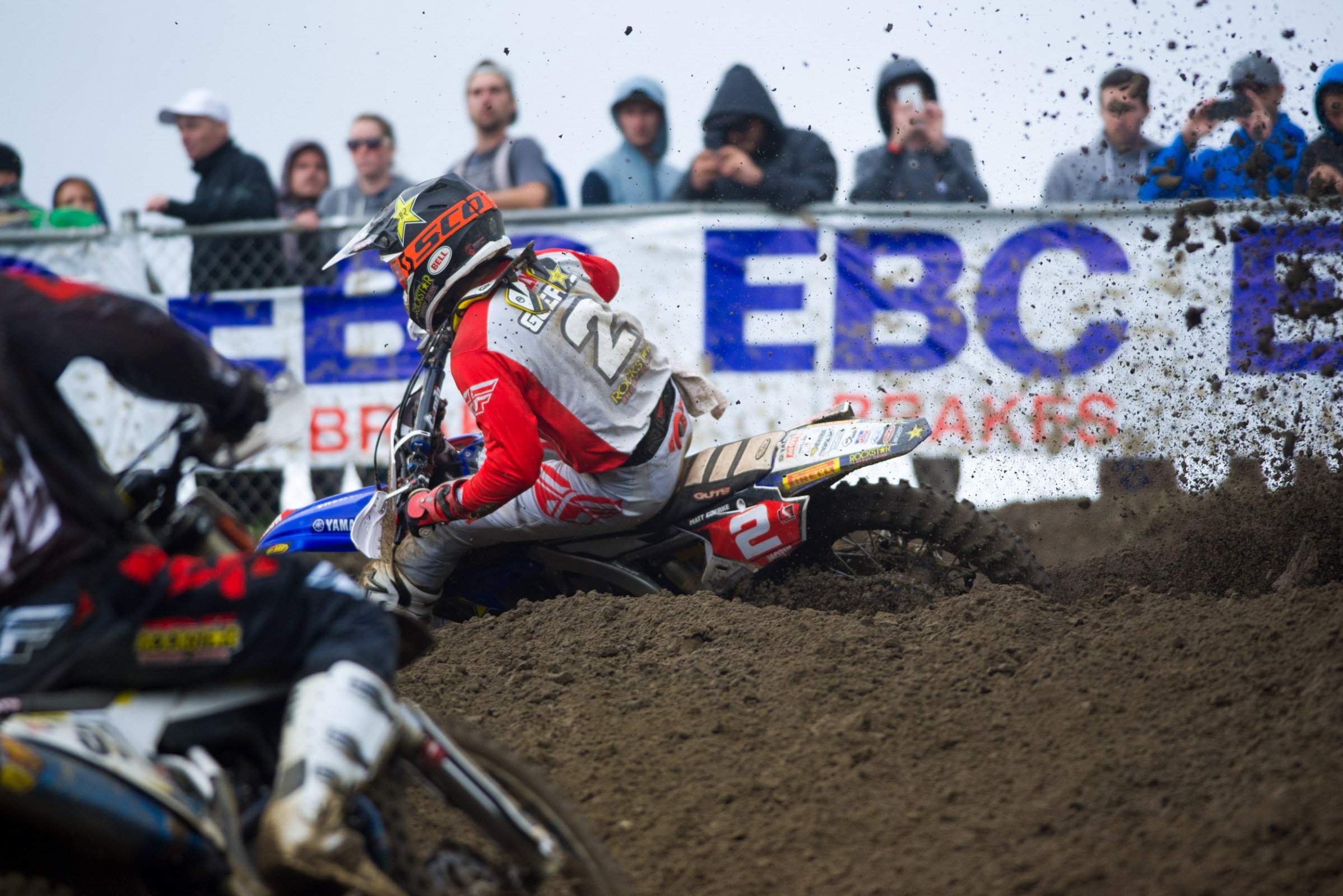 Rounding out the top 10 were Rockstar Energy OTSFF Yamaha's Tim Tremblay in sixth, Yamaha Canada Cycle Works Foot Hills' Keylan Meston in seventh, Redemption Racing's Cade Clason in eighth, KTM Moose Racing Factory Connection's Ryan Dowd in ninth, and TXS Productions Black Diamond MX O'Neal's Jesse Wentland in tenth.
MX1
| | | | | |
| --- | --- | --- | --- | --- |
| OVERALL FINISH | RIDER | MOTO 1 | MOTO 2 | BIKE |
| 1st | Colton Facciotti | 1st | 1st | Honda |
| 2nd | Christophe Pourcel | 2nd | 2nd | Husqvarna |
| 3rd | Matt Goerke | 3rd | 3rd | Yamaha |
| 4th | Kyle Chisholm | 5th | 4th | Honda |
| 5th | Mike Alessi | 6th | 5th | Kawasaki |
| 6th | Tim Tremblay | 7th | 6th | Yamaha |
| 7th | Keylan Meston | 8th | 8th | Yamaha |
| 8th | Cade Clason | 12th | 7th | KTM |
| 9th | Ryan Dowd | 10th | 9th | KTM |
| 10th | Jesse Wentland | 9th | 12th | Suzuki |
MX1 Championship Standings
| | | |
| --- | --- | --- |
| STANDING | RIDER | POINTS |
| 1st | Matt Goerke | 475 |
| 2nd | Christophe Pourcel | 460 |
| 3rd | Colton Facciotti | 426 |
| 4th | Mike Alessi | 407 |
| 5th | Tyler Medaglia | 378 |
| 6th | Kyle Chisholm | 342 |
| 7th | Dillan Epstein | 328 |
| 8th | Tim Tremblay | 302 |
| 9th | Cade Clason | 281 |
| 10th | Keylan Meston | 244 |
MX2
Nut Up Industries Kawasaki's Ryan Surratt came into Round 9 second in the MX2 series standings, 46-points behind leader Shawn Maffenbeier, and after a dominating 1-1 performance will now go into the final round only 11 points back and a real threat to win the title. Surratt narrowly missed grabbing the holeshot in Moto 1 but then made a pass for the lead over the first tabletop jump and led every lap to take the win, the first of his career here in Canada. In the second moto, Ryan grabbed the holeshot and spun out shortly after allowing both Jason Benny and Tanner Ward to get by. He wasted no time passing them both back to get into the lead, and just like in the first moto led every lap to take the win.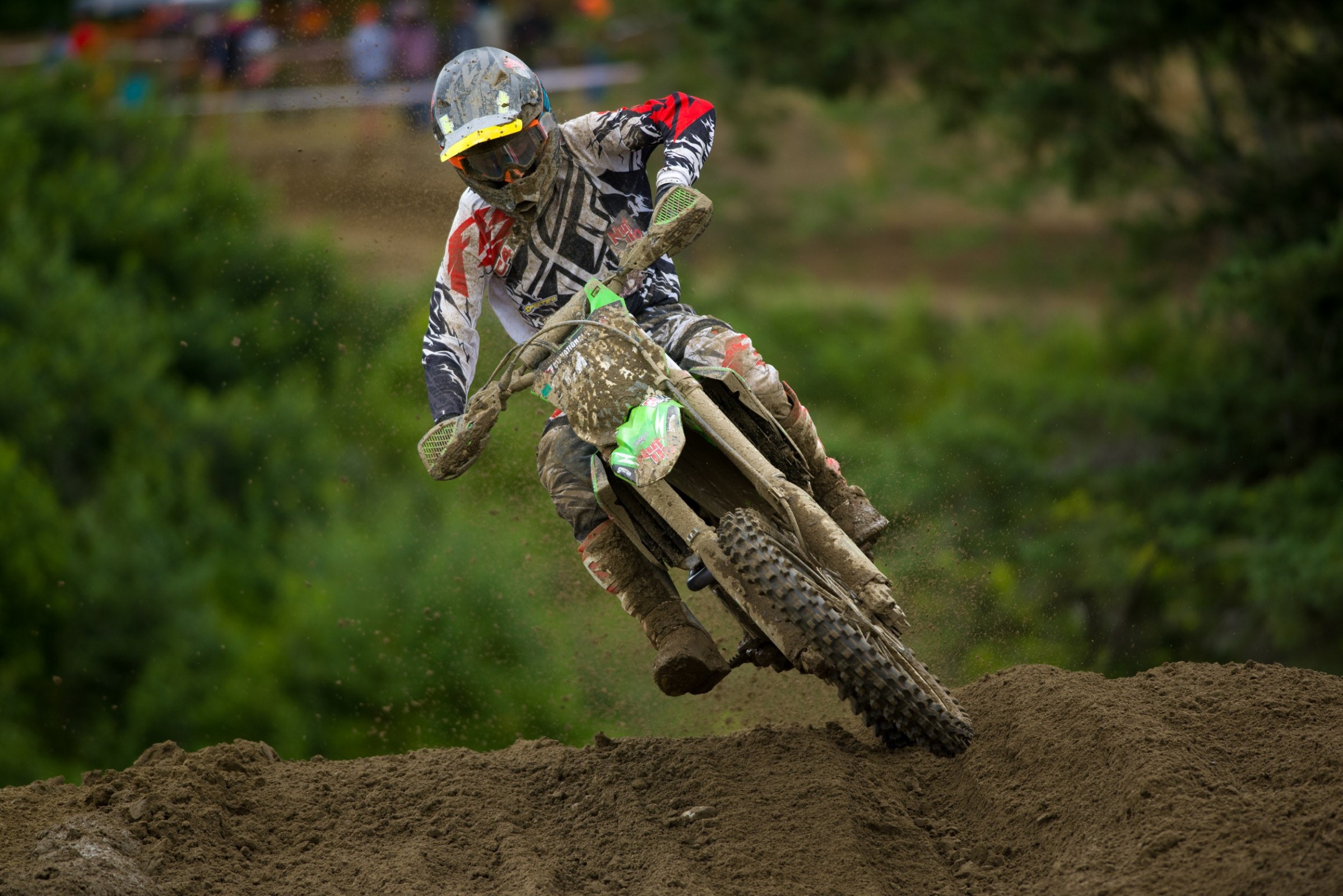 Rookie Pro Am rider KTM Canada Thor Racing's Tanner Ward will remember this week of racing for a long time as the 17-year-old rookie went 2-2 for second overall in only his fifth professional race. Ward led the morning qualifying session, grabbed the holeshot in the first moto, posted the fastest lap, and rode a mistake free race to finish second. Tanner's start in the second moto was not as good but by the third lap he had worked his way into second, again posting the quickest lap, and stayed there until the checkered flag. Finishing second overall at a National topped off an amazing week that saw Tanner win all nine of his motos at the ECAN in three Intermediate classes. This young phenom will certainly be looking to get on the box again at the series finale next weekend.
Black Rider Motovan Kawasaki's Jason Benny used his local knowledge at this track to turn in a career best 6-4 performance to finish on the podium for the first time in his pro career. Benny rode well all day, found himself leading the second moto for a few corners, and held down second position for the first two laps. During the second moto, Jason had a good battle with fellow Quebecer Jeremy Pronovost and was able to hold him off to get himself up on the podium.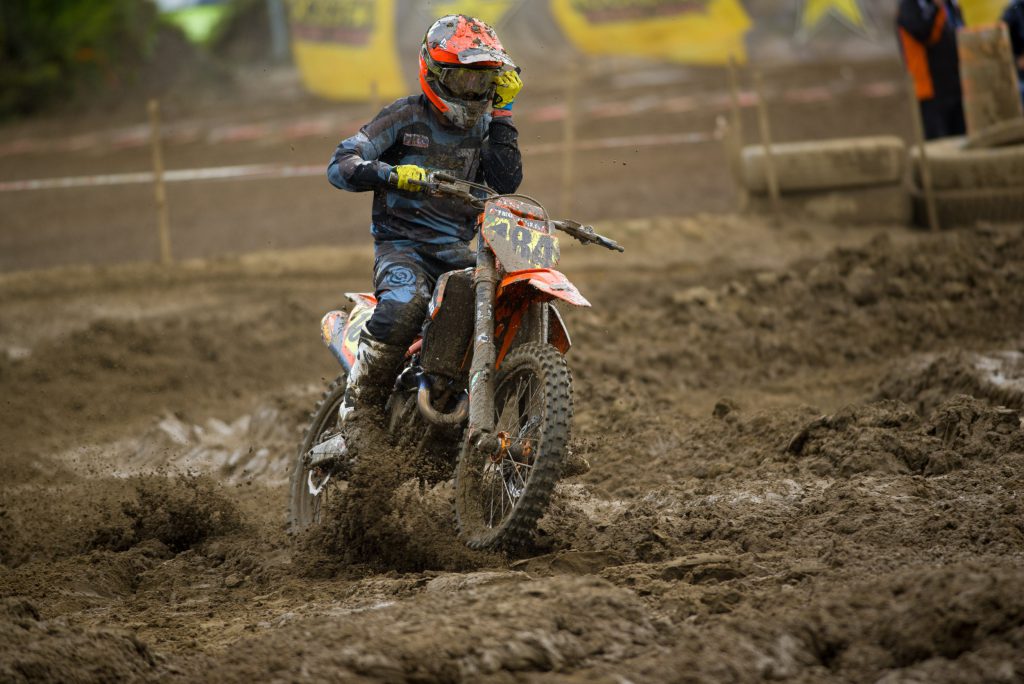 Another rider to have a career best performance was Motosport St-Cesaire Yamaha's Jeremy Pronovost, who also used his local knowledge at Deschambault to finish 5-6 for fourth overall. Pronovost was very consistent lap after lap in the difficult conditions, and narrowly missed finishing on the podium after hitting a lapper late in Moto 2 and losing a position on the last lap.
MX101 FXR Yamaha Team's Hayden Halstead rounded out the top 5 with 7-7 moto finishes and joined the group of top 5 finishers that all had career best performances at Deschambault. Halstead had to overcome poor starts in both motos and come from outside the top 10, and rode well in the tough conditions. Hayden sits tenth in the series and with a good finish next weekend at RJ Motosport Park could move up a few positions in the standings.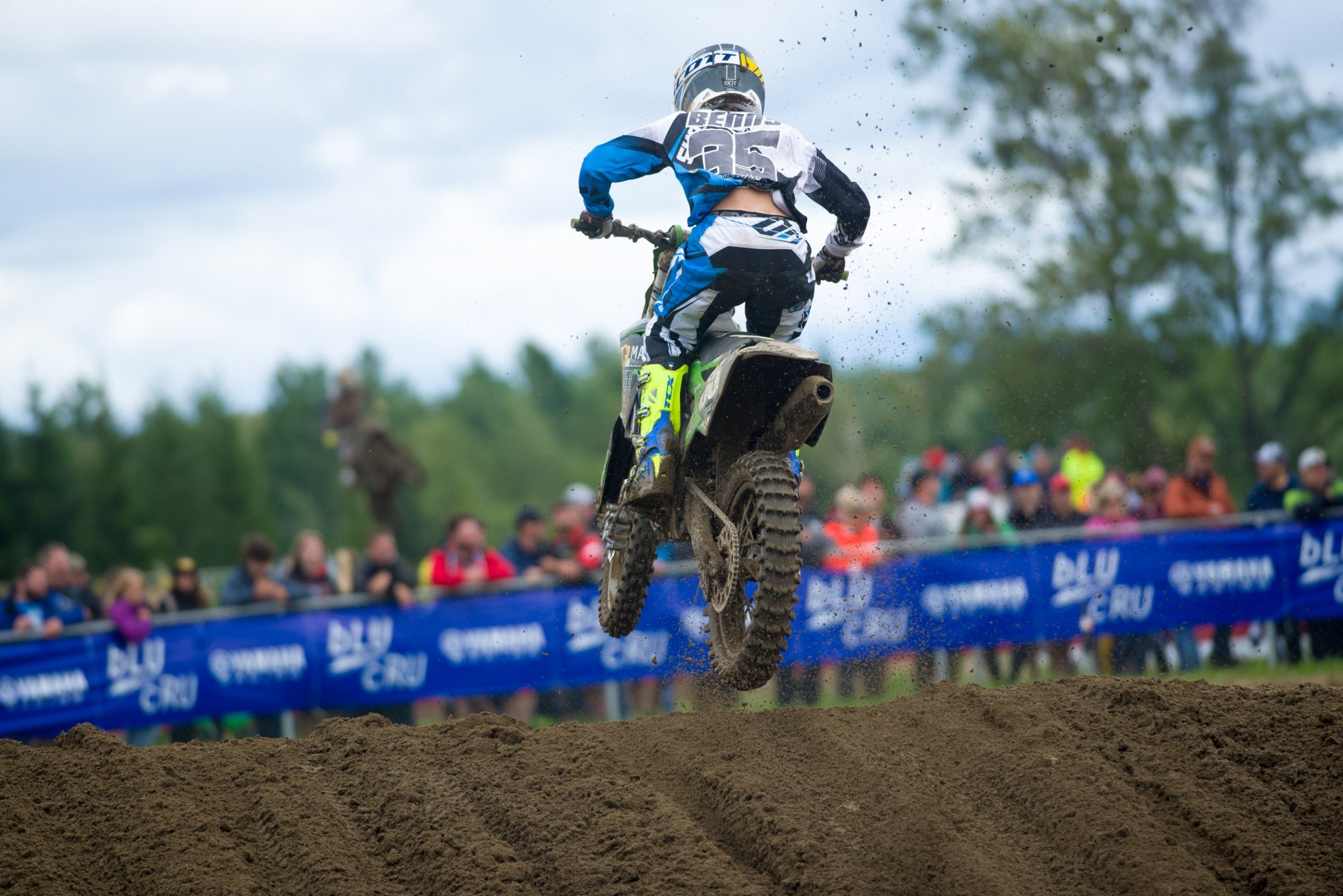 After coming into Round 9 with a huge 46-point series lead and the possibility of clinching the MX2 title, MX101 FXR Yamaha Team's Shawn Maffenbeier now finds himself only 11 points ahead of Ryan Surratt. Maffenbeier rode a smart, steady race in the first moto to finish third, and maintains his big lead in the points. In the second moto, Shawn tipped over early and then crashed hard on the second lap on a steep uphill section and could not finish the race.
Champions will be crowned at Round 10, the final race of the 2017 CMRC sanctioned Rockstar Energy Drink Motocross Nationals presented by Motovan next weekend, August 13th, at RJ Motosport Park in Barrie, Ontario. If you are in another part of the country and are unable to attend the race, you can see all the action live by downloading the free Conx2share app or logging on to www.conx2share.com and live stream every moto on either your mobile phone or computer.
MX2
| | | | | |
| --- | --- | --- | --- | --- |
| OVERALL FINISH | RIDER | MOTO 1 | MOTO 2 | BIKE |
| 1st | Ryan Surratt | 1st | 1st | Kawasaki |
| 2nd | Tanner Ward | 2nd | 2nd | KTM |
| 3rd | Jason Benny | 6th | 4th | Kawasaki |
| 4th | Jeremy Pronovost | 5th | 6th | Yamaha |
| 5th | Hayden Halstead | 7th | 7th | Yamaha |
| 6th | Casey Keast | 8th | 9th | Yamaha |
| 7th | Davey Fraser | 16th | 5th | Husqvarna |
| 8th | Jesse Pettis | 30th | 3rd | Yamaha |
| 9th | Dylan Wright | 14th | 8th | Honda |
| 10th | Shawn Maffenbeier | 3rd | DNF | Yamaha |
MX2 Championship Standings
| | | |
| --- | --- | --- |
| STANDING | RIDER | POINTS |
| 1st | Shawn Maffenbeier | 413 |
| 2nd | Ryan Surratt | 402 |
| 3rd | Rylan Wright | 371 |
| 4th | Jacoby Hayes | 309 |
| 5th | Josh Osby | 307 |
| 6th | Cole Thompson | 298 |
| 7th | Jesse Pettis | 284 |
| 8th | Casey Keast | 284 |
| 9th | Davey Fraser | 281 |
| 10th | Hayden Halstead | 276 |