In yesterday's edition of our 36 Day Countdown to the 36th annual Rocky Mountain ATV/MC AMA Amateur National at Loretta Lynn's Ranch, Davey Coombs mentioned a unique and practically unbelievable fact about the event: a week after Travis Pastrana launched dirt bikes and freestyle into the mainstream at the X Games, he was back in the trenches as a racer, an amateur racer, at Loretta's. Of course he won at Loretta's, just like he did at X Games.
This was all normal at the time because that's what Pastrana did. But in the nearly 20 years since (wow!) the world of freestyle and the world of racing have spread far apart. Travis has moved on to totally different things, and just last weekend his Nitro World Games drew a big audience on NBC. These days, he's far from the AMA National circuit, or X Games. He's invented something completely his own!
It now seems crazy to think that Pastrana was a weekly member of the AMA Supercross and Motocross pits. Travis was supposed to be in the battle with Ricky Carmichael and James Stewart. Can you imagine? It was real for a little while.
For this week's The List, we run down some of the big moments for Travis Pastrana, the racer.
The Start
Travis first appears on the scene at Loretta's in 1990, racing the 51cc stock class, and finishing a lowly 20th via 12-DNF-11 scores. Yeah, not an indicator of what was to come. You know what's interesting, though? His dad Robert made the race that year, too, qualifying in the 40+ class and finishing 27th overall.
On the map
We covered the 1992 Loretta's event today, and it was most notable for Kawasaki domination. Behind Team Green's Nick Wey, though, came Travis in the 85 (7-11) stock class, via 5-3-2 scores. By then he already had Suzuki support, and the best was yet to come.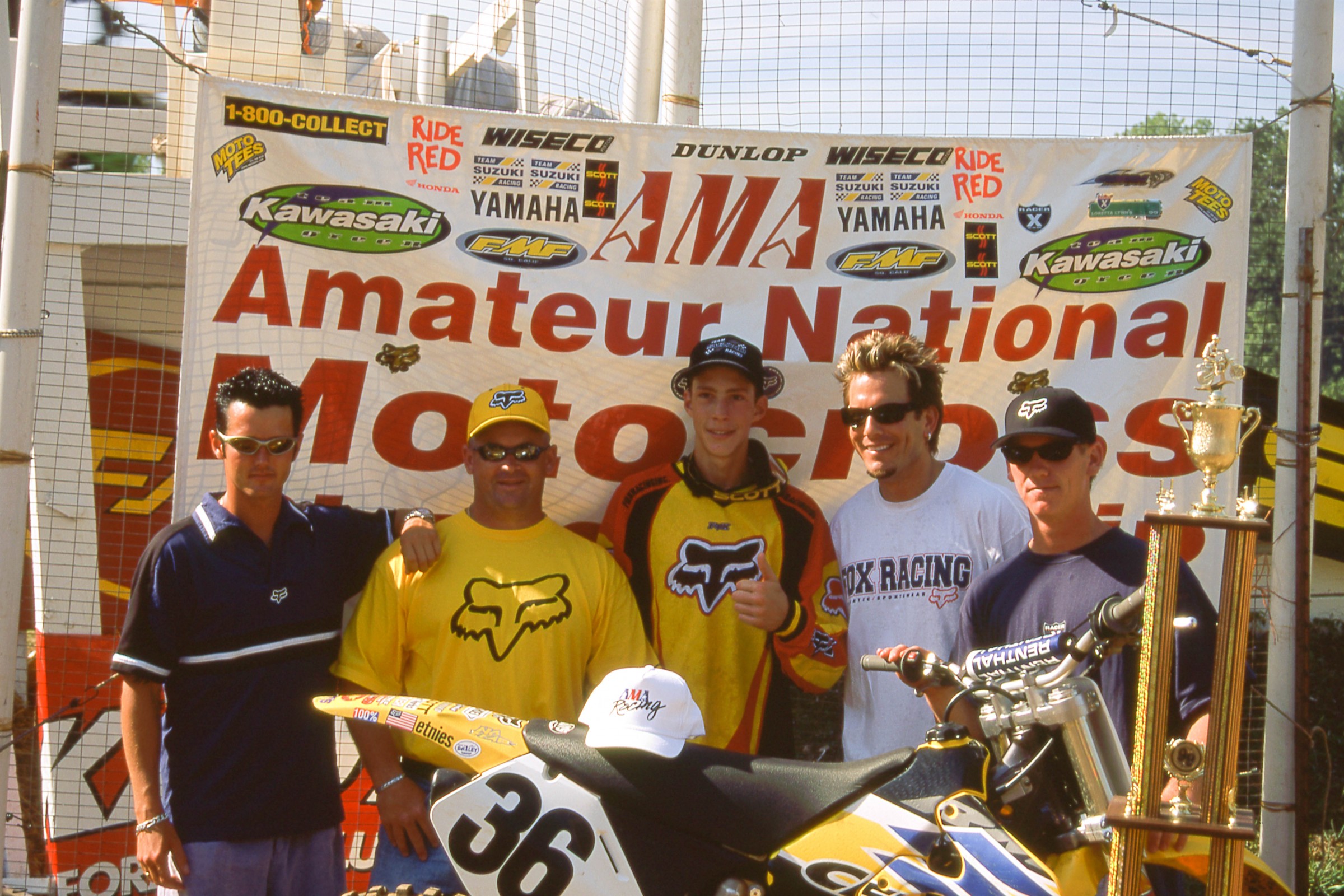 Racer Mentality
Oops! Travis wins the 125 A Stock title at Loretta's, but 4-1 scores in his first two 125 A Mod motos left him needing help to beat Billy Payne for the title, as Payne was carrying a 1-2. In moto 3, Travis tried to take matters into his own hands, slowing up while leading Payne, hoping to let the pack catch up, knock him down, or basically make something happen (See Eli Tomac: Las Vegas Supercross). The AMA frowns on the move, and Travis is DQd from the moto.
1999
As mentioned in our countdown yesterday, Pastrana wins X Games in San Francisco, and then heads to Loretta's to win both the 125 and 250 A classes. That's just so crazy to think about! His pro racing debut will have to wait a few months, though, because at the time of winning the Loretta's A classes and X Games, Travis is still JUST 15 YEARS OLD!!!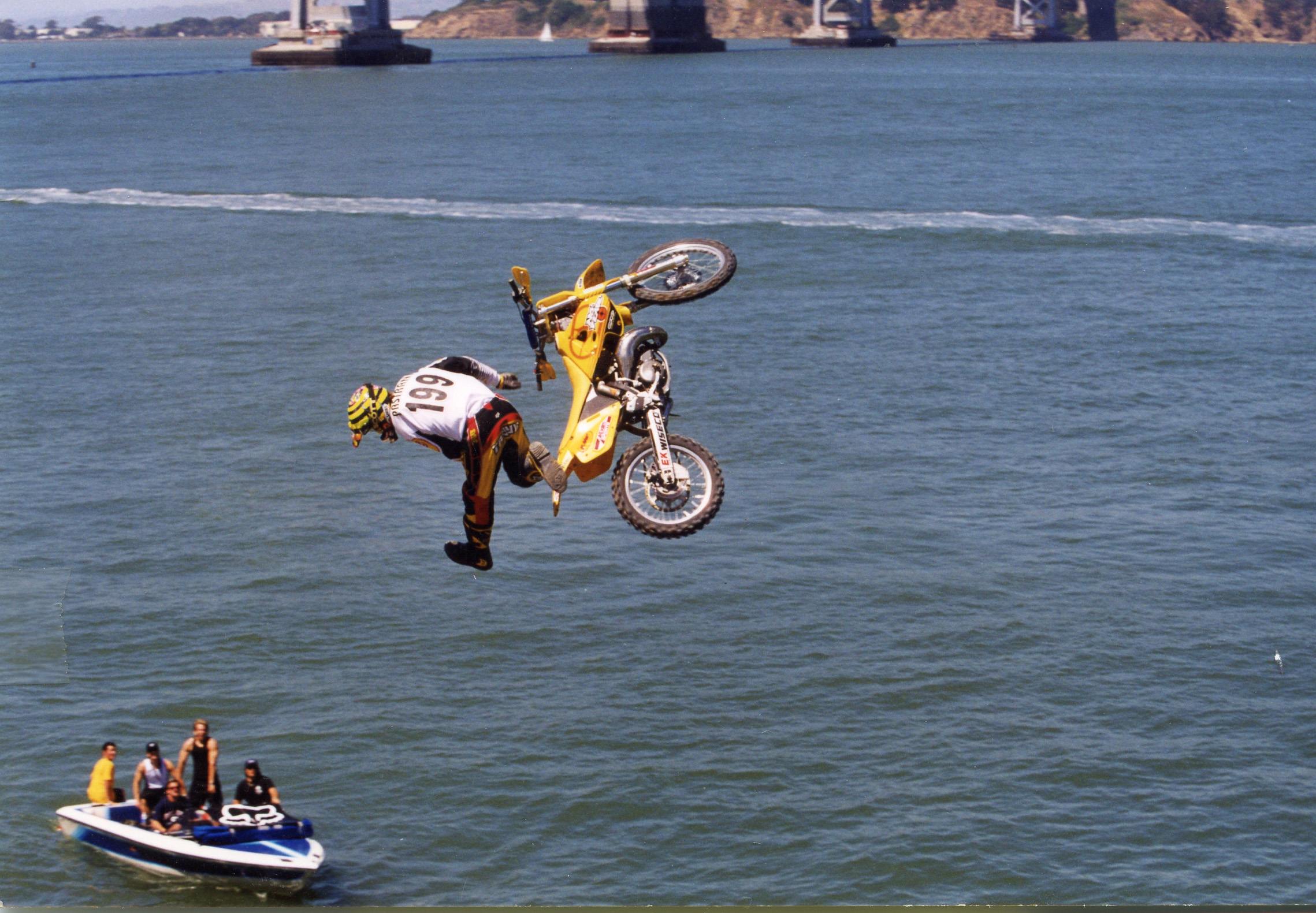 Pro Debut
Here's a unique race. The 1999 FIM World Supercross Championship, raced primarily in Europe, holds a round here in the U.S. in Pasadena, California's, Rose Bowl. Pastrana tries the 125 Class and it does not go well. There's some sorta story here about the AMA's Duke Finch telling Travis to stop riding like a squirrel out there.
Supercross Rookie
Travis' actual AMA Supercross debut, in the 2000 125 East Region Championship, comes in Indianapolis. There's considerable hype. And, of course, he attempts to do a freestyle trick on the parade lap before the main event and crashes. We're amazed Suzuki team manager Roger DeCoster managed to live through these years! He finishes the main in fourth. The winner? Michael Brandes, his first and only 125SX win of his career.
The Wins
Travis gets his first 125SX win at Daytona, and follows it with another win the next week at St. Louis. He's surprisingly consistent in his rookie season, with five podiums in eight races, and top fives in every race. But veterans Stephane Roncada and Broc Sellards are just a little better. He does win the East/West Shootout for good measure, though. Three wins and third in points as a 16-year-old rookie? Not bad.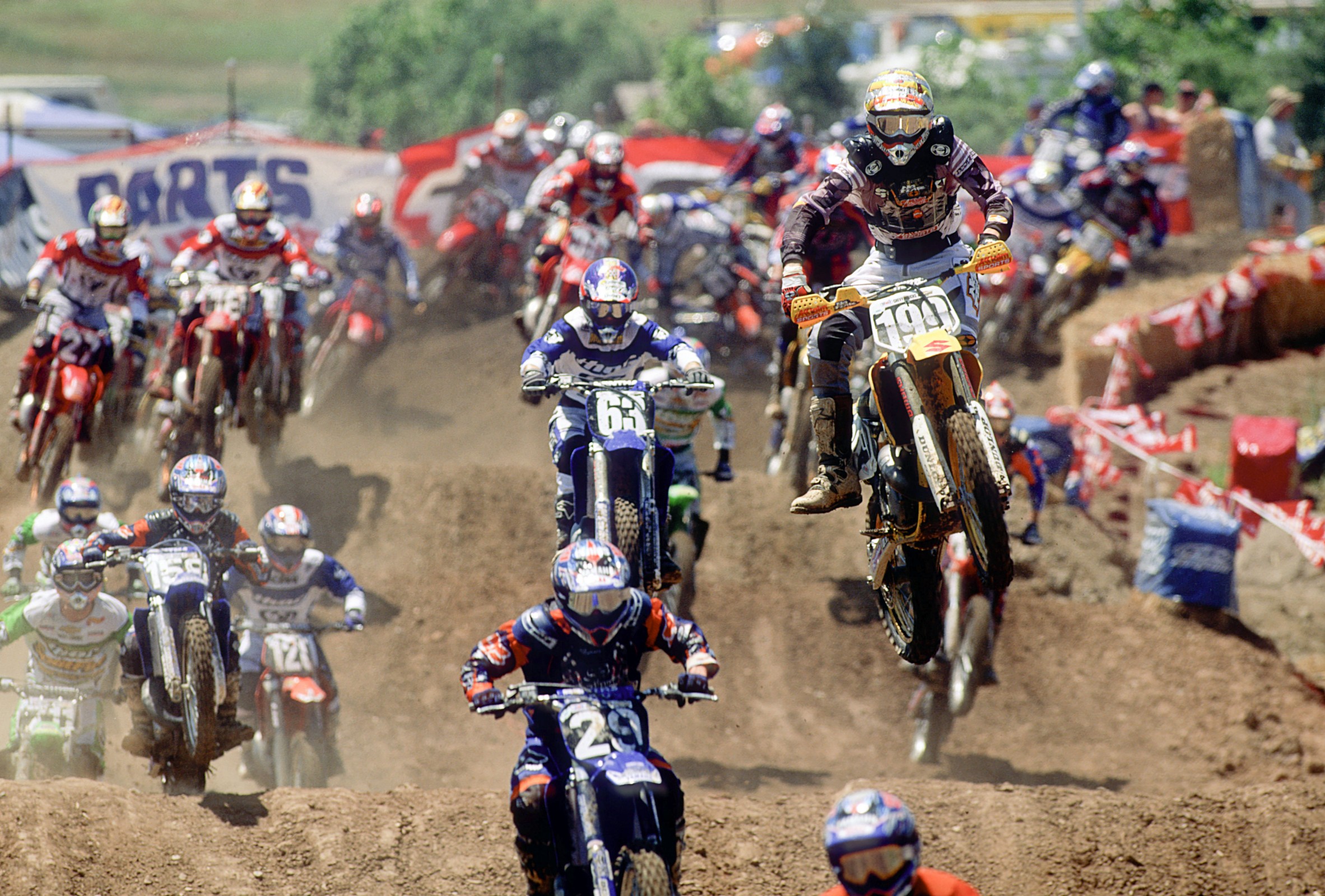 Title drive
Pastrana is also good outdoors in the 125 Nationals, but Roncada is even better. By mid-season the Frenchman is on a win streak and Travis a clear second. But then comes X Games again. Travis wins Freestyle gold for the second-straight year, then flies to Millville, Minnesota, and wins the Spring Creek National with a 1-1. Roncada tweaks a knee, and Travis begins a march toward a championship, winning three Nationals in a row, and five of six motos, to get back to striking distance of Roncada heading into the Steel City finale. For a brief time, Travis had the balance between X Games and racing down quite well!
Finale
So Steel City serves as the championship showdown between Pastrana and Roncada, and Travis grabs a clutch 1-1 to edge Roncada, and with it, he steals the 125 National Motocross Championship by two points. He then celebrates with huge freestyle tricks, manuals, and stunts around the Steel City track. X Games gold, seven moto wins in the last eight motos, and the championship as a 16-year-old rookie. This dude is something special!
Des Nations
Yes, Travis Pastrana raced for a victorious Team USA squad at the Motocross des Nations. 125 World Champ Grant Langston wins the 125 Class easily that day, but Pastrana outduels Roncada, giving Team USA a huge edge over the home French squad. Team USA wins the Chamberlain Trophy for the first time in four years.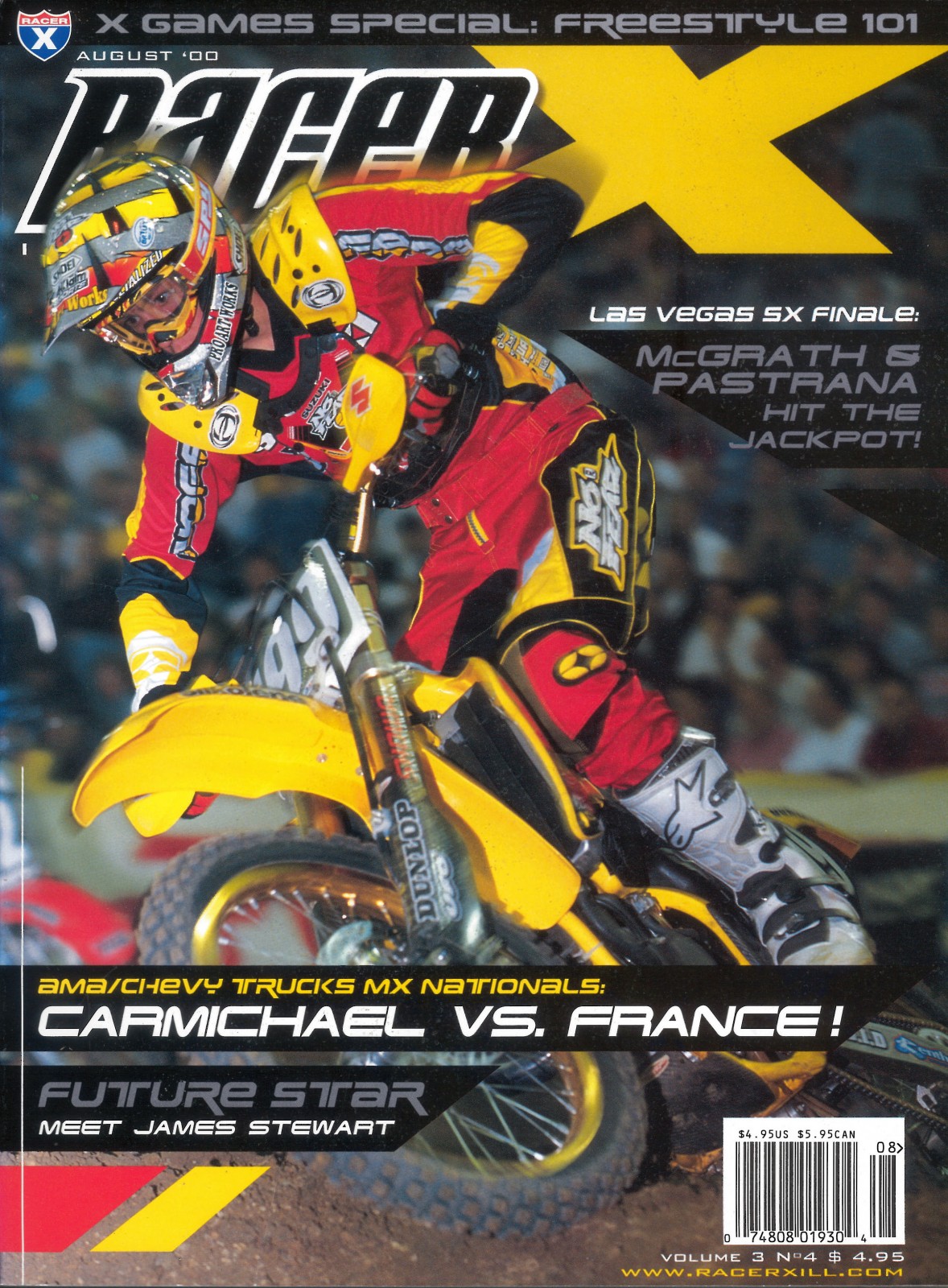 Supercross Championship
The odds-on favorite for 125SX East Region in 2001, Pastrana comes through for the crown, but not without huge competition from Nathan Ramsey and a new machine—the Yamaha YZ250F. Travis gets the title, but Ramsey does overcome him at the 125 East/West Shootout. Those four-strokes are pretty good.
Outdoor war
The 2001 125 Nationals were insane. So insane that we're cooking up a much larger story on them. Pastrana looks good for the title at mid-season, as Langston (now racing in the U.S.) misses time with a shoulder injury. At Unadilla, Travis looks set for a 1-1 and a massive points lead—until the last lap of moto two, when he crashes HUGE on a jump in the back and knocks himself out.
His racing career would never be the same, and he wouldn't win another race.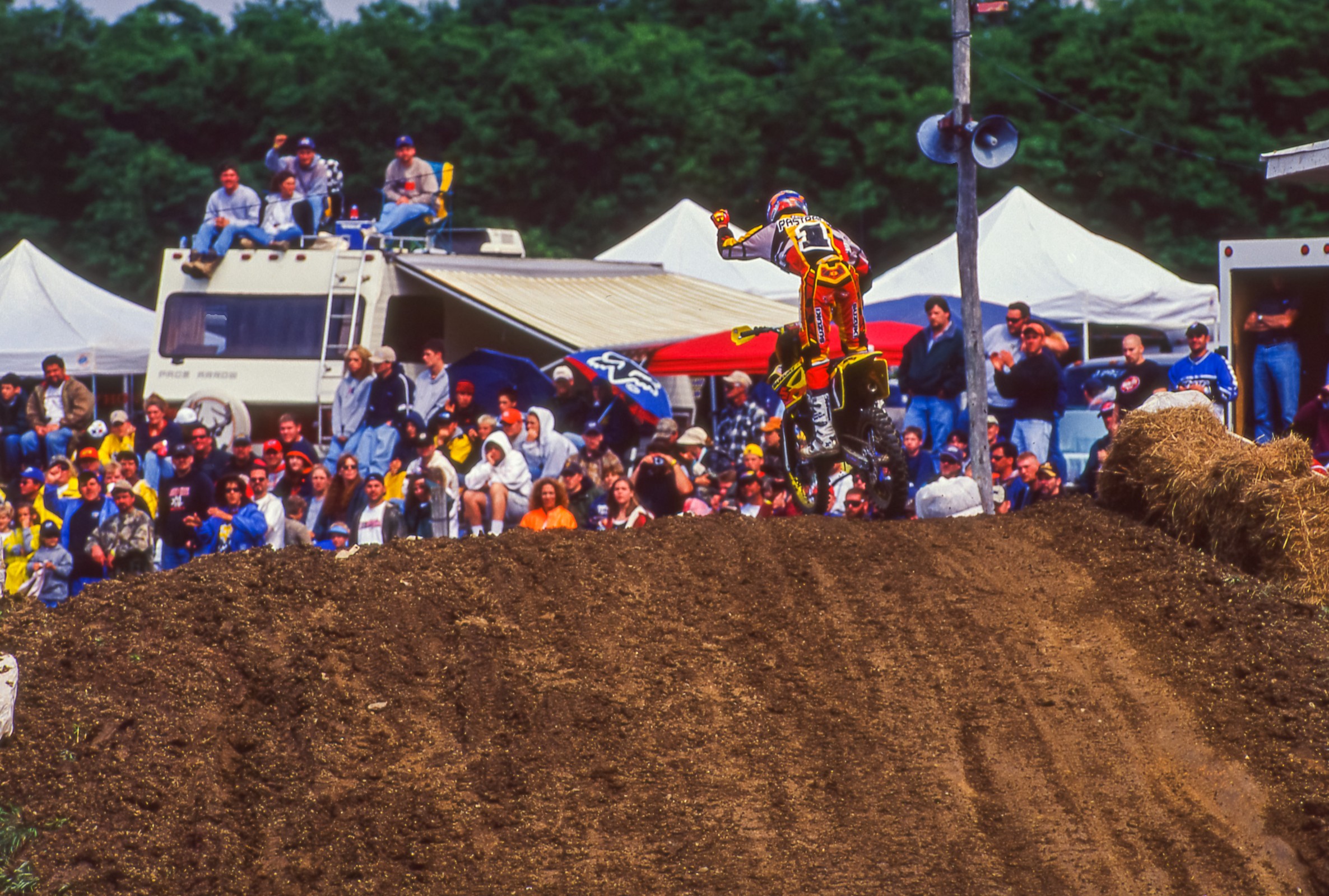 The 250s
There was some promise, though, as Travis jumped to the 250s for 2002. At round two, in San Diego, he grabbed the holeshot in the main event and even did a fist pump over the triple on lap one! He would be passed by David Vuillemin, and Travis stuck to DV the whole way, finishing a close second. A few weeks later, he was ready to win, leading Anaheim 2 until hitting neutral on a jump and crashing it away. A few weeks later, he battles Ricky Carmichael for the lead at Indianapolis, they collide, and the crowd boos RC even though it was really Pastrana's fault.
This is worth watching, though, because TP vs. RC was supposed to rage for years, but this was pretty much the end of it. PS: Vuillemin actually wins!
After this, the hits kept coming. Illness, injuries, more illness, more injuries. The 2003 season came with more hype, but injuries started piling up again.
Travis found his footing in many other arenas, but as shocking as it seems to think of him as a racer now, it was actually more surprising 15 years ago that he never found the expected success in the 250 class.
One thing is for sure: there will never be another Travis Pastrana.